Now that's Chicken Tandoori
(page 2 of 2)
Home
>>
Recipes
Make chicken tandoori better than any Indian restaurant - just watch me.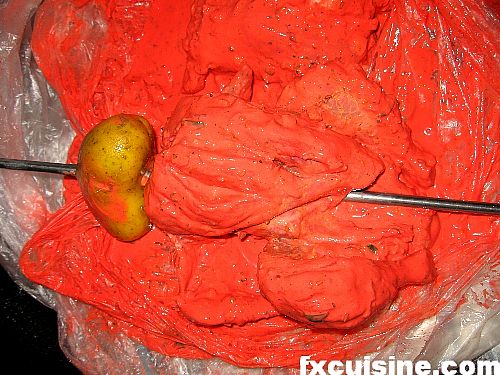 Light up the tandoor and wait untill it's hot. I cook at about 400°F (sorry my tandoor came with a Farenheit scale). Pull the chickens out and stick them each one one seekh (the long skewers) so that they will be about 15cm above the flames. Stick a clean raw potato below each chicken so that they won't fall.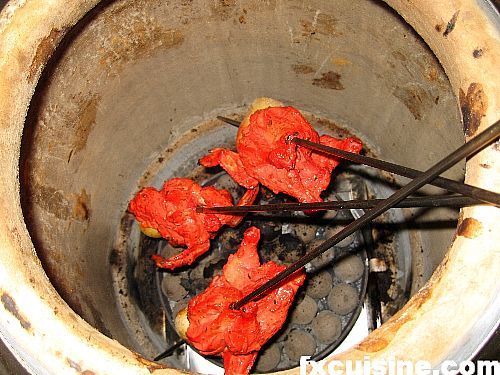 Let them cook in the covered tandoor for about 12 minutes or until the wing and thigh tips become black. Do not worry about carcinogenic effects, all research agrees that after even 15 minutes marination there is no risk. Pull them out and hang the skewers to let the meat drip for 5 minutes. Baste with clarified butter. Check with a knife that the meat is cooked through by cutting a hole in the thickest part. Put them back in the tandoor for 3 minutes or longer if the meat was not enough cooked.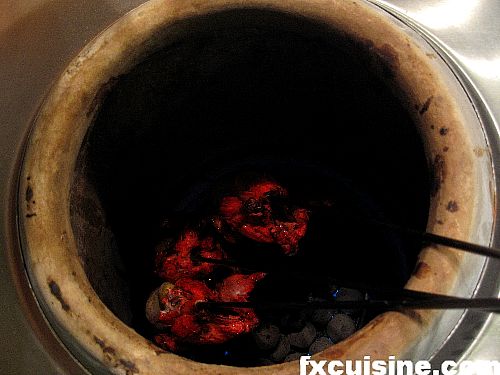 Take the birds out and lay the skewers on a dish. Remove very carefully the red hot seekhs from the birds and serve.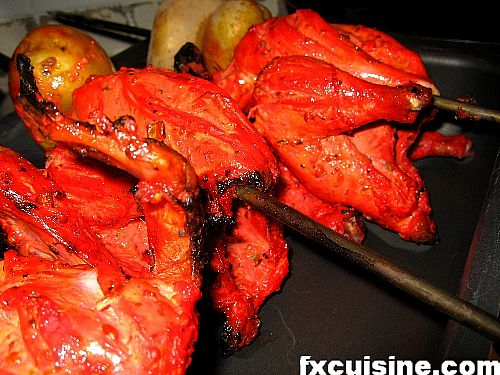 The meat has an intense grilled and spicy taste with an incredibly juicy interior. Much better than the dry red mashmallow served in most Indian restaurants under the same name.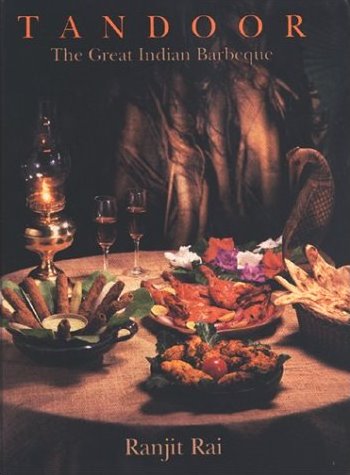 The best book about tandoori cooking is Tandoor: The Great Indian Barbecue
, the work of a lifetime dedicated to researching the tandoor's technique, history and recipes. Warmly recommended, one of my favorites cookbooks ever.
1106883 views
Copyright FXcuisine 2023 - all rights reserved.
If you do this recipe at home please let me know how it worked for you by submitting a comment or send me a picture if you can. Thanks!