Alpine Rabbit Stew
Home
>>
Recipes
Gorgeous traditional Italian stewed rabbit in a fragrant sauce. Serve over polenta to forget any winter blues!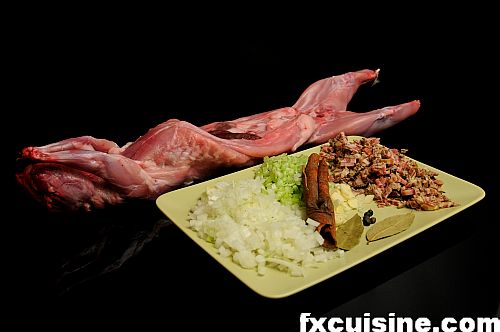 Rabbit is often dry and boring. In my beloved Swiss canton of Ticino as in most Northern Italy, rabbit is stewed with herbs and tomatoes until the meat nearly falls off the bones. It makes a delicious, tender, comforting dish that reminds of woods and mountains and springs.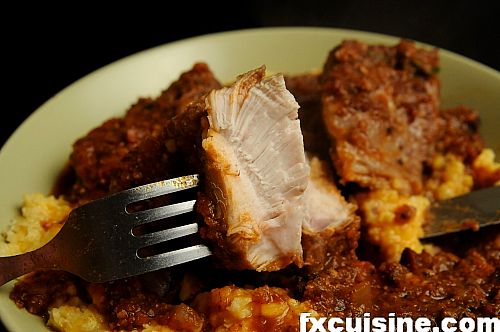 The rabbit should come with its head and guts. You can do with a headless heartless rabbit but at the very least get the liver. It is most important in building up the flavor base.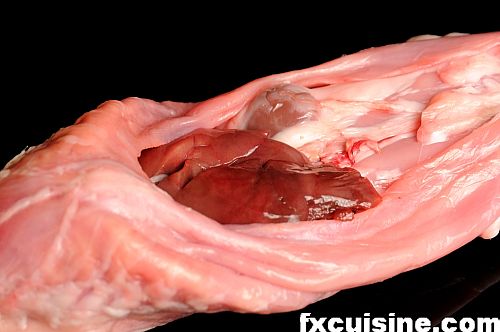 To make this dish a success you need a good rabbit. Here I used a farm rabbit from the Gruyère, and the flesh is juicy and delicious. Of course you might not have access to such quality rabbit, or just don't like to idea of eating the flesh of such a friendly furry animal. You can definitely substitute the rabbit by a well-fed pampered city cat. Choose one that has led a happy life of leisure- the last thing you want these days is to be accused of animal cruelty.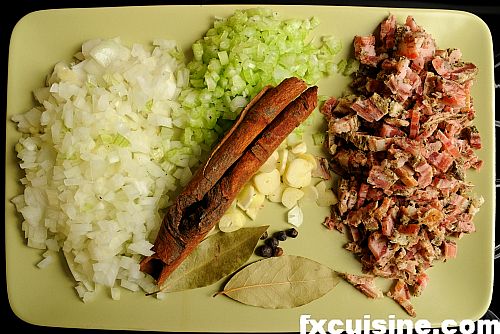 Even the finest rabbit needs a proper aromatic base to make an outstanding braisé. Clockwise from the left : onions, celery stick, air-dried bacon, bay leaves, juniper berries, garlic and a large stick of cinammon. Not pictured - finely diced carrot.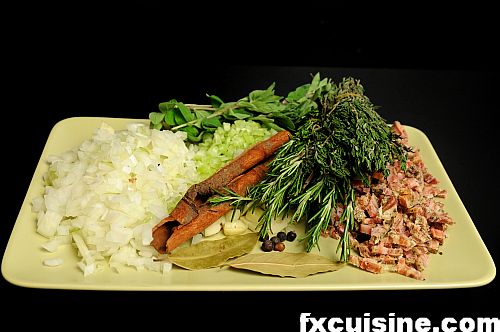 The herbs, thyme, marjoram or oregano and rosemary.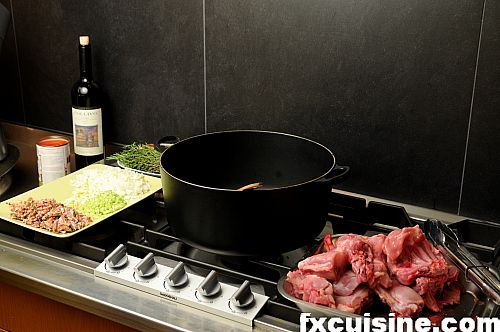 Here is the mise en place (layout of the ingredient before you start cooking, known as the meeeeez in US kitchen jargon). Clockwise from the left: half a bottle of Ticino red wine, a can of tomatoes, herbs and aromatic garnich, the pot and finally the rabbit cut into large pieces along with a pair of kitchen tongs.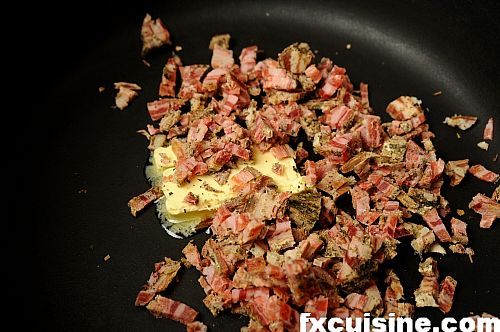 Gently fry the finely diced bacon with a little butter for about 3-5 minutes or until soft (photo)
Carefully lay the rabbit into the pot so that each piece of meat will lay on the pot bottom. If they don't fit, do this in as many batches as it takes. Add the remaining rabbit pieces and continue to sauté over high heat. This process does not "seal the juices in" or other nonsense. What you are doing is create new flavors through the browning of the meat using the Maillard reaction. If the pot is not hot enough, or you put too much meat or there is too much meat and it gives off its juices, then no browning will occur and all you will have achieved is drying out the meat.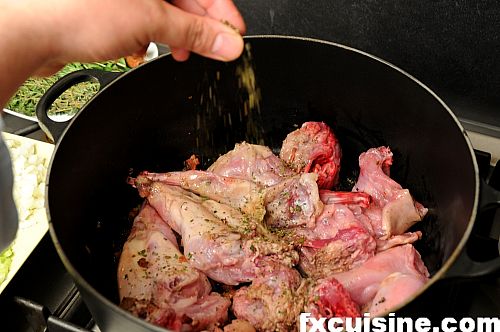 Salt the rabbit and add a few dried herbs if you have them. Toss and reserve the rabbit in a covered dish.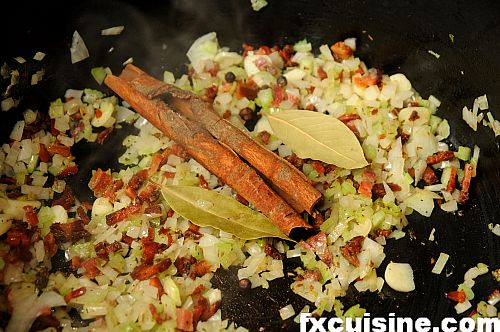 Add the aromatic garnish to the bacon. Do not use the herbs at this stage. Fry over medium-high heat, moving constantly.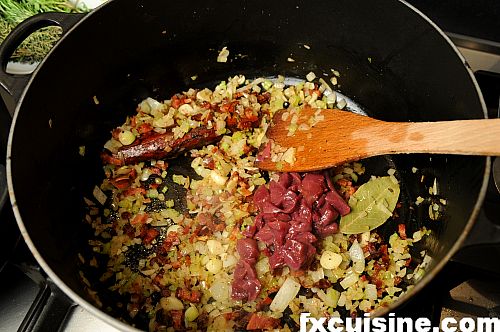 Add the chopped rabbit liver and let it color. It will turn from red to grey.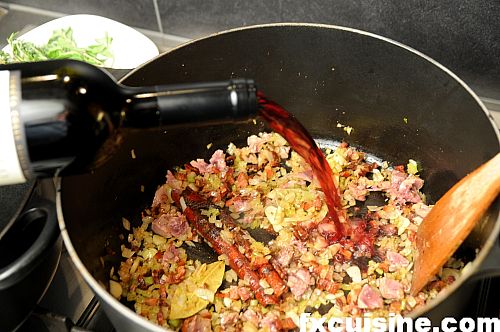 When the liver has turned in color, add the wine and let it bubble.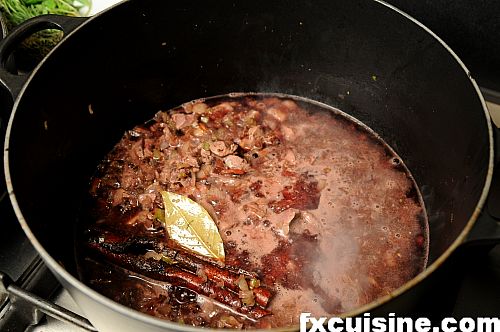 If the alcohol content is high you can even light it with a match and flambé for a moment. When the flame subsides you'll know all alcohol has evaporated and you can move on. Otherwise just smell from time to time and proceed with you can no longer smell any alcohol.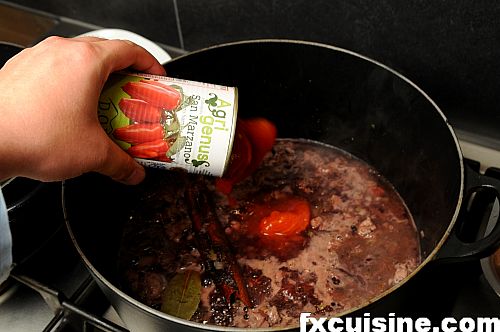 Add the tomatoes. I am a shameless user of canned tomatoes, but like fresh tomatoes, they come in all kinds. These are slow-food approved San Marzano tomatoes from the slopes of the Vesuvio in Naples, Italy. A fine can indeed.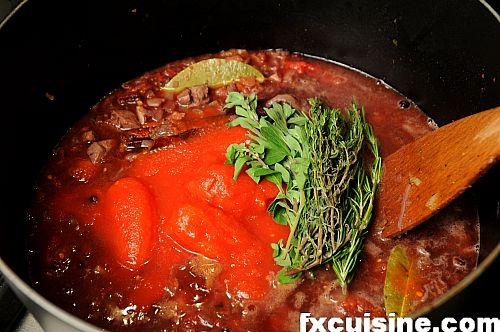 Now we add our herbs, possibly tied in a buch to facilitate later removal. Let the rabbit dive in and join his garnish. Bring to a boil, cover and reduce the flame to obtain a very gentle simmering. Let it cook for at least one hour or as long as it takes for the rabbit to be really soft.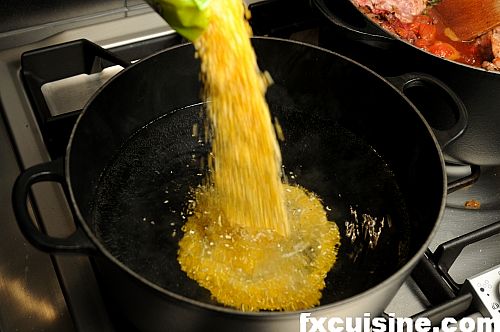 Meanwhile let's prepare the polenta, here with commercial coarse polenta. Just bring to a boil 2 liters of water with a tbsp of salt. Add the polenta and mix so that the polenta does not pile up at the bottom.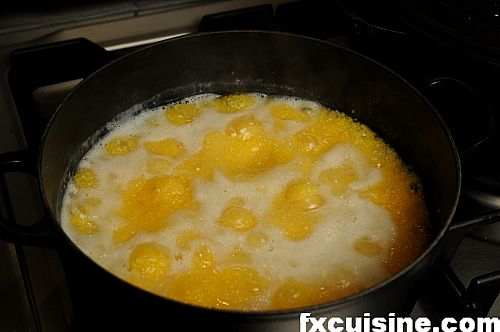 You need to have a smooth mixture and in the first 30 minutes of cooking that means you need to vigorously mix it with a kitchen whip or a wooden spoon every couple minutes. Reduce the flame to a low simmer, cover and let it cook for at least one hour.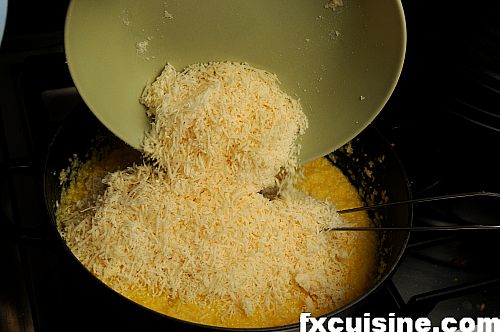 When the polenta has turned into a yellow paste that falls off the sides of the pot and is no longer grainy. Remove from the fire, add a large piece of butter and mix it in. Add as much freshly grated Parmesan as you like and mix it in.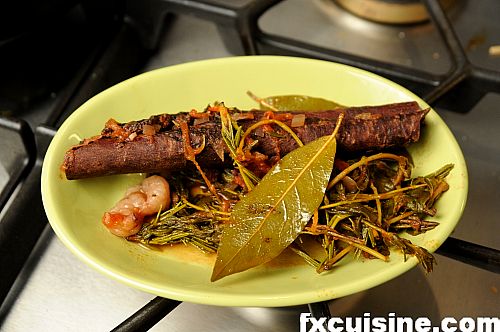 When the rabbit is cooked through, remove all the large spices and herbs. Bay leaves, cinammon stick, peppercorns, juniper berries and herbs. Their job is done.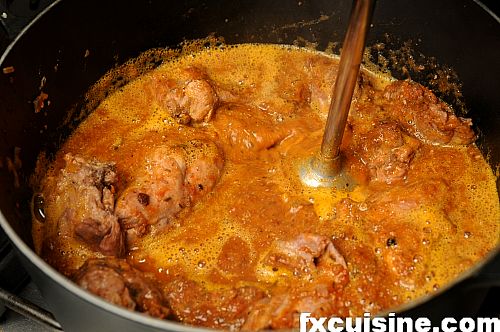 You can finish the sauce in 3 ways:
Natural style - Just serve the rabbit with the rustic sauce with its chunks of bacon and vegetables. It is quite impressive for the guest as he sees what's inside. You can even leave the cinammon and juniper berries for effect.
Sophisticated style - Filter the sauce with a conical sieve (chinois) and emulsify some butter to make it shiny.
Rustic - Use a plunging mixer mash to a pulp all the chunks left in the sauce. This is the option I have taken today, the result is quite rustic but the guests no longer see how the sauce was made (photo)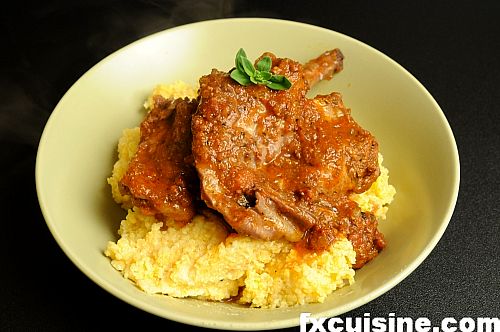 Serve on a bed of polenta. The rabbit's meat falls off the bones, making this a rich, fragrant Alpine confort food.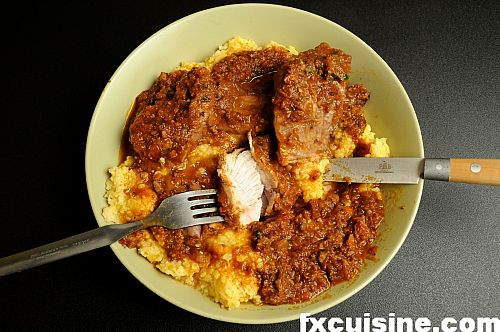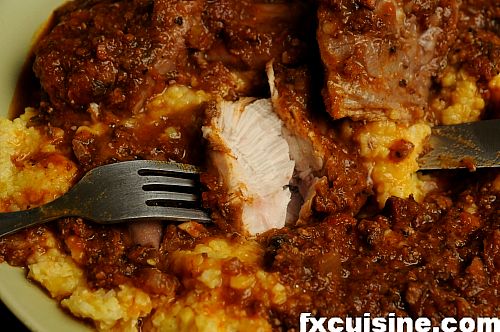 220112 views
Copyright FXcuisine 2023 - all rights reserved.
If you do this recipe at home please let me know how it worked for you by submitting a comment or send me a picture if you can. Thanks!