Serious Ragł Bolognese
(page 2 of 2)
Home
>>
Recipes
Bolognese is one of the most famous dishes in Italy, but where outside Bologna can one eat a proper ragł these days? Right in your kitchen if you follow my recipe.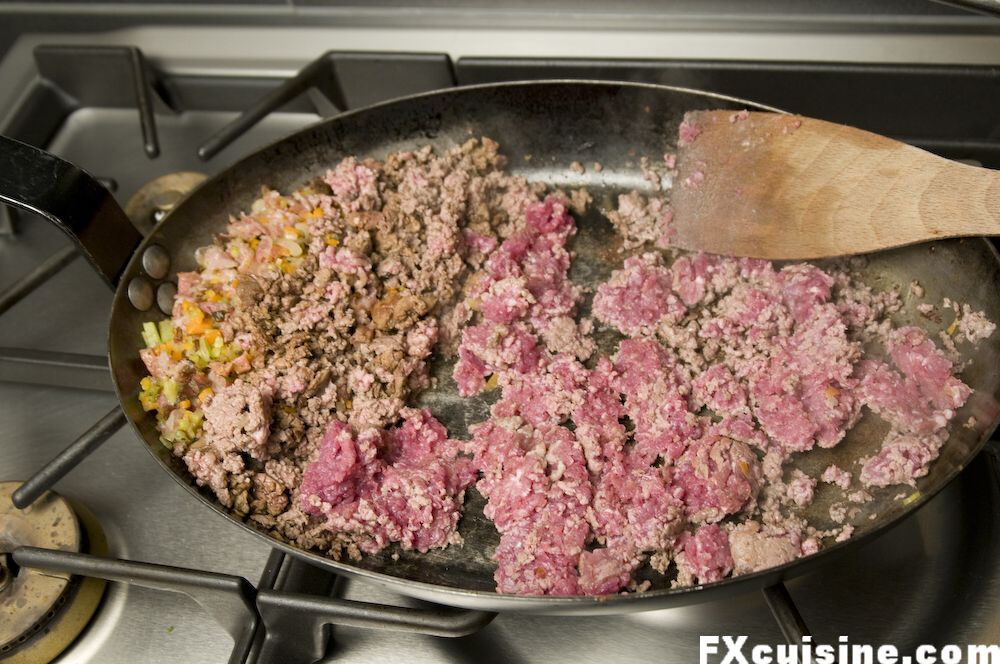 Flatten the meat with your spatula and flip constantly until the meat is evenly browned.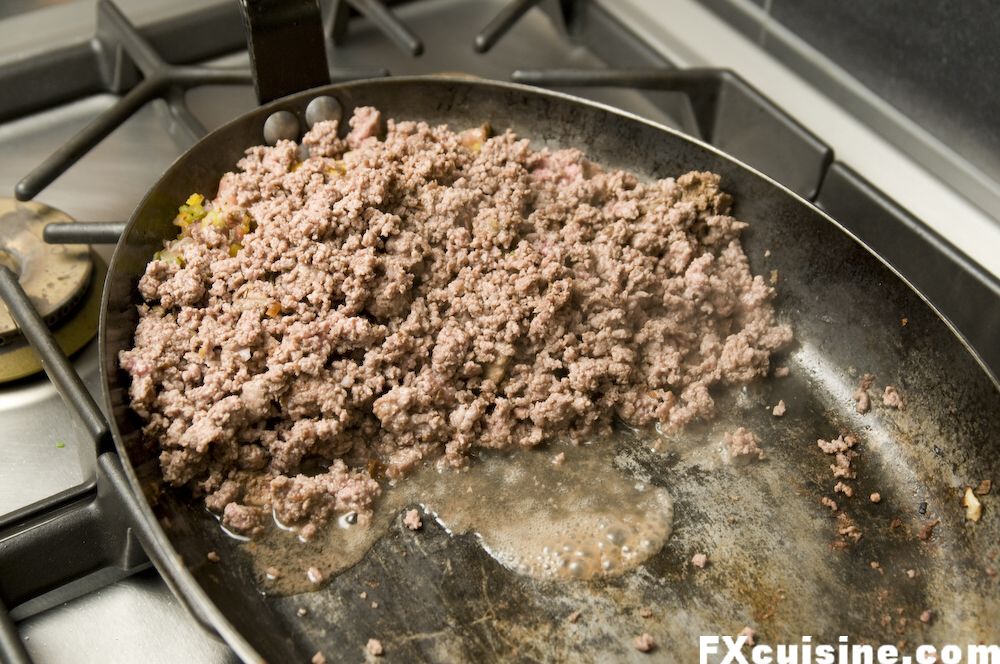 Push aside. See how the relatively large quantity of food on the relatively cold far side of the pan makes the meat render its juice? That's what would have happened had you not heeded my warning about putting too much cold meat on your pan. But now the meat is browned and it does not matter any more.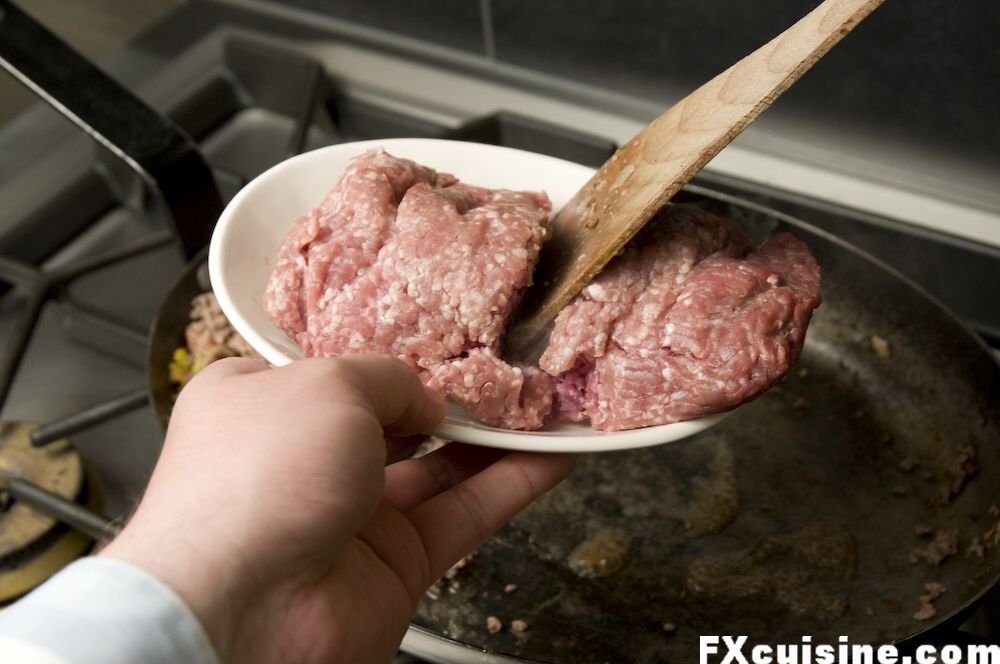 Continue with the rest of the meat ...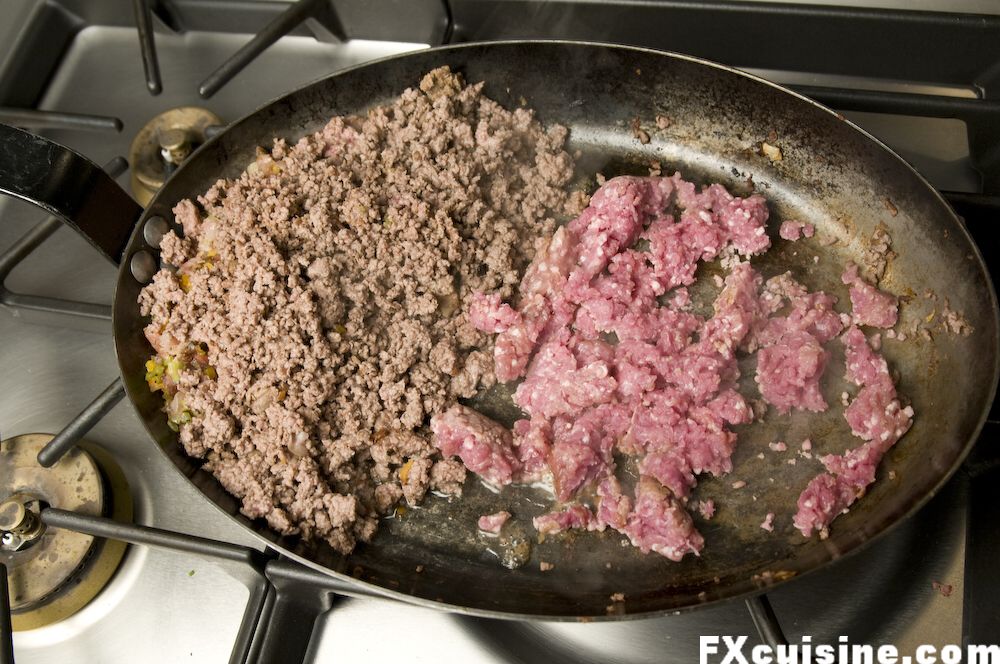 ...browning it as before until you run out of meat. If you run out of space on your pan, just remove the browned meat to the same dish where you moved the aromatic garnish.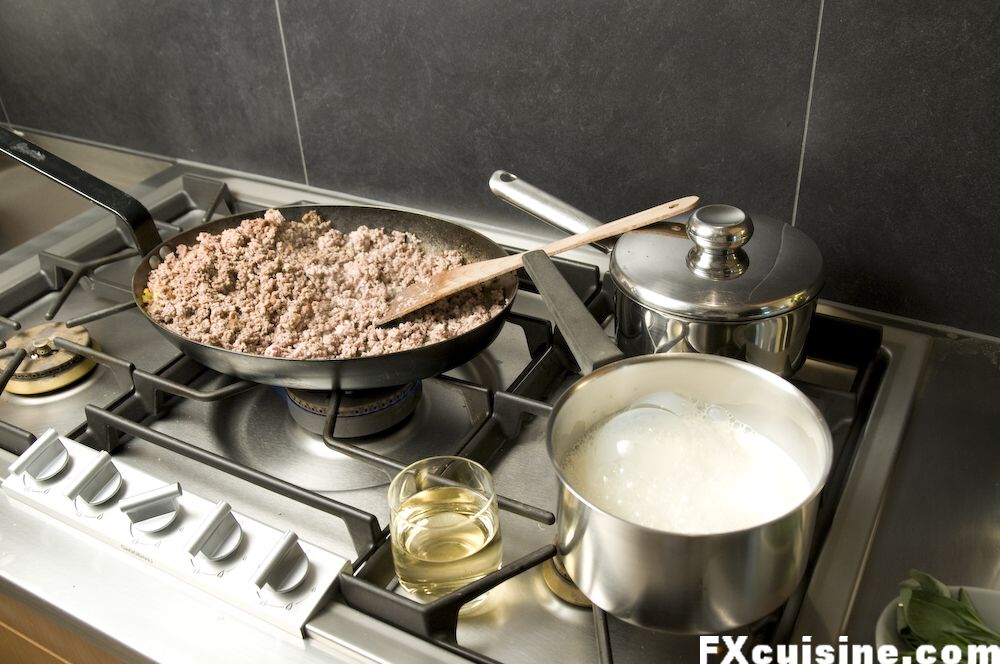 A clean, well-organized working space tonight at FXcuisine.com! Here I have been heating chick stock (top pot) and full fat milk (bottom). I did not pour myself a large glass of white wine - this one will go in the meat in a second.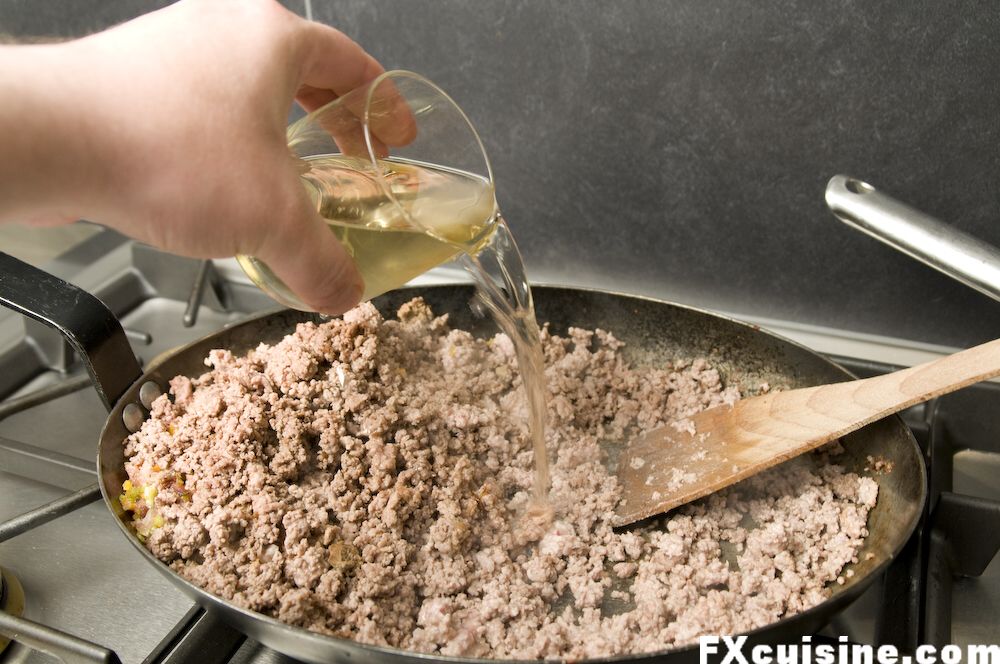 Move the meat and aromatic garnish back to the center of the pan (or back into the pan if you had put it in a separate dish), keeping the temperature on high. Pour the glass of wine into the meat ...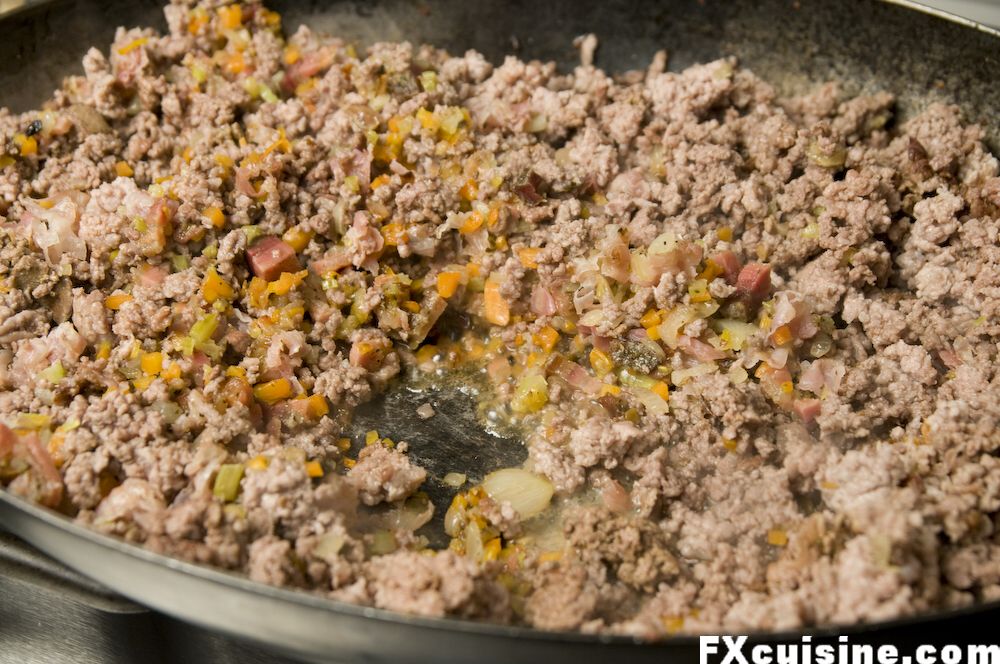 ... and let it evaporate. What we want here is to dissolve the delicious bits of burnt meat that stuck to the pan. Chefs call this deglazing and you must certainly have seen your Mum do it! The Simili sisters say that the wine is hot enough when you can no longer smell it. Basically you can let it evaporate almost entirely.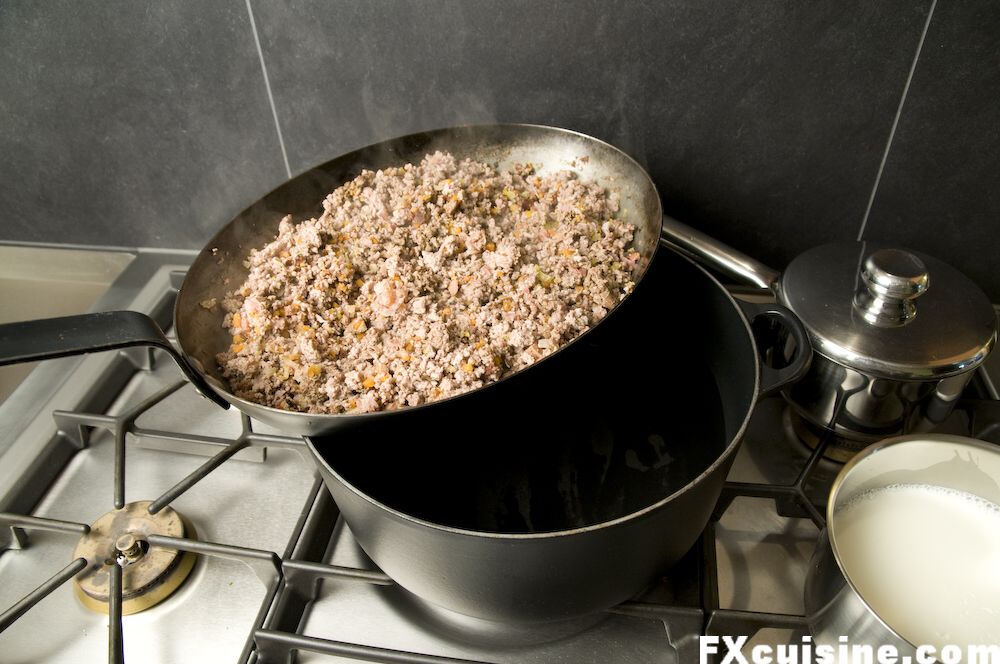 Now we move to the last stage - you will soon rest! Take a large oven-resistant pot with a tight lid, for instance a Dutch Oven. Empty everything we've been cooking so far into the pot.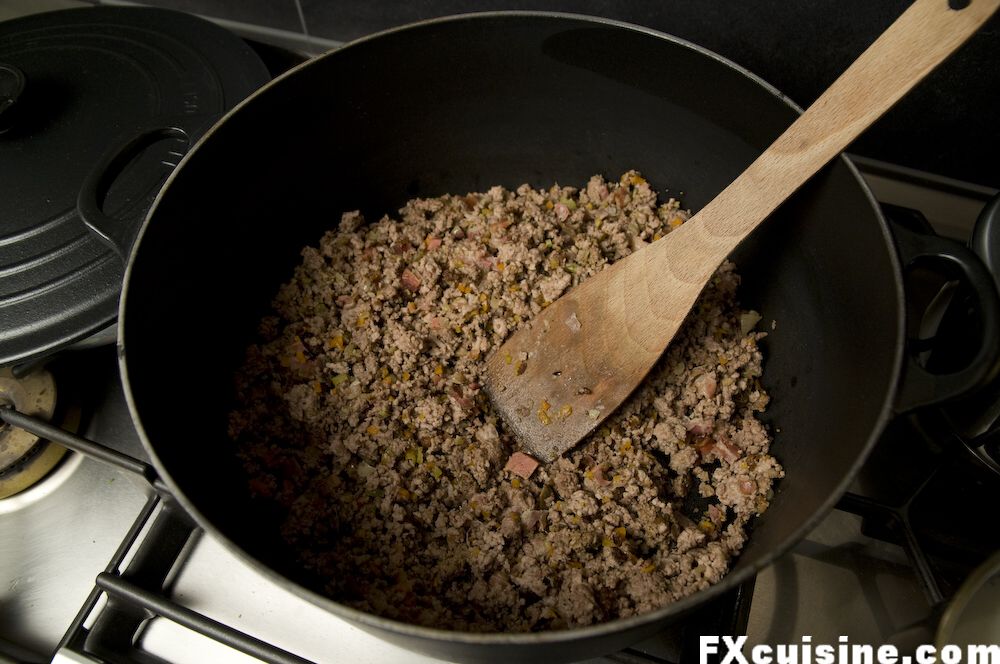 Place your head above the pot and smell. Isn't life wonderful?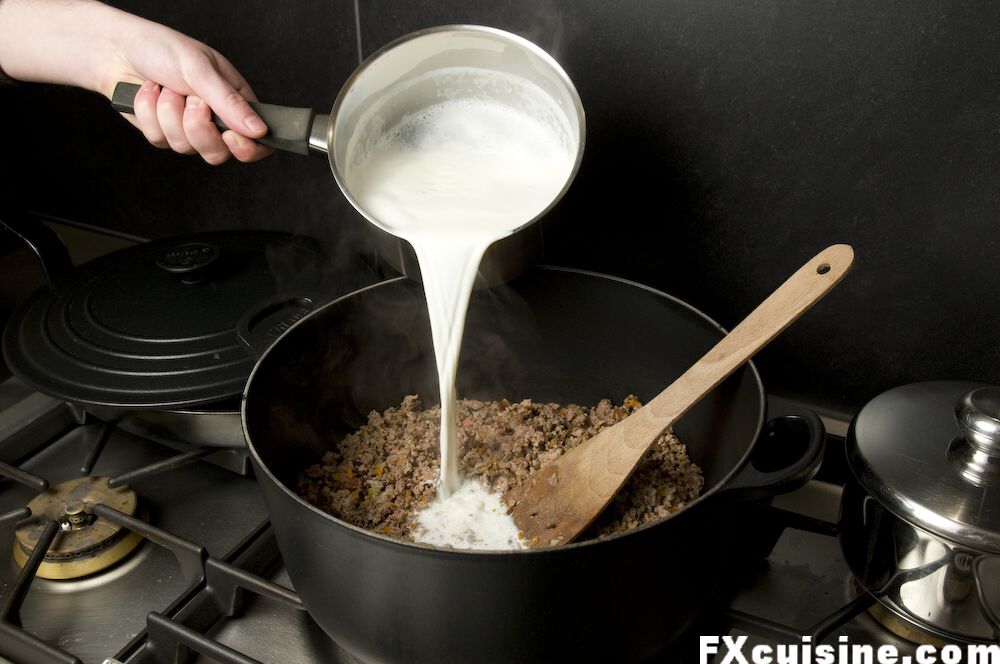 Pour the warm milk into the ragł like a white waterfall.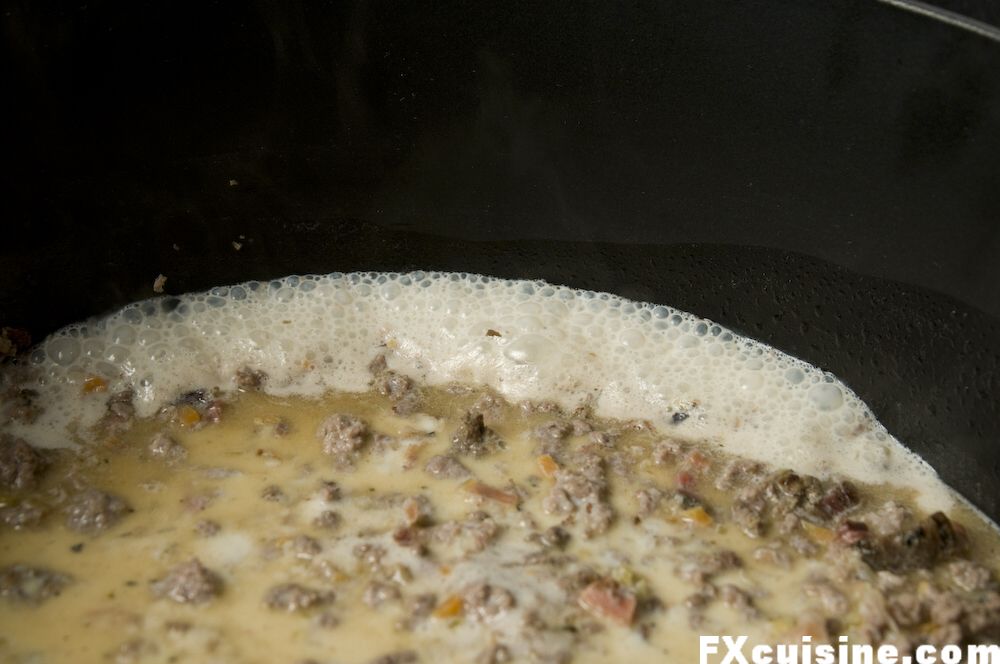 Mix and bring to a boil.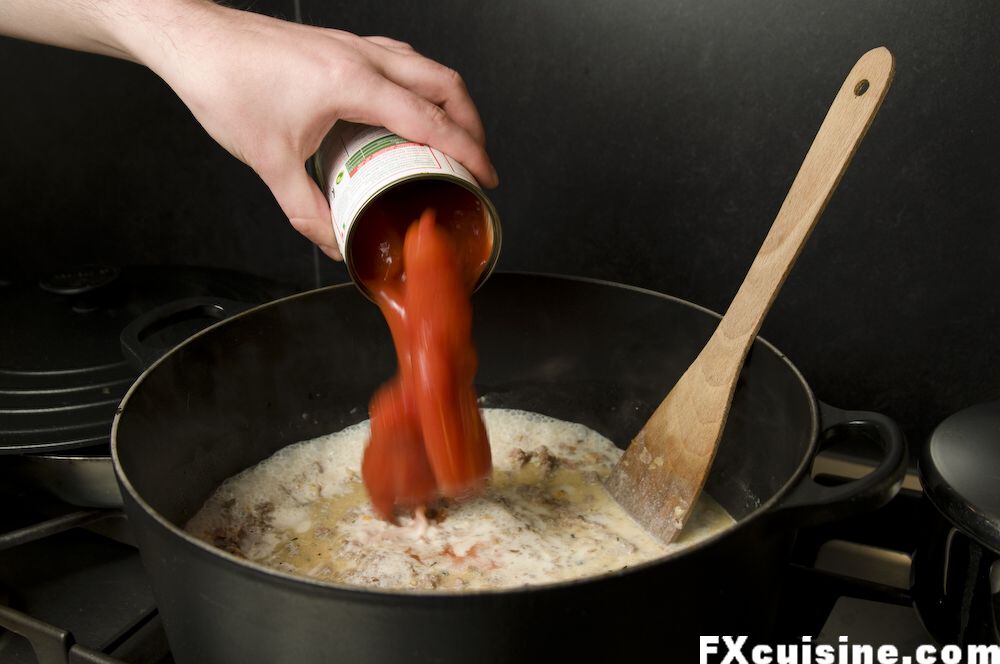 Add the tomatoes - here I used San Marzano canned tomatoes from the Vesuvio, approved by the Slow-Food Gods. I can't help but wonder if the Gods have recently checked the state of the countryside in Campania.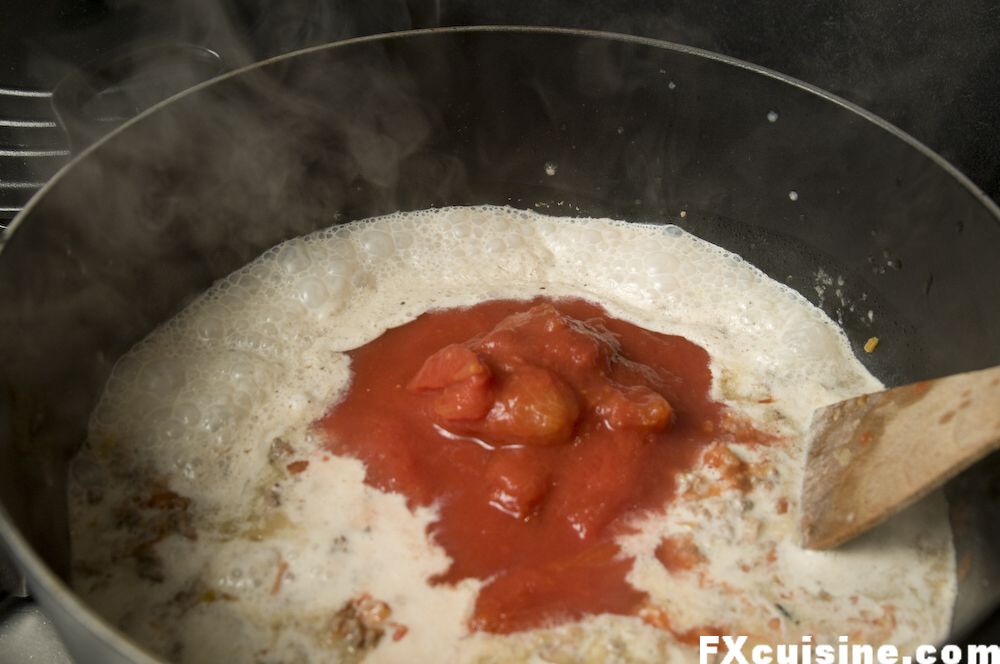 Then another can and mix. If nobody from Bologna is around, you can discreetly secrete a few herbs into the pot. If I had my way I'd gladly add a stick of cinammon and one of my beloved dried Serrano chilies, but then it would no longer be an orthodox ragł bolognese but a ragł d'autore, a personal rendering of the traditional dish. Maybe next time.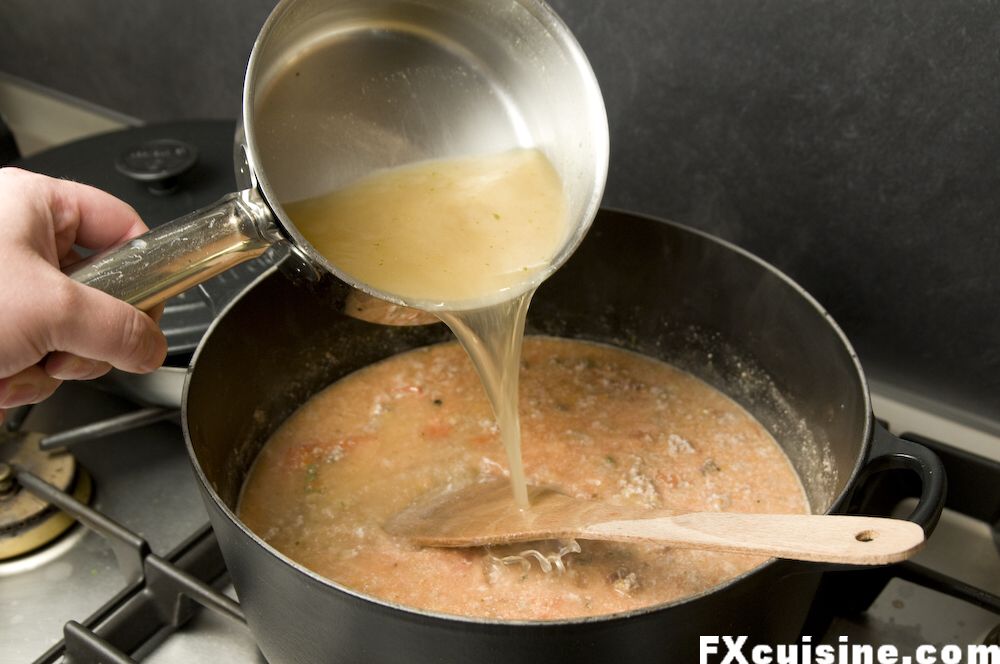 Add the chicken stock, cover and simmer for 3 to 4 hours. If you have an electric oven you can set it on 120C°/250F° and place the tightly covered pot inside. There is no need for further attention and you can take a well-deserved pause.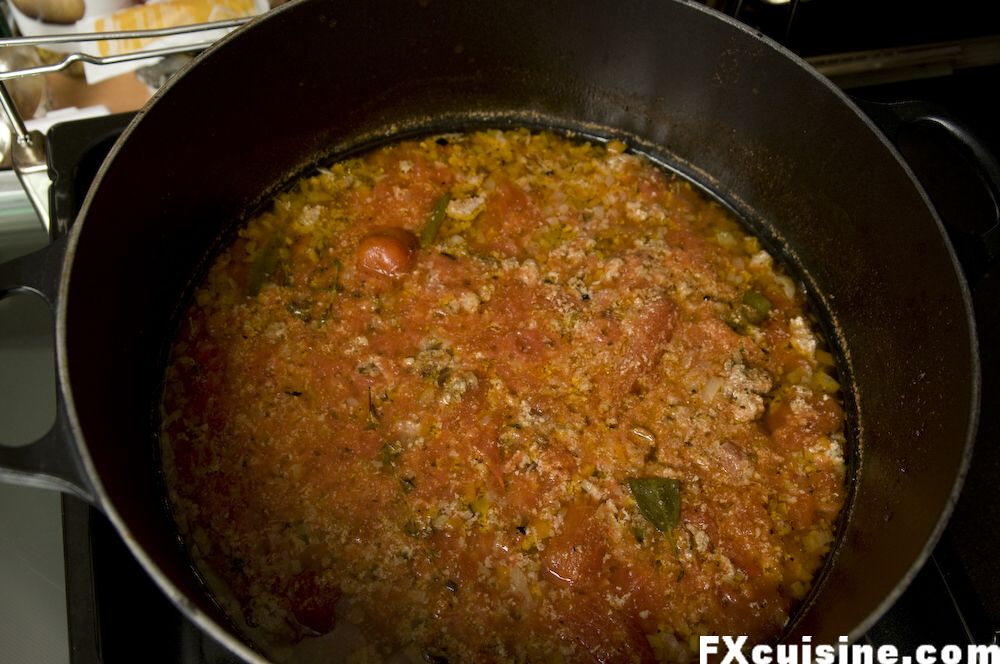 Here is the cooked ragł - it still has a coarse appearance with large chunks of tomatoes and clusters of ground meat. Amazing after 3 hours, but we shall prevail. Use an immersion blender to reduce some of the meat to a finer consistance. Don't overdo it, we don't want soup and some texture is desirable! Place the pot back on the burner with the lid off and boil off any excess liquid. Depending on what you will use the ragł for, a thicker or longer consistancy will be in order.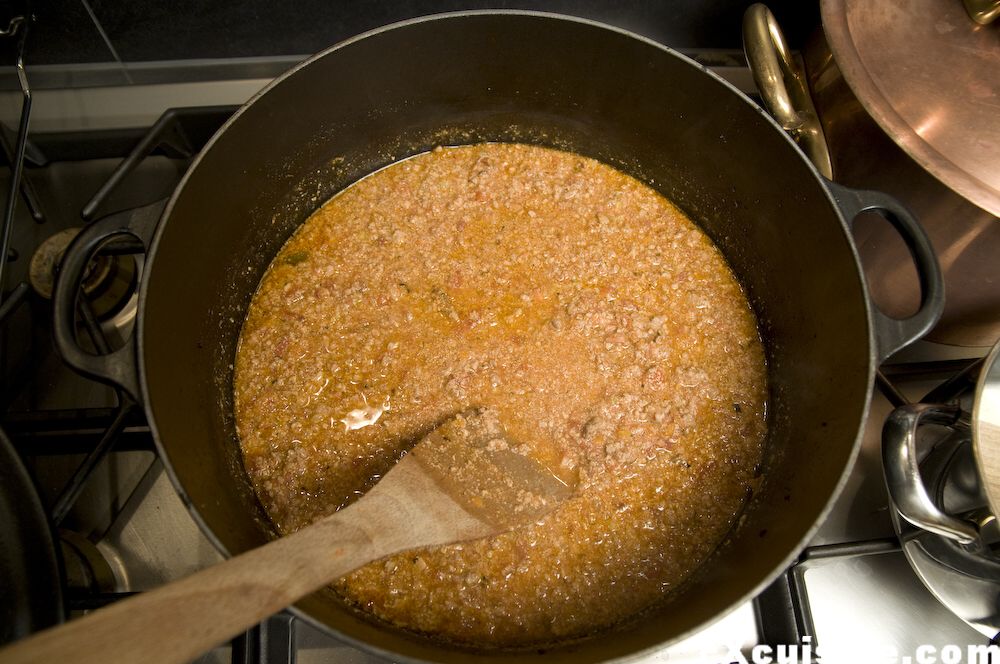 There we are - your ragł is finished. Congratulations! You can freeze it or use immediately on any flat pasta. Italians just don't eat meat sauces with spaghetti. Spagbol is more of a British invention best left on this island, methink.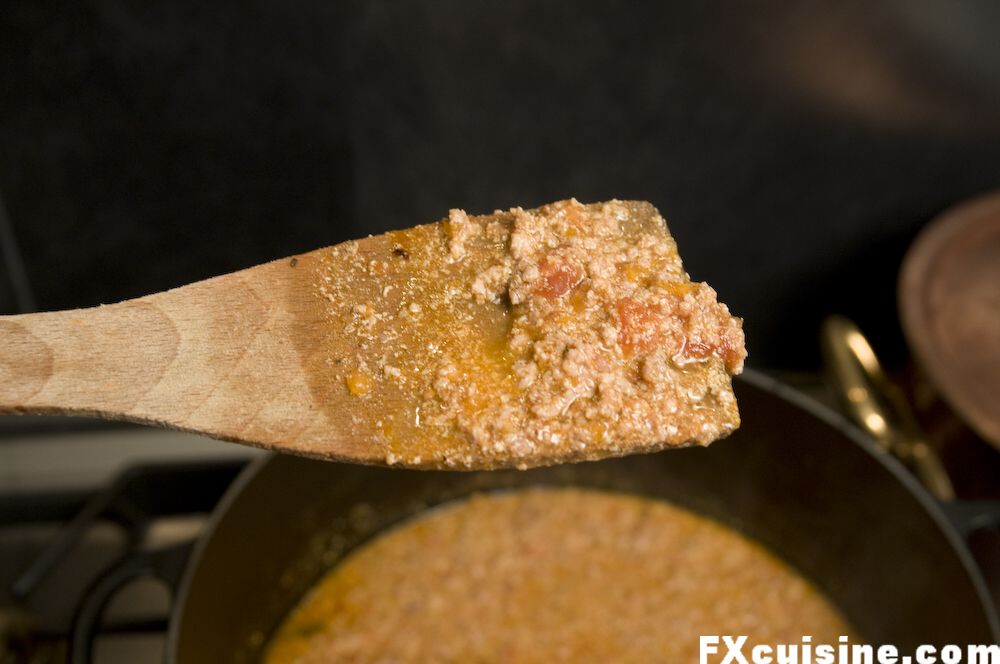 Have a taste.
Next week I'll show you how to make lasagne bolognese using this ragł.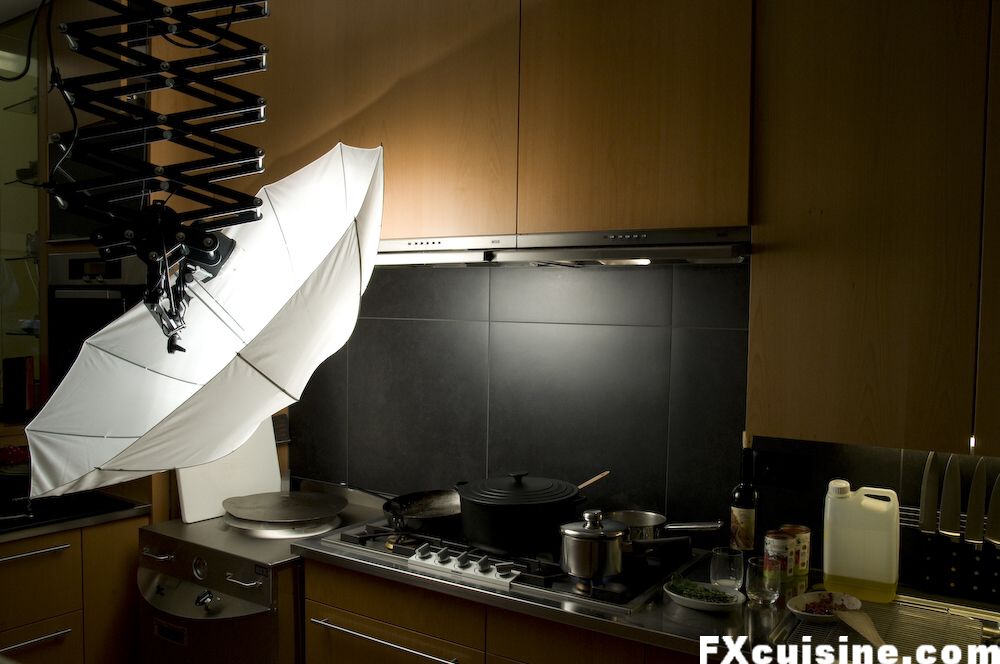 Today I lift part of the curtain at FXcuisine - you won't meet the wizard just yet but here is a glimpse of how I light the food. A powerful halogen light hangs from the ceiling and shoots at the food through a translucent white umbrella. I only use one light on all my pictures. What you see on a photo - any photo - is light reflected by the scene into the lens. If you have crap light, you'll have crap pictures. Crap light can be the built-in camera flash or a neon tube on the ceiling. To make nice-looking pictures, you need a good, large light.
The light is so intense that to take this picture I had to combine several exposures - one very dark, a medium one and a very light one, so that you could see both the umbrella and the relatively darker stove. This technique is called HDR. Here is another picture of the same scene just before I added the carrots and celery but with a less realistic look.
1063560 views
Related Articles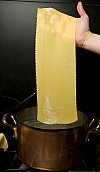 Lasagna From Scratch **
One of the most memorable pasta ever - lasagne bolognese made from flour, eggs and sweat!

Priest-stranglers in Neapolitan Meat Sauce **
These gnocchis served in the cult Napolitan ragł sauce would be a world-famous dish if they didn't take 7 hours to cook.

Arancini, the cult Sicilian dish * Popular
These glorified deep-fried stuffed rice croquettes are a cult sicilian dish celebrated in a recent best-selling Italian novel.
Copyright FXcuisine 2023 - all rights reserved.
If you do this recipe at home please let me know how it worked for you by submitting a comment or send me a picture if you can. Thanks!