A Visit of Château Pavie
Home
>>
Experiences
Gerard Perse, one of the most important men in the Bordeaux wine industry, took me on a three-hour tour of Château Pavie in
St Emilion
. See for yourself how this man turned a failing château into one of the most prized wines in the region. Complete with many pictures and my
360° panorama
of the huge limestone cellar and exclusive heart-to-heart
interview
with Perse.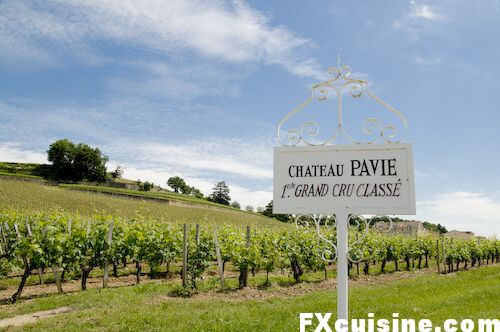 While top Bordeau wine critic Robert Parker awarded Pavie its highest rating, other critics are scandalized that such a concentrated, powerful, almost port-like wine could be made in St-Emilion. Gérard Perse [jayrar payrs], the powerful owner of Château Pavie, doesn't mind as his wine now retails for nearly $500 a bottle. Who is this man? How could he turn Château Pavie into such a spectacular success?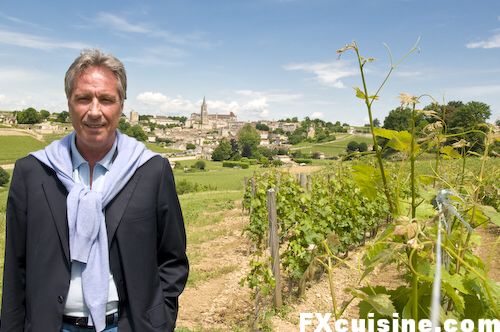 Let's follow Mr Perse across his wineyards where he will explain us all about the soil, the type of grapes, the almost bonzai-like cultivation and unique wine making procedures. We will then go down into the cellar and meet the cellarmaster to see how the wine is actually made. Don't miss the 360° panorama: The cellar at Château Pavie [Flash, 920Kb].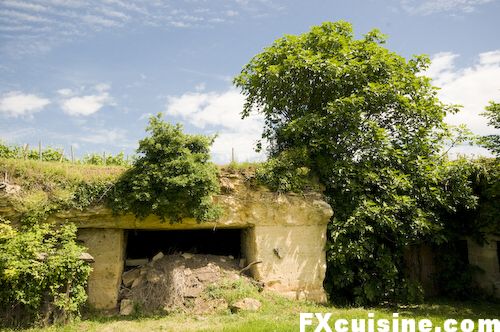 Most of Pavie's vines grow on a clay-covered limestone plateau overlooking St-Emilion. This soil combination (terroir) is associated with St-Emilion's top estates such as Ausone. We have a beautiful terroir, one of the best in the region, with gravel at the bottom and sandstone and clay at the top. It is our privilege to try and bring out the best wine we can from this terroir, explains Perse proudly. Now most wine producers will say that their terroir is the best, but I must say Pavie's is pretty convincing. Although you cannot see the limestone from the top, we could clearly see the hilltop's soil structure by checking the entrance of the many quarries from which St Emilion was built. One can still see caves carved out of the sandstone, and the tunnels go underneath the whole appellation and of course the village. Perse tirelessly paces up and down his estate. He shows me the borders of every plot This is Pavie up to here - we placed special wooden poles so our workers know where to stop. How many gentleman-winemakers in St-Emilion walk their estate every day?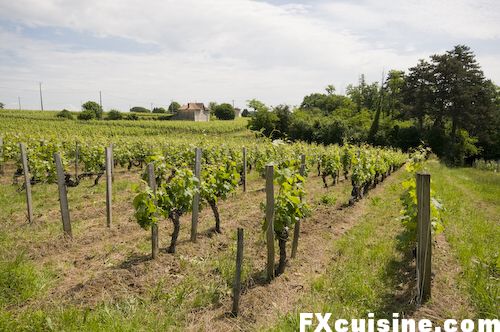 The wines of St-Emilion are a blend of Merlot, Cabernet Sauvignon and Cabernet Franc grapes. Each of these grapes have very different characteristics. Top French Reds like Château Pavie are designed to keep for 20 years or more. That calls for patience and a large amount of tannins. Perse wants his wines to outlive him and since he took over, he has steadily been replacing mellow Merlot vines with tannin-rich Cabernet Sauvignon. The Cabernet Sauvignon gives the bone, the structure, and the Merlot gives the muscle. Cabernet Sauvignon fares better under warm climates, and we bet on increasingly hot summers in the future, so we use more and more of it, said Perse. The rest goes into a cheaper second wine.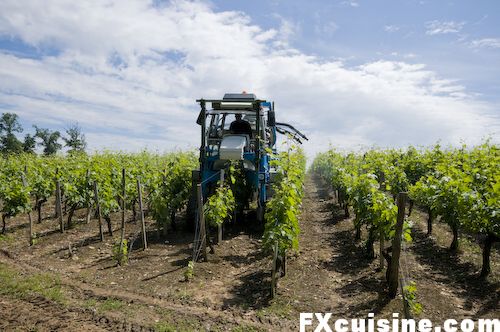 Vines are indeed very popular with all sorts of fungi, insects and bacteria, and only a regular treatment with the finest chemicals can guarantee a successful harvest.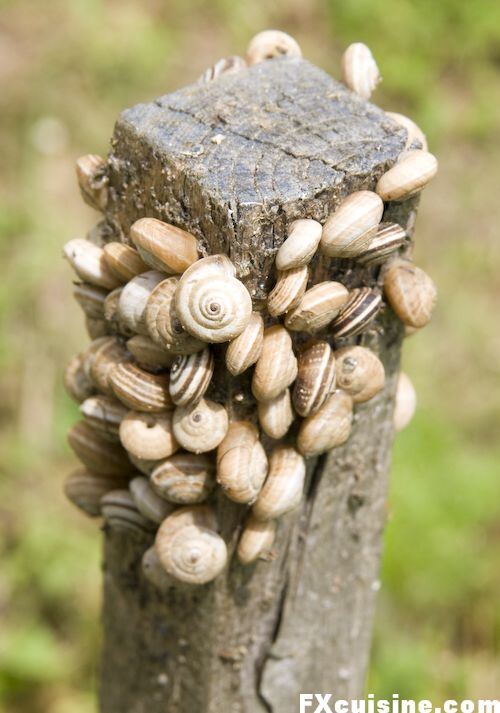 The most popular place to collect wild snails has always been vineyards, and there is no lack of snails at Pavie. Are they sleeping it off after a nightly orgy of red wines? If they did, they must certainly be the aristocracy of edible snails. Perhaps one day we'll see 'Escargots à la Perse' in a Sevilla orange sauce on Le Relais de Plaisance's menu?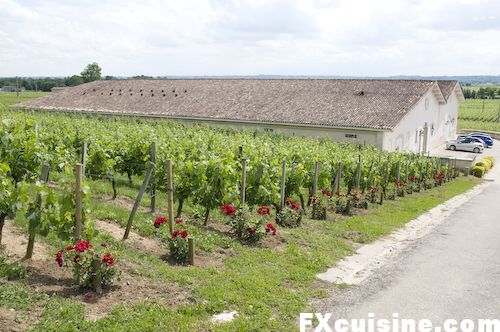 Vine plots are adorned with rose bushes on each sides. This used to give the winemakers a heads up on the arrival of a disease, much like submariners took aboard canaries as they would pass out from carbon monoxyde intoxication a few minutes before their human masters. Nowadays we have more reliable ways of checking the health of our vineyards and we keep the rose bushes for their esthetic appeal mostly, Perse said.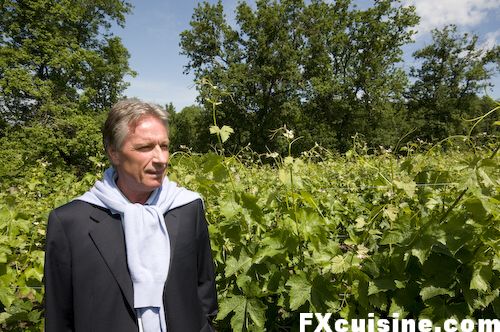 Some owners never ever walk in their wineyards but hire not one but two consultant oenologists to advise them during the winemaking proper. This is nonsense. You just can't make good wine unless you have good grapes, and the cultivation is just as important as the vinification. Since I took over Pavie we watch over the vines like a garden, explains Perse. I've heard that before, but Perse is the real thing. He continues as we walk in his wineyard: We cut and cut and cut every month. First we take out dense bunches of grapes so that we don't get grapes that are too close to one another and don't get enough sun. Then we remove the grapes who are late to turn in color. We also cut the grape bunches that are too far from the trunk as they get less sap. Later in the year we go back at it again and remove the leaves that could shade the morning sun and the afternoon sun so that the grapes can mature uniformly well. We call this a green harvest, la vendage en vert.
All these grapes thrown on the ground could appear as madness and financial folly. After all is said and done, Perse makes half as much wine as his predecessor Mr Valette did on the same estate. How can one even break even by throwing out half the product?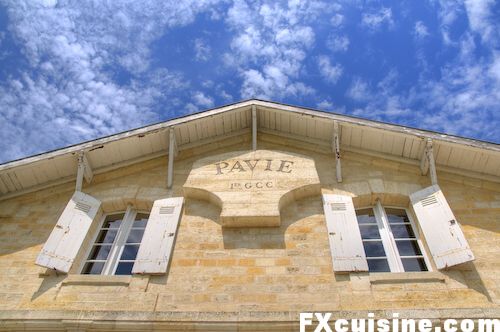 By making a much better wine, Pavie tripled its sales. But Perse barely makes 90,000 bottles of Pavie a year compared to over 200,000 under Valette. If you do the math, that's a sixfold increase in the per-bottle price. Pavie has definitely become a seriously expensive wine, with some bottles going for $500 a piece while other St Emilion wines just across the road barely sell at 10$ a bottle. Perse also makes several cheaper wines, but with wine consumption decreasing every year and Moldavia, China, and Chile offering their own wines, in which part of the market do you want to be? The future of Bordeaux wines lies in the high-end - no question about that.
But Perse's success does not make everybody happy.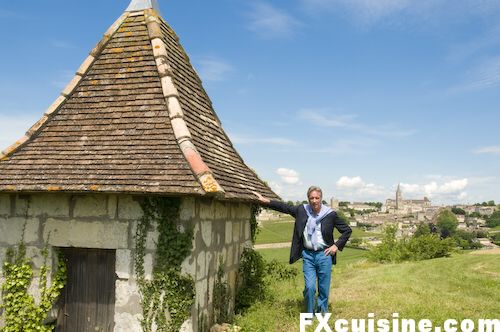 This little tower on the side of Pavie is the former town gallows. People who had offended the all-powerful town council, the jurade, were hanged and left to rot on this spot for all to behold. Just how many winemakers in St Emilion would like to see the Persian hang from that tower is not clear. Fortunately, such wishes can no longer be made a reality. The owners of underperforming properties are faced with the stark truth - if their wines don't sell, it is not due to the newcomers, anti-wine laws, the poor taste of of the public nor unfair competition from the New World. They now must admit that one can make extremely successful wines in St Emilion provided one listens to the market. 'In St-Emilion, as long as you buy wine properties and pour money into them, people don't mind. But if you manage to turn a wine around and make a commercial success, some people take it personally. They think your success is at their expense. Some local wine producers have actually asked wine critics not to rate our wines because they were «new»', explains Perse, not bothered in the least by the envy. Top Bordeaux wine critic Robert Parker awarded 100 points to Pavie's 2000 vintage, a very rare event.
Most wine producers in the Bordelais only drink their own wine. They think other wines will make them sick. I travel a lot and always check wine stores and wine aisles in supermarkets. Every year they sell less Bordeaux. Producers whose family has been making wine for generations often think that Bordeaux makes the best wine in the world, and that if it doesn't sell it's because customers have increasingly bad tastes. But you can't go on making your great-grandfather's wine and except people to buy it. At some point you have to ask yourself what the customer wants and see what other wines are selling. My competitors in St-Emilion don't tell me much, but I hear from wine workers we share. They tell me: «My boss' dream would be to make a Pavie».
...