Quince Balsamico Chutney
Home
>>
Recipes
My gorgeous, rich, spicy apple-quince chutney from a balsamico caramel base.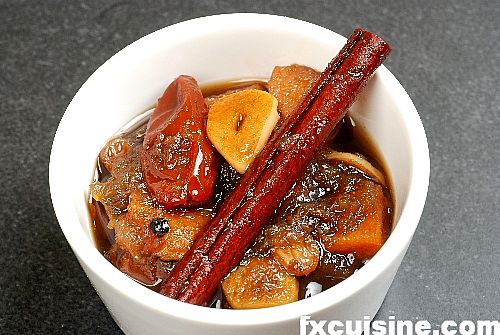 When I was a boy, I thought chutneys were born in jars. My first sighting of fresh chutney happened when I was 16 and travelling India with a cousin. A serious trip, all about linguistics, history and - already - gastronomy. One night we were in Udaipur and agreed, despite our tight budget, to induldge in a sybaritic extravaganza. We hopped on a small boat and it took us to a marble island in the middle of the lake, the Lake Palace. You have probably seen this building like everybody in James Bond: Octopussy. I believe the lake is gone for good because of climate change.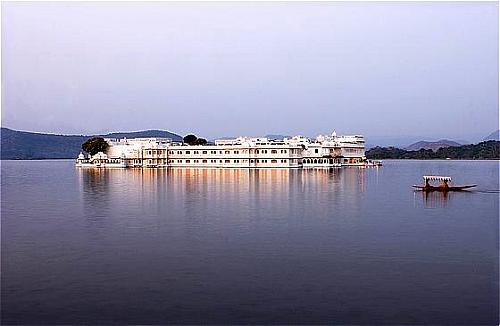 Now it's a luxury hotel and the mango chutney they serve, of course, is not bought but made in their kitchen. The meal made quite an impression - by far the most luxurious we had in India - and for years I would rave about it. They made their own chutney, can you believe that! would I tell my friends. Obviously, fresh chutney is better than store-bought one, but it took me even more time to realize that not only chutney is not born in jars, but you can make it at home.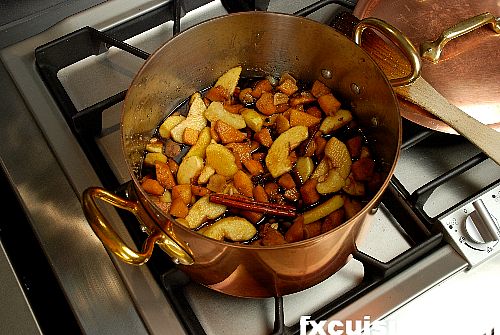 After some successful mango chutneys I decided to cook one after my own mind. My ideas was to marry the quince's strong flavor to colves, pepper and cinammon with a touch of dark color and rich flavor from a balsamico gastrique. The result is a memorable chutney that will stand up to the strongest game pâté or the most delicate naan.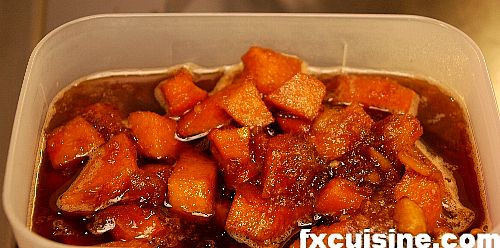 Please bear in mind that the pictures show my first trial for this recipe including some slight mistakes. Follow the printed words rather than the images.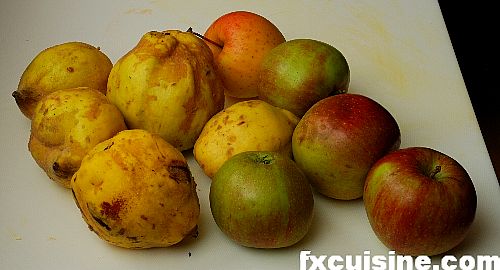 Quince Balsamico Chutney
An original fxcuisine.com recipe
5 spotless quinces
5 cooking apples
1dl balsamico
100gr white sugar
500gr muscovado sugar
2 cinammon sticks
6 cloves
20 peppercorns
4 dry serrano chiles
2 bay leaves
1 root ginger 1 head garlic 150gr sultanas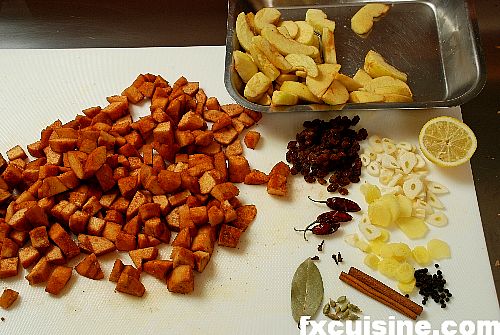 Quince is a lot of work to prepare and they turn brown the moment you cut them. If you want to preserve the flesh's orange-yellow color, I suppose the only way is to immerge the dices in salted water with a bit of lemon juice. Here I just let them become all brown to get autumnal colors.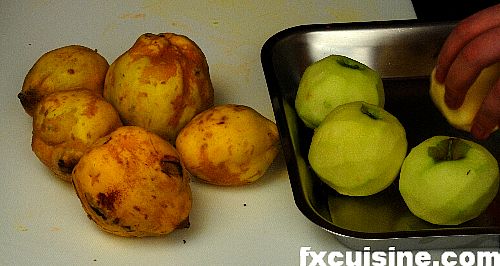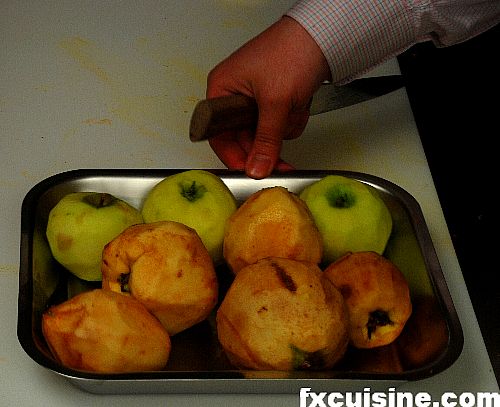 Dice the fruits, garlic and ginger. Here I left the garlic and ginger in large slices for added texture but you'll need to cook them quite a while to avoid unmanageably large chunks. It is safer to cut them in very small dices.
In the pictures below the fruits were cooked directly with the sugars but I would recommend you let apple and quince sweat in a separate saucepan with no extra liquid until you get about a cup of juice at the bottom of the pan. You can then use this juice in the caramel as explained below.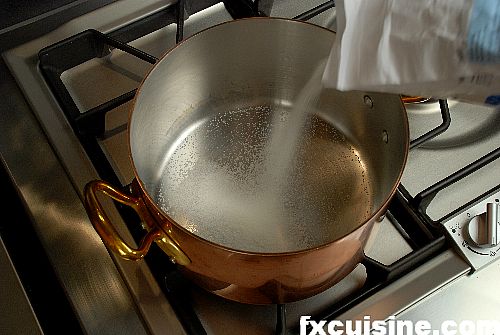 Take a large pot with either a copper core, a copper outside or a very thick bottom so that the heat will spread evenly and not burn your caramel in spots. This is less of an issue if you cook electric. Pour the white sugar in the pot. White sugar is easier to caramelize because the color change tells you how much it's cooked. With brown sugar you just never know. This sugar is used to flavour and color the chutney, not to sweeten or preserve it. That job is left to the muscovado sugar later on.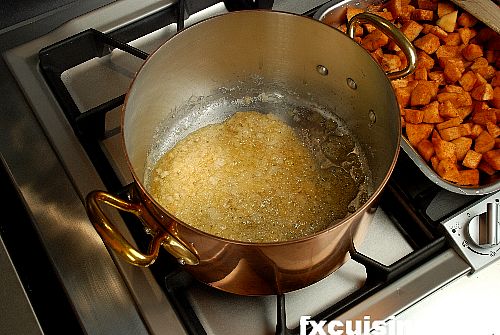 Cook the sugar until pale brown. Prepare the balsamico and some of the fruits' cooking liquid before you reach that stage because you will need to be quick.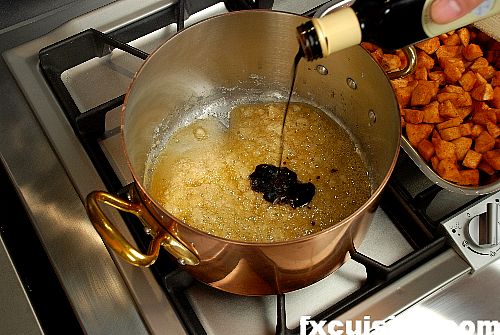 Wait for the caramel to reach a pale brown color. On the picture it's only blond, you can safely cook it a few seconds more. Take the pot off the stove and quickly pour the balsamico vinegar in the caramel and mix. Add the cooking juice from the fruits.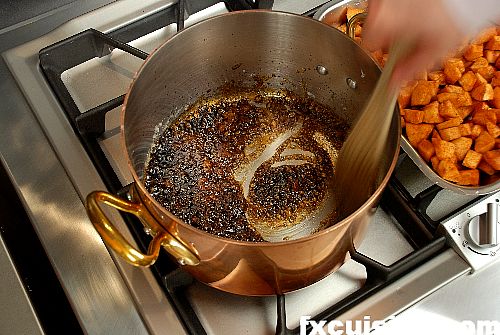 This operation is called décuire - literally to uncook, and it stops the cooking brutally by pouring a colder liquid into it. When done with vinegar over caramel, the end product bears the almost medical name of gastrique. It is used to preare the glorious sauce bigarrade for instance. A chutney is basically a spicy jam with vinegar, so using this French technique adds both sugar and vinegar with the extra taste and color provided by caramel and balsamico. You will need to add more sugar and more vinegar later for the flavors to balance but this definitely adds a layer of flavor.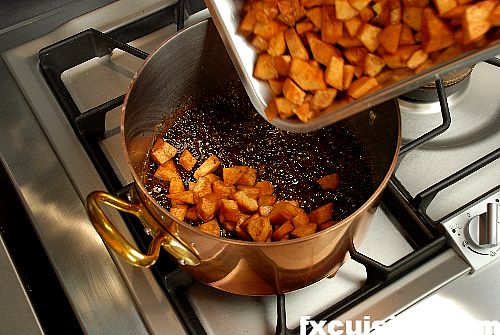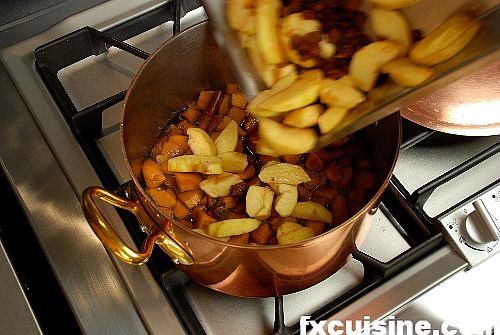 Pour the fruits into the gastrique. In the pictures the fruits are raw but I recommend you cook them separately before adding them.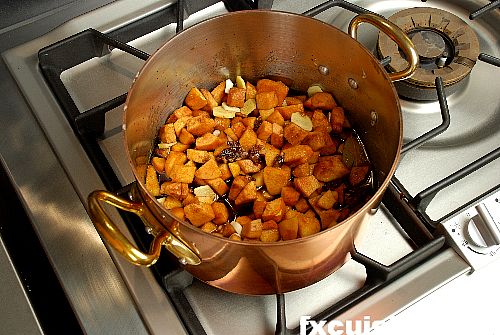 Add the sultanas, garlic and ginger.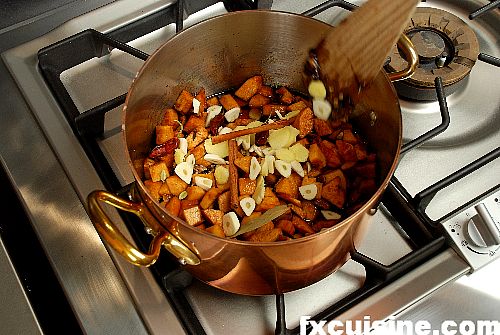 Add the spices and mix.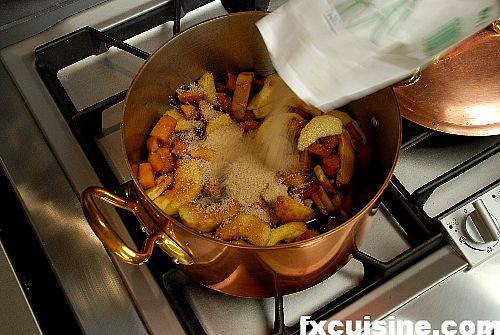 Add the muscovado sugar. This is an unrefined cane sugar with much flavor. On the picture I used plain brown sugar.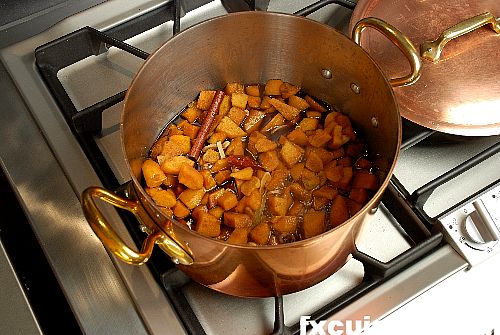 Cook until fruits are soft and most liquid has evaporated - about 60 minutes. You want the consistency of jam.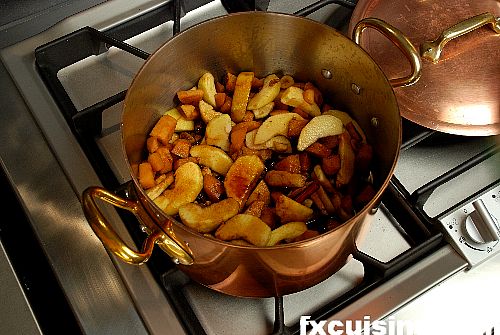 Put in sterilized jars with a tight lid and keep in the fridge.

Thanks for your attention and I hope you enjoyed the recipe as much as I did! If you make it at home I would love to get a picture or any comments.
198021 views
Copyright FXcuisine 2023 - all rights reserved.
If you do this recipe at home please let me know how it worked for you by submitting a comment or send me a picture if you can. Thanks!