Foie Gras Terrine Chargrilled like in Sauternes
Home
>>
Recipes
I had this memorable terrine at
Saprien
, the restaurant in Sauternes, France, home of Château d'Yquem. See how it's done - quite spectacular!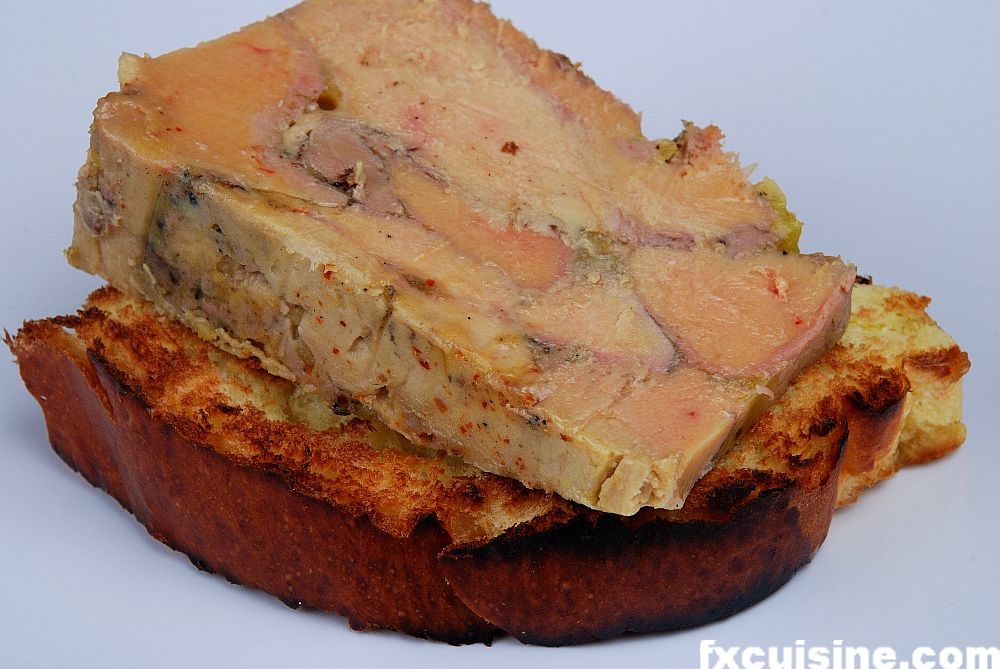 People who say French winemaking is in crisis obviously haven't visited Sauternes. This tiny village near Bordeaux is so affluent you could swear you are in a posh Swiss or Bavarian suburb. Streets are clean and adorned with flowers. You almost expect an armed convoy of Rolls Royce tractors with gold plated rims to come out of the wineyards with their loads of precious nobly rotten grapes.
So when we read in Gault Millau about a little Sauternes country inn specialized in grillades aux sarments (wine shoots grill) we knew we were in for a good meal.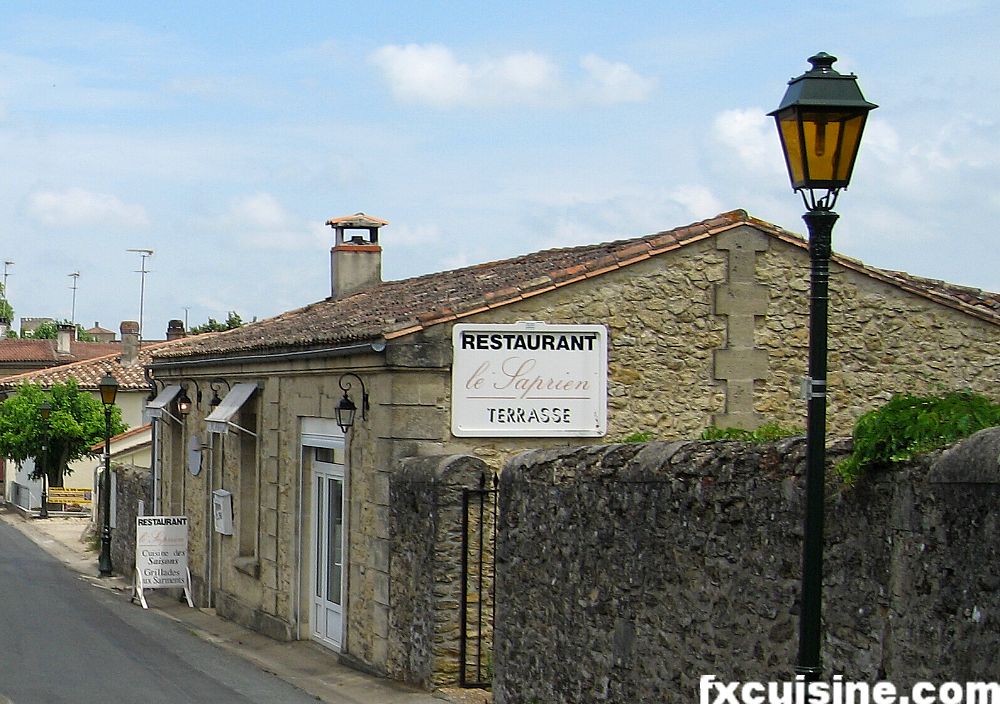 If the best selling starter at Saprien is not the Duos de terrines de foie gras: au Sauternes et grillé aux sarments, then people can't read. This combination of a classic Sauternes-marinated with a wine-shoots smoked foie gras terrine is so appealing, you would come only for that dish. What an extraordinary dish. South West chef Hélène Darroze, known for her profligate use of duck fat in her 3 Michelin stars Paris restaurant, also offers a foie gras freshly grilled over wine shoots with a grapes-figs port wine relish. A winning combination.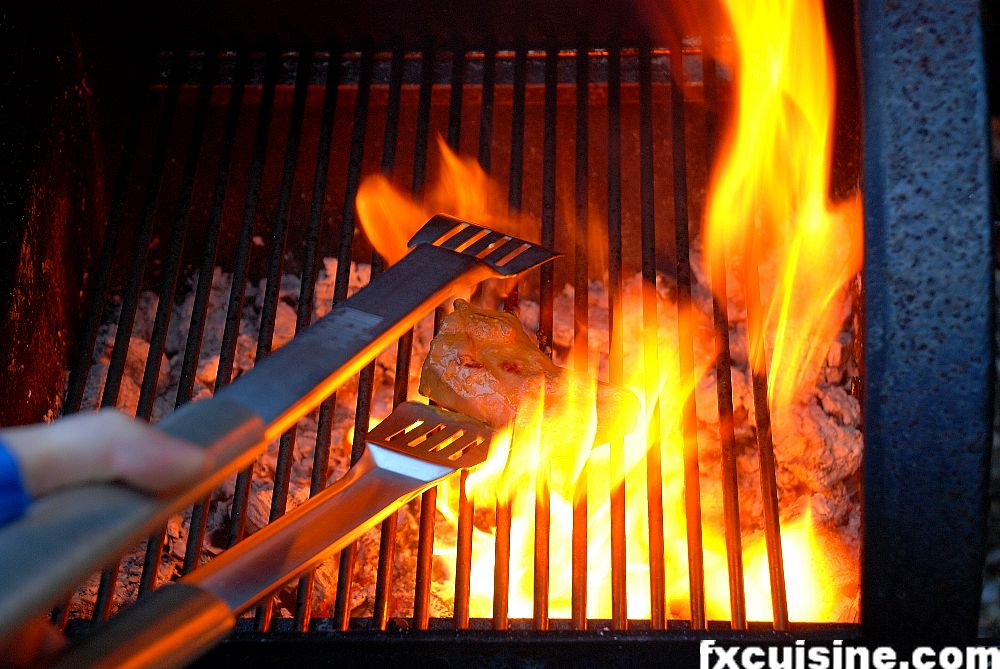 Seeing the nice raw foies gras at Mulhaupt, my local supplier, I decided to try and make my own foie gras terrine. But which recipe? I found load of them in my library, but it did not take long for me to recall my most memorable foie gras terrine ever. Saprien in Sauternes. So I put the cookbooks back on their shelves and called ther estaurant. The chef, Monsieur Garrigue, kindly answered. "You can do this only with foie gras of the very best quality, otherwise they will melt as soon as you put them on the grill. Devein the foie and cut it in large slices. Prepare a wine shoots fire and wait until the ambers have almost died out, then grill the foie gras very quickly. Aller-retour (back and forth)" he said in his lovely South Western French accent. "So, what, a minute in total?" I asked. "Yes, something like this. All you want is to have grill marks on the foie gras. Then you season it with pepper and salt. We add some Piment d'Espelette" he added, sounding less confident. Perhaps adding chili to foie gras would shock a traditional gourment. Indeed, in the French culinary canon foie gras is to be very lightly seasoned and the relish must be sweet. But I like chilies and his terrine was great, so he carried on. "Then you put it in a terrine and cook for twenty minutes at 50°C. Stick a needle into it and check that it comes out lukewarm, not cold. Cover, put some weight, not much, and leave in the fridge for a night. That's it."
I started work the next day. Watch me making Mr Garrigue's terrine: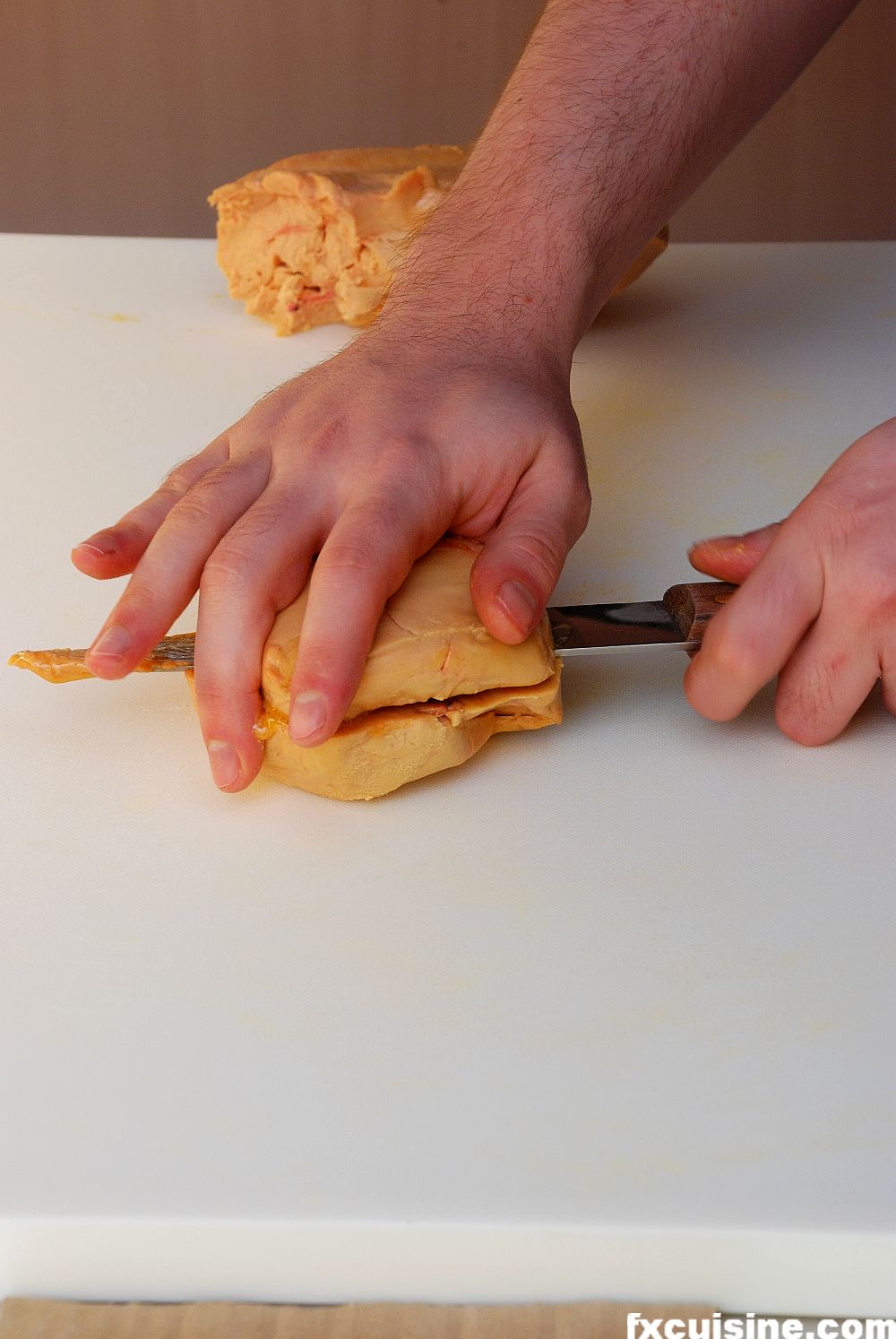 To devein it properly the foie gras must be around 18C°. If it's too cold, you won't be able to remove the veins. Cut the large lobe in the middle.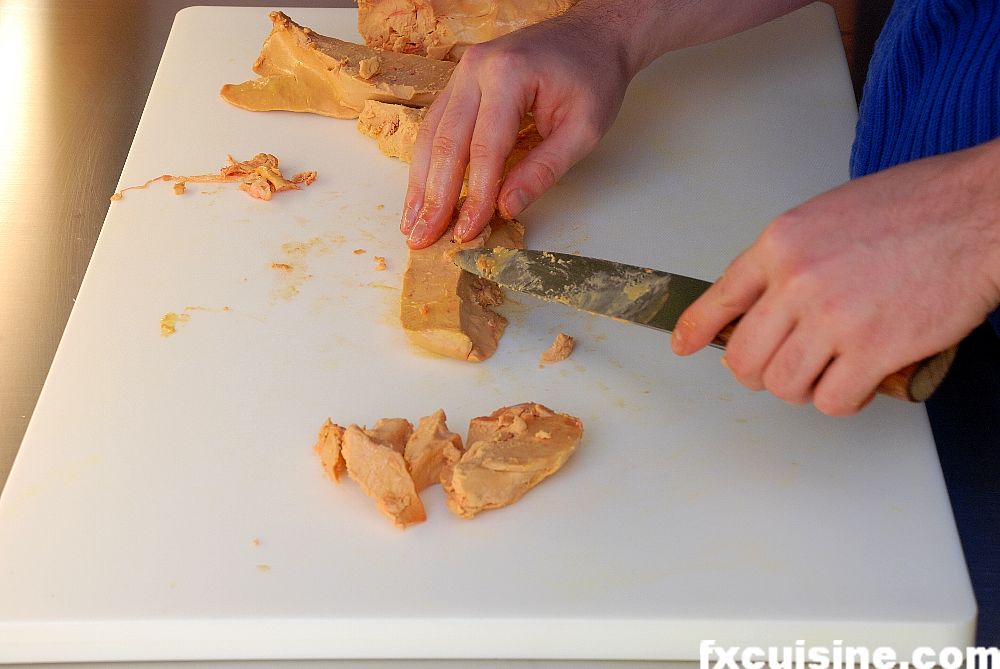 Find the two large veins and pull them gently to remove all of the smaller subveins.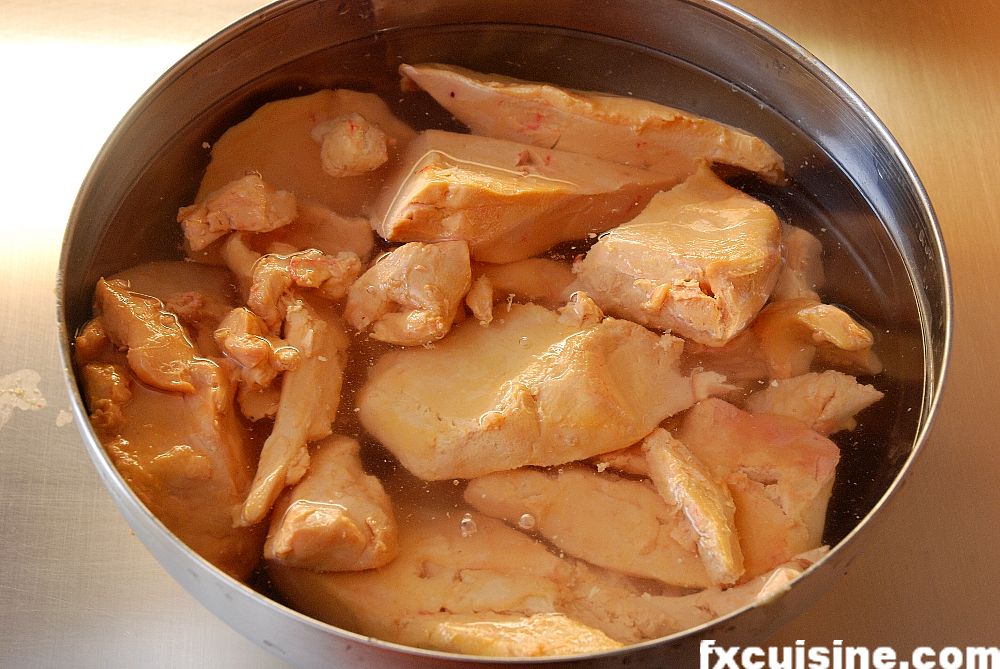 Leave the deveined foie gras in a bowl of ice cold water for at least 30 minutes. This helps removing some of the bitter substances contained in the liver.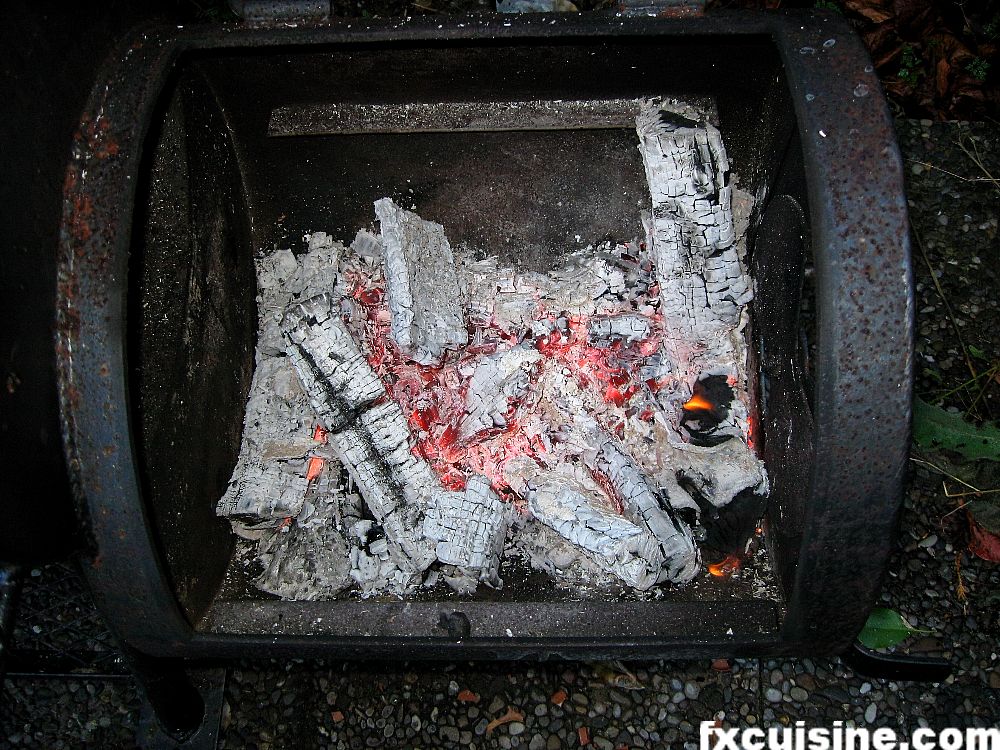 Prepare ambers by burning either hard wood or, better, dry wine shoots like they do in Sauternes. Don't do this with gas or charcoal, you won't get the taste. You need to wait until the fire has almost died out.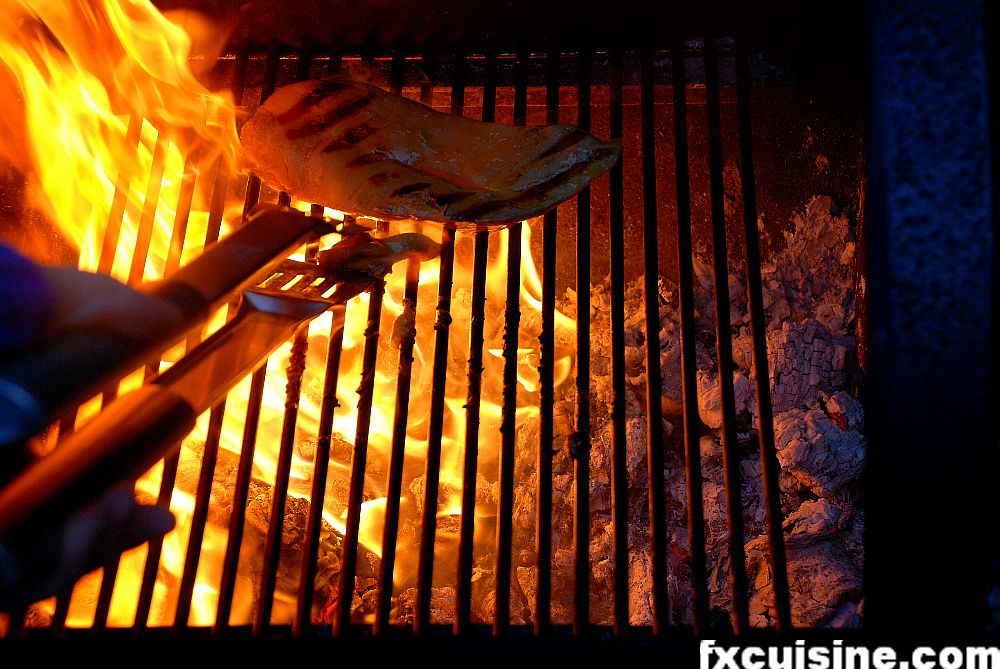 The foie gras is put over the medium-hot grill when the ambers are almost dead, and left for less than 30 seconds per side or until well marked. We don't really need to cook it a this stage - all we want is the smoky flavor.
...