Foie Gras Terrine Chargrilled like in Sauternes
(page 2 of 2)
Home
>>
Recipes
I had this memorable terrine at
Saprien
, the restaurant in Sauternes, France, home of Château d'Yquem. See how it's done - quite spectacular!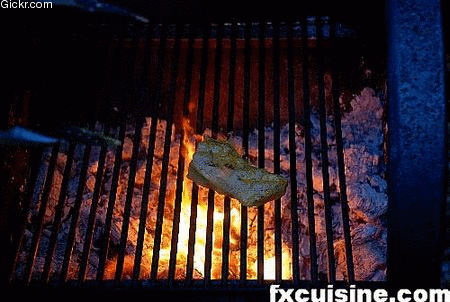 Having woken up early on a chilly December morning and waited about 2 hours to get my ambers ready, I did not want to risk having to start my fire from scratch for waiting too long before grilling the foie gras. So my ambers were still quite hot when I grilled the foie gras, and you can see what happens on the picture above. The foie gras melts a little, and the melted fat flares up like a Kuwait oil well. A nice way to support your local oncologist!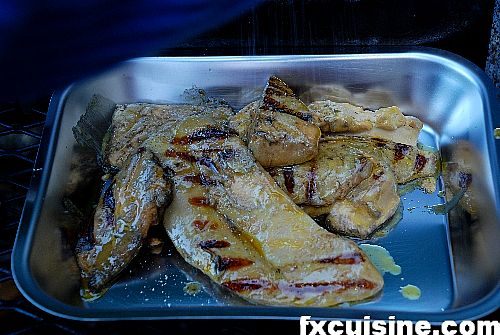 Start to salt with coarse sea salt, black pepper and Piment d'Espelette. I believe powdered chipotles would do even better but the only chili officially used in French gastronomy is the Piment d'Espelette.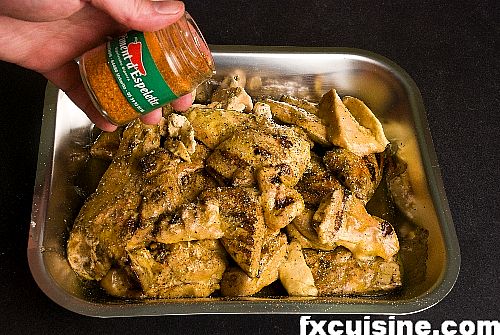 Back inside the house, some more seasoning on the second and last batch of foie gras still warm from the grill. I must say it looks, smells and tastes so good at this stage it's really hard to give up eating it straight away and having to wait one more day.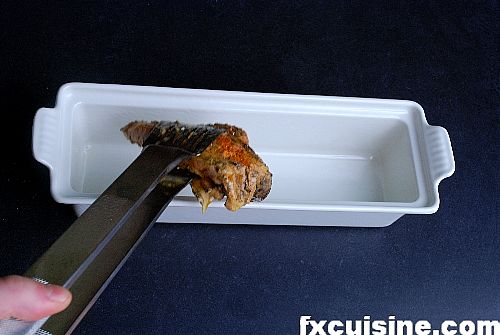 You can make a terrine in any cake mold, but given the quality of my ingredient, I went shopping for a nice terrine dish and found this beautiful cast-iron enameled La Cornue terrine. Lay the foie gras piece by piece in the terrine. Some people wrap the sides with a thin layer of pork fat for better preservation and easier unmolding but I find this bit of pork meat very unappetising. You choose.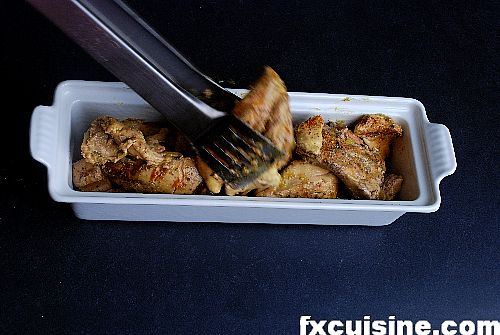 Put additional pieces of chargrilled seasoned foie gras in the terrine until full. If you have too much foie gras, you can eat the extra foie gras on a piece of toasted bread.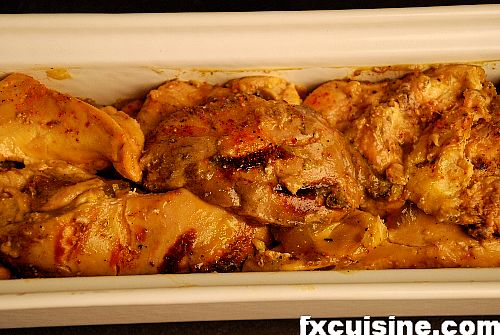 The foie gras is really beautiful - what a pity to have to wait an extra day before eating it!
<>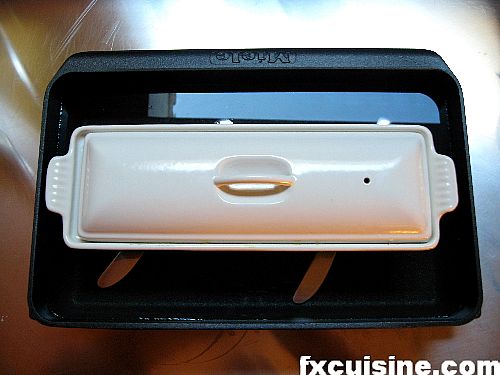 Lay the terrine or cake mold in a large ovenproof dish and fill with water. You can rest the terrine on two knives to prevent direct contact with the dish. The idea is to provide smooth, uniform heating so that the foie gras will not melt around hotspots.
<>
Put in the oven and cook for 20 minutes at 50°C. Usually foie gras terrines cook longer and at higher temperatures but here the foie gras has already been cooked on the grill. This process will tenderize the foie gras so they can later be pressed into a tight terrine.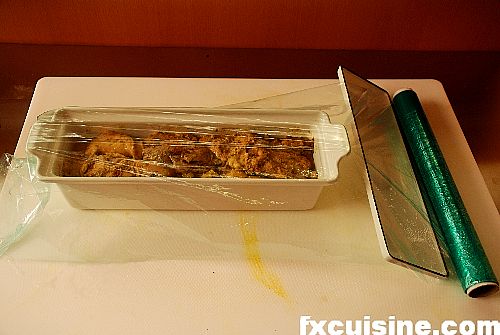 Let the terrine cool down to room temperature, then wrap in kitchen film.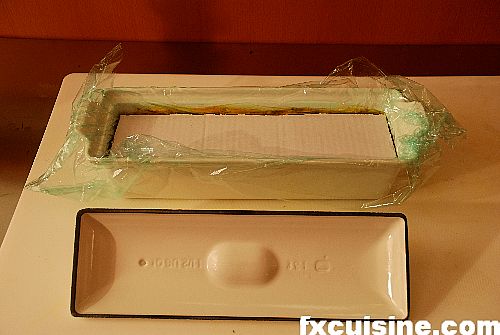 Add a piece of board or cardboard that covers exactly the inside of the terrine so that you can apply even pressure and obtain a regular shape.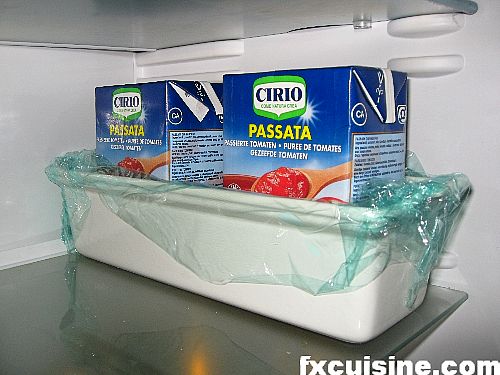 Put in the fridge with a weight over the cardboard - here I used two packs of tomato passata. You do not need an awful lot of weight but it has to be spread relatively evenly across the surface.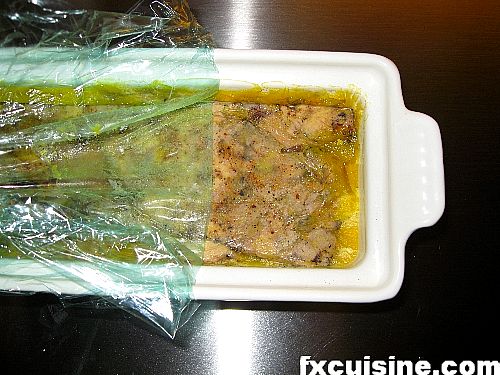 The next day, remove the weights and unwrap ...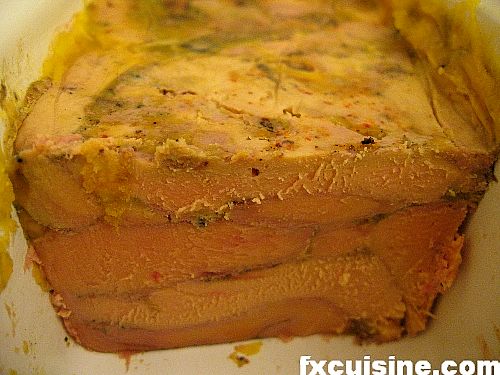 The foie gras is ready to be served. See below for better pictures.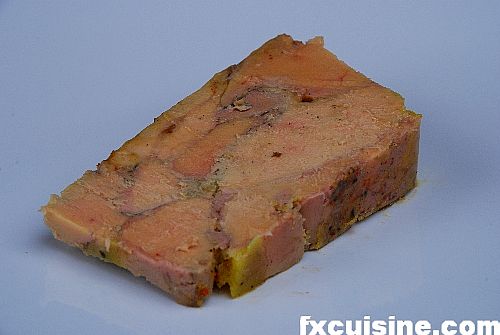 Heat a kitchen knife blade over a flame and use it to cut a slice of foie gras.
Serve with toasted brioche bread or here our lovely Swiss saffron-infused cuchaule and my Quince Balsamico Chutney. A big success!
If I may contribute about the ethics of foie gras, I do respect the people who care more for the goose's well-being than for their appetite. Without demand for foie gras many geese would probably never have been born. Is a two week force-feeding ordeal worth a goose's life? You find your own answer. Let me just say that I cook foie gras with greater respect than many ingredients save perhaps truffles.
To have lunch or dinner at the restaurant:
Restaurant Saprien
14, Rue Principale
33210 Sauternes France
Tel : +(33) 5 56 76 60 87
326979 views
Copyright FXcuisine 2023 - all rights reserved.
If you do this recipe at home please let me know how it worked for you by submitting a comment or send me a picture if you can. Thanks!