A Visit to Rungis, The World's Biggest Food Market
(page 2 of 2)
Home
>>
Experiences
Rungis, just outside Paris, is a cult place for gourmets. It is so huge you need a car to go from one hall to the next. That is where Parisian chefs buy what they cook. I was able to visit at 4h00 in the morning.
Caution: if you are vegetarian or have a heart condition, please DO NOT click on the text-linked images in this section.
By the entrance of the goriest hall of them all, La Triperie (the guts hall), we saw a pool of fresh blood: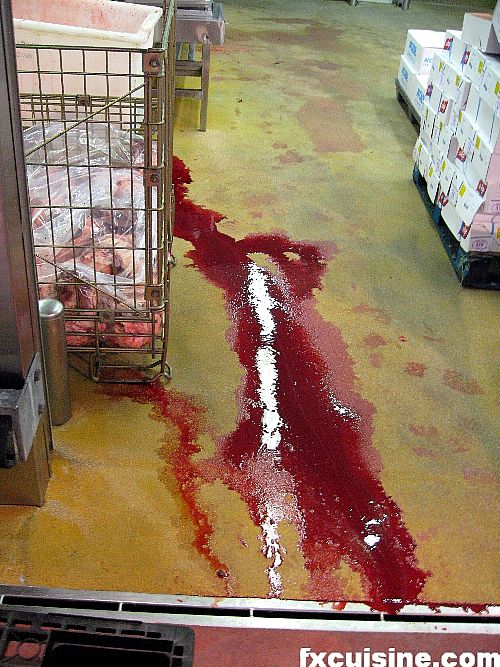 A bag of hearts. we saw a carton of brains - calf or sheeps? Calves' heads and pigs' heads are always a hit with young female Japanese visitors. According to our guide, they make all sorts of hisses and laughs and some faint. We were spared the strongest sight, horses' head. See some more heads.

The Meat Hall is a soft place compared to what precedes. Here they sell only regular steak, sirloin and filet, albeit by the carcass.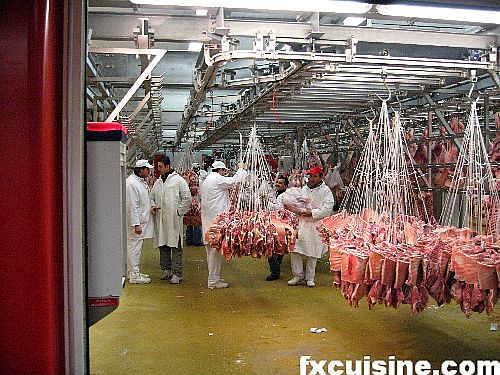 Want to cosy up with the locals?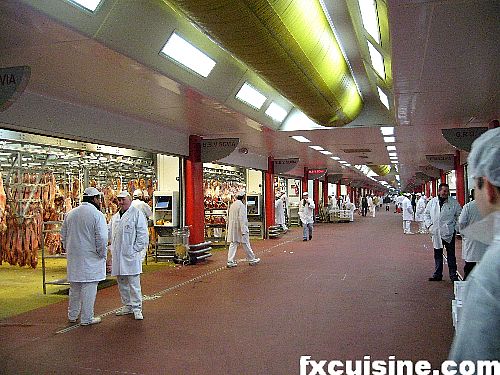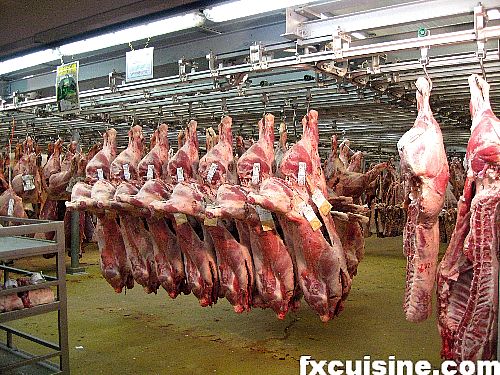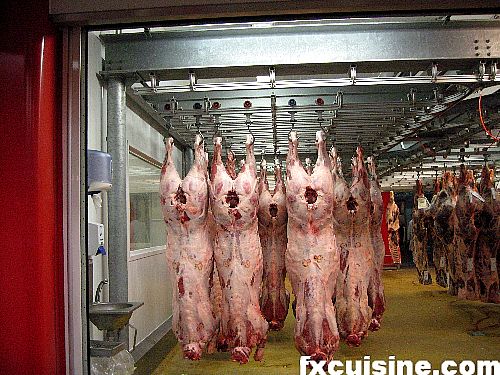 This dead piglet can shock some readers.
Our final visit was a huge supermarket for restaurateurs selling industrial and semi-industrial meal components. A sort of ready-to-wear gastronomic supermarket.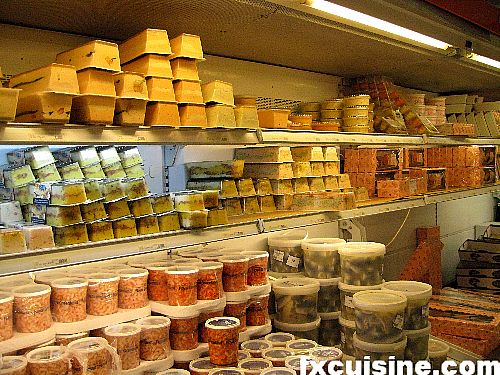 In this aisle, Parisians restaurant owners can buy ready-made Pâtés, pickles and prawns by the gallon. Real chef's specials.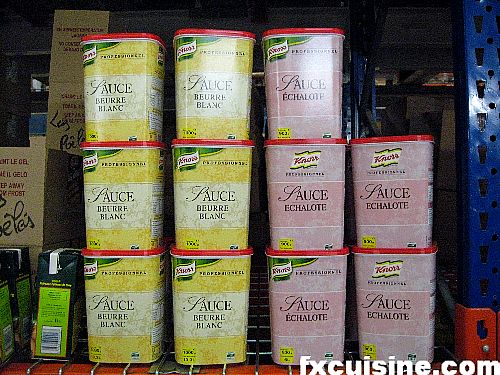 Further into the supermarket, we discovered what may be called the Swiss secret of Parisian saucemakers. An entire row filled with powdered sauces for every sauce known to Escoffier. Swiss-made by Knorr. Ahem. I'll say all French chefs do not shop here if you concede that there is more to Switzerland than Knorr.

We concluded our extraordinary visit around 9:00 AM with a plate of oysters and an omelette at A la Marée. Our guide Mr Sordet had been nice, professional and informative throughout and he waited till we were in the cab before leaving. Some people call dozens of cab before one actually shows up in Rungis.
The visit was definitely worth it and I warmly recommend this to any gourmet or home chef.
How could you visit Rungis? I know 4 ways:
join a group tour
Hire an official guide
Go with a registered Rungis buyer/seller
Sneak in with chutzpah
Become a registered buyer

1. join a tour group
Tour groups are organized by Visiter Rungis and leave once a month from Place Denfert Rocherau. See links below.

2. Hire an official guide
Official guide are courteous, English speaking professional guides but they don't come cheap. They wanted to charge €330 prepaid - we settled on €300 cash after the visit. Still an awful lot.
3. Go with a Rungis registered buyer/seller
If you know a registered Rungis buyer or seller, ask him if you can tag along. I don't think this is an option for most people and you won't be able to see the entire market.
4. Sneak in with chutzpah
Only registered buyers and sellers cars can enter Rungis, but if you come by taxi, you will enter all right. I am told the fine people at La Marée will get you an entry pass if you prefer to come by car. As far as I know, you don't need identification or authorisation just to be in Rungis. Ask for a cab to drop you off at La Marée and walk to the Pavillon de la Marée just opposite. There is a big vending machine selling white CSI-like outfits for €2. You need those to enter the halls. The sellers will immediately see you don't belong. The reason is they know each buyer personally. Just say you are visiting and they should leave you alone.
5. Become a registered buyer
Apparently it does not take much to become a registered buyer. With €20 and some perseverance, you can become a buyer at the counter of the Marché International de Rungis. Come with a commercial registry extract if you own a business or say you are a journalist. You can even order online. I'll try this next time.
Once you are inside, you will probably not get the same price or quality as a knowledgeable professional. But sometimes choice and freshness are just as important as price.
Visiter Rungis
http://www.visiterungis.com
info@visiterungis.com
+33 (0) 0892 700 119
Rungis' official travel agency, they organize group tours and private visits - for a fee.
Philippe Bardet
philbardet@hotmail.com
+33(0) 06 78 65 31 43
Our guide from Visiter Rungis. Extremely nice, patient and knowledgeable, he speaks fluent English, French, German and ... Norwegian. Highly recommended!
A la Marée
Google Map
2 Place des Pécheurs
Marché International de Rungis
Phone +33 (0) 01 46 86 90 90
Open 24/7
Gastronomic fish restaurant cum bistrot right in the center of Rungis. Eat Paris' freshest fish in the middle of the night and then hop into the market for a peek.

Marché International de Rungis
http://www.rungisinternational.com
Rungis Accueil
24 rue des Meuniers
94152 Rungis cedex
Phone: +33 (0) 01 41 80 80 75
Fax: +33 (0) 01 41 80 80 79
cartes.acces@semmaris.fr
846573 views
Copyright FXcuisine 2023 - all rights reserved.
If you do this recipe at home please let me know how it worked for you by submitting a comment or send me a picture if you can. Thanks!