Pakistani Lamb Pulao
Home
>>
Recipes
This extraordinary dish is served on special occasions in Pakistan and Northern India. See how it's made from fresh spices and then cooked in the oven.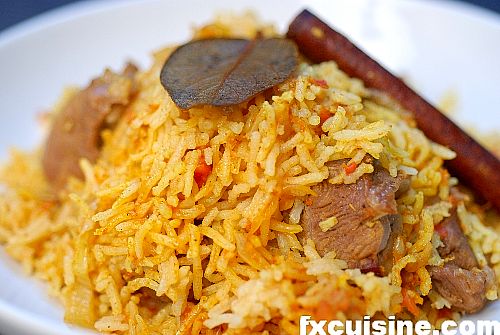 This extraordinary dish is nothing like the kind of Indian risotto you can sometimes eat in restaurants in the West. It needs long and careful cooking but if you follow the instructions on this page it's bound to be a success.
Lamb Pulao
800 gr lamb, ie shoulder
2 cups basmati rice
6 cups thinly slices onions
400gr peeled tomatoes
100gr sultanas
4 garlic cloves
1 piece ginger root
6 green cardamom pods or 3 black
20 black peppercorns
1 bay leave
1 stick cinnamon
sea salt
a pinch of mace
a pinch of nutmeg
2 tablespoons whole coriander seeds
2 tablespoons whole cumin seeds
ground turmeric
5 cloves
2-4 dried chilies
2 cups water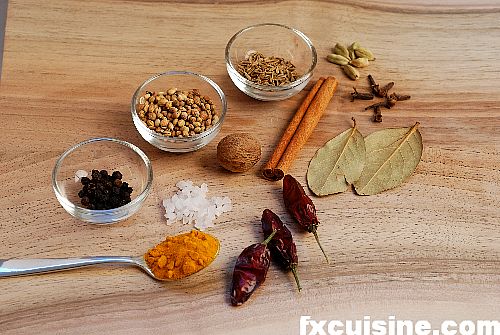 The spices we'll use, clockwise from spoonful of ground turmeric: black peppercorns, whole coriander, whole cumin seeds, green cardamom, cloves, bay leaves, serrano chilis and in the middle from the bottom up sea salt, nutmeg and cinammon.
Spices cost nothing these days and although you can't store them forever like my mom does, 'vintage' cardamom will still have way more flavor than no cardamom at all. And please never buy ground spices - they taste like sawdust after two weeks and you'll miss all the fun.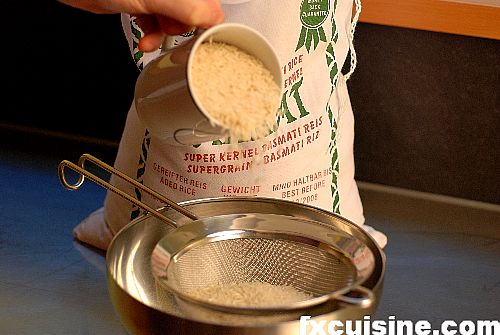 You need the very best basmati rice for this dish. Don't hesitate to visit an indian grocery or order it online for best result. On the picture you see my bag of premium basmati. Pour two cups into a sieve.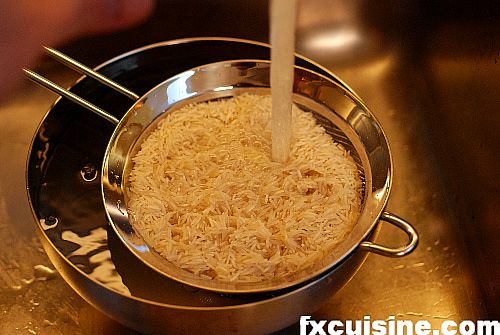 The first step is very important - you need to to wash the rice a couple times, then leave it in a bowl filled with water for 1 to 2 hours. If you omit this the rice will not be fully cooked.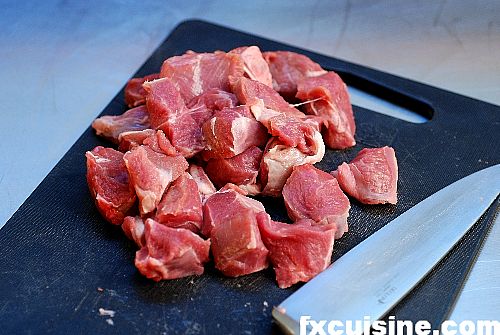 Dry the meat with a paper towel and cut all the white fat patches you can. Cut the meat in cubes the size of your thumb's width.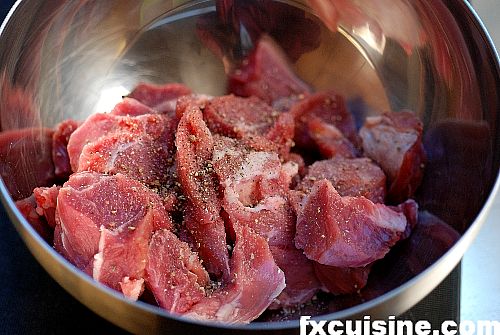 Season them with salt and pepper. Wrap in plastic foil and let the meat rest while you finish the preparation.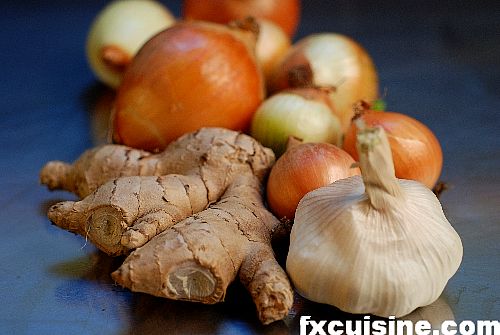 Take ginger, onions and garlic out of the fridge.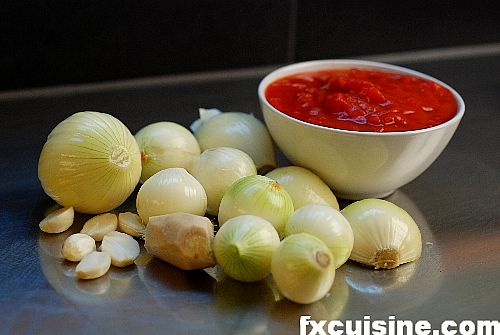 Peel them, then chop the onions as thinly as possible. Crush the garlic and grate the ginger until you have an equal amount of both.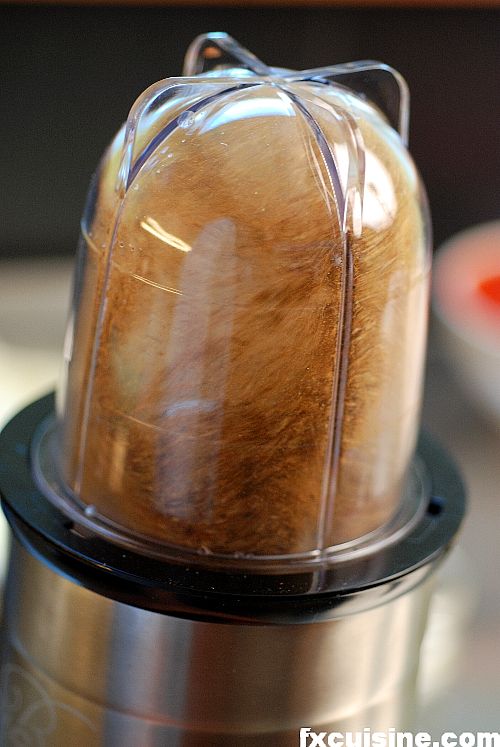 Using a recent addition to FXcuisine, I reduce peppercorns, cumin, coriander, mace, nutmeg and the deseeded and stemmed chilies into a much finer powder than what I could have with my mortar.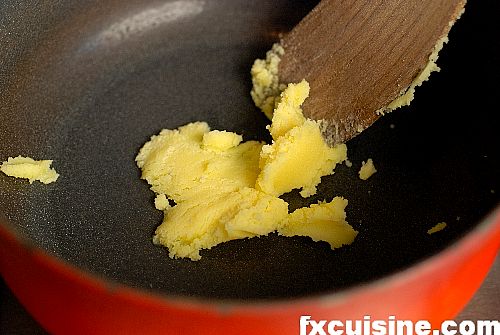 Heat some ghee or oil in a dutch oven.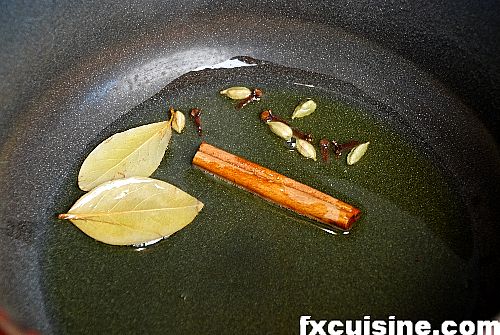 Add the large fragrant spices: cardamom, cinammon, cloves and the bay leave. Fry over high heat until the turn brownish. You don't want to burn them but the bay leave should change color. This process increases the flavor much like it does when you heat raw sesame seeds.
...