CannelÚs Bordelais
Home
>>
Recipes
Easily one of my top 10 favorite pastries, these humble-looking little crepe dough tumblers are very tricky to make right. Here is how they make it at Len˘tre.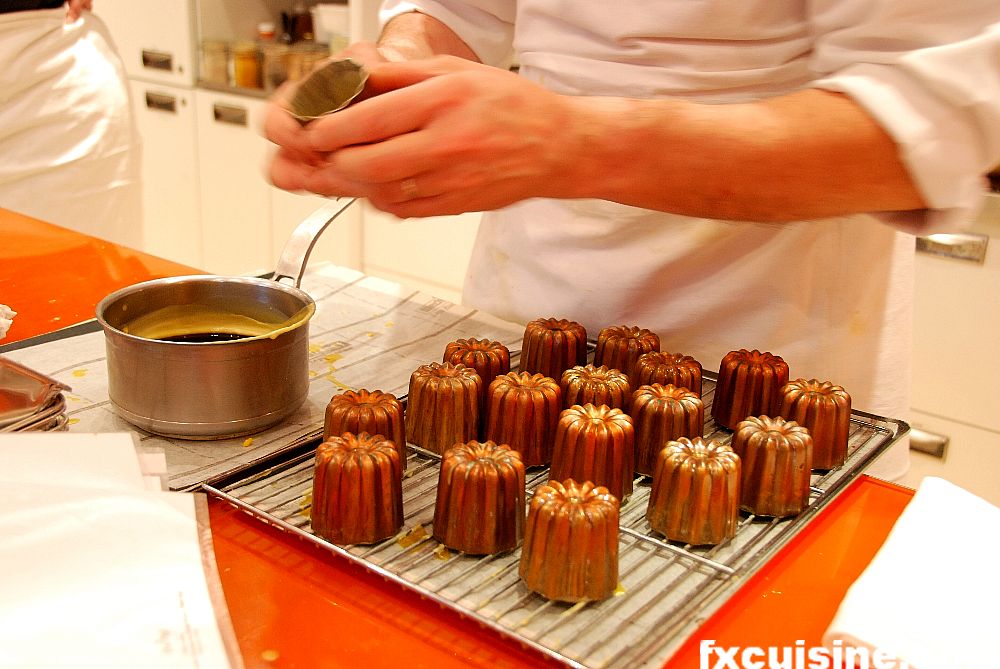 CannelÚs Bordelais are humble French little cakes from Gironde/Bordeaux which very few pastry chefs manage to get right. In essence, it is a vamped-up crepe batter cooked in tiny copper molds until they become brown and crusty outside. The inside has to remain wet. A very nice contrast. After a few hours, the crust becomes less crisp because of the humidity inside, so they're best eated straight off the oven.
In St-Emilion, the few shops that don't sell wine-related goods all sell cannelÚs (pronounced [kah-nuh-leh].
Such is my love for this pastry, I used to buy a cannelÚ in every pastry shop in Paris. The best was in Fauchon back when Pierre HermÚ was their pastry chef. One day, the wife of a pastry chef-owner in the Marais told me these were especially hard to make and that 'We ruined several batches before we managed to cook them right'.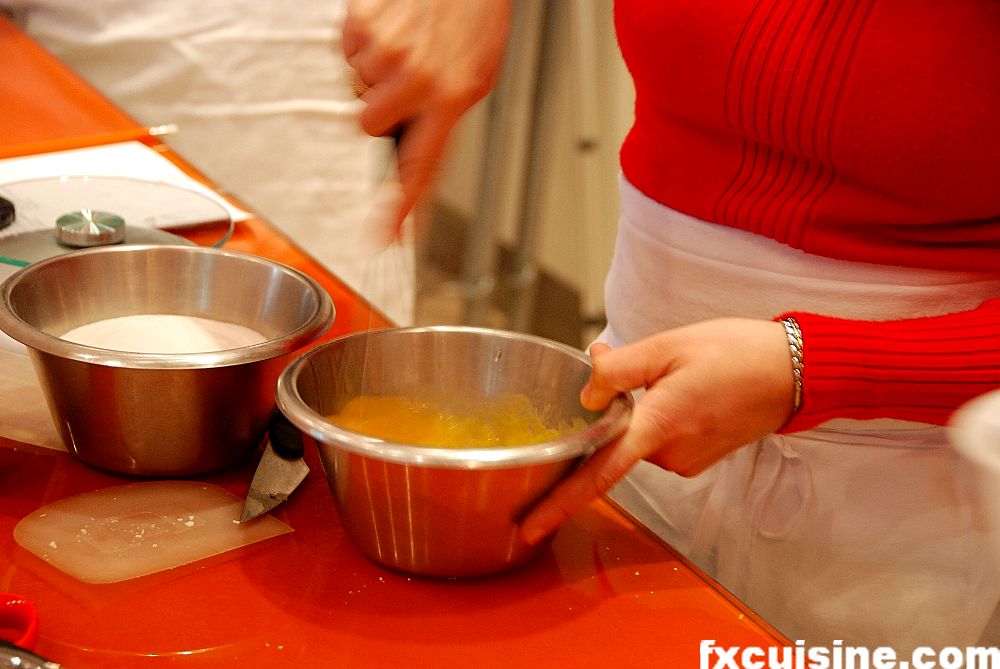 CannelÚs Bordelais
500 gr full fat milk
50 gr butter
50 gr egg yolks
30 gr whole eggs without shells
250 gr sugar
125 gr flour (T55)
15 gr brown rhum
1/4 vanilla pod
6 gr lemon zest
2 bitter almonds
500gr untreated beeswax (yes)
18 cannelÚs copper pans
If you don't have bitter almonds, chef Schmitt recommended we substitute with apricot stones blanched for 2 minutes. Sounds rather toxic, but hey, that's for a recipe that calls for beeswax.
Heat the milk, butter, sliced and grated vanilla pod, lemon zest and almonds. Bring to a boil, then let stand for 1 hour.
Beat together the egg yolks and whole eggs, sugar and rhum. Don't foam, just mix thoroughly.
Add the flour and milk and mix well.
The batter needs to rest for 24 hours in the fridge. To make it fit in a 3-hour-long pastry class, chef Schmidt prepared a batch the day before and left it in the fridge covered with heat resistant foil put directly on the batter surface (picture). That's the batter we used.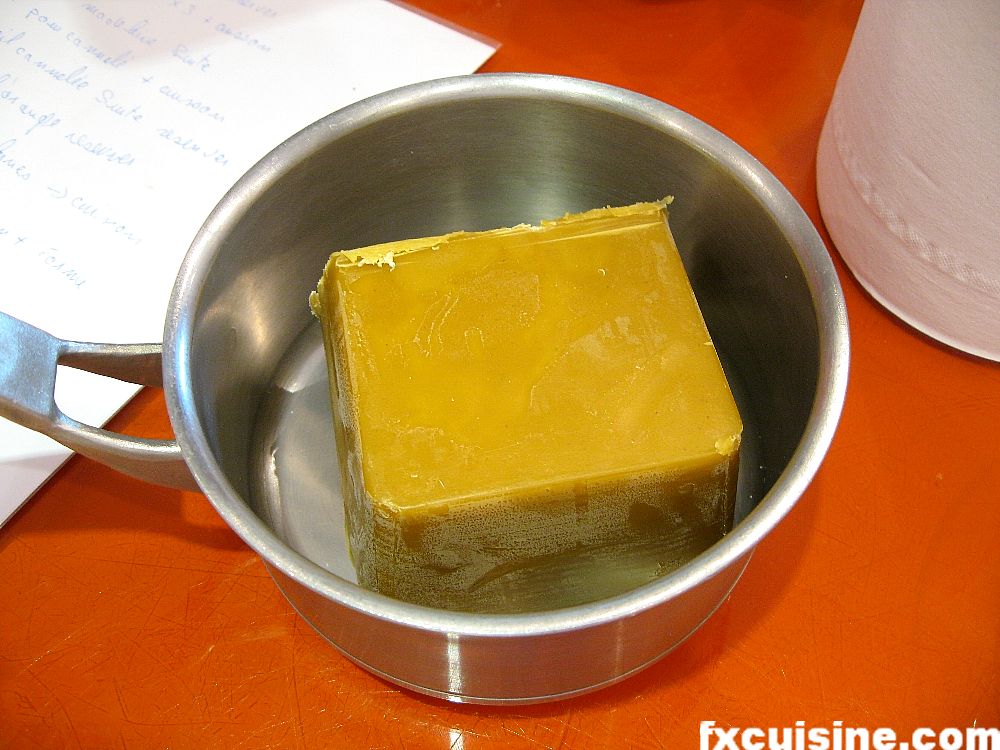 Melt the beeswax in a saucepan. The traditional recipe uses real beeswax, like the one in premium candles. It doesn't burn like sugar and butter would and give a nice crispy brown crust.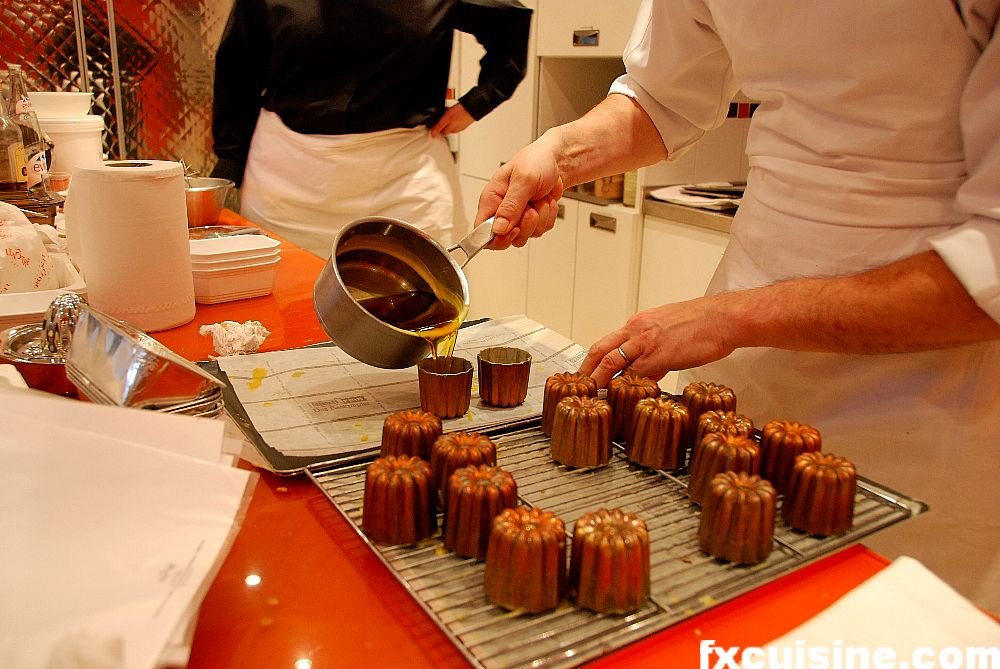 The fluted cannelÚ molds are put in the oven for 5 minutes. Melted bee wax is poured in the hot molds to coat the inside evenly with a thin layer of wax. Excess wax is then poured in other pans until all of them are coated. If the wax layer is too thick, you may need to put them back in the oven for a minute, then let them drip upside down on a grate.
...