Buying Spices in Istanbul's Egyptian Bazaar
(page 2 of 2)
Home
>>
Experiences
This bazar in downtown Istanbul is a cult destination for the spice lover as well as a century-old tourist trap. Find out where to look for the real thing.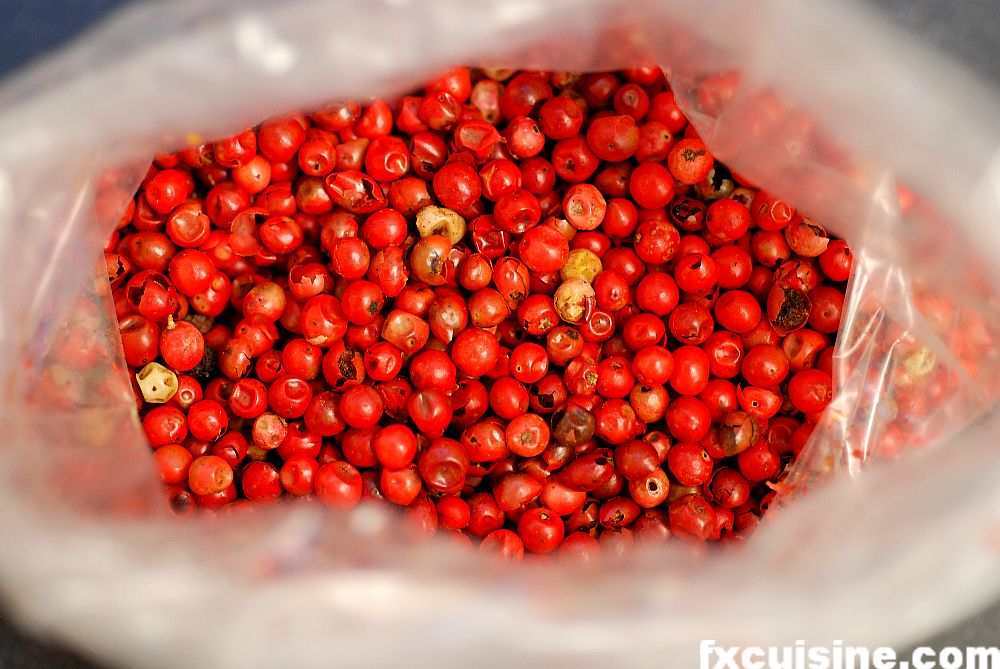 Red peppercorns to serve with fresh goat cheese.
2. SWEETS
Half the shops in the Egyptian Bazaar sell Turkish sweets - baklavas, turkish delight, you name it. A friend of mine says that all oriental pastry can be summed up in the question 'Fat or sweet?'.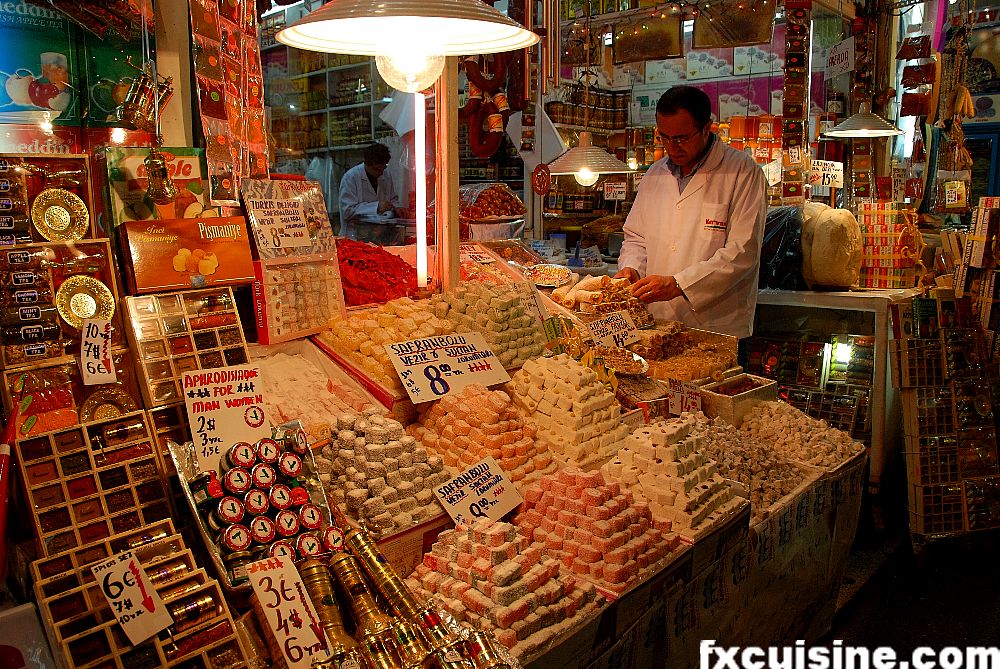 Turkish delight is not hard to find, and you get a rather large choice of flavor. Now this is never gourmet confectionery, just flavored jelly coated in cornstarch, but buy some for fun.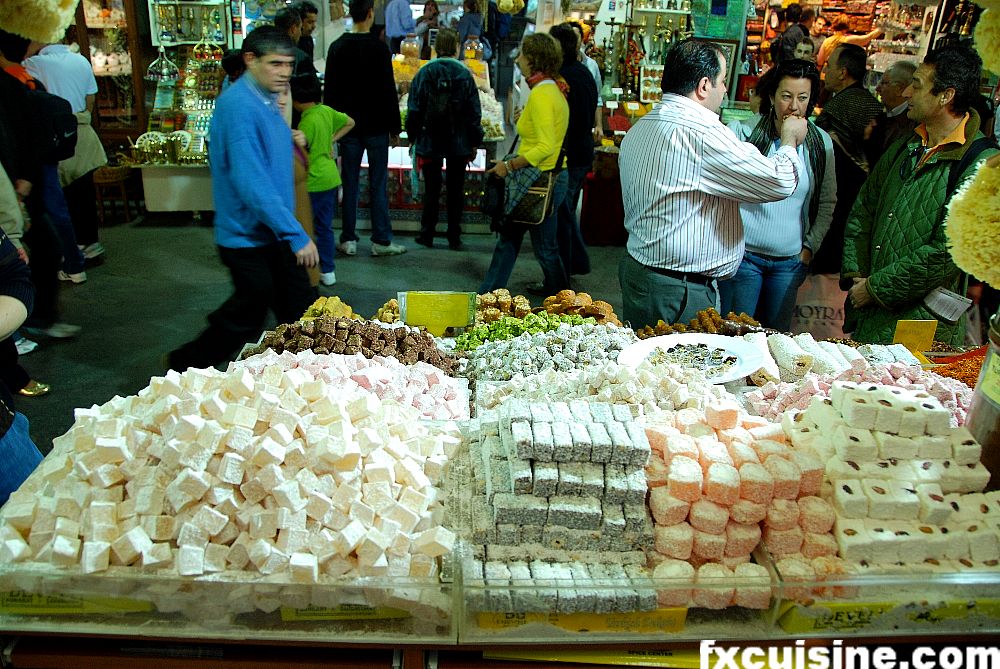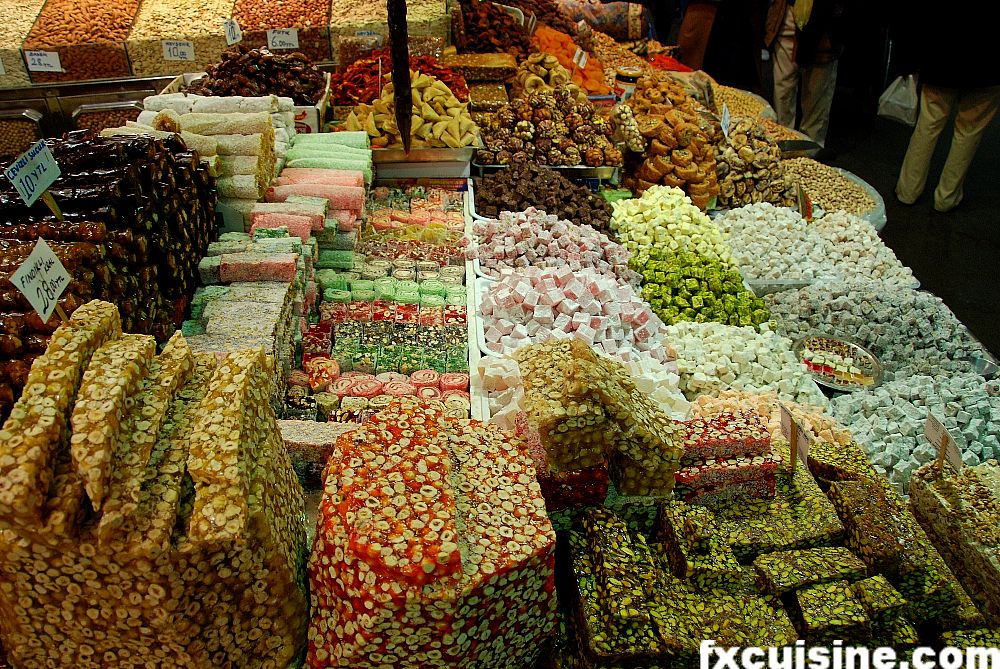 A favorite Turkish sweet brings together two national favorites - nuts and sugar. These are big loaves of pistachios or hazelnuts glued together by a sweet flavored gel. My favorite is the red one -
hazelnut and pomegranate
.
3. THE NUTS
The shops who don't sell spices or sweets sell nuts.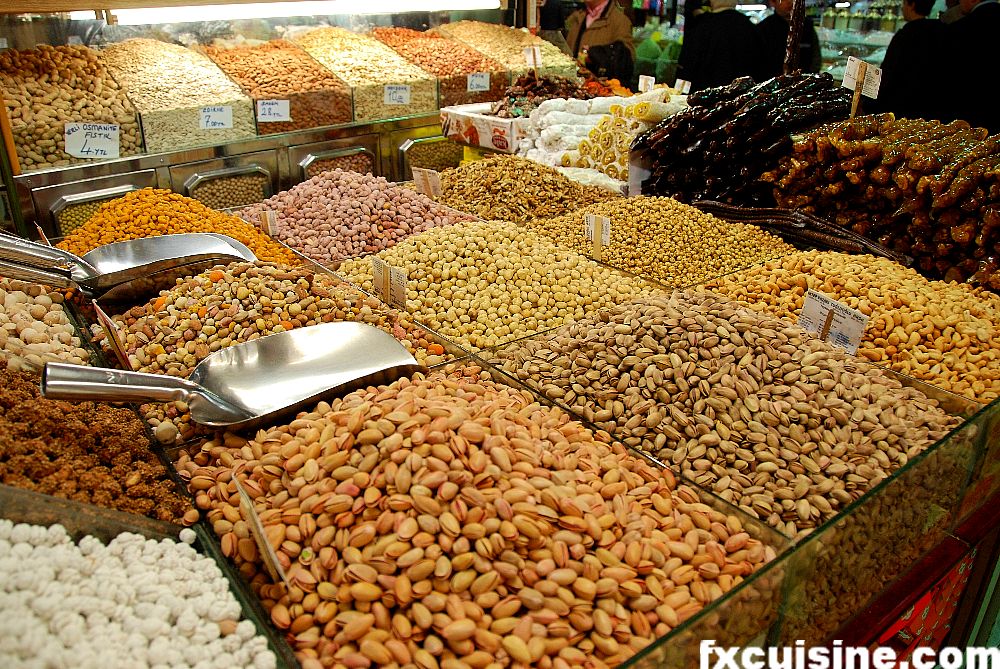 Nuts of all kinds are a good buy in Turkey and here at the Egyptian Bazaar you certainly have a choice. Almonds, pine nuts, hazelnuts and mounds of pistachios.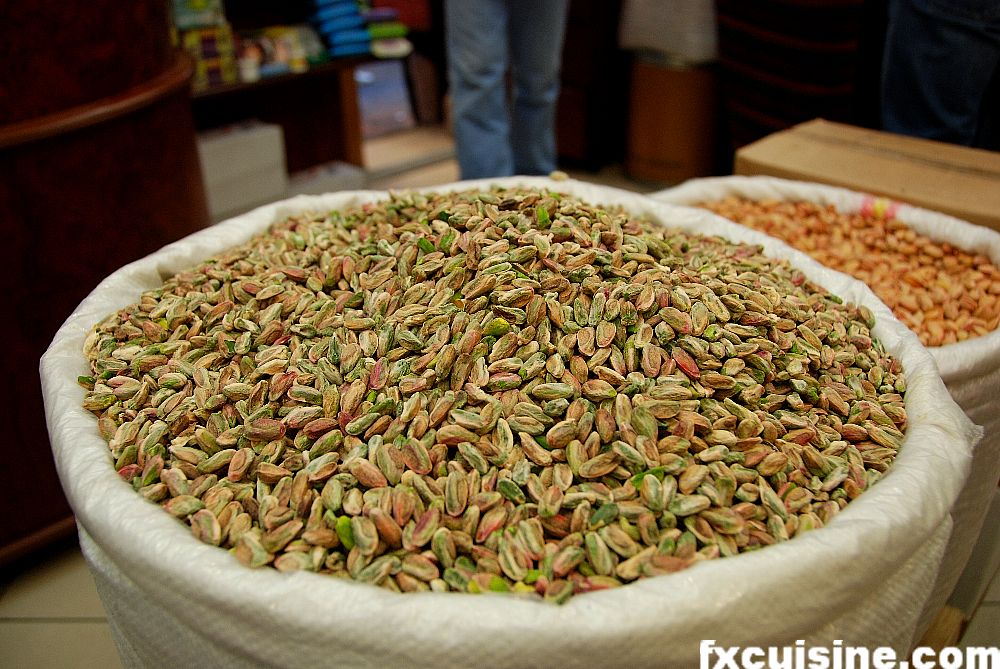 I bought some of these shelled unsalted raw pistachios to prepare my own pistachio paste at home.
4. THE REAL BAZAAR
FXcuisine.com is not about tourist honeytraps and I will now tell you about the
real bazaar
. Enter the building by the main entrance, walk to the end and exit by the door in front of you instead of turning left into the second aisle.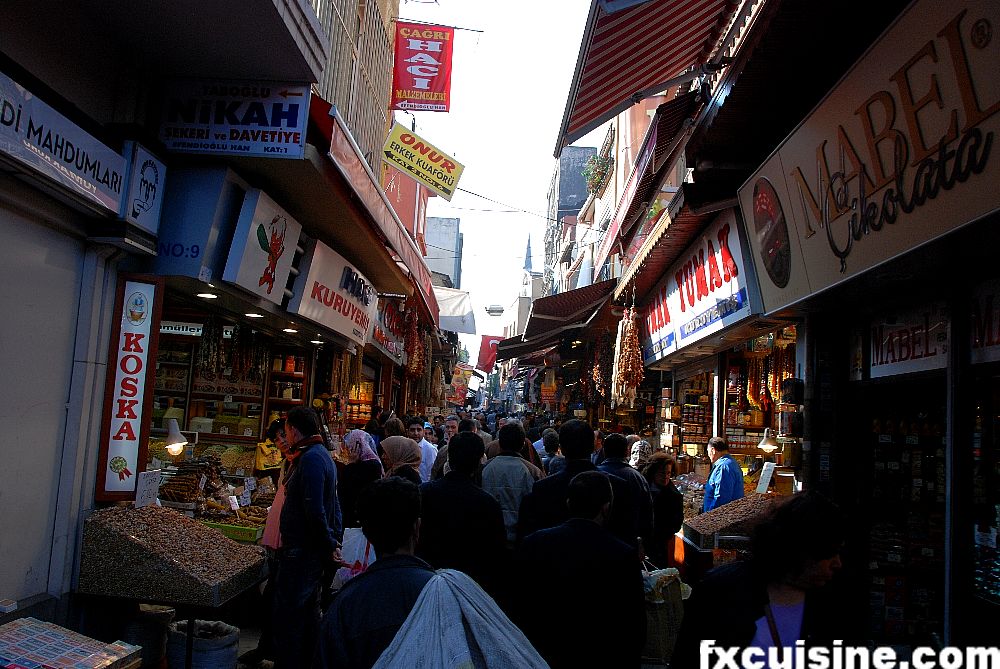 In those narrow streets, you will find what regular Turks buy -
simple cheese
(that doesn't look gourmet grade),
stuffed wine leaves
and several shops selling rustic Turkish cookware. The real thing. Some even have fixed prices, which allowed me to buy huge hand-made shish (skwers the size of sword) for 1€ each.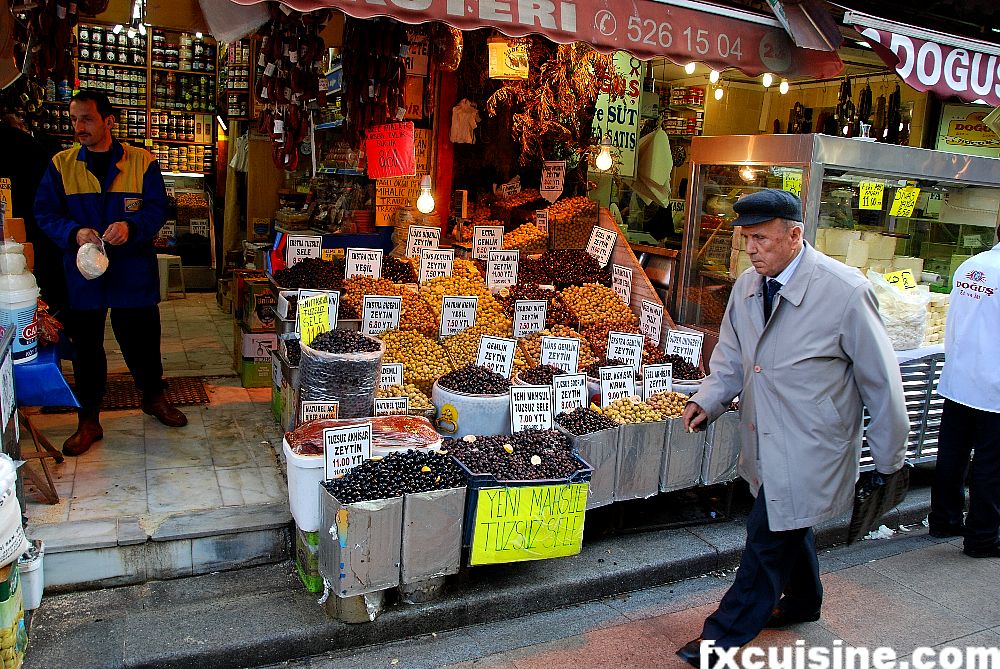 If you like olives you're unlikely to find as much choice anywhere else than Turkey.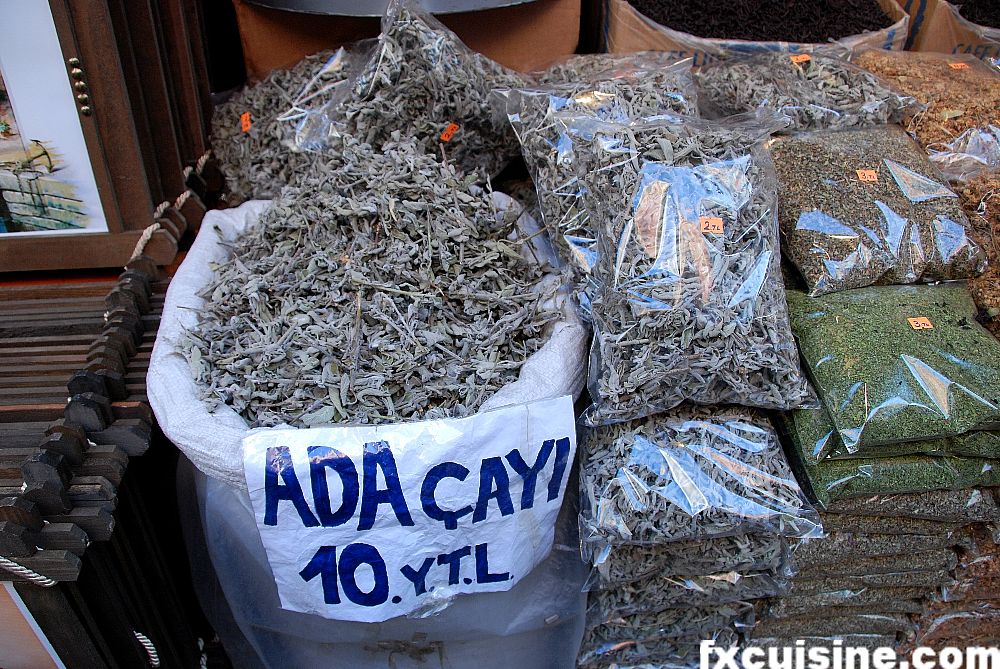 Ada çay is wild sage used as herbal tea, a popular drink in Turkey. I bought some although the leaves never look that good.
What I didn't buy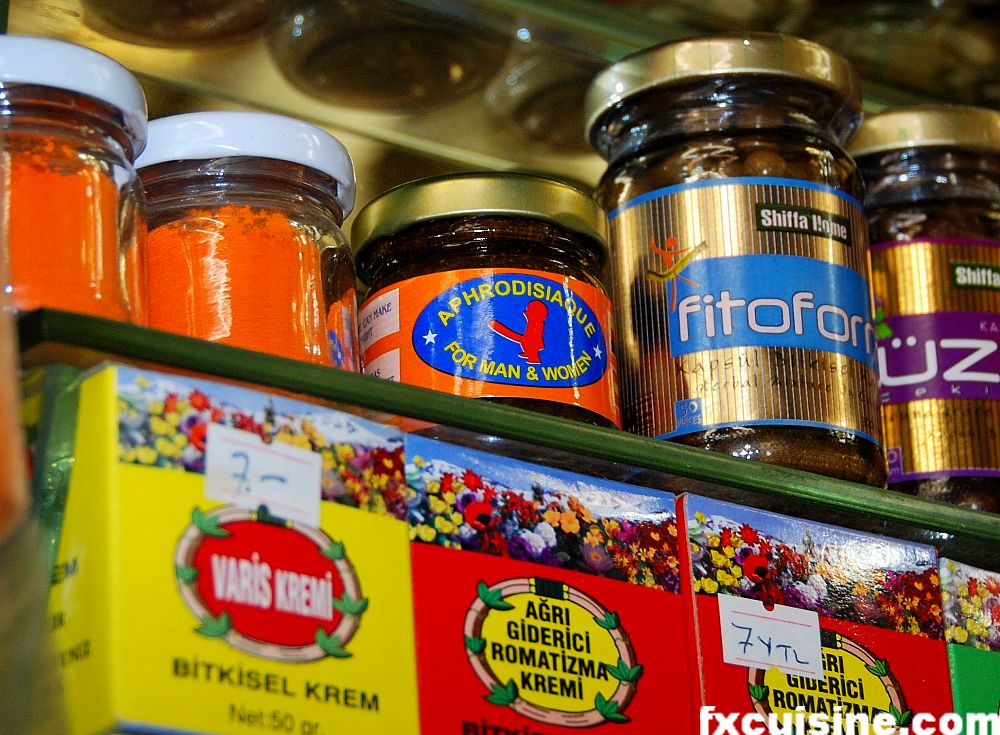 Every single merchant in the Egyptian bazaar will press you to buy Turkish Viagra, a herbal mix that will enable you to 'make love 5 times in the night'. I managed to escape by saying I wouldn't settle for less than 10 times in the night until one merchant answered 'You'll need to buy two jars for that'.
443123 views
Copyright FXcuisine 2023 - all rights reserved.
If you do this recipe at home please let me know how it worked for you by submitting a comment or send me a picture if you can. Thanks!