Una Clase de Tallarines Soba en Tokio
(página 2 de 2)
Home
>>
Experiencias Gastronómicas
Mi lección privada en la Academia Soba de Tokio para hacer tallarines japoneses de trigo negro (alforfón) desde cero.
El Chef Inouye continúa trabajando su pasta hasta que alcanza un espesor de 1.5 mm (observa el calibrador amarillo a la izquierda).  La masa es ahora tan larga que el chef necesita enrollar la mitad en uno de los dos rodillos largos mientras trabaja la otra mitad. 
Corte de la masa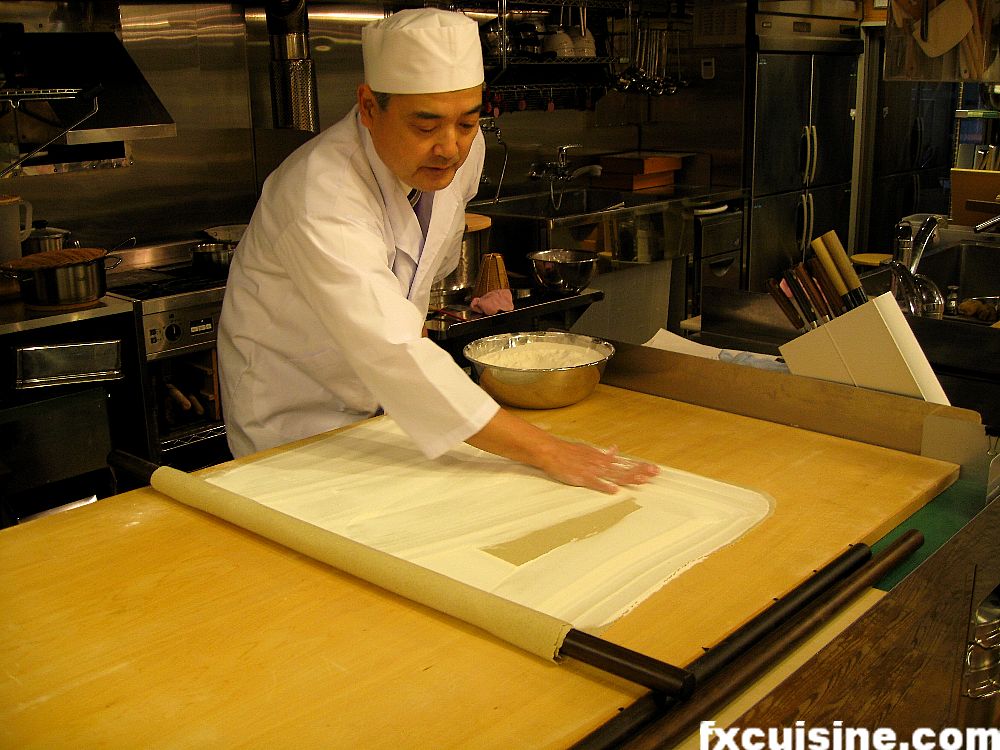 Se espolvorea el rectángulo de masa con una harina muy fina especial de alforfón llamda uchiko, y se dobla cuatro veces sobre si misma.  El uchiko evita que se pegue.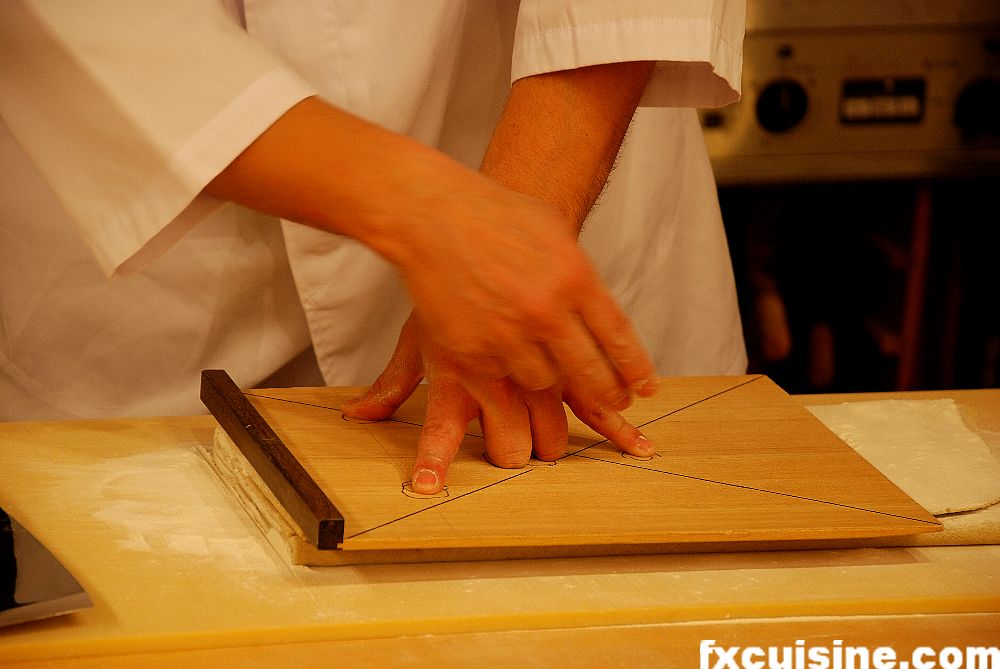 La masa doblada se presiona levemente con una tabla y está lista para ser cortada.

El chef toma su cuchillo gigante de acero al alto carbón especial para soba y comienza a cortar los tallarines.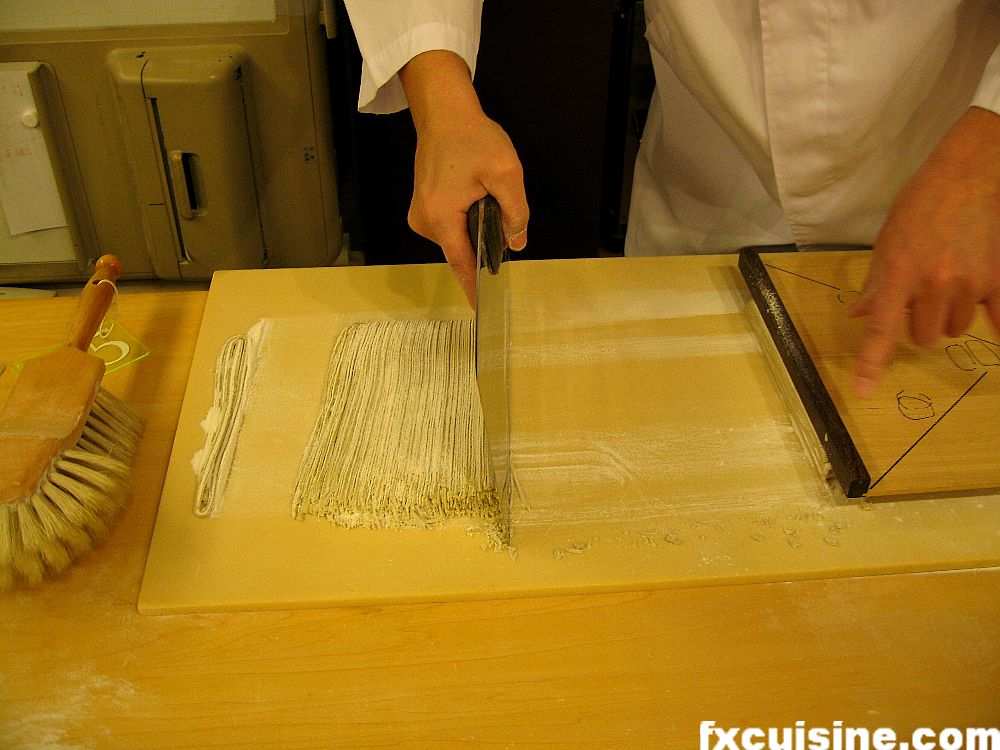 Los tallarines tienen que medir 1.6 mm de ancho.  '¿Cómo logras tanta regularidad?'  Pregunté. 'Fácil. Solo incina el cuchillo en un ángulo de 1.5º y solito empujará la tabla guía justo lo suficiente para que el siguiente tallarín mida 1.6 mm'. ¡Claro!  No hay nada que le diga al chef cuando alcanza 1.5º por lo que imagino que los alumnos sienten que su dinero fue bien invertido si aprenden a hacerlo en 30 días.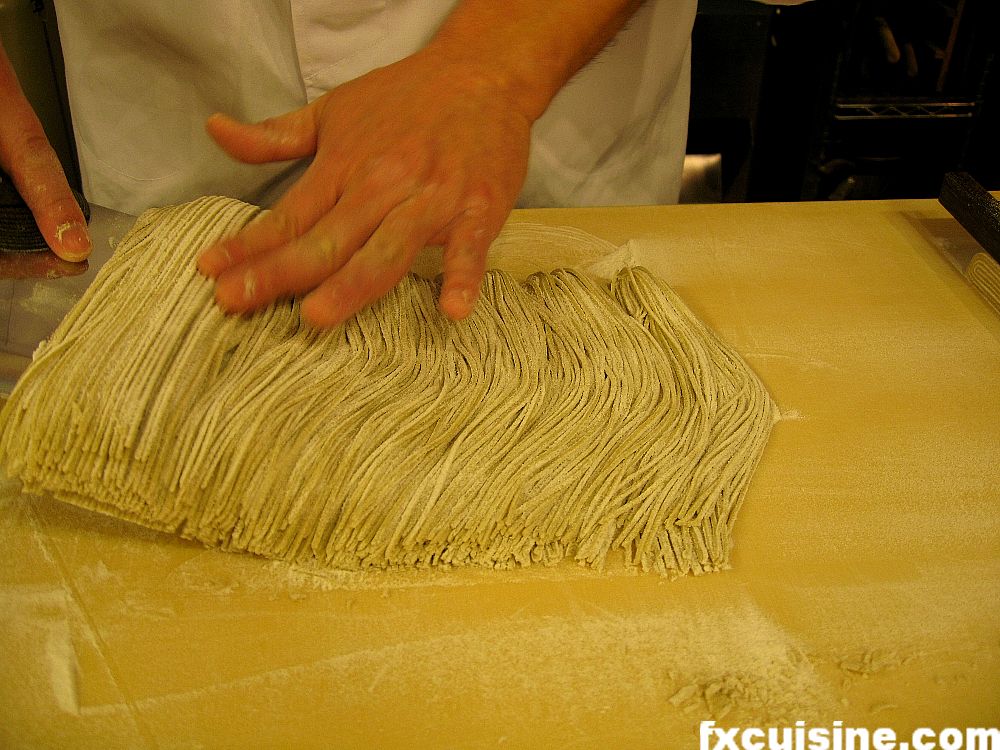 Con la cara del cuchillo de soba el chef levanta los tallarines y los toma en su mano.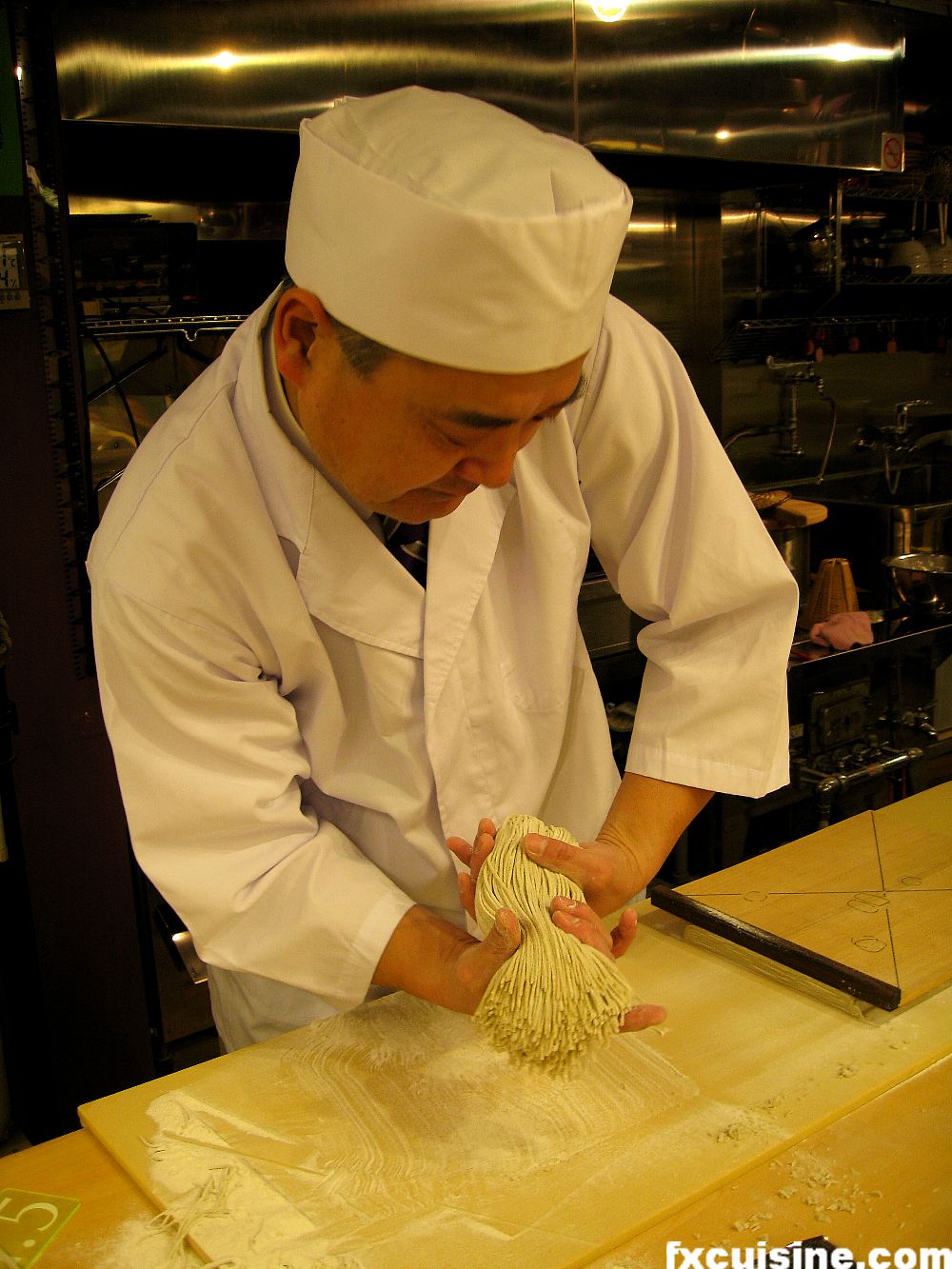 Reúne los tallarines y los gira y sacude un poco para quitar el exceso de harina uchiko.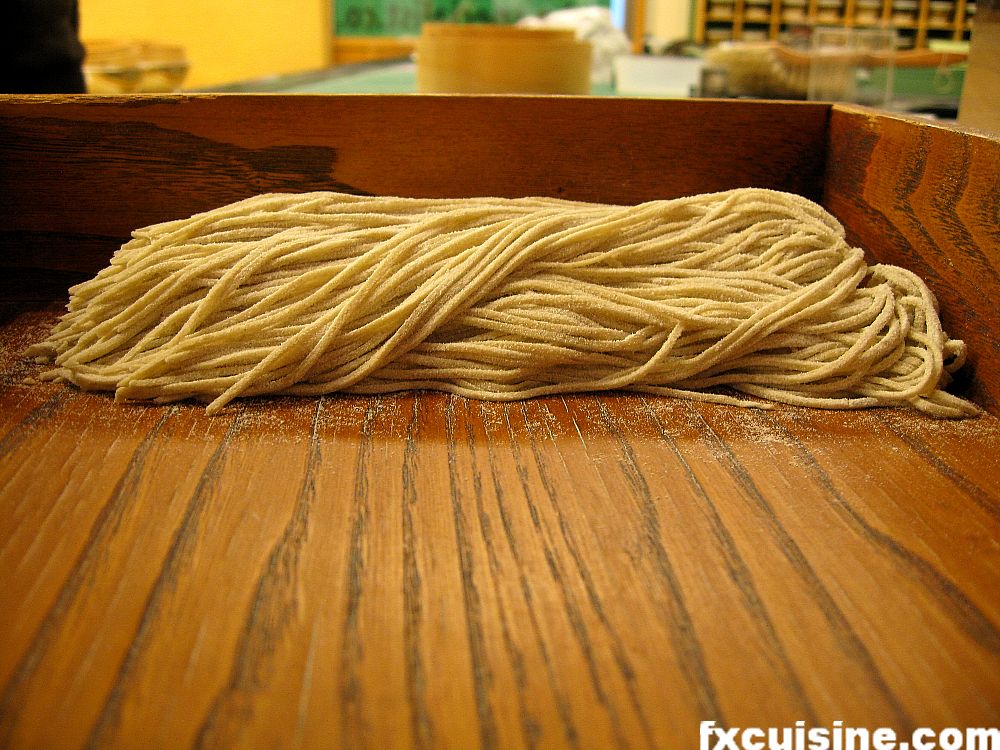 Finalmente  se colocan cuidadosamente en una caja especial de madera hasta que se les cocine.
Cocinando los tallarines.
Tallarines de este tamaño - 1.5 x 1.6 mm - deben cocerse en 60 segundos.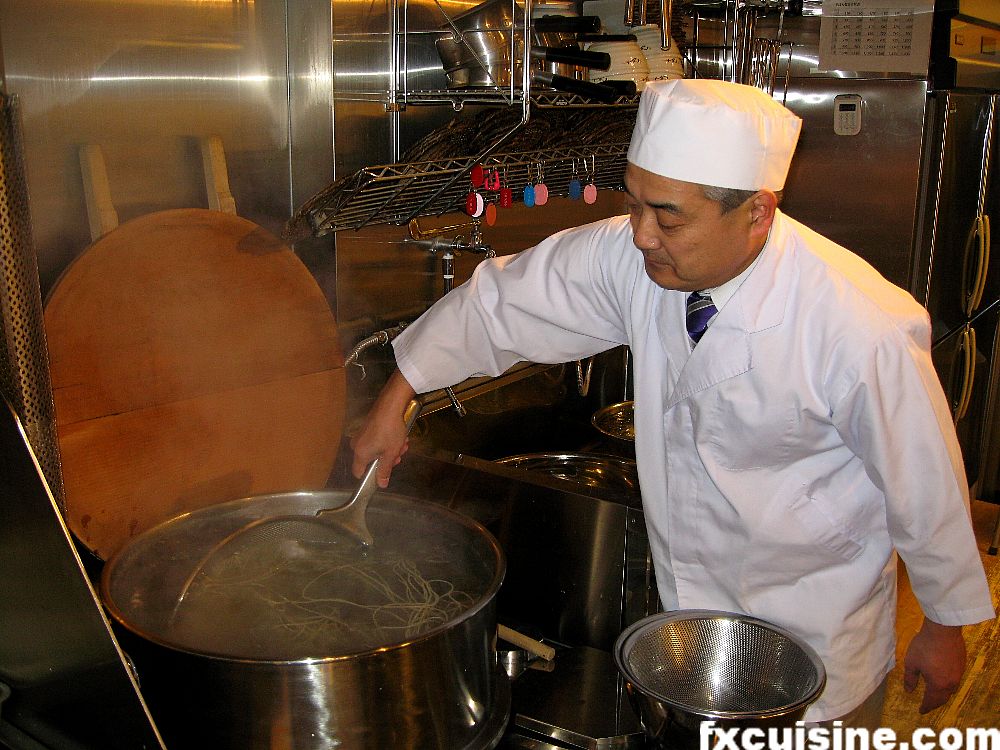 El Sr. Inouye probablemente tiene la olla con agua hirviendo más grande que yo he usado.  Sumerge los tallarines, observa el reloj suizo de estación de tren por 60 segundos y los saca.  Los tallarines soba cocidos se sumergen inmediatamente en agua helada para detener el cocimiento.  'La textura también es mejor' nos dijo.  Para un gourmet europeo es bastante difícil entender como es que unos tallarines fríos podrían ser mejores que unos calientes, pero los japoneses no hacen estas cosas por capricho.  Sospecho que deben tener razón pero no puedo decir que preferiría comerlos fríos.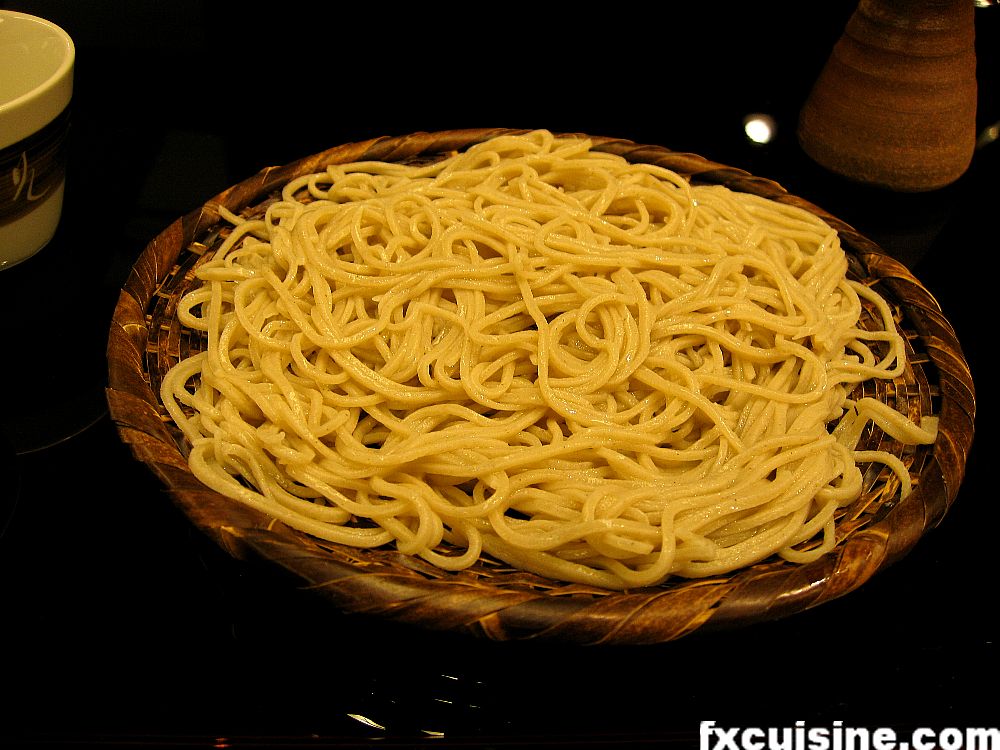 El chef Inuye nos preguntó '¿Tienen hambre?' - bueno, pues sí.  Nos comimos los tallarines soba que acababa de cocinar, servidos con el aderezo tradicional de azúcar-soya-mirin y con wasabi recién rallado.  Le dije al chef que el aderezo me recordaba al miso. Bueno, al menos es café y salado.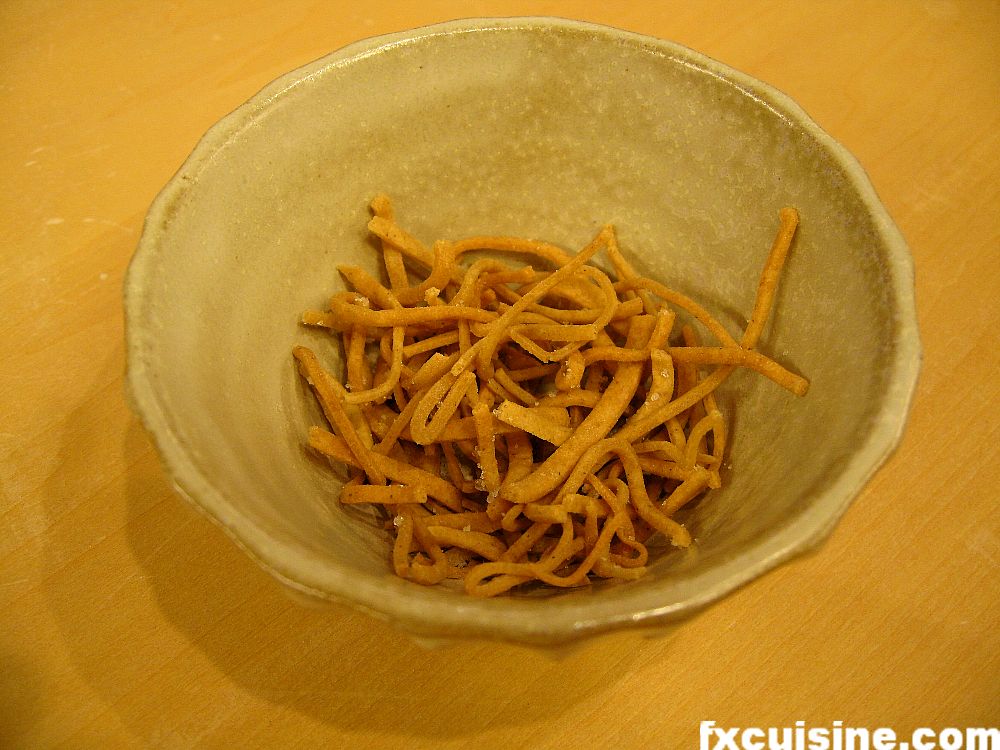 Estos son unos tallarines soba fritos servidos como entrada.
Ahora ustedes lo intentan.
De repente ya estuvo.  Los asistentes del chef habían montado dos mesas como la de abajo y era nuestro turno de intentar hacer soba.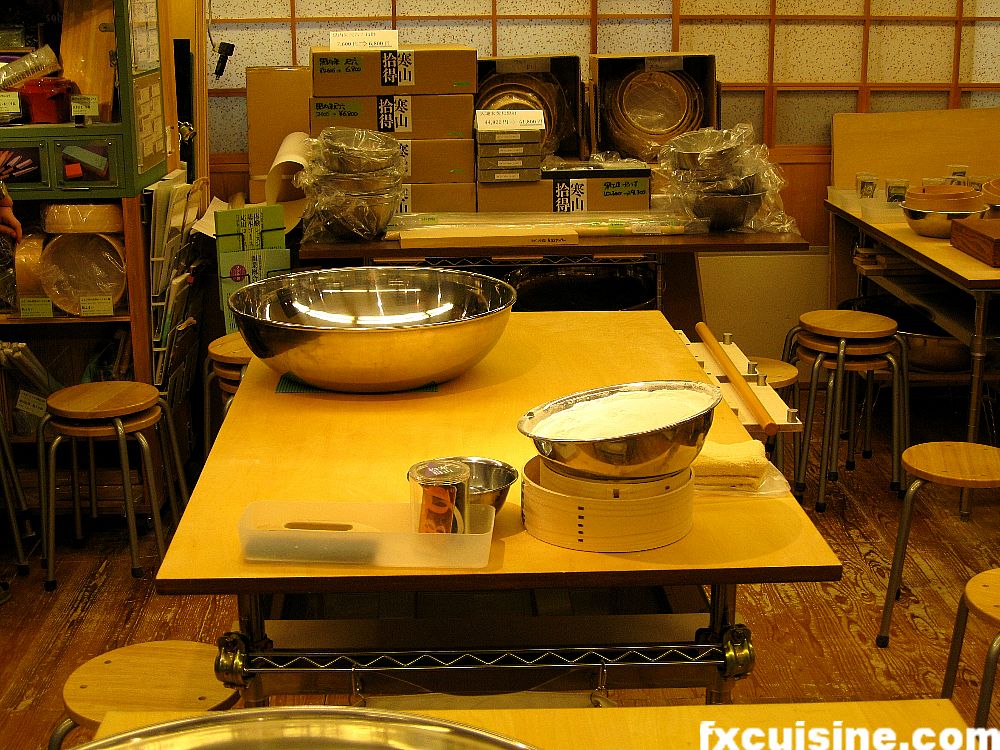 Al inicio todo bien, pero aplanar la masa no es realmente tan fácil como uno pudiera pensar al ver los movimientos del chef Inouye.  Pero nos las arreglamos para teminar nuestras tandas con algunos tips de los tres cocineros que nos observaban divertidos y nos echaban porras  'Eres un buen sobatero'.  Cuando comencé a enrollar la masa al revés se rieron (eso sí, con mucha propiedad) y alabaron mi 'Técnica avanzada para hacer soba'.  El trabajo es sorprendentemente agotador ya que todos los músculos se contraen para hacer movimientos difíciles y nuevos, mientras el cuerpo está inclinado sobre la mesa.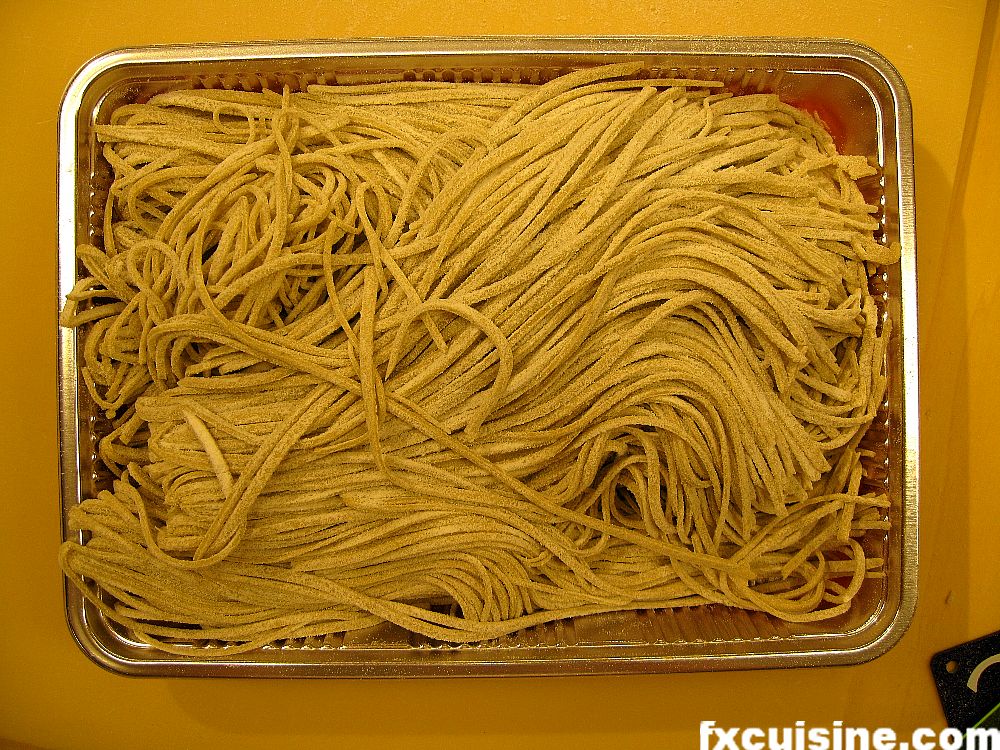 El corte es lo más divertido.  Ninguna sorpresa - es muy difícil lograr un grosor consistente de 1.6 mm.  En un momento dado, recargué mi mano con demasiado peso en la tabla guía y casi corté todos mi tallarines por la mitad por la presión.  Definitivamente un error grave en una academia de soba.  Pero chécate el resultado en la foto de arriba ¡No tan mal para una primera vez! 
Aunque la lección no fué barata - prometí al chef no divulgar el descuento especial que nos dió - definitivamente la recomiendo a cualquiera que le gusten las técnicas de cocina divertidas, hacer pasta a mano y desde luego, los tallarines soba.
Puedes comprar todo el equipo - colador, rodillos, cuchillos, calibradores, cajas de madera y hasta el libro y el DVD del chef Inouye - en la academia.  El lugar mismo es precioso - una oda japonesa a lo gourmet en maderas claras y acero inoxidable. 
El chef es en verdad una celebridad y supongo que debe aparecer frecuentemente en televisión como un experto en soba.  Tiene graduados por todo el mundo.  Un muy buen tipo además.
Tsukiji Soba Academy
http://soba.specialist.co.jp
a.inoue@specialist.co.jp
Tel: 03-5148-5559
Fax: 03-5148-5510
Tsukiji, Tokyo, Japan
573670 visitas
Artículos Relacionados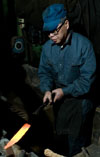 Japanese Bladesmiths ** Popular
A unique behind-the-scenes visit of the crafstmen who hammer out the best and most expensive kitchen knives in the world in the city of Sakai, Japan.

Priest-stranglers in Neapolitan Meat Sauce *
These gnocchis served in the cult Napolitan ragù sauce would be a world-famous dish if they didn't take 7 hours to cook.

Pasta con l'anatra - pasta in duck sauce *
Using a whole duck to make pasta sauce is uncommon outside Italy.
Artículos màs populares ¦ Ultimos artículos ¦ Por temas ¦ Ultimos comentarios
Copyright FXcuisine 2018 - all rights reserved.
If you do this recipe at home please let me know how it worked for you by submitting a comment or send me a picture if you can. Thanks!