Swiss Alpine Potatoes
Home
>>
Recipes
A simple dish using gorgeous Swiss ingredients you can bring back from an Alpine vacation.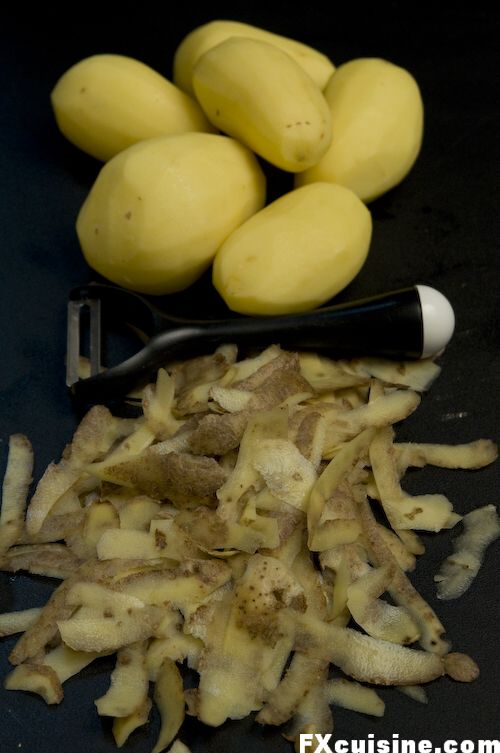 This is not a traditional recipe and is not roesti. I made a simple Alpine dish with what I had in my kitchen and it came out so nice that I remade it the next day to show you. Please consider this as an unpretentious illustration of what you can do with food specialties you can bring back from a trip to the Alps - dried bacon, herbs and cheese.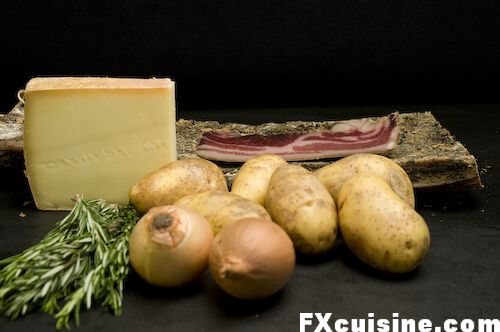 Alpine Potatoes
Potatoes (variety that retains its shape after cooking)
Valaisian dried bacon (petit lard)
Onions
Rosemary
Swiss Alpine meadow cheese from raw milk, ie Gruyère, Etivaz, Bagne or Vacherin
Every conscientious and well-informed foodie should bring some fromage d'alpage cheese from Switzerland. These are the cheeses made in small chalets up there in the Alps where there are no roads, no electricity and no running water. These cheeses are made from the unpasteurized milk produced by cows during the spring and summer while pasturing on high-altitude meadows. The rich diversity of their herbal diet - a selection of the finest flowers, herbs and grasses that grow in the Alps - make for a uniquely rich tasting cheese. There is no rousseauian snobbery here, any blind test will show you that these cheeses just taste better.
You can also leave out the bacon and rosemary for a simpler dish. Quantities are approximate as always for a peasant recipe.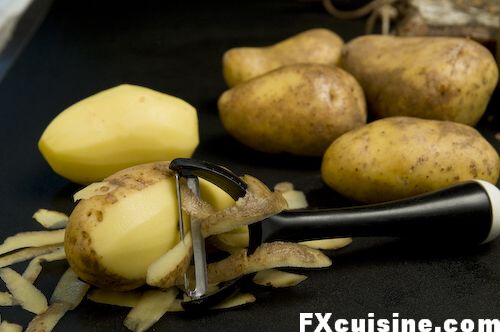 Start by peeling the potatoes.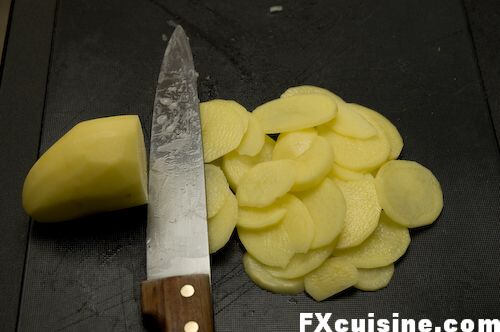 Then slice the potatoes as thin as you can.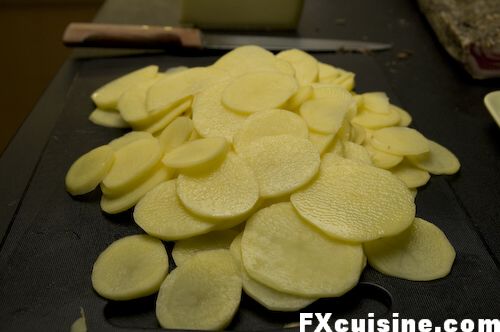 Continue until all the potatoes are sliced. Discard the peel.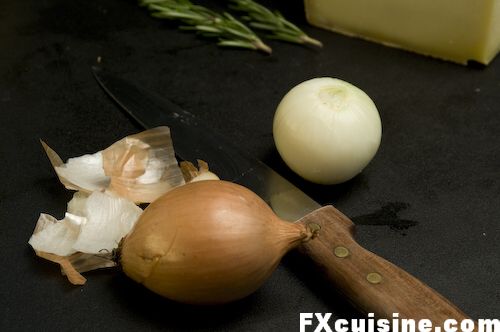 Peel the onion.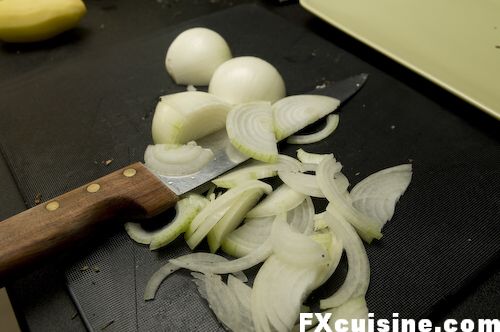 Slice the onion.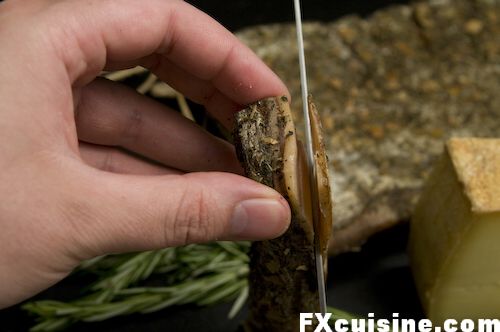 Remove the pig skin.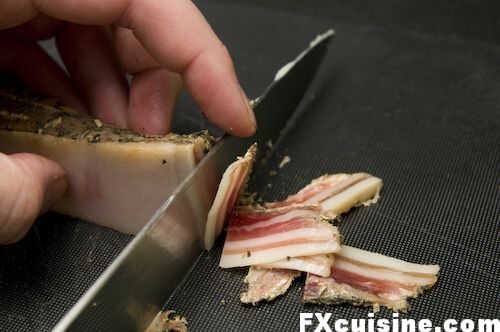 Slice the bacon thinly crosswise...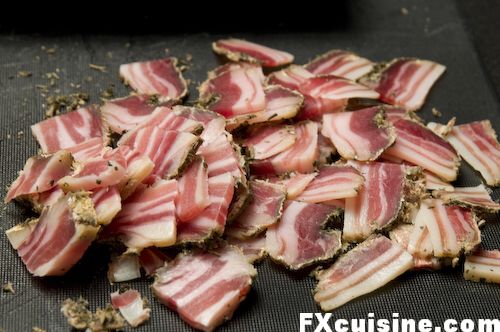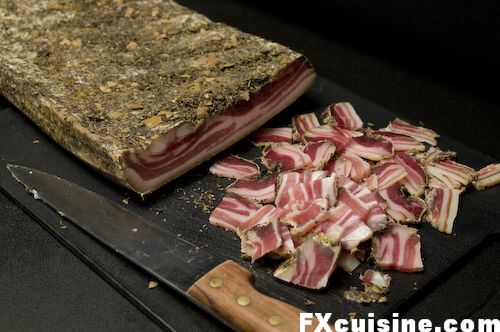 Beautiful!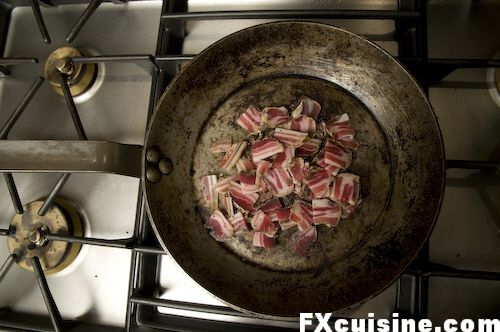 Place the bacon in a large iron pan (photo) and start on medium high heat.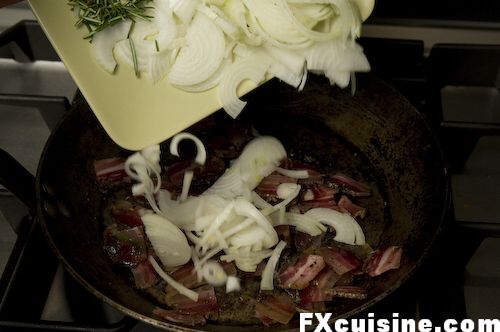 When the bacon starts to soften and render some of its fat, add the onions. You may have to add a little oil!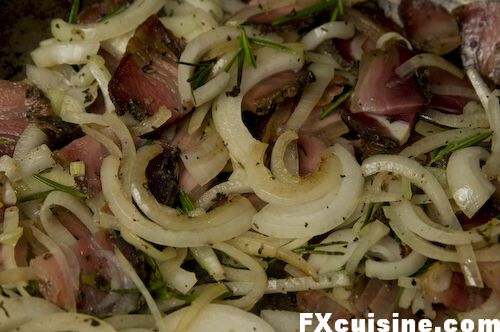 Mix, add the rosemary and stir until the onion starts to soften.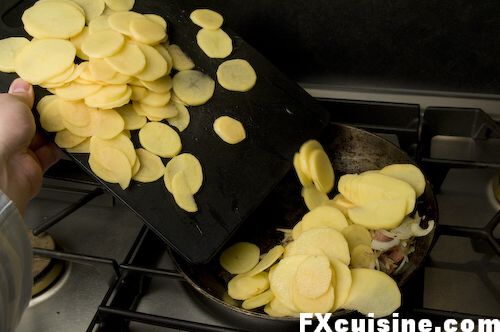 Add the potatoes...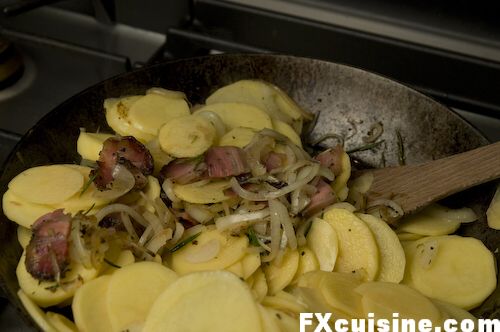 ... and mix them in.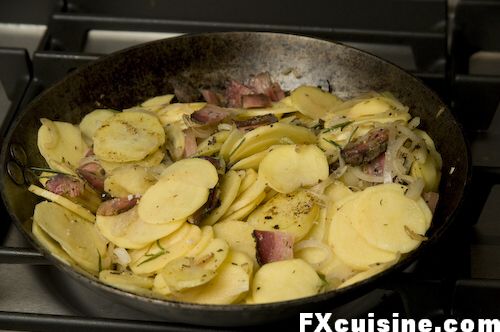 Turn regularly until potatoes are done.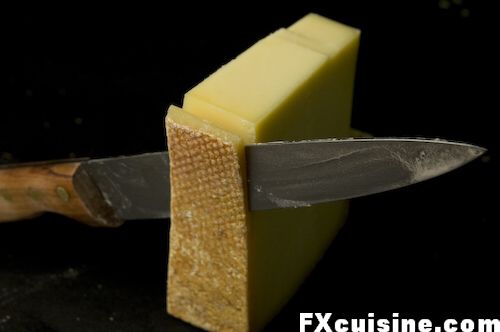 Meanwhile, remove the cheese crust from the part you will use.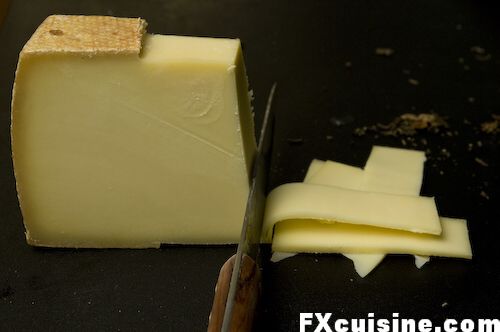 Slice as thin as you can.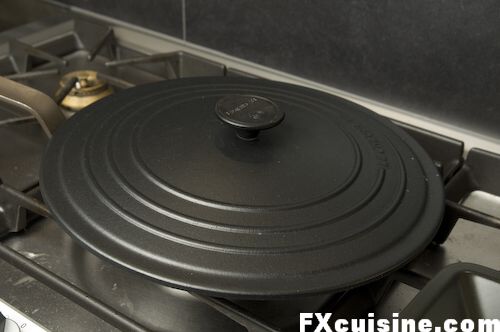 You may have to cover the pan and reduce the heat to ensure the potatoes are cooked through.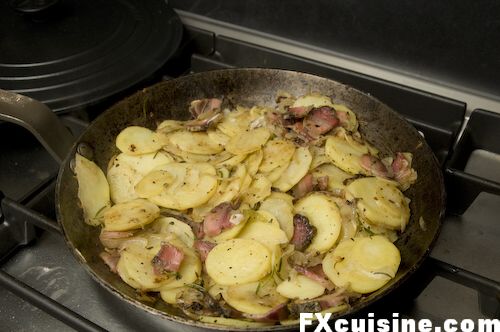 At last, after 20 minutes our potatoes are done and nicely browned.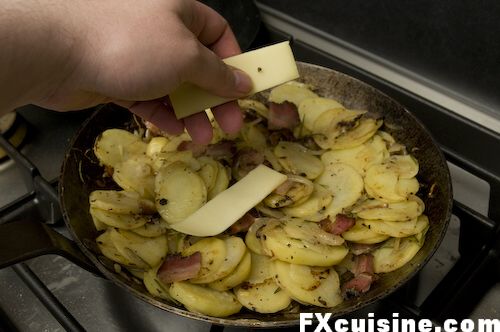 Let's add the cheese...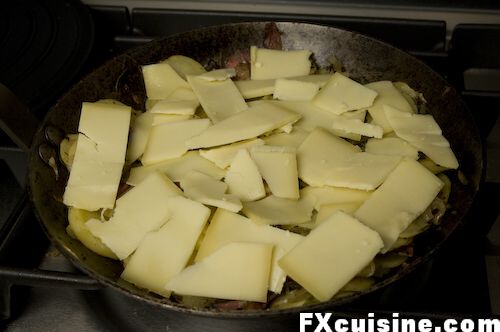 and cover the potatoes like tiles.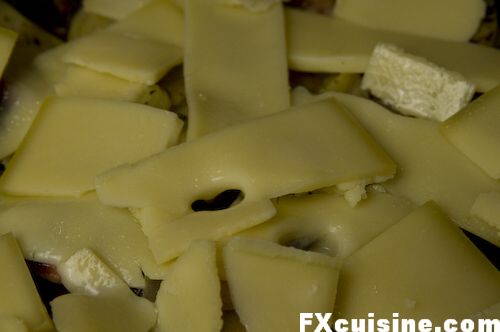 There is only one way to melt cheese: slowly. If the temperature is too high, the cheese will split and render oil and you'll have destroyed a mighty fine product. Just reduce the flame on low and cover again to let the cheese melt at its own pace.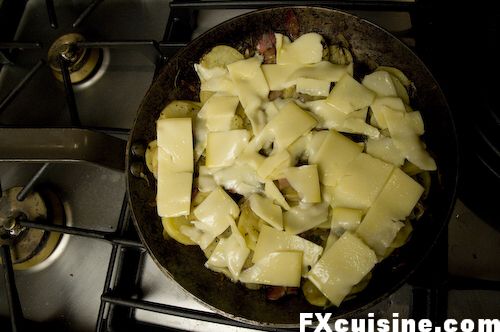 Peek as many times as you like to see how the melting progresses.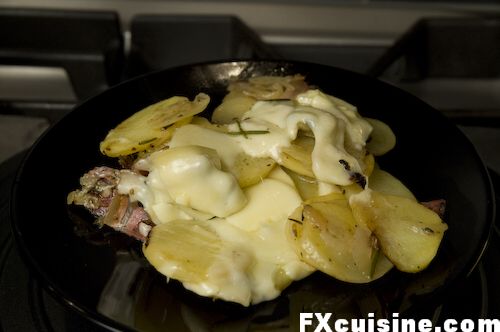 Serve as a hearty winter one-pot-meal. Please note that these are NOT roesti, a popular Swiss dish where the potatoes are cooked, left to cool down, coarsely grated and cooked in the same type of pan on a very low flame without any movement.
80217 views
Copyright FXcuisine 2023 - all rights reserved.
If you do this recipe at home please let me know how it worked for you by submitting a comment or send me a picture if you can. Thanks!