Your own personal home tandoor
Home
>>
Tools & Ingredients
How I got a real tandoor in my kitchen and how you can have one too.
When lit up, my tandoor is a beast. It sucks all air from the kitchen and spits enormous amount of foul smelling, intensely hot air up the hole. The only way this works is with a window wide open and all three overhead ventilation units turned on full power lest it suffocates everyone in the kitchen. The casing itself becomes quite hot. But the real fun begins when you have to put your entire forearm right in the dragon's open mouth to stick a slippery, soft, unbaked naan on the walls. Pray that it sticks, otherwise you'll need to fish it out the bottom. I've had some naans become like volcanic earth after only a few minutes in the tandoor's belly.
The whole baking and grilling ceremony is great fun to the guests but I don't allow them around me while I'm feeding the monster, so high is the adrenaline. If you think I'm making this up you go and try yourself.
This is by far my most baroque and extravagant kitchen appliance and definitely the focal point of FX's indoor kitchen.
I had been cooking Indian food for a few years and eaten in many fine Indian restaurants when it dwelved on me that I would never get great results unless I got a tandoor.
Not such a common appliance
Modern Indian households do not usually have a tandoor and neither does a surprising number of Indian restaurants. A real tandoor is indispensable to bake the most tasty Indian breads as well as any 'tandoori' and most 'tikka' dishes. There is just no other kitchen appliance, save for a volcano, that can provide the 500°F necessary to do the job. You can try all you want in an oven, the results will never taste nearly half as good.
Shopping for the beast
Researching on the web I found a couple companies who made tandoors to western standards, meaning they could be fitted in a kitchen with no health or fire hazards. The most promising producer was in Australia and their tandoors were too big to fit in my kitchen. Charcoal was out of bounds for both practical and regulatory considerations. The only electric tandoor, sold to professional kitchen onboard cruise ships, was too big. I had to go for gas and preferably from some company in the UK that would agree to ship to Switzerland for a reasonable price and satisfy EU security standards. The Clay Oven Company Ltd did just that, and they had a smaller-sized tandoor that would sort of fit in my kitchen. The thing sells for about £800, transportation included, and it comes with a wonderful selection of seekhs, including a pair of bread seekhs. As you can see from the picture, it looks like a professional kitchen equipment, meaning it's rather ugly but very resistant, all clad in stainless steel.
I bake and grill all sort of food in my tandoor, vegeterian included: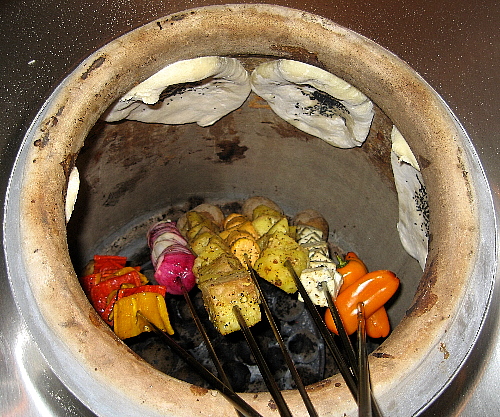 527719 views
Copyright FXcuisine 2023 - all rights reserved.
If you do this recipe at home please let me know how it worked for you by submitting a comment or send me a picture if you can. Thanks!