Roasted Vanilla-Caramel Pineapple
Home
>>
Recipes
This spectacular recipe by French pastry honcho Pierre Hermé is guaranteed to be the talk of the party.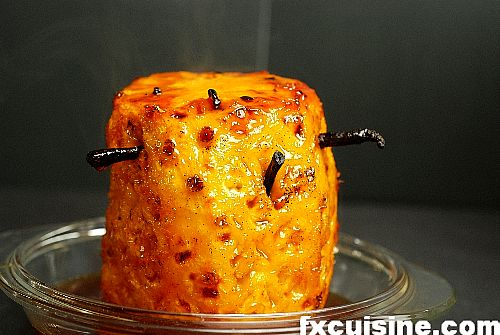 This memorable dessert will have your friends talk for weeks. It is not hugely difficult to make provided you can resist the tentation to fiddle with a metal spoon in the hot caramel and remember to make the day before. Vanilla pods are not cheap and this recipe calls for 8 pods.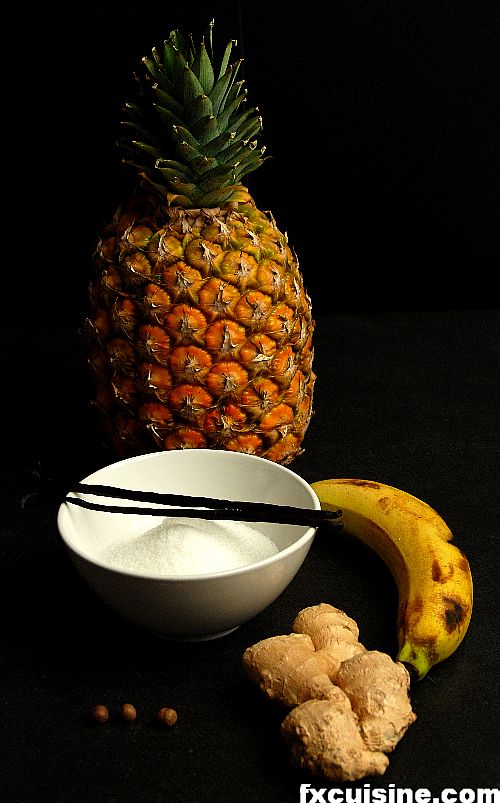 Vanilla Caramel Roasted Pineapple
A recipe by Pierre Hermé
1 fresh pineapple, about 1.5kg
120 gr granulated white sugar
30 gr pureed banana
3 allspice berries freshly crushed
8 vanilla pods
20 ml rhum
10 thin slices of fresh ginger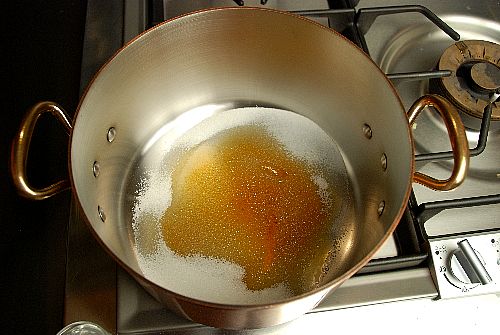 In a heavy-bottomed or copper-lined pot, heat the sugar over high heat. Do not add any water and try not to touch it. Never use anything metallic or you'll have instant supersaturation and your caramel will go down the drain.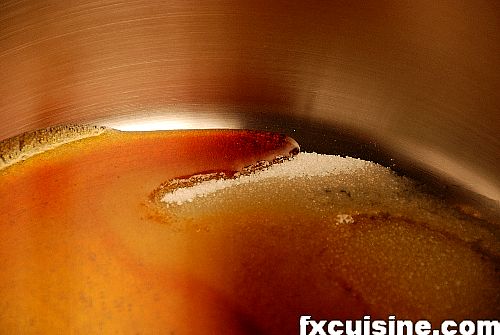 Wait until the caramel is deep amber. If part of the sugar is caramelized while the rest has not melted yet, turn your pot to move the hot spots under the unmelted sugar.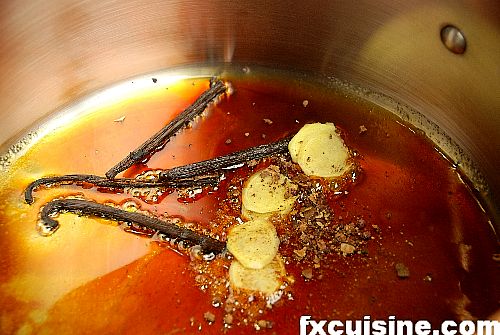 Split 2 vanilla pods and release the seeds. Add to the caramel along with the ginger and crushed allspice. Leave 10 seconds, then pour a 30ml cold water into the caramel to stop the process. French pastry chefs call this décuire - to uncook. Mix a ladle of this caramel into the puréed banana and add it back into the pot. Bring it to a boil, remove from the fire and add the rhum.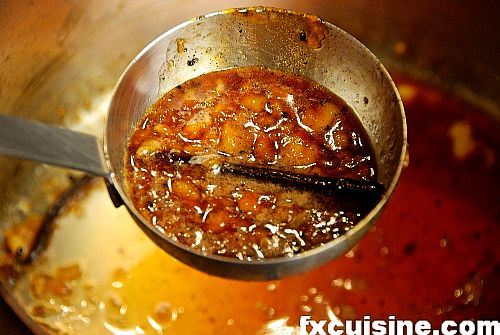 Leave one night to infuse in the fridge.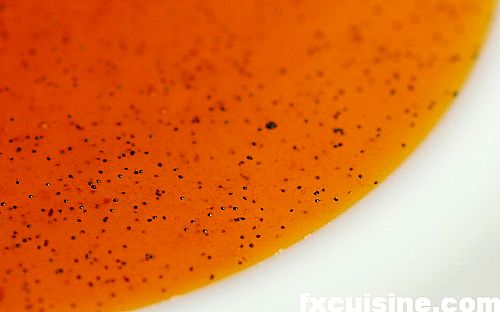 Filter the vanilla-caramel syrup through a fine sieve. You will get the beautiful sauce you see above (click to zoom).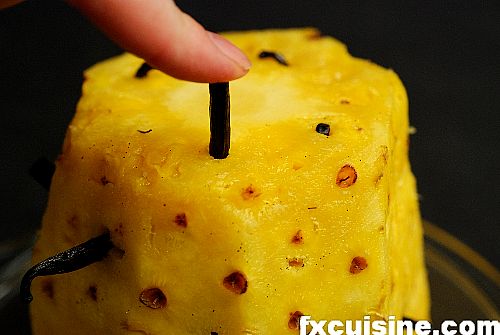 Peel the pineapple with a knife. I leave the brown eyes as the long cooking time will soften them anyway. Cut in half five vanilla pods horizontally. Using a skewer, drill holes across the pineapple big enough for the vanilla pods to fit in. If you are going to serve the pineapple whole, your guests will be more impressed with vanilla pods inserted horizontally at regular intervals. You could slice through the half pods vertically to release more vanilla but it would make it difficult to insert them in the pineapple. You try.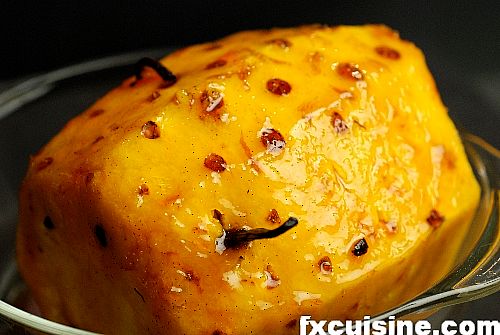 Heat the oven to 230°C and put your pineapple in the smallest oven proof dish where you can fit him laid on the side. Pour the vanilla-caramel sauce on the pineapple and bake for 60 minutes, turning the pineapple regularly so that every part can bathe in the caramel for a moment. Check that the caramel remains liquid or else it will burn. If too thick, just add half a glass of water. You can always boil it later to thicken if too runny.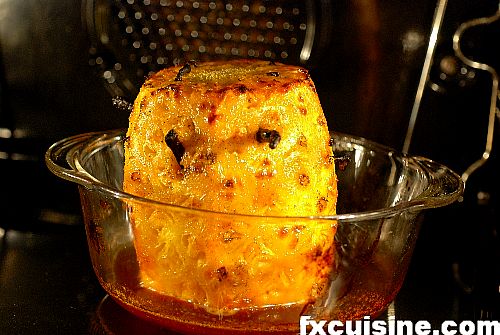 Do not forget to stand the pineapple upright on both ends for a few minutes as well.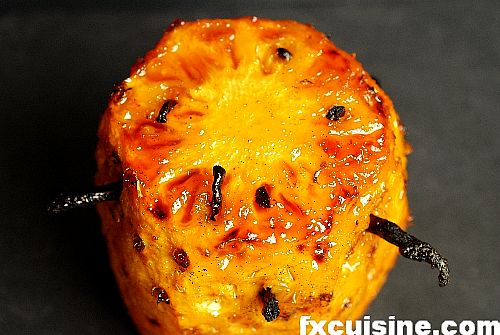 The cooked pineapple can be cut in horizontal slices or vertically. I cut it at the table and serve it with its sauce, but Mr Hermé uses the slices in tarts. Next time I'll try a pineapple tatin. I failed to flambé my pineapple with rhum, that would have been spectactular!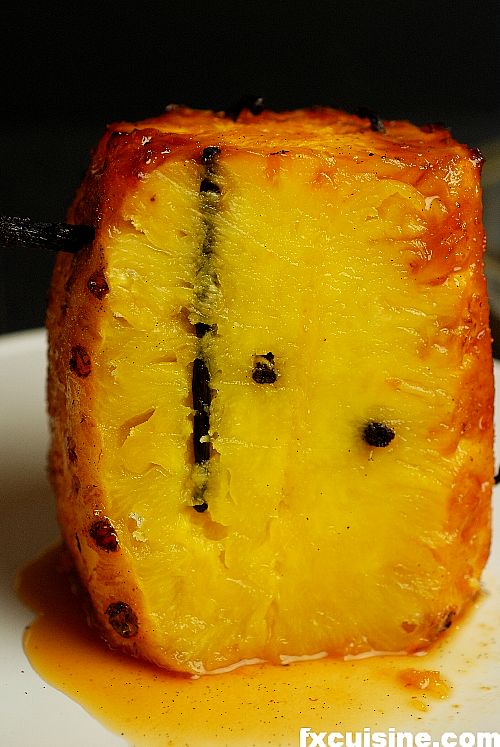 The first time I made this recipe I was very much impressed by the dramatic look of the finished dish and its profligate use of vanilla. Man, vanilla is almost as magical as truffles, and quite costly too. This recipe used no less than eight vanilla pods for each pineapple.
At first I must say matching pineapple with vanilla did not convince me totally. And adding a bunch of other spices on top of that, really Pierre, aren't you wasting the vanilla? But the second time around it delved on me that all your guests see is the intense yellow pineapple in the caramel peel with black vanilla patches and loads of vanilla seeds. You can't really tell the spices apart in the filtered caramel sauce. Will this recipe become a classic? Maybe. But I think this is really an exceptional recipe and well worth the trouble.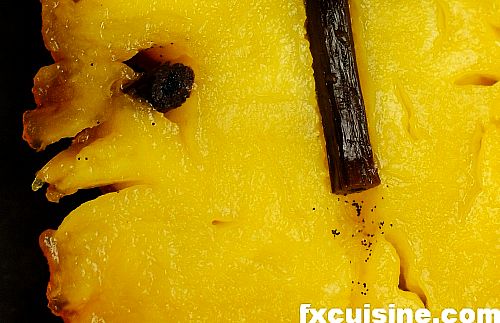 144353 views
Related Articles

My Boyhood's Hungarian Plum Dumplings *
I had eaten these dumplings only once, when I was 12, but boy did they make an impression! Such a rich combination of gorgeous juicy sweet prunes covered in a soft potato-based simmered dough.
Copyright FXcuisine 2023 - all rights reserved.
If you do this recipe at home please let me know how it worked for you by submitting a comment or send me a picture if you can. Thanks!