Swiss Knife Factory
Home
>>
Experiences
My exclusive visit of
Wenger
, the cutler who manufactures well over 5000 knives a day in the Swiss Jura mountains.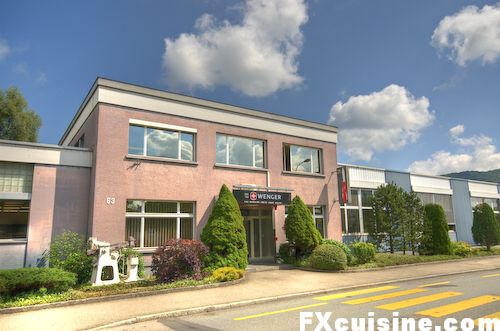 You could be forgiven for mistaking Wenger for Victorinox. Both are Swiss knife factories born in the 19th century, and both make the world famous Swiss army knives both for collectors and, yes, for the actual Swiss Army. Both Wenger and Victorinox make a professional kitchen knife range. Much like twins, they are each other's main competitors, and since 2006 they have the same owner. But unlike Victorinox who has its kitchen knives made in Germany, Wenger makes its knives in Delémont in the Swiss Jura mountains.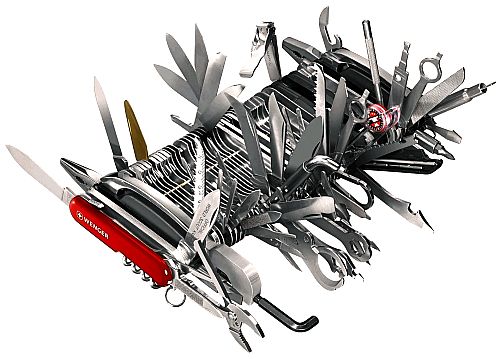 5000 kitchen knives a day? I had to visit. Peter Hug, the CEO of Wenger, kindly took me on an exclusive factory tour. Let's see how a Swiss kitchen knife is made.
Don't miss my two 360 panoramas, my best so far: Polishing and Stamping!

Wenger's Swibo range of professional knives is much prized by butchers, fish mongers and other people who live by the knife. 'When you work 9 hours a day with a knife, you become very particular about the specifications of your knife. We make knives with smaller handles for people who debone fish, because it's mostly women. The knife should be as light as possible and in many cases the blade needs to flexible', explains Hug. Indeed, Wenger's Swibo range is huge, with nearly 50 different types with such poetic names as 'Skinning Knife', 'Deboning knife', 'Unnerving Knife' and my favorite, the 'Deboning and Bleeding knife' (no relation to the heart). Most of these knives are produced with a bright yellow handle to avoid accidents.

The same knives are made in a finish more suited to the contemporary home and sold as Grand Master knives. Clearly, you won't find the spirit of Hatori Hanzo the blademaster in such a knife, but if you need a solid, high quality kitchen knife that will last you many years, you can't go wrong with one of these.
Switzerland is what it is because, among other things, our Industrial Revolution happened not in cities but all over the country. In other words, you find 19th century factories out there in the beautiful Swiss countryside, often in relatively remote places. During the Industrial Revolution, much like in China today, farmers left their fields to become factory workers. But in Switzerland they came back to sleep in their farm at night rather than being stacked up in smelly suburbs like we saw all over Europe. Wenger is located in the town of Delémont, lost in the Jura mountains. Drive 10 minutes and you'll see a farm like the one above. For a factory worker, this makes for an amazing quality of life!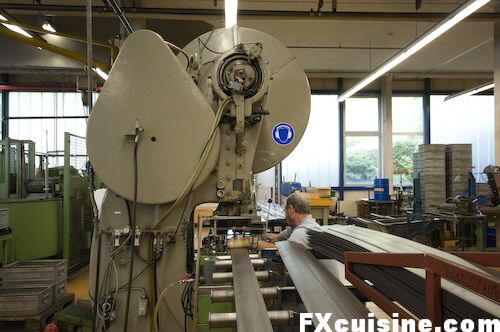 A kitchen knive begins its life in a long flat bar of French steel. The bar is placed in a large machine that stamps out the blade...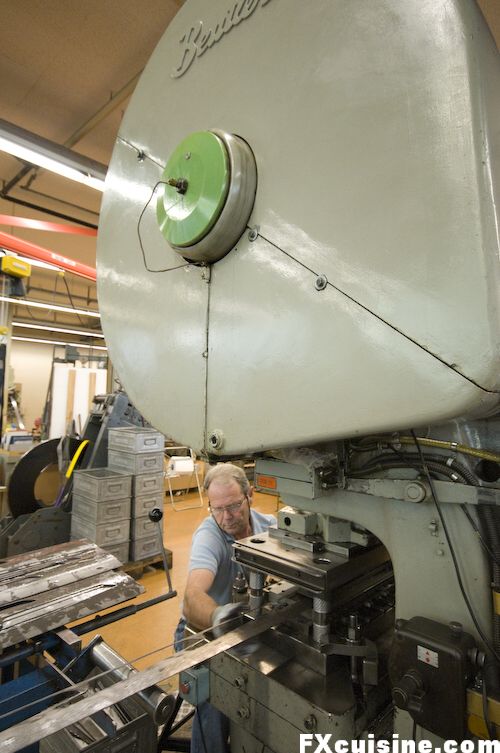 ... and out it goes on the other side, with the bar with blade shape holes.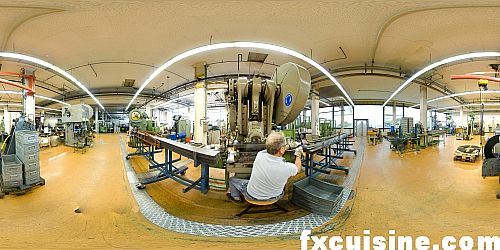 Don't miss the 360 panorama of the gentleman stamping out 4 dozens kitchen knives! Now in Macromedia flash for faster loading and easier using. I hope you like it!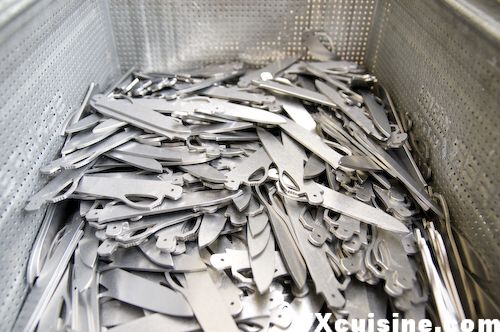 The handleless knives must now be hardened. These are blades for their Ranger knives, John Rambo's version of a Swiss army knife.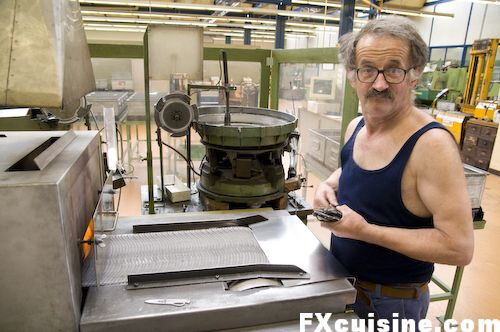 This gentleman places the blades on a conveyor belt that enters a controlled-atmosphere room through a huge burning flame.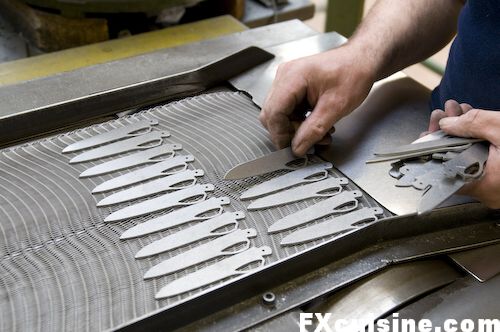 Each blade must be placed by hand for an even heating.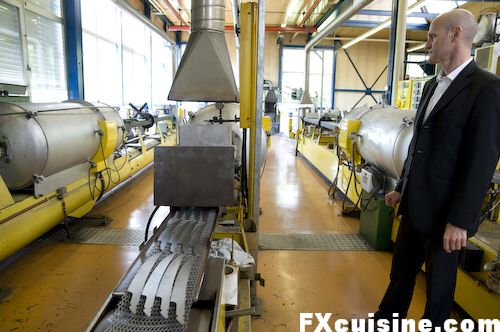 Much larger knive blades enter the same hardening-through-heating device under the steel eye of Mr Hug, the boss at Wenger's. like many Swiss managers, Mr Hug started out at 16 as an apprentice at Migros, our beloved non-profit supermarket chain, then studied business management for three years and became an executive at Swatch for 9 years. He switched to Wenger to create their own watch brand, the Swiss Army Watches, and finally became the CEO. If proof was needed that European corporations are not only about leather Chesterfields, cigars and old boys' network, Mr Hug's career shows that you can start small and end up leading a prominent company even in Switzerland.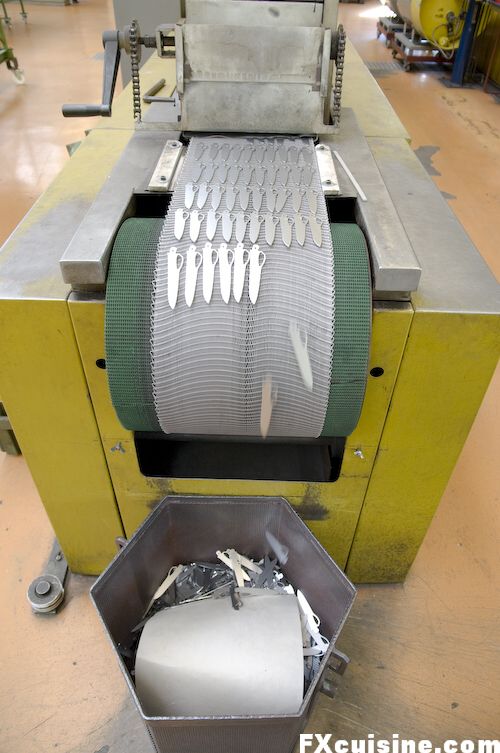 The hardened blades, now warm, fall down on a piece of paper.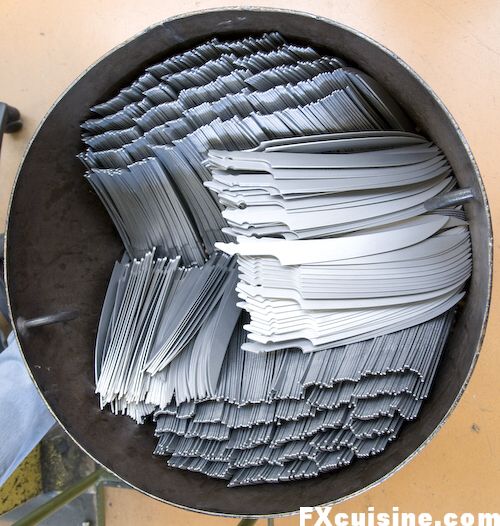 The reader who can tell me how many knives are in this jar gets a free cookie from FXcuisine! The blades undergo a second treatment so that they are not brittle and can be flexible enough for you to debone a hog.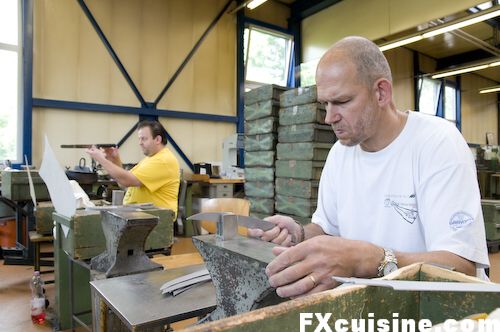 These two gentlemen check that your knives have straight blades.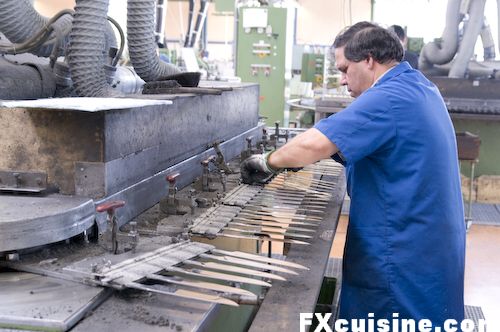 This man carefully places about 2000 knife blades a day on this rotating polishing machine, by groups of 6 blades.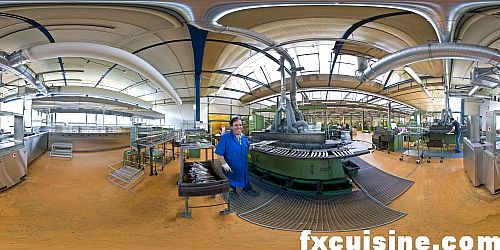 Don't miss the 360 panorama!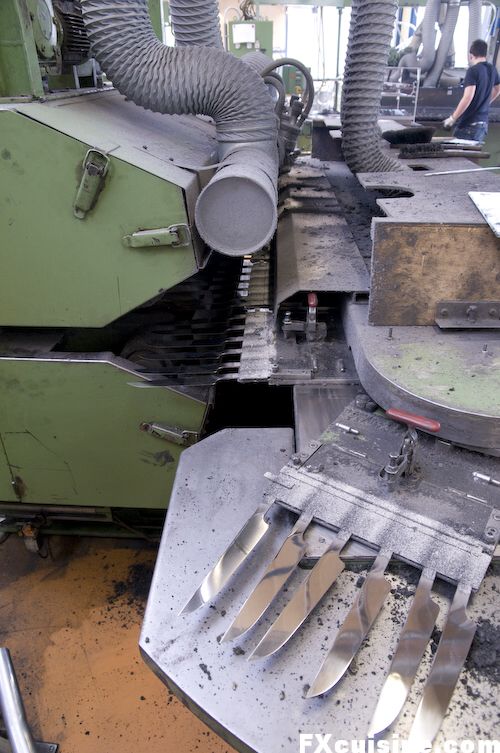 The blades slowly turn around the machine ...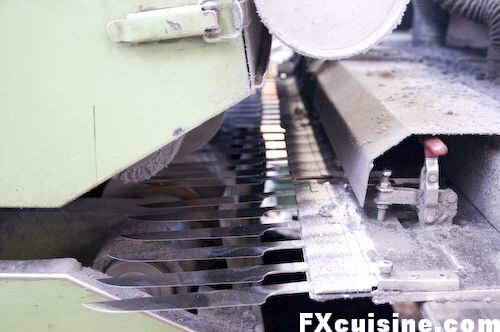 ... and enter the polishing chamber, where three dozens wheels, much like those in those hotel shoe polishing machines, go down on the blades to make them mirror-like. A battery of industrial vacuum cleaner sucks up the metal powder to safeguard the workers' health.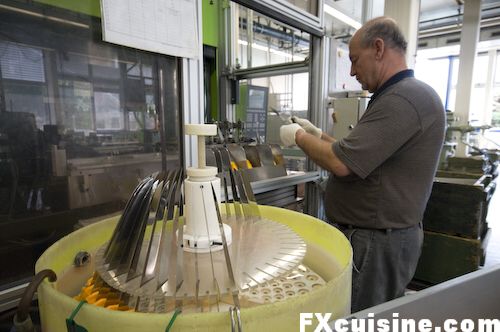 This man places the bare knife blades in a machine that injects the plastic handle. Nowadays we may associate plastic handles with cheap knives, but back in the 1960s when Wenger invented them, it was quite a revolution in the world of butchers and professional chefs. Not only could you place your knives in the washing machine with no fear of having the wooden handle rot, but now with these plastic handles there is absolutely no crease, hole or crevice where nasty bacteria can hide. You can actually bend the blade and look where the blade enters the handle - no space at all.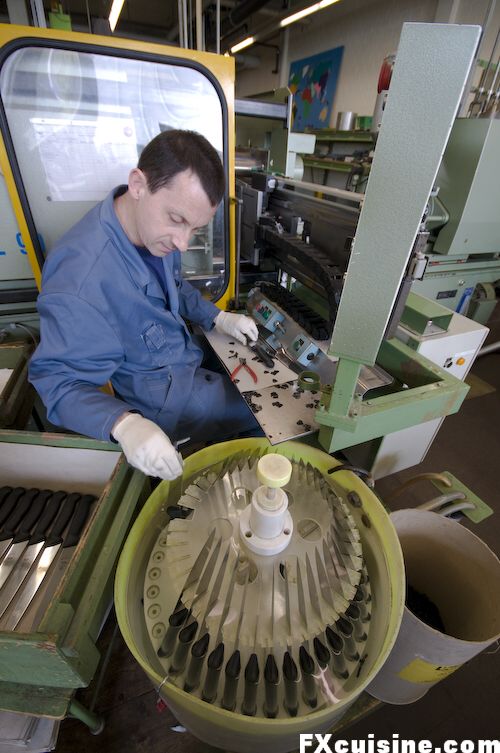 Same job for the home chef range. The knives are placed one by one in the cooling tank filled with water, business side up.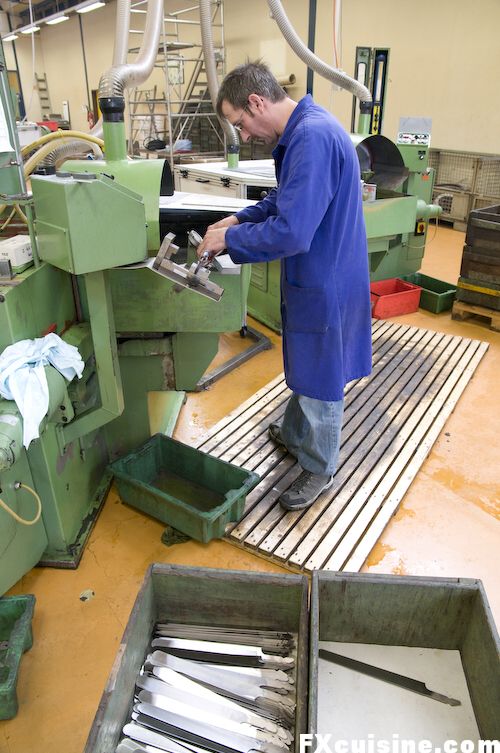 Sharpening the blades ...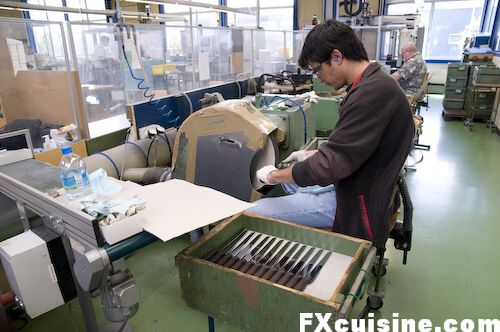 Sharpened by hand, and not once but twice. Another operator takes the sharpened knife and ...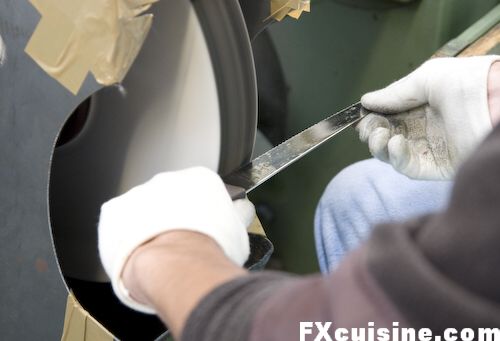 ... polishes the sharpening with a soft brush to remove any barbs that could rip the edges of what you are cutting. Very impressive workmanship!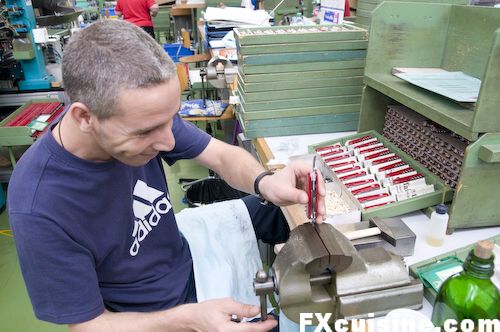 The same techniques are applied to the very popular Swiss Army Knives, which accounts for two thirds of Wenger's sales. The event known as nine eleven busted their sales for this product which used to be a hit in airports. Well, no longer, and the company lost almost 30% of its sales on that ominous day. The sales are now slowly reaching their pre 9/11 level, but that took much doing. Who could take down a plane with such a puny knife?, you might ask. Well, they did it with carboard cutters, so anything is possible.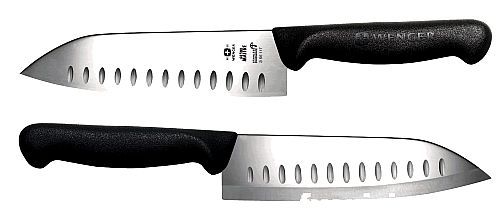 A popular knife with home chefs is the Swiss haiku knife, a traditional Japanese design revisited by Swiss engineers. The little alveoles on the sides help sticky cucumber slices to fall of the sides easily. The blade comes up near the tip so that you can still do that up-and-down dance like the TV chefs, which is not possible with a traditional Haiku knife. 'We have to follow fashion', explains Peter Hug. There is a fashion even for knives.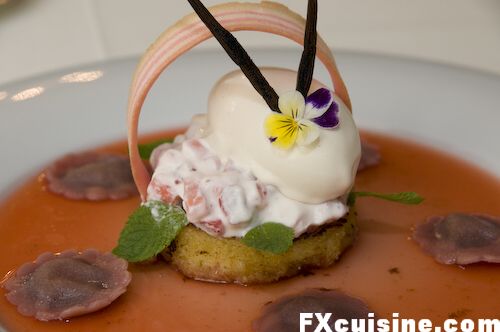 When you mention 'Wenger in the Jura' to a Swiss, he probably won't think of knives but of the extraordinary gastronomic restaurant in Le Noirmont, run by Georges Wenger and his wife. They started out as the train station restaurant, and gradually built it to a 18/20 Gault Millau restaurant. I've eaten at «the other Wenger» three times, everytime it was fabulous. The food is original and simple, no fancy tricks but a well-mastered cuisine. If you have a chance to visit, don't miss the huge antiques barn directly across the road from the restaurant. The man there sells all sorts of jars, copper pots, spoons, china, silverware all for as reasonable a price as you are willing to haggle. Just the look inside is worth a visit.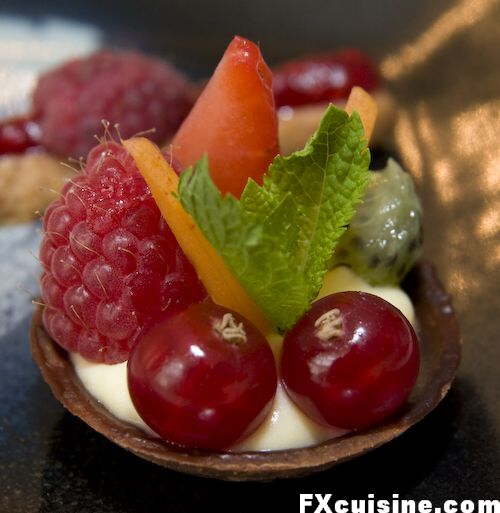 I had to use a flash to shoot these pictures of my dessert but the staff seemed not afraid. The first picture was my dessert. There is an intense chocolate stuffing inside the raviolis, the rest is a delicate ice cream and a sort of high-class gingerbread French toast. The second picture is one of the mignardises or pre-desserts.
WENGER SA (Knifemaker)
www.wenger.ch
Route de Bâle 63
CH-2800 Delémont
Switzerland
Tel. +41 32 421 39 00
knife@wenger.ch
GEORGES WENGER (Restaurant)
www.georges-wenger.ch
Rue de la Gare 2
CH-2340 Le Noirmont
Switzerland
Tel. +41 (0)32 957 66 33
info@georges-wenger.ch
144181 views
Related Articles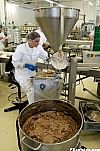 Swiss Pastry Factory ***
One of the most modern industrial pastry plants in Switzerland allowed me to spend a morning with them - with my camera. Feel like making 7000 Napoleons? Follow me in.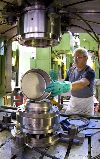 The Five Hundred Dollar Pot ***
I was given a private tour of the Kuhn Rikon factory near Zurich, who makes some of the best cookware in the world.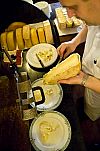 Swiss Raclette ** Popular
The national dish of Valais, my Swiss canton, raclette is the most gorgeous melted cheese you will ever have. Here at its best at the Manoir de Villa in Sierre.

Potato Chips Night Shift **
At midnight sharp, I entered Burt's factory in Devon to see how my favorite potato chips are made. Hand Fried in Devon.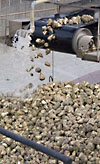 Swiss Sugar Factory **
My visit of the largest sugar factory in Switzerland. Walk in as a beet and exit as a thousand sugar cubes - a life-changing experience.
Copyright FXcuisine 2023 - all rights reserved.
If you do this recipe at home please let me know how it worked for you by submitting a comment or send me a picture if you can. Thanks!