Swiss Federal Fast Soup
(page 2 of 2)
Home
>>
Experiences
Every year my uncle Harvey summons the family around a converted wash boiler where he cooks the most delicious soup. The occasion is Swiss Federal Fast Day, a national holiday in Switzerland. See how we cook 20 gallons of soup from start to finish.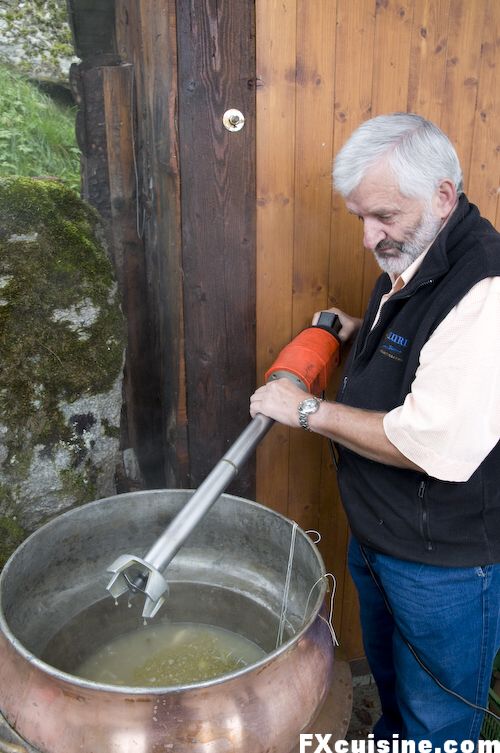 When I realized that the only blender we had was a smallish house Bamix, I called my father up. He went by his brother Regis, who owns a restaurant down in the valley and came around 11h30 with this huge, professional soup blender. Uncle Harvey is very confortable working with this. They all grew up in the family restaurant that Regis now runs. As Harvey starts working the soup, my father explains: One day my brother Regis was making soup for the restaurant. We tasted it, and it was a bit light, watery. I told Regis it needed more body. He took a hockey glove, cut out the washer with a pair of scissors, and threw it in. I asked him what the client who will get the glove will think, and he answered that with the helo, nothing will show. This is the helo, he said, showing the giant blender Harvey was operating. Now I don't think this ever really happened, but it's a joke he's been telling so many times I was really surprised to see that there really was such a thing as uncle Regis' helo.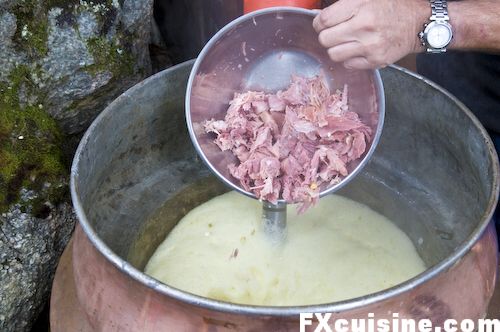 My uncle had removed the herb-and-leeks wraps and the ham bone before blending. We deboned the ham and returned the meat for liquefaction.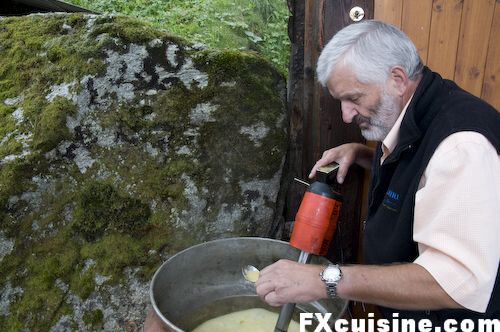 Once the soup - meat, peas, vegetables and parmesan - has been turned into a smooth cream, Harvey tastes it. Divine. Time to add the real meat.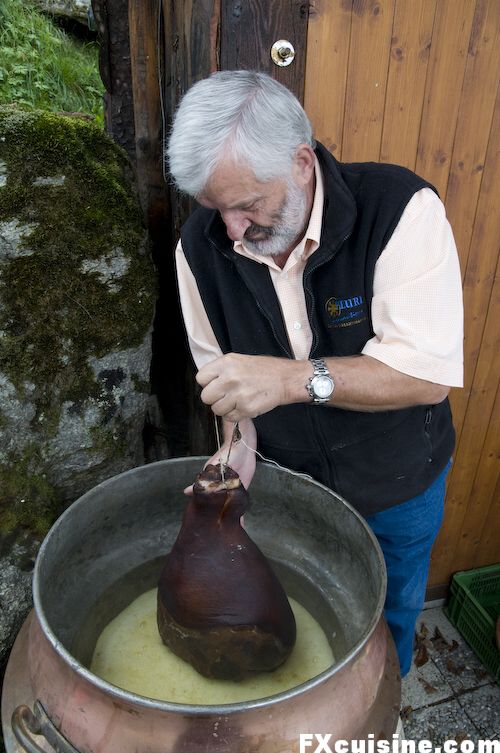 The day before, I had bought a whole smoked ham, the famous jambon de la borne, first cooked, then left hanging for weeks above a cheesemaker's wood fire to preserve and flavor it in smoke. In it goes, to warm it up and and flavor the soup with its extraordinary smoky taste.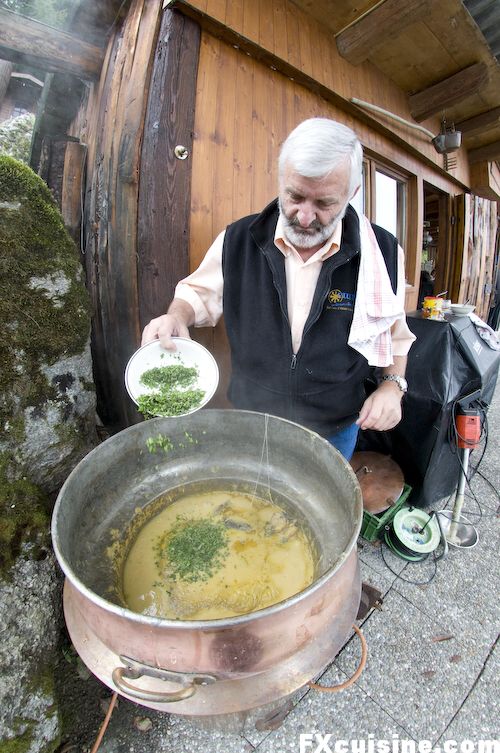 While the 25+ guests devour the cheese fritters, Harvey mixes the finely snipped herbs into the soup. Savory goes especially well with pea soup.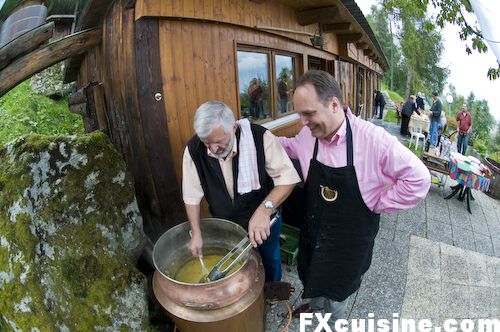 I leave my camera for a minute to congratulate my uncle Harvey on a job well done.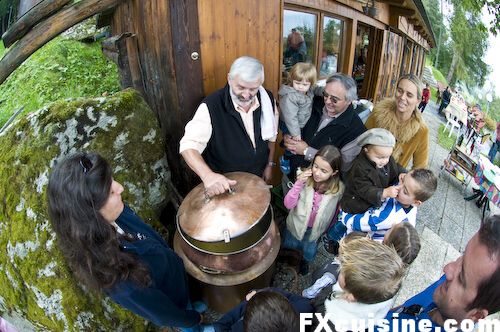 To the cries of A la soupe!, the guests start congregating around the pot, with the kids in front, a first when soup is concerned.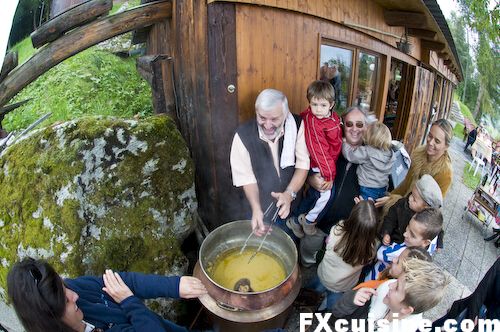 Uncle Harvey tries to remove the huge bone-in ham from the soup alone, but suddendly the string breaks and the ham falls into the soup, splashing soup over the assistance.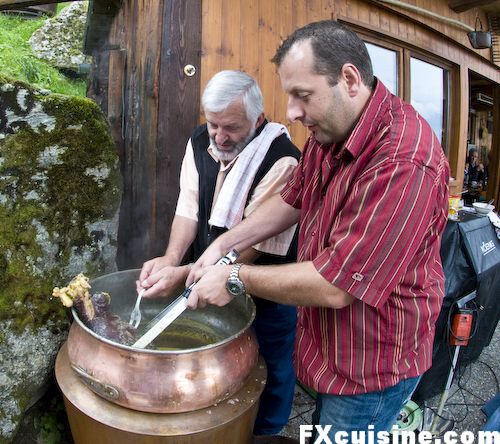 He enlists the help of his son, my cousin Erik, to try and fish the ham out. No way, the ham stays hidden in the warm, at the bottom of the pot.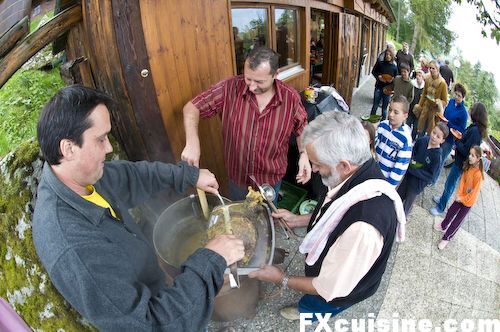 Finally, a third fisher comes and they succeed in bringing out the monster. A line has formed behind them, waiting for the soup.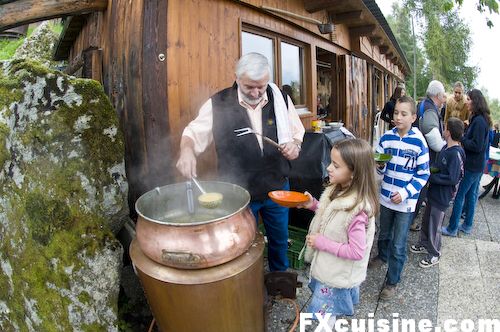 First in line for the soup is Harvey's granddaughter. I think my soup must be working if kids rush to the front of the line - usually soup-eating is a chore.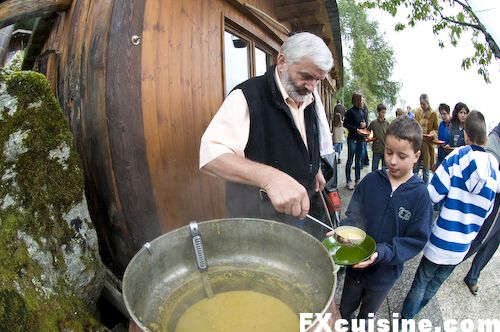 The line goes on, as more of my cousin's kids come filling their plates at uncle Harvey's.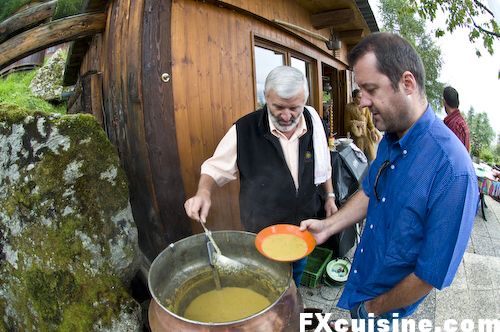 Harvey owns a company that restores your house after a disaster occurs. What disaster exactly is the client's prerogative - fire, water, mudslide, and then some. But the real client is the insurance company. So, whenever I meet somebody new at uncle Harvey's, like the gentleman above, well, he always ends up working for an insurance.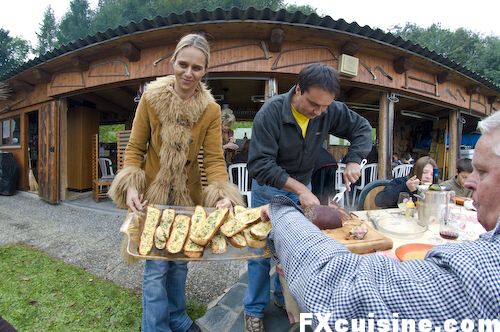 My cousin David's wife serves the garlic bread we just made - butter, fresh garlic from Lautrec all pounded with fresh thyme and savory. We made two platters like this and it disappeared within minutes.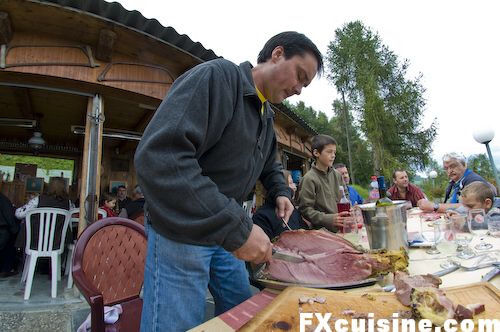 A guest skilled in the art of the knife starts to cut very regular slices from the ham. Guest come and place each a slice in the soup, then go find a place around one of the tables.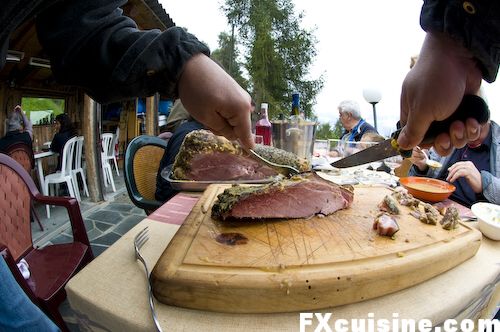 A fisheye view from the slicer's heart. Gorgeous, juicy Swiss smoked ham.
Ever since uncle Harvey started his soup tradition, the dessert was provided by the guests. We make a pie contest, says uncle Harvey when he invites you. Back in the days when I was as little as the diners gathered around the table above, I took this seriously. But once my father bought the nicest pie in town from his favorite baker, stripped it of any shop telltales, and brought it in a homey tray. Clearly, this was the best pie in the contest, but for some reason he didn't win. Instead a little girl stole the show with her cute but clumsy pie. This day I understood there was no justice under the sun and stopped participating in uncle Harvey's pie contests. The dices are loaded, that's all there is to say.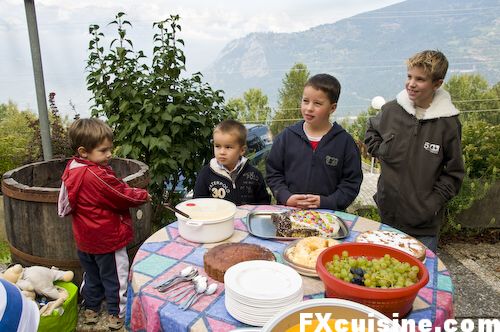 But our little contestants, still unaware of the ways of the world, were very excited to be asked to sample each pie and then cast their vote!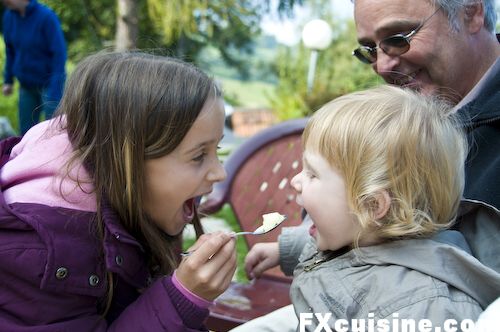 In Valais people tend to like their families and are always happy to have a gathering. Conversely, cousins and even second degree cousins (picture) know one another. Since the canton is made of the Rhone valley and a few side valleys, and population is small at around 300,000, people behave towards strangers in a very different way than in more populated areas. Whomever you meet on the street is likely to be on first name basis with at least one person you know, cousin or otherwise. This means that you are always nice to strangers and cannot start rambling or bitching like you could in a larger city, as you might well bump into the same person at some wedding or funeral or family gathering in the future. This is nice. I like it.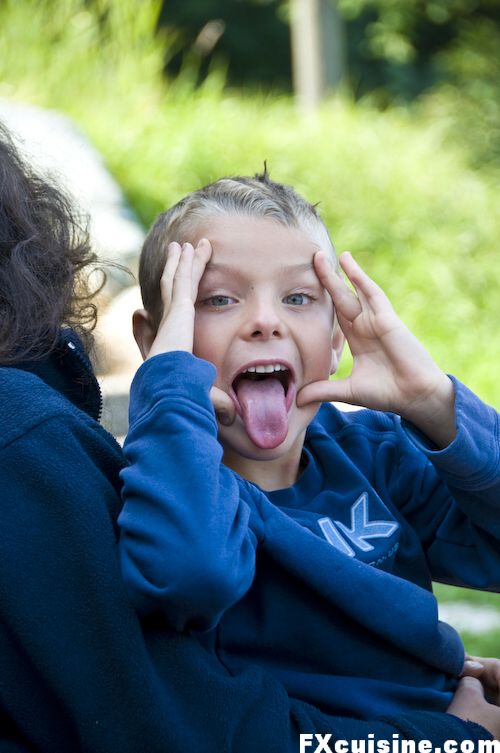 As the party came to an end, guests started pulling out freezer bags, tupperware and plastic cans. This is not common in Switzerland, but given the size of uncle Harvey's boiler, there is always waaaaaay more soup than people can eat. So over the years my uncle started asking his guests to bring little containers to take some soup home if they wished. Some widowers are really pleased as this makes for a delicious meal for a couple more nights, but most people are just happy not to have to cook on the next day, the Federal Fast Monday, a non-working day in most of Switzerland.
192793 views
Related Articles

A night at the Liboson **
A memorable fondue in an over-the-top dungeon chalet straight out of a Hammer film. Our host, Paul du Marchie, has been building an architectural fantasy in the middle of the woods for the last 50 years. Dont' miss my eight 360° panoramas!
Copyright FXcuisine 2022 - all rights reserved.
If you do this recipe at home please let me know how it worked for you by submitting a comment or send me a picture if you can. Thanks!