London Pub Informant
Home
>>
Experiences
I meet with a reader of FXcuisine in a series of historical London pubs while he feeds me tips about lesser known deep-fried British delicacies.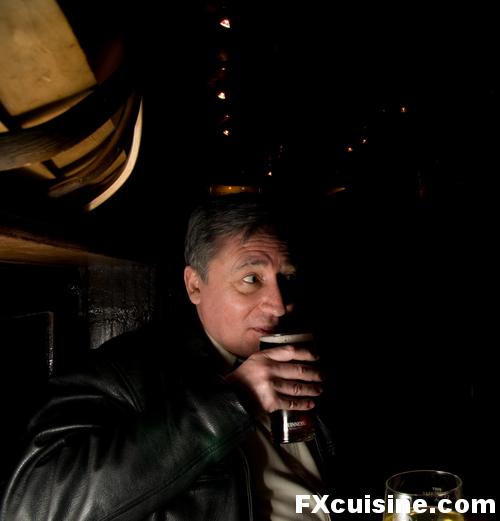 I look like an Albanian gangster, he said when I asked how I would recognize him. Paul McKenna is a devoted reader of FXcuisine.com and after a year of exchanging emails, we decided to meet over a beer. where would you like to go?, he asked. Any historical pubs near Westminster Abbey?, I said. Leave it to me, came the reply.
After making contact in the Lord Moon of the Mall, a former bank turned into a pub just down from the Prime Minister's office, we move to The Seven Stars, a medieval pub in the back of the Inns of Courts, one of those places where men wear wigs. Need I say more?
As we draw near, I see a sign by the door announcing the establishment's stern rules:
THE RULES
No horseplay
No deglazing
No troublemakers
No complaints
No furniture moving
No chips/sandwiches
No cat touching
No black pudding heaters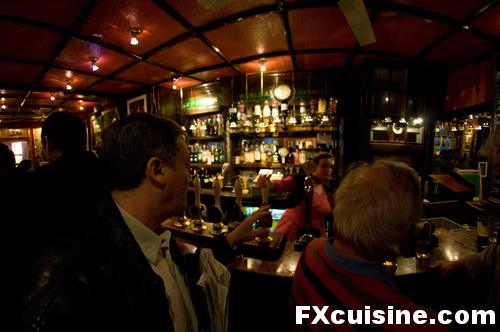 We enter and walk to the bar. I tell the publican* that I'm relieved to see at last a place where Black Pudding Eaters are not welcome. The whole pub suddendly turns silent. I suddenly feel like Roman Polanski in the vampire ballroom in Fearless Vampire Killers and begin to sweat. Then Paul whispers in my ear: The sign said "No Black Pudding Haters", not "Eaters", you fool. I realize we are about to be tarred and feathered. As the publican starts reaching for something hidden below her counter, I look at her and say loudly: I was only joking of course - we love black pudding. Everybody burst in laughter.
We sit in the back room. I live in Peckham, stabbing capital of London, explains Paul. We discuss one of our favorite subjects, those barely legal deep-fried foods served in the British Isles. Paul is an authority on the topic.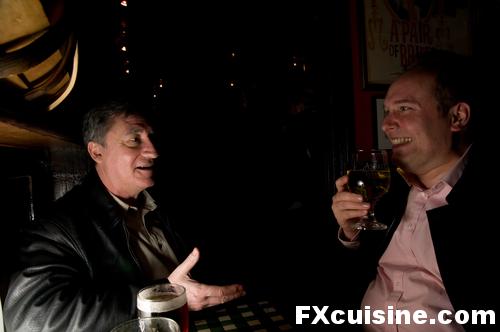 I tell him how I think Gordon Ramsay, a British TV chef, has so much more personality, charms and wits than a certain British chef who does artsy-fartsy molecular gimmickry that makes me long for a three course menu from Unmentionable Cuisine. Did you know they closed his restaurant yesterday?, says Paul. We'll drink to that - this one is on me!, I reply, now in a jolly mood. Then I feel bad for this chef, and we agree that perhaps they could reopen his restaurant and just notify the public when he's on the telly so that people of fine taste can make alternative arrangements for the evening.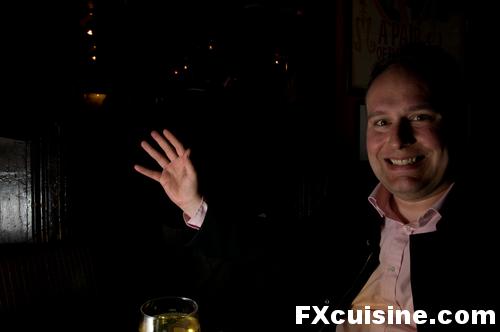 I drink English cider while Paul drinks beer. They don't serve anything under a pint (almost a liter!). We move to another pub, a former coaching inn that has all the charm of a beer garden under the snow.
Finally we split each in our own directions as London swallows us into the night.
The Seven Stars
53 Carey St
London
+44 0871 917 0007
187763 views
Copyright FXcuisine 2023 - all rights reserved.
If you do this recipe at home please let me know how it worked for you by submitting a comment or send me a picture if you can. Thanks!