Frying Eggplants like a Persian Mama
Home
>>
Recipes
Very easy way of frying sliced eggplants in an oven with very little oil, yielding beautiful, tasty and very light eggplants with no effort.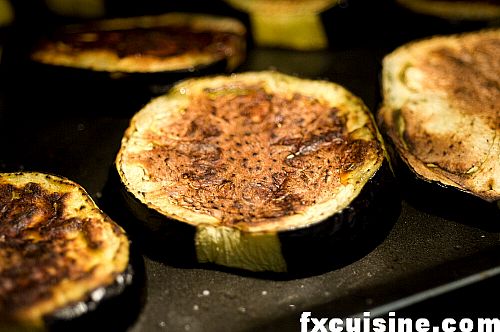 Fried eggplants are used in many great dishes, but they pose a unique culinary problem. They soak up as much oil as you give them, and how many or us have ended up with fatty sponges that will choke even the most ferocious appetites?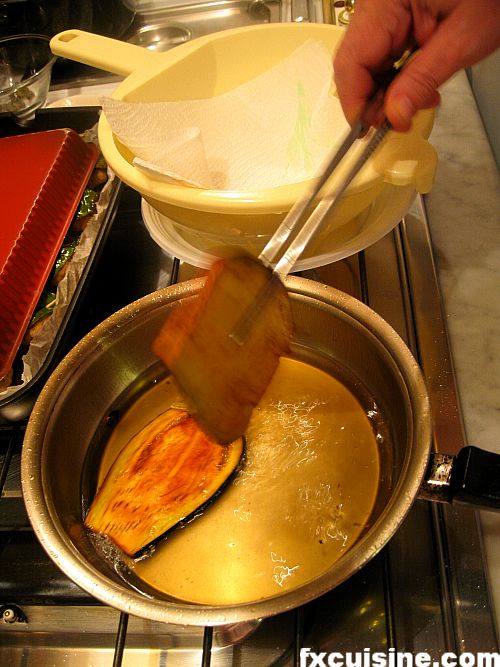 I have rarely used Mrs Eleonora Consoli's time-tested, tradition-approved but alas rather time-intensive way of Frying eggplants like a Sicilian Mama.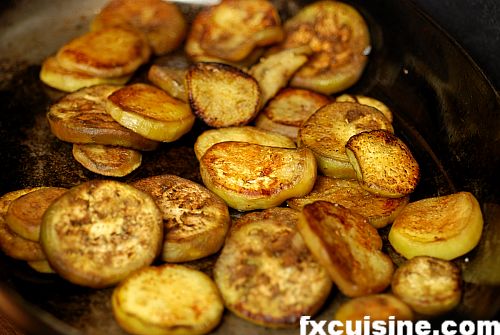 The way I used to do was to fry them in a large, shallow pan with only a very thin coating of olive oil. This worked great but unless you are cooking only one very small eggplant in a very large pan, it takes ages. You can see for instance my Pasta N'Casciata or Sicilian Cash Cow articles for his method. This is my go-to procedure for smaller amounts of eggplants - it yield beautifully colored, tasty and very unfatty fried eggplants. Better than deep frying.
The other day I discovered Persianmama.com, a very cool blog about Persian cuisine made by a Persian lady who goes into great details in her post. This is not the way other persian mamas fry their eggplants (they go the fatty route) but a novel way described by this lady. And I tried out her way of oven-frying a large amount of eggplants with very little effort. See how it goes!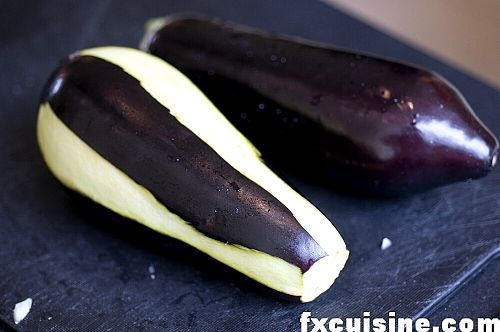 I never peel totally my eggplants since the day a Kurdish acquaintance demonstrated to me that a bit of peel left on adds to the taste - how right she was! Just try to leave some peel on and see how you like it before deciding exactly how much you want to remove. Leaving all of it it not a good option as the peel remains chewy - you need to peel lenghwise...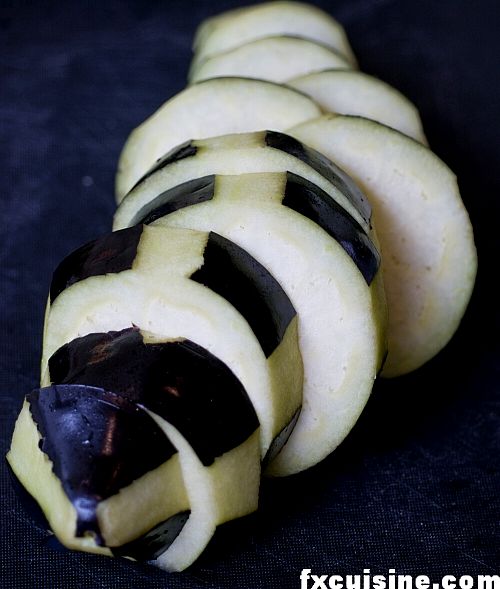 ...then slice crosswise so that the peel you leave makes bite-size morsels.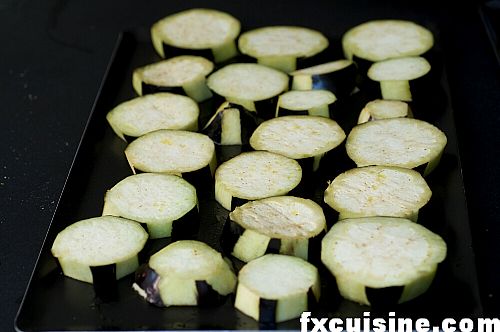 Then lay them over as many baking pans as you need - or you have. Here I am using one with a special non-stick coating that I am very pleased with. Using a stainless steel pan would mean more oil needed - or more cleaning later.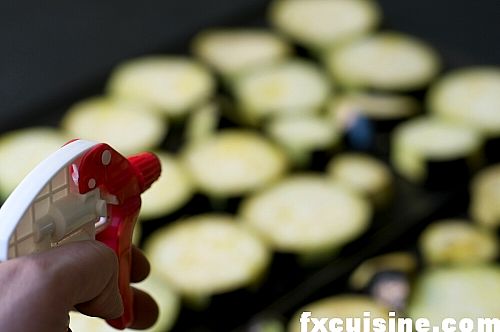 Then spray a little olive oil on top, or even better, use a kitchen brush.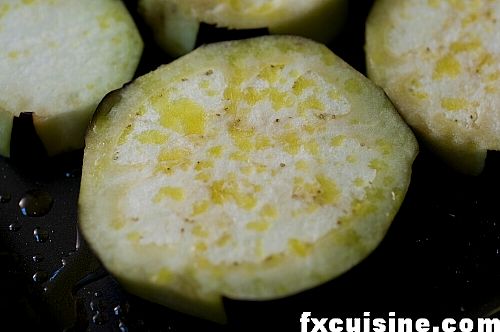 Aim for as fine an oily mist as your mister will give you - here those drops were too big. I season with a a little salt.
I have never had the need to do the salt-drain-wash routine that some people do, to "extract the bitter juices" as the eggplants we get here - or that I grow myself - are not bitter to start with. Furthermore this always leaves them too salty for me.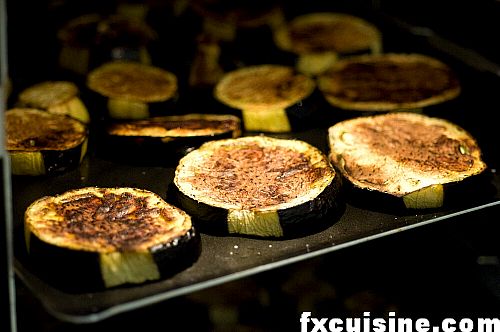 Bake in a dry oven at about 185C for 30 minutes at first, then check, remove and insert back in the oven in the opposite direction so that all egplants are sort of evenly exposed to the heat, flip them if you see that they color more on one side or another, and continue until the color is beautifully browned and they are soft throughout, about 45 minutes in total. But please do rely on your eyes and tasting and not on numbers.
I shall show you later how I used these eggplants.
Perfect oven fried eggplants with very little oil - and very little effort!
118259 views
Copyright FXcuisine 2023 - all rights reserved.
If you do this recipe at home please let me know how it worked for you by submitting a comment or send me a picture if you can. Thanks!