A Visit to Rungis, The World's Biggest Food Market
Home
>>
Experiences
Rungis, just outside Paris, is a cult place for gourmets. It is so huge you need a car to go from one hall to the next. That is where Parisian chefs buy what they cook. I was able to visit at 4h00 in the morning.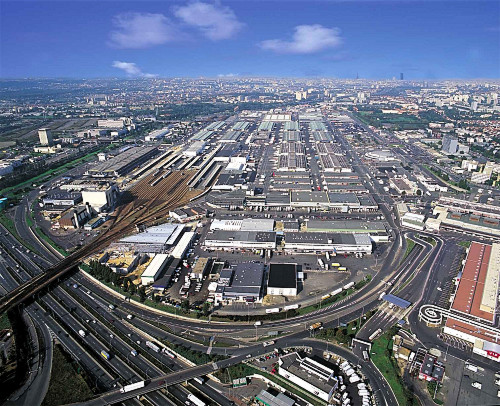 Rungis is the world's largest wholesale market for fresh produce. Fish, meat, fruits, vegetables, cheese and even fresh flowers are sold here every day in quantities so large an entire train station and highway exit has been built to serve it.
Being just outside Paris - you can see the Eiffel Tower and the Tour Montparnasse in the horizon on the picture above - Rungis serves many Parisian restaurants or great standing. The market has distinguishing clients and only the freshest, highest quality products can hope to be sold. This make it a very attractive place to visit for a travelling gourmet such as myself. But one cannot visit Rungis. There are no passenger trains or buses, no subways and most taxis won't drive there. You need a card to enter. Locals are not hugely friendly to outsiders. And Rungis works between midnight and 7 AM. So how did I manage to visit?
Note: This article's pictures are grainy and some are not for the faint-hearted. Tourists can't really visit Rungis, and the locals don't like being photographed, especially by someone escorted by a member of the feared Rungis administration. I had to turn my flash off and for this reason, most are grainy and can't be enlarged. The more gory pictures from the Tripes hall are accessible only through a text link. You might turn vegetarian if you click them.
Rungis' administration had referred me to a private Rungis tour guide. We arranged an appointment at 5:30 AM. 'At what time would we need to leave the hotel in central Paris', we asked. 'You need a good 90 minutes' they answered. We checked on the map and asked a couple people and decided, given the time of the day, to allow for 30 minutes only. Most cabs won't drive to Rungis, so we had the concierge negotiate with the Taxi Bleus, a cab company, for a driver who would.
The drive took only 20 minutes or so and the driver was familiar with the market and brought us to La Marée, where all Rungis tours apparently start. We could not reach the guide's cellphone but he found us as we exited the cab. How lucky! I could see the headlines 'Foreign gourmets found frozen after being dumped in Rungis.'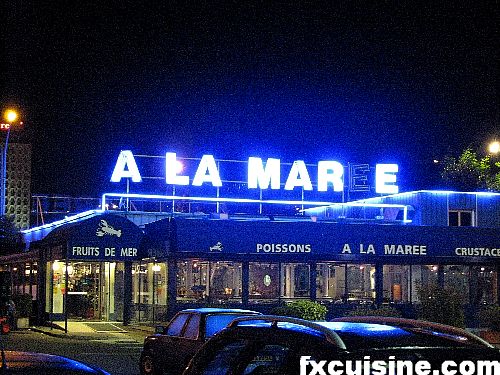 A la Marée is a brasserie cum gourmet fish restaurant set right next to the Fish Hall ('Le pavillon de la marée'). President Mitterand used to come in the middle of the night with government ministers for oyster-eating contests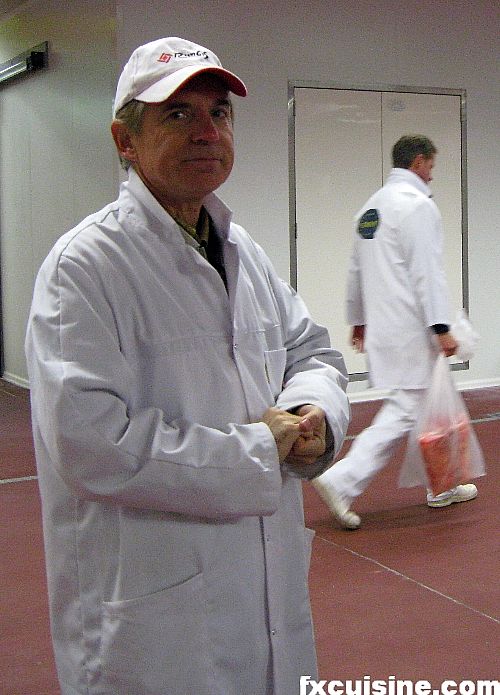 Over coffee, our guide M. Philippe Bardet, started to explain us how important Rungis was. 'Rungis sells over €7bn worth of food every year. The market covers 232 hectares. It was moved from les Halles in the 1960s, etc...' He looked at his watch and suggested we hurry before all the fish was gone.
All visits of Rungis start with the Fish Hall as it opens around midnight and closes when all the fish has been sold. By 6h00 most of it is gone, so you need to come as early as possible. But before you can enter any of the food halls, you need to put on a CSI-like white outfit with the ugliest imaginable white hat. Mr Bardet took some out of his car and gave them to us.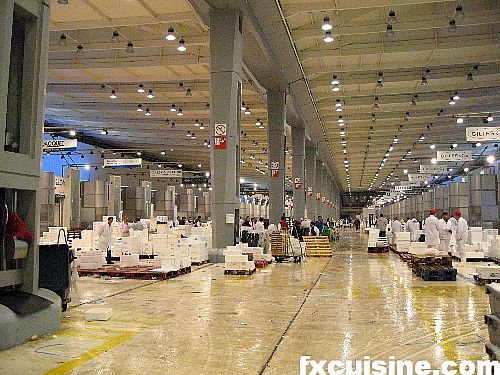 We entered the newly renovated Fish Hall. There was not much fish left as we arrived.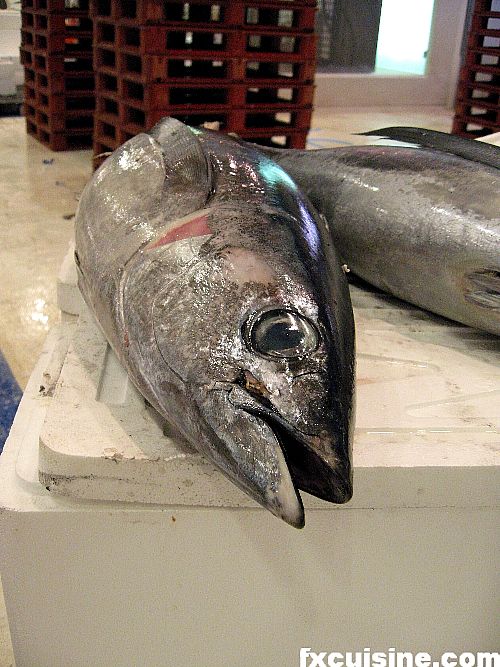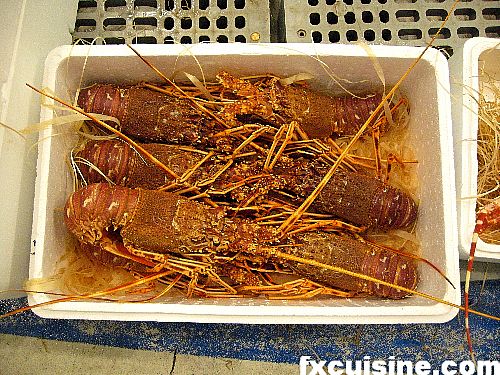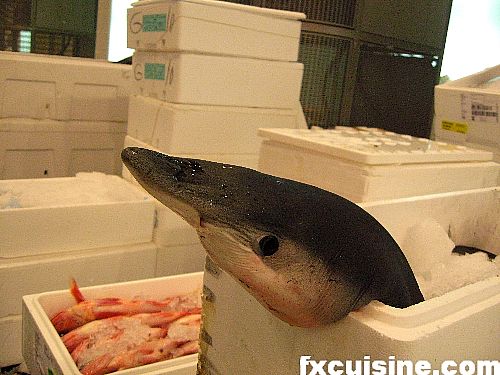 This shark was already past his prime by 6 AM. Fish mongers buy them so that children passing their stall will ask their mom to buy them fish. Apparently an old and established trick of the trade.
The Fruits and vegetables hall is the world's largest, although all you see is a giant hall with piles upon piles of vegetables. There is nothing one cannot find in shops unless you are looking for a ton of tomatoes.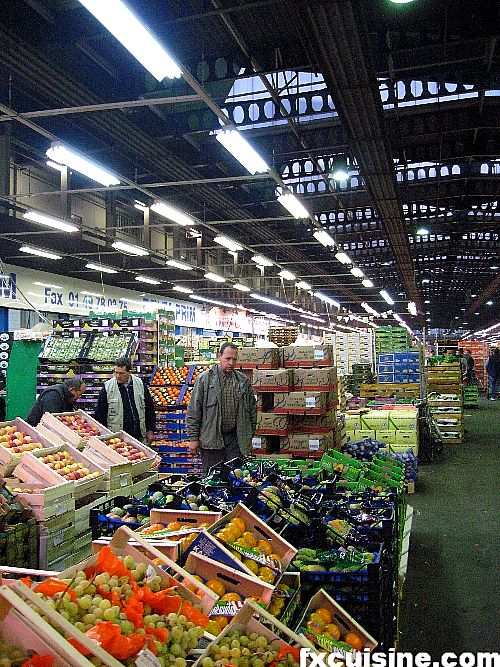 Traders from all over Europe come to buy and sell fruits in Rungis. It is much more than a wholesale market for Parisian restaurateurs.
The cheese hall has been in steady decline since French supermarkets have decided to increase their cheese offering. They don't buy their cheese at Rungis and the little cheese shops, struggling with this new competition, can make up for the lost sales at Rungis. Some of the cheese wholesalers in the Pavillon des Fromages have already moved on to sell other products.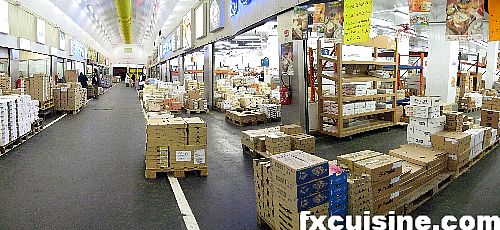 Most cheeses I had already seen, but some of the large cheese meules were rather impressive: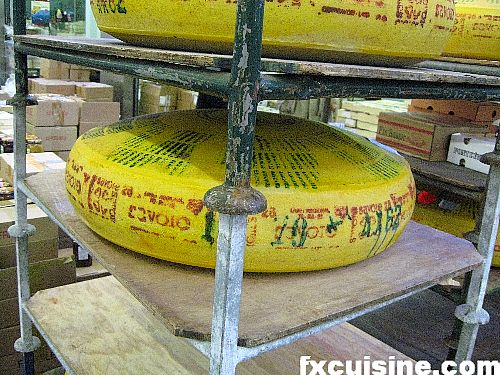 My favorite place in Rungis was the
Pavillon de la chasse
- the
Game Hall
. November was a fine time to visit, but at first all we saw was another endless hall filled with cartons: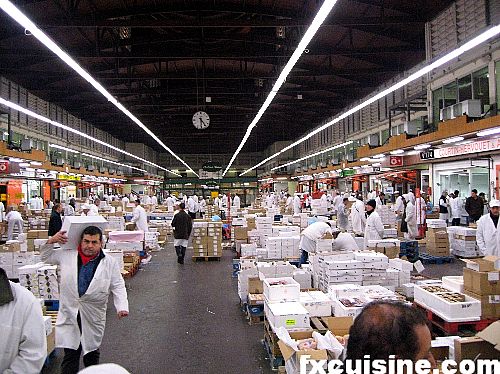 The interesting bit is inside the cartons - colorful birds and furry animals. I would appreciate if any reader could identify the birds in the photos below.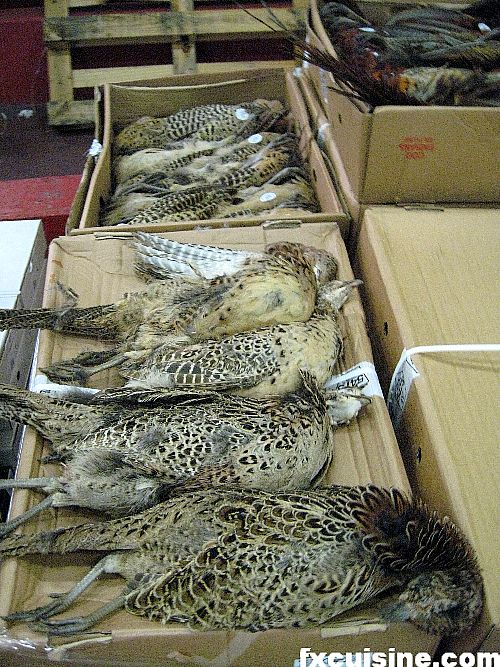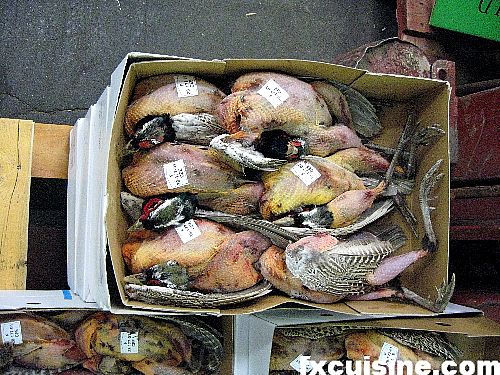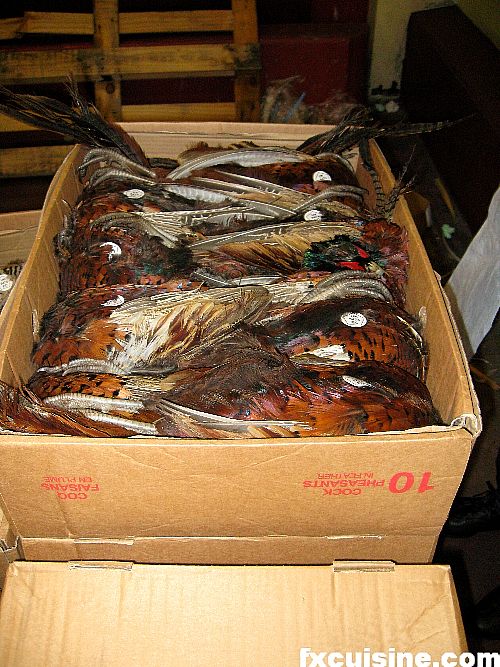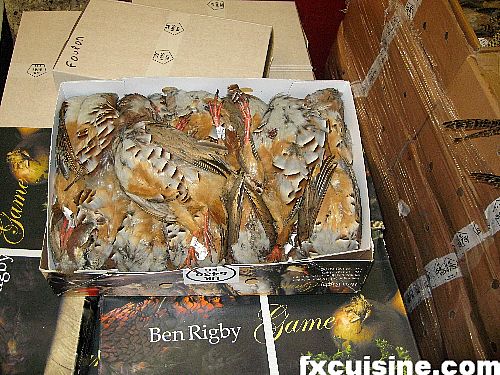 Those Scottish Grouses probably ended up in Parisian restaurants over the week end. This Scot must be one of the few Britons to export gourmet food to France. Well done!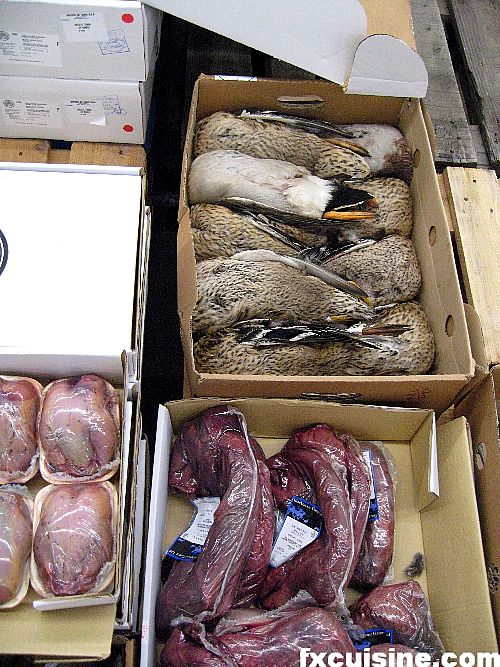 See some
more pictures
of
Pigeons
,
Bresse chickens
, two
obese turkeys
,
more birds
, and
some more
.
At the center of the Game Hall is Le Saint-Hubert (+33 (0)1 46 86 62 14), obviously a game restaurant named after the saint patron of hunters, where buyers and sellers meet up over a chunk of wild boar, all clad in their white CSI outfits. I think if a tourist sat there he would feel like Roman Polanski in the Fearless Vampire Killers when he faces a large mirror in a room filled with vampires and he is the only reflection. You would stand out.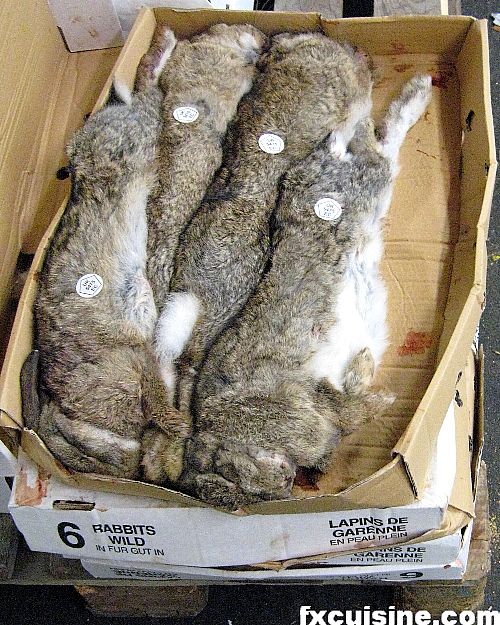 I sure like my rabbit, but at my butcher's they rarely offer such honest, down to earth desription of the goods as '6 Rabbits, wild, in fur, gut in'.
...