Shopping for Arcane Ingredients and Cookware in Paris
Home
>>
Tools & Ingredients
The more you cook, the more you encounter recipes that call for ingredients you just can't find anywhere. You also realize that some culinary operations would be a whole lot easier with the proper tool. Well, if you're in Paris, here is where to go.
where do you find bergamot extract? Crystallized violet petals? Couverture chocolate? How about a cut kitchen whip to make caramel nets or a copper bowl for egg foam successes? If you're in Paris, here is where to go: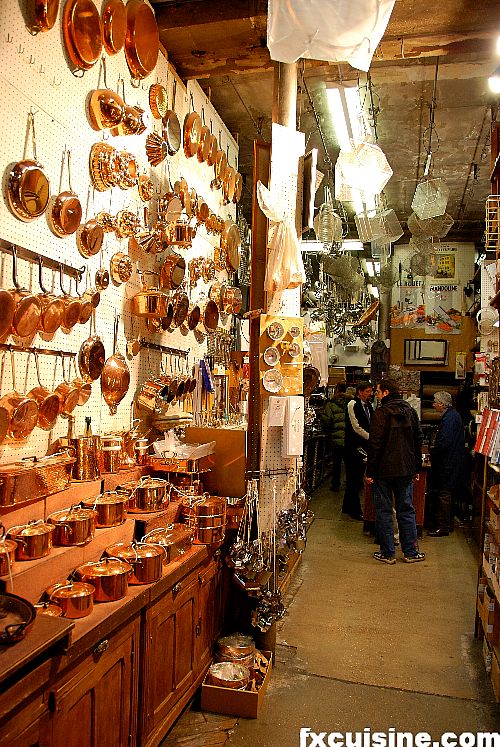 I already told you about De Hillerin in Rue Coquillère at Les Halles. Well, everything seems smaller after Kappabashi-dori, but it's the first place in Paris I'd check for cookware. They also have an impressive range of copper utensils - if you have the budget. My dream of bring back a beautiful copper daubière/braisière vanished when Mr Kim told me it costs €320. Since 1820. I left with a manual czech meat grinder that will meet any military specifications.
But even Dehillerin has not everything. Fortunately, three competing shops are less than 5 minutes away - if you know where to look.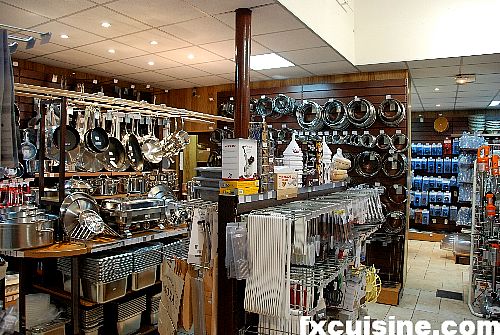 My favorite must be Mora on Rue Montmartre (picture above). It's everything Dehillerin is not. Clean, modern and polite. They specialize in professional French pastry equipment. Very knowledgeable and affable staff. Many Japanese clients who get a resounding 'Arigato Kosaimas' - 'Goodbye' when they leave the shop. But don't let this deter you, this is the real thing and the Japanese are just well informed. Since 1814.

Mora's nemesis is Simon just down the road. Watch out, they have two shops in a row with two separate entrances at Rue Montmartre number 48 and 52. One deals mainly with restaurant china and accessories, while the other is centered on pro cookware. They have the best selection of tools I've seen for sugar workers. Not machetes, mind you, but sugar lamp and thermic gloves to work melted sugar into candies, refractometers and my dream - a cut kitchen whip. If it's any confort the shop was closed when I visited and I still haven't bought it. Since 1884.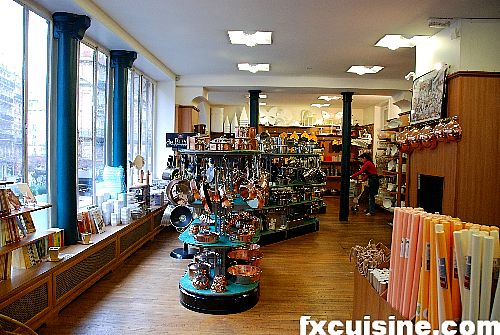 I don't like La Bovida all that much, but you sure can't miss it with its prime location on the corner of Rue Etienne Marcel and Rue ?. They sell spices by the kilogram on the ground floor and copper ware upstairs. Since 1921.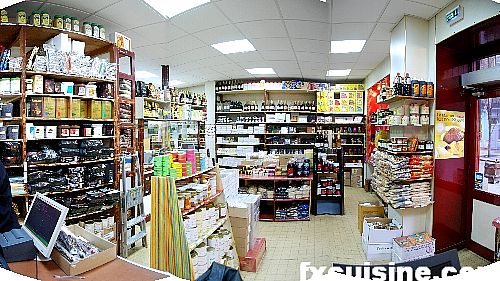 For arcane ingredients, there is only one address: G. Detout ('I. Haveall') in Rue Tiquetonne. Such nice people and a real mom-and-pop feel to it! I love this shop. They don't sell any cookware but only intriguing ingredients used by professional French pastry chefs. If they don't have it you can give up. According to François Schmitt from Lenôtre, the founder's name really was Gilles Detout and thus the pun, if intended, is better than it sounds. Tell them Lenôtre pastry school sent you and they'll give you a 10% discount.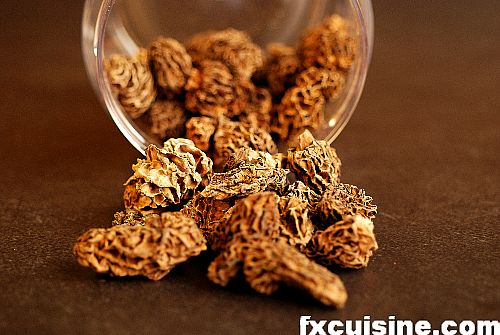 Last year I had bought them a largish box of Dried Ceps and one of Premium Dried Morels, pictured above. What a treat! All you need to do is immerse them in as little water as possible for 30 minutes. I had very pleasant results with my Foie gras tagliatelle with morels. They also sold me a huge 2.5kg bag of Valrhona couverture chocolate which, surprise, surprise, I have not yet finished. The bergamot extract is used in my delicious chocolate sauce served over thyme ice cream.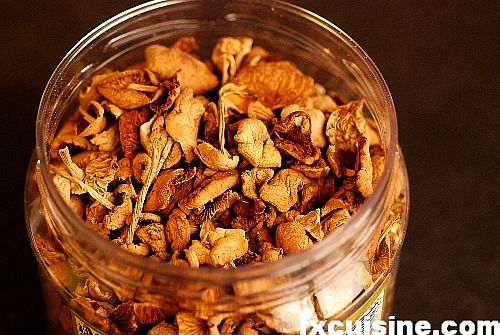 This time I bought a box of Dried Mousserons mushrooms, marasmius oreades in Latin.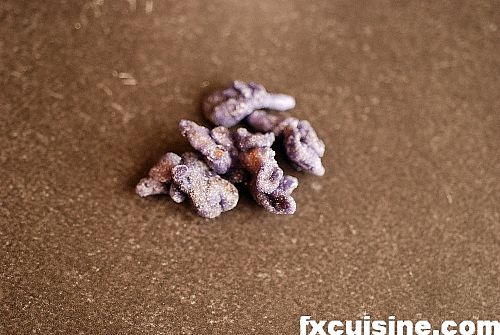 For the decor of my thyme icecream, the recipe called for Sugar-coated violet petals which G. Detout sells by the box. Prices are quite reasonable in this shop geared towards professional kitchens and I couldn't resist the Sugar-coated Verveine petals.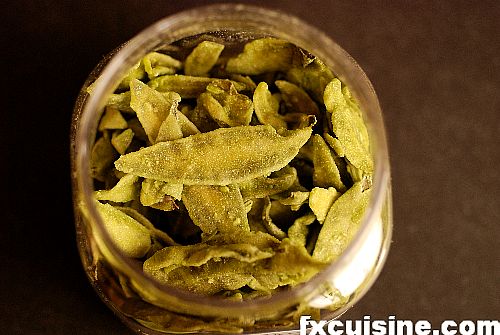 Finally, two chemicals rarely discussed with clients in pastry shops but ubiquitous in professional sorbet and pastry cookbooks, cream of tartar and sorbet stabilizer.
You really don't need to need nor buy anything to enjoy visiting these shops. And they all are within 5 minutes of each other in the center of Paris.
Dehillerin
www.e-dehillerin.fr
18-20 rue Coquillière
75001 Paris
+33 (0) 1 42 36 53 13

Mora
www.mora.fr
13 rue Montmartre
75001 Paris
+33 (0) 45 08 19 24

Simon
www.simon-a.com
48 + 52 rue Montmartre 75001 Paris
+33 (0) 42 33 71 65
La Bovida
www.labovida.com
36 rue Montmartre
75001 Paris
+33 (0) 1 42 36 09 99

G.Detout
58, rue Tiquetonne
75002 Paris
+33 (0) 1 42 36 54 67
296384 views
Related Articles

Paris' Oldest Kitchen Equipment Shop ***
It took me several visits to the mythical 200-year-old professional kitchenware shop Dehillerin in Paris before they agreed to sell me the knife I wanted. A unique gastronomic pilgrimage destination if you can swallow the attitude.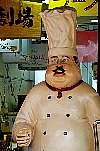 The World's Largest Cookware Market - Kappabashi-Dori in Tokyo *
Easily the largest place on earth to buy cookware and restaurant equipment, this huge street in the Asakusa district of Toyko got me busy for an entire day.
Copyright FXcuisine 2023 - all rights reserved.
If you do this recipe at home please let me know how it worked for you by submitting a comment or send me a picture if you can. Thanks!