Paris' Oldest Kitchen Equipment Shop
Home
>>
Tools & Ingredients
It took me several visits to the
mythical
200-year-old professional
kitchenware shop
Dehillerin in Paris before they agreed to sell me the knife I wanted. A unique gastronomic pilgrimage destination if you can swallow the attitude.

Picture © Dominique Brodbeck www.brodeck.org
The Dehillerin shop is famous for its range of copper casseroles, sold in every shape and size with either the traditional tin coating or the more durable stainless steel interior. But that's only about a fifth of their inventory. You'll find there every possible contraption used to cut, mash, wash, filter, boil, steam, mold or serve food. These are not the designer tools found in high-end kitchenware shops but rather super resistant, streamlined, giant sized tools used by actual French chefs. No surprise the place is such a magnet for amateur foodies!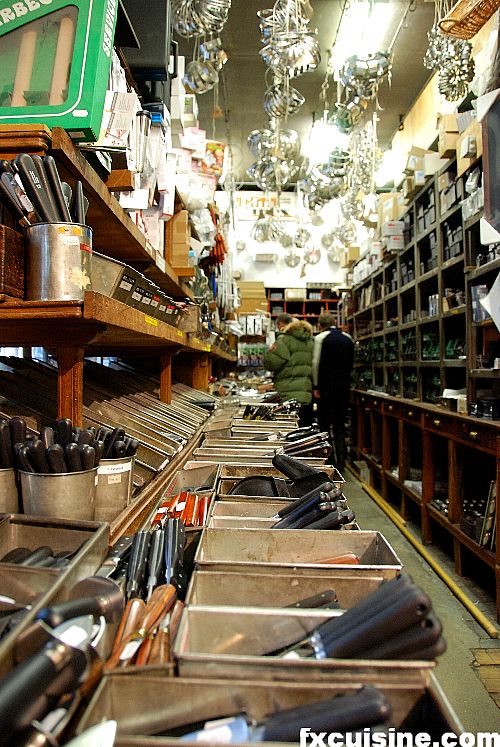 I assume Dehillerin must have been featured in wealthy housewifes magazines in Japan and North America because they flock here on sunny Paris afternoons, a bit ill-at-ease in the manly bazaar ambience. The shop has been selling kitchenware and cookware to professional cooks for two centuries, so tourists are clearly not a priority. If you are a foreign chef you'll be treated decent, but amateurs and tourists are put on the back burner.
See for yourself. A scene is repeated every other minute in the shop. One of the tourist clients would ask the price of some saucepan. One of the attendant, clad in blue overalls, gives him a nasty grin and says "You can read, can't you? Well then, it will be easy since you're so smart. You take the saucepan's reference number, here #5439795844 and go at the end of the aisle to see the price sheet. Understood? Attaboy" or words to that effect. You can see the price list in the middle of Mr Brodeck's pictures above. A really easy and user friendly system. Hard to understand why a hundred clients a day ask the question. They could put a large sign in English and French but they would miss the fun.

And if you need help, then God helps you. On an earlier visit, I saw this gigantic dented knife on a shelf and asked the attendant if he could get if for me. "What do you want to use it for?" he asked sharply. "To cut roasts, I guess" I answered. He put the knife back before I could even touch it. "This is not the knife for you. This one is used to cut slices off whole salmons. Here is a roast knife" he said, handing me the right knife, an ugly asparagus of a knife. I was quite disappointed but it became clear that they would not sell me the 'wrong' knife even if I insisted. End of story. I had bought about all I could carry, and the shop employee gave me his business card, explaining that he worked on commissions. This shows some economic rationale for the better treatment awarded to chefs who probably buy large quantities.



Parisians are not bad people. Not worse than New-Yorkers at least. But they just have more respect for the man who is almost rudely agressive than for the one who is apologetically looking at his shoes. That's their culture. After about 2 decades of visiting Paris I've come to almost enjoy dealing with the Parisian in-your-face attitude and now manage not to be treated like a schmuck.
I still wanted my knife and devised a little plan to get a better treatment next time I visited the shop and buy my knife.

About a year later, I arrived and my guy was busy mouth-trashing one of the tourist clients. I came right behind him and said loudly "Alors Monsieur [man's last name], tu me fais un enfant dans le dos?" ("So Mister, are you making me a child behind my back?", a highly colorful expression implying that the man did not recognize one of his old and trusted clients and was serving the tourists instead of dropping everything to come to me). It worked like a charm. The informal 'tu' used by professional cooks between themselves was the finishing note. The guy turned round, red in the face, like if I was some famous cook he could just not remember. He escorted me to every corner of the shop, kindly offering to look prices up, making jokes, carrying my stuff for me. I decided to try my chance with the knife again ans asked "You wouldn't have a salmon steak knife by any chance?". He stopped to think for a moment, raced to the knifes aisle and came back proudly with the knife in hand "You are lucky, we are the only one to stock it in Paris."

Dehillerin
www.e-dehillerin.fr
Rue Coquillère 18-20
Paris (at les Halles)
407229 views
Related Articles

Shopping for Arcane Ingredients and Cookware in Paris ***
The more you cook, the more you encounter recipes that call for ingredients you just can't find anywhere. You also realize that some culinary operations would be a whole lot easier with the proper tool. Well, if you're in Paris, here is where to go.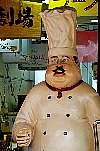 The World's Largest Cookware Market - Kappabashi-Dori in Tokyo *
Easily the largest place on earth to buy cookware and restaurant equipment, this huge street in the Asakusa district of Toyko got me busy for an entire day.
Copyright FXcuisine 2023 - all rights reserved.
If you do this recipe at home please let me know how it worked for you by submitting a comment or send me a picture if you can. Thanks!