Pistachio Ice Cream From Scratch
Home
>>
Recipes
Starting with raw pistachios from Istanbul, I made delicious pistachio ice cream from scratch using directions from French pastry chef honcho Pierre Hermé. Nothing like industrial ice cream!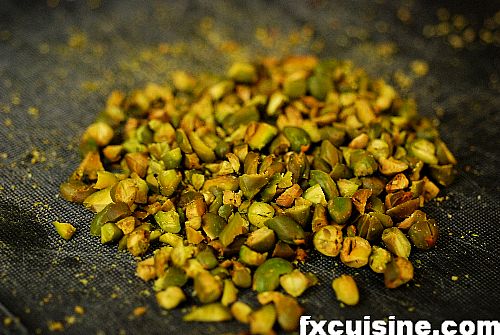 Commercial pistachio ice cream is even more artificial than you think, but the only way to realize what you're missing is to make your own. But we warned, the end result looks and tastes much different than what you are used to. And much better too!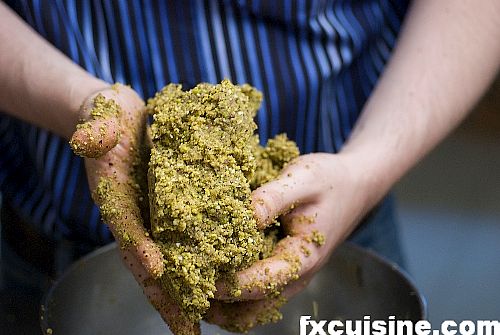 Pistachio Ice Cream
A recipe by Pierre Hermé, king of French pastry
75 gr (2 oz) pistachio paste
100 gr (3 oz) white sugar
25 gr (1 oz) glucose (fruit sugar)
Almond extract
50 gr (1.5oz) blanched pistachios
500 ml (2 cups) milk
100 ml (3 oz) full fat cream
6 egg yolks
Homemade pistachio paste is perfect for ice cream - I made my own from pistachios bought in Istanbul's spice market .
Pierre Hermé recommends to start by lightly toasting 50 gr blanched pistachios in the oven (picture) for 15 minutes at 180°C, then to chop them coarsely (article). This will add crunchiness and make the ice cream more interesting. Be aware that toasted pistachios taste a lot like toasted almonds, so if you are after unadulterated pistachio taste, toast lightly or not at all.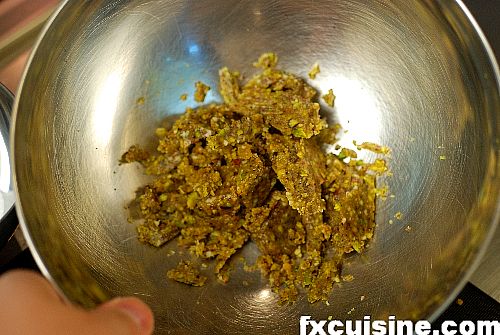 Remove the pistachio paste from the freezer where it ought to be stored and chop 50-70 gr off the block.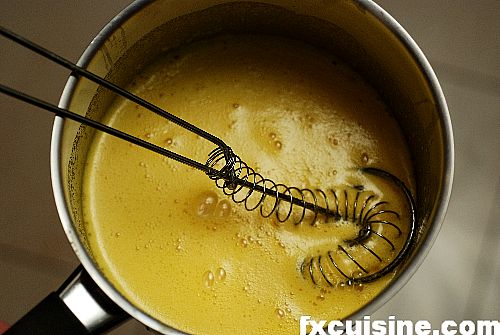 Heat the milk and cream in a saucepan and melt the frozen pistachio paste. Bring to a boil and remove from the fire. Cover, add one drop of bitter almond extract, the glucose and the chopped pistachios and leave to infuse for at least 10 minutes. The bitter almond extract will quickly overwhelm the delicate flavor of the pistachios so be sure to add only a very minute almond. Industrial ice creams makers use gallons of it but not discerning home chefs.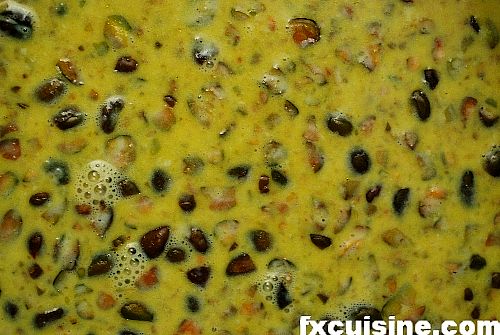 Meanwhile separate the eggs. In a large bowl beat together egg yolks and sugar until the sugar is well dissolved. Do not beat until the mixture turns white (what in French we call blanchir) as this would incorporate air bubbles which later will make your pistachio custard foam and prevent you from looking at the liquid. Pour the warm milk into the beaten yolks and mix vigorously.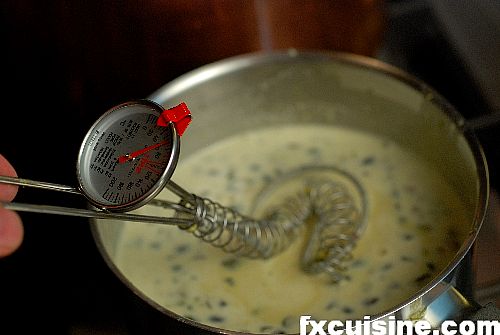 Now for the tricky part. We need to thicken the milk to obtain ice cream. This is done by partly coagulating the egg yolks by heating them. If you heat too much, part of the cream will freeze into a custard and there is no way to go back. I recommend you put your saucepan into a larger one filled with water to ensure gradual, even heating with no hotspots. A precise temperature probe immersed in the custard will help you know when you draw near to the ominous 83°C mark. Beyond this mark lies the kingdom of frozen custard, the pastry chef's valley of tears. Do not exceed 83°C and above all, keep on beating the custard.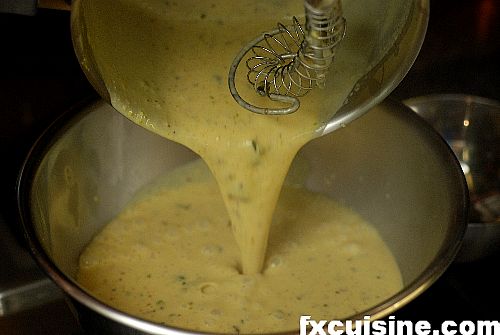 As soon as the cream has thickened, pour it off into a cold bowl. Immediately. The saucepan is still hotter than the custard and if you wait even 15 seconds, the custard closest to the bottom will start to set and nobody can save you.
Professional chefs are supposed to plunge this custard bowl into a larger one filled with ice cubes to shorten the time the custard spends in the 15°C-50°C temperature range that gets bacterias horny. Home chefs like myself usually just put it in the fridge and hope evil bacterias won't have enough time to procreate.
Pierre Hermé recommends you leave the ice cream to rest in the fridge for at least 12 hours before churning, but clearly you can churn it as soon as it's cold, even though the taste might be improved by a longer rest.
Churn it in your ice cream machine until ready. Did I forget to say you need an ice cream machine? You do. It's just a slow beater with a freezer around it. While the cream slowly freezes, the constant churning prevents water crystals from forming and gradually introduces millions of tiny air bubbles that will make the ice cream light and airy. Add the full fat cream when the ice cream starts to set.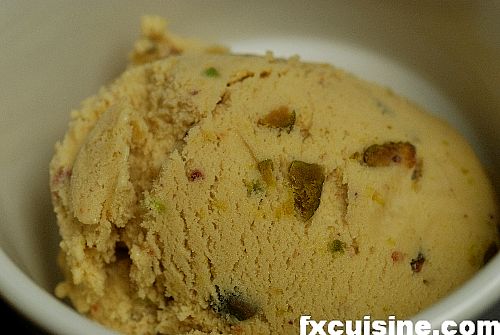 Here is the result, with bits of toasted pistachios with some red skins as well as the original green pistachios from Istanbul I pounded in my mortar. Delicious!
One could obviously add green food coloring and I think everybody but blind guests will find its taste better. On the other hand, people in the know do know you can tell pistachio ice cream was made from scratch because it isn't all that green. You choose!
218219 views
Copyright FXcuisine 2023 - all rights reserved.
If you do this recipe at home please let me know how it worked for you by submitting a comment or send me a picture if you can. Thanks!