Pollo Tandoori en Serio
(página 2 de 2)
Home
>>
Recetas
Haz pollo tandoori mejor que en cualquier restaurante hindú - sólo obsérvame.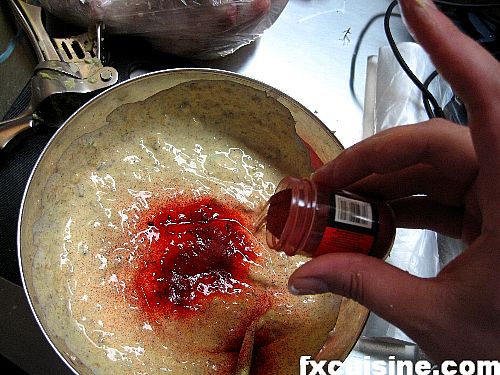 Y mezcla todo bien.  Puedes elegir entre una marinada colada y super homogénea, o una qe conserve pequeños trocitos de las especias (gengibre, ajo, etc.)   Tu decides.
Vierte la marinada directamente en las bolsas de los pollos, conservando el jugo de limón.  También podrías utilizar una bolsa nueva y ponerle de nuevo jugo de limón fresco.  Déjalos marinar de 4 a 6 horas.  En los libros de cocina hindú los marinan por mucho más tiempo porque sus carnes son más 'frescas' y mucho más duras.  Si marinas demasado tiempo acabarás con un poco apetitoso puré-con-huesos.   No se te ocurra hacer esta receta solo con pechugas porque con solo 30 minutos en la marinada acabarás con un engrudo.  Tienes que utilizar el pollo entero.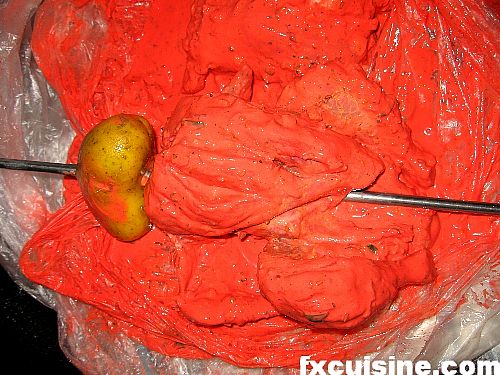 Enciende el horno tandoor y espera a que esté caliente.  Yo cocino como a 400 ºF (lo siento pero mi tandoor vino con el termostato en Farenheit).  Saca los pollos e insértalos en una 'seekh' (alambre o brocheta larga) de tal manera que queden como a 15 cm de las llamas.  Ensarta una papa cruda debajo del pollo para que no se resbale.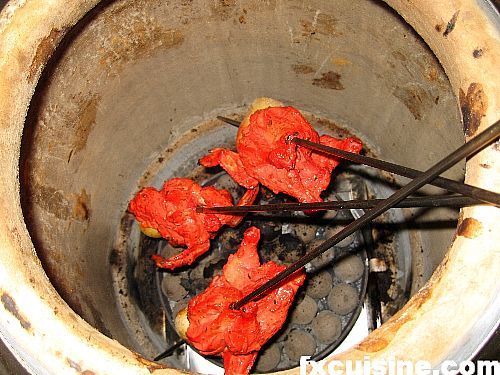 Dejalos asar en el tandoor tapado unos 12 minutos o hasta que las puntas de las alas y de las piernas se hayan ennegrecido.  No te preocupes por los efectos carcinogénicos, todas las invertigaciones concuerdan en que después de 15 minutos de marinado ya no hay riesgo.  Sácalos y cuelga las brochetas para que la carne escurra por 5 minutos.  Báñalos con mantequilla clarificada.  Comprueba con un uchillo que la carne esté cocida haciendo un corte en la parte más gruesa.  Regrésalos al horno por 3 minutos o más si aún no están suficientemente cocidos.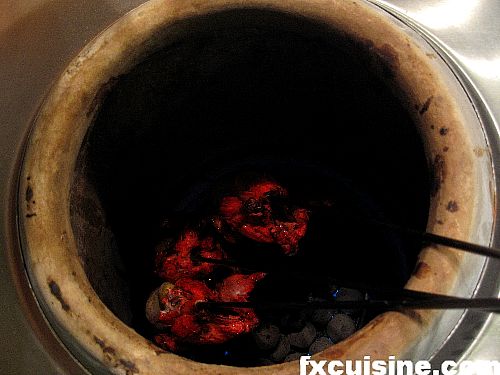 Saca las aves y coloca las brochetas en un plato. Con mucho cuidado retira las aves de las brochetas al rojo vivo y sírvelas.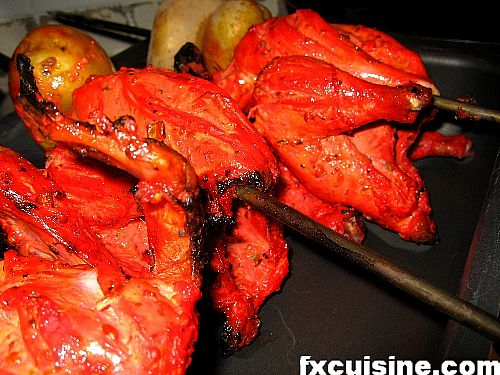 La carne tiene un intenso sabor a asado y a especias y el interior es increíblemete jugoso.  Mucho mejor que el seco malvavisco rojo que te sirven en la mayoría de restaurantes hindús bajo este mismo nombre.  The meat has an intense grilled and spicy taste with an incredibly juicy interior. Much better than the dry red mashmallow served in most Indian restaurants under the same name.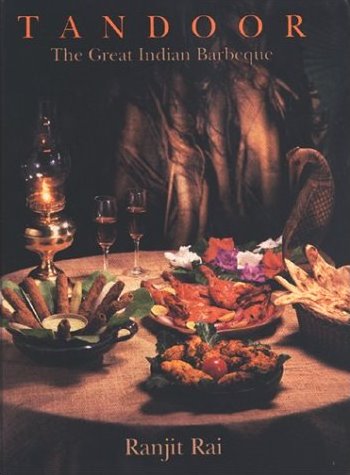 El mejor libro sobre cocina tandoori es "Tandoor: La Gran Barbacoa Hindú" Tandoor: The Great Indian Barbecue
,  El trabajo de toda una vida dedicada a investigar las recetas, historia y técnica tndoor. Encarecidamente recomendado, es uno de mis favoritos entre los favoritos. 
1046690 visitas
Copyright FXcuisine 2020 - all rights reserved.
If you do this recipe at home please let me know how it worked for you by submitting a comment or send me a picture if you can. Thanks!