Fríe Berenjenas como una Mama Siciliana
Home
>>
Experiencias Gastronómicas
Freir berenjenas es una de las cosas más engañosas en la cocina italiana.  Observa como lo hace Eleonora Consoli, una autoridad en la cocina siciliana, en su propia cocina en el Monte Etna, en Sicilia y ... ¡Nunca volverás a acabar con esas esponjas aceitosas!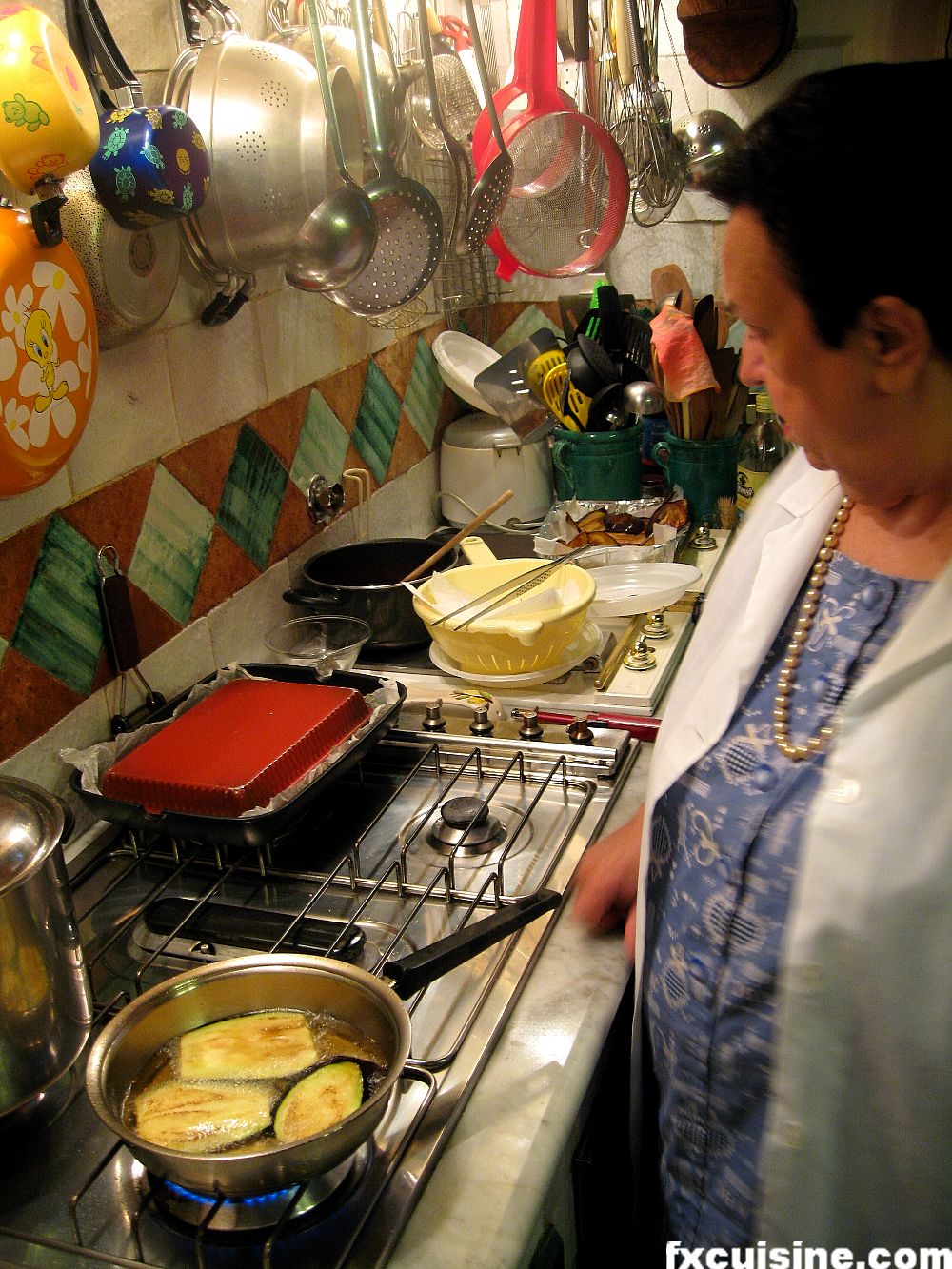 Freir berenjenas es una de las cosas más engañosas de la cocina italiana.  Las malditas cosas esas simplemente se tragan cuanto aceite les avientes y terminan por inmobilizar a tus invitados por semanas, como un pitón que se comió un perro y no se puede mover por varios días.  Pero una berenjena bien frita es una maravilla carnosa y delicada en una sabrosa cápsula dorada.  He intentado freir berenjenas de muchas formas - en una sartén antiadherente con poquito aceite, en el horno, presionándolas para extraer el aceite que habían chupado.  Todo mundo tiene su idea de como hacerlo, pero cuando se trata de saber como freir una berenjena como una mama siciliana, la cosa termina con Eleonora Consoli.  Signora Consoli, de Viagrande en el Monte Etna, en Sicilia, escribe libros de cocina para sus lectores sicilianos y tiene su propio programa de cocina en la televisión de Sicilia.  Me las ingenié para asistir a una clase privada de cocina en su casa cerca del Monte Etna y le pedí que me enseñara como freir una berenjena.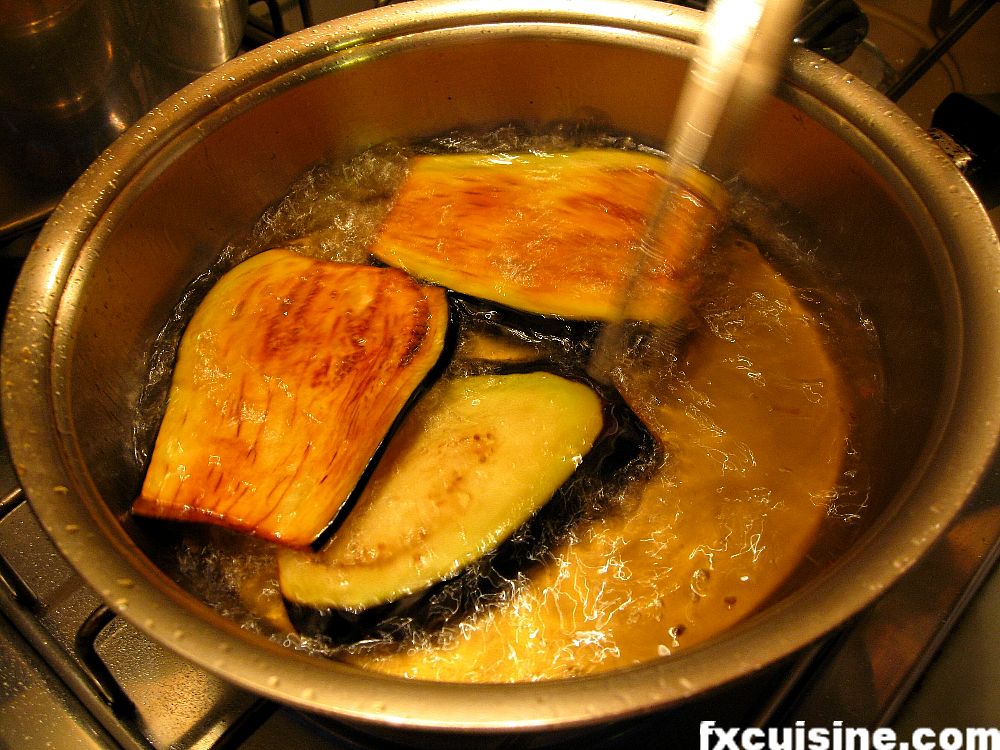 Como verás, freir una berenjena correctamente y lograr berenjenas ligeras, crujientes ycompletamente cocinadas es muy simple.  Aún así, hay mil y una maneras de equivocarse.  Sólo observa como se hace:
Pelando y Rebanando la Berenjena
Utiliza berenjenas de piel negra que son las de mejor sabor.  Se les deja la piel ya que se vuelve muy sabrosa al freirla, lo que no sucede con las berenjenas blancas y violetas.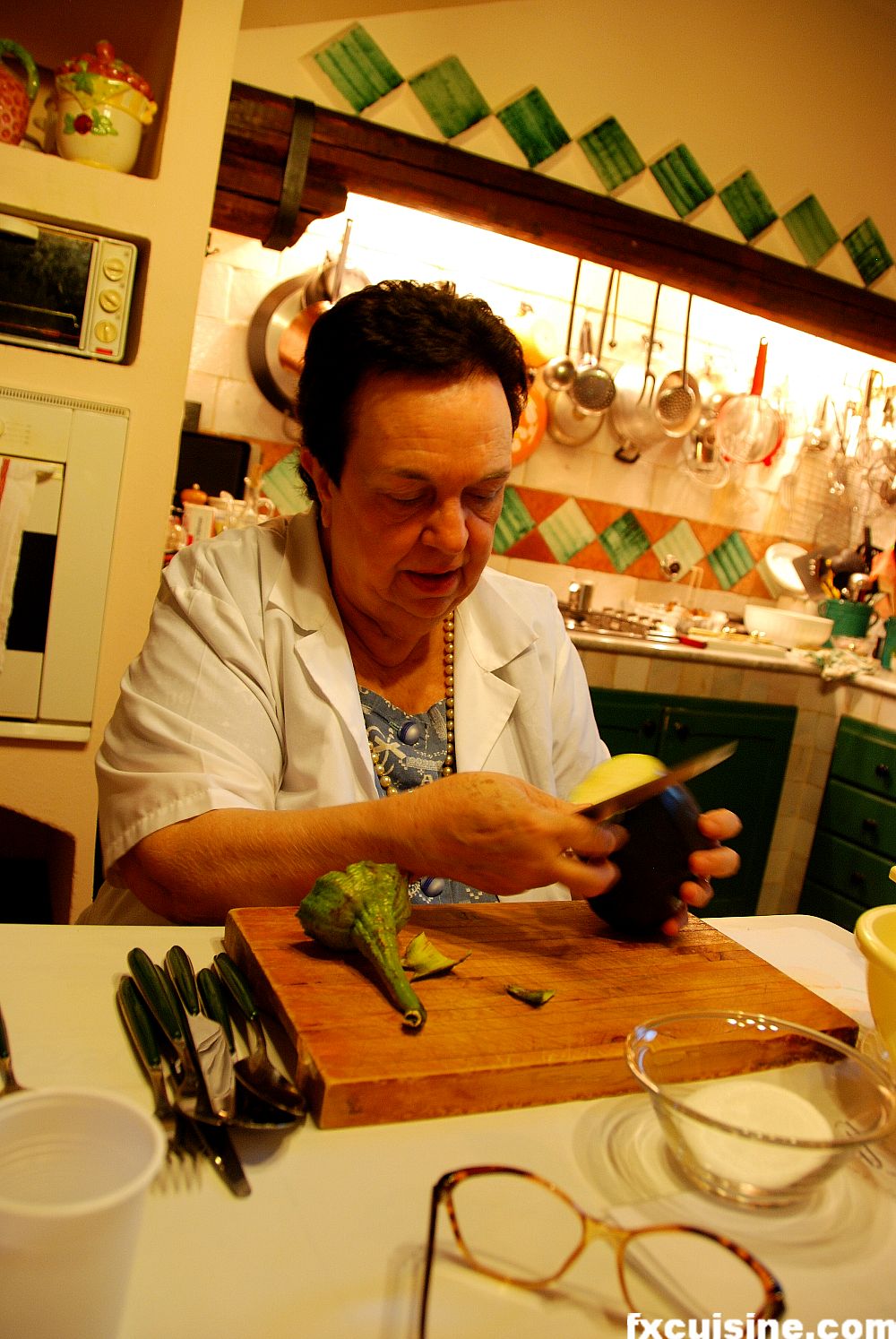 Lava las berenjenas, luego córtales el tallo así como cualquier parte lastimada.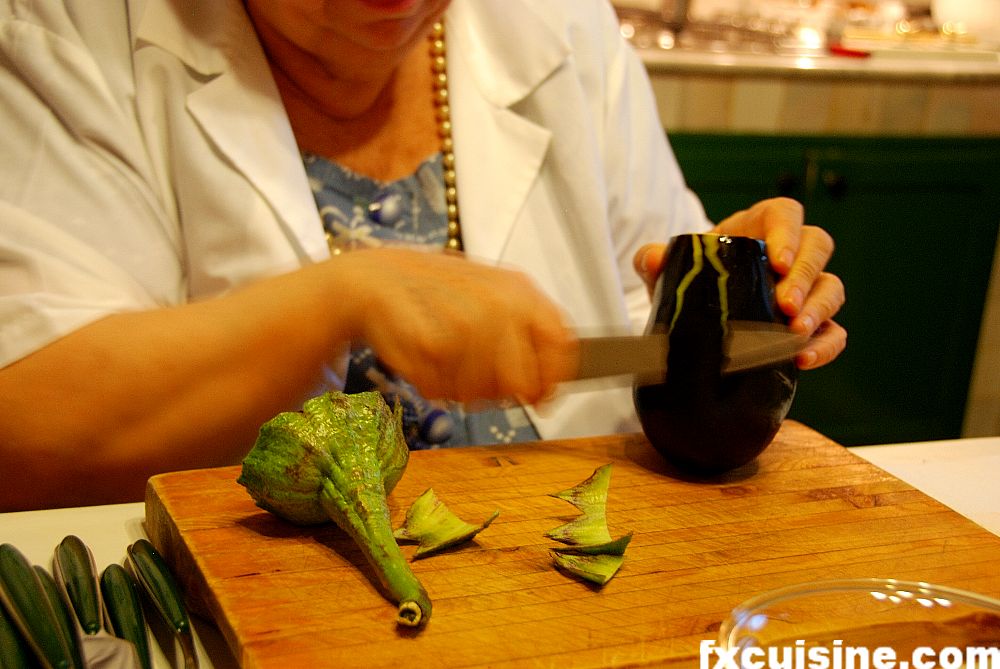 Rebana la berenjena a lo largo.  Esto es my importante ya que unas rebanadas transversales harían que las fibras de la berenjena absorviesen el aceite.  Comienza por cortar una rebanada de piel y descártala...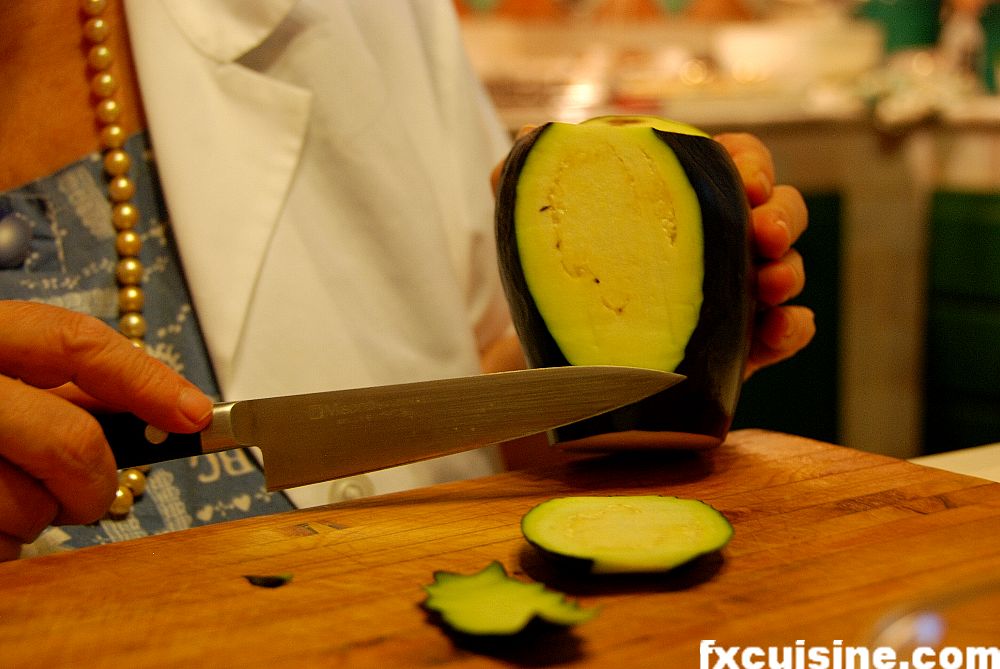 ... luego procede con más rebanadas a lo largo hasta llegar al otro lado.
Salando, Lavando y Escurriendo las Berenjenas
Muchas veces he tratado de salar aubergines o berenjenas antes de freirlas, para extraer las aguas amargas como dicen los libros de cocina italianos.  Y en cada ocasión he tenido que tirarlas porque sabían a bacalao salado.  Pero al Señora Consoli explica que éste es un paso esencial, y creo que es sobre todo porque unas berenjenas más secas absorverán menos aceite por ósmosis.  Así es como se hace: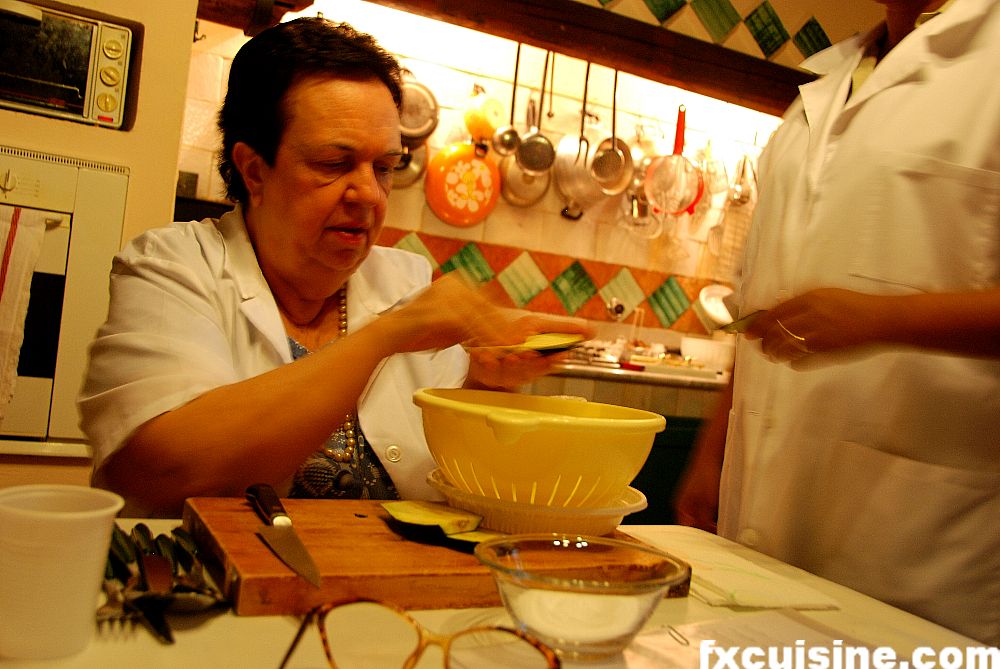 Embarra cada rebanada con sal por ambos lados.  No temas usar demasiada sal.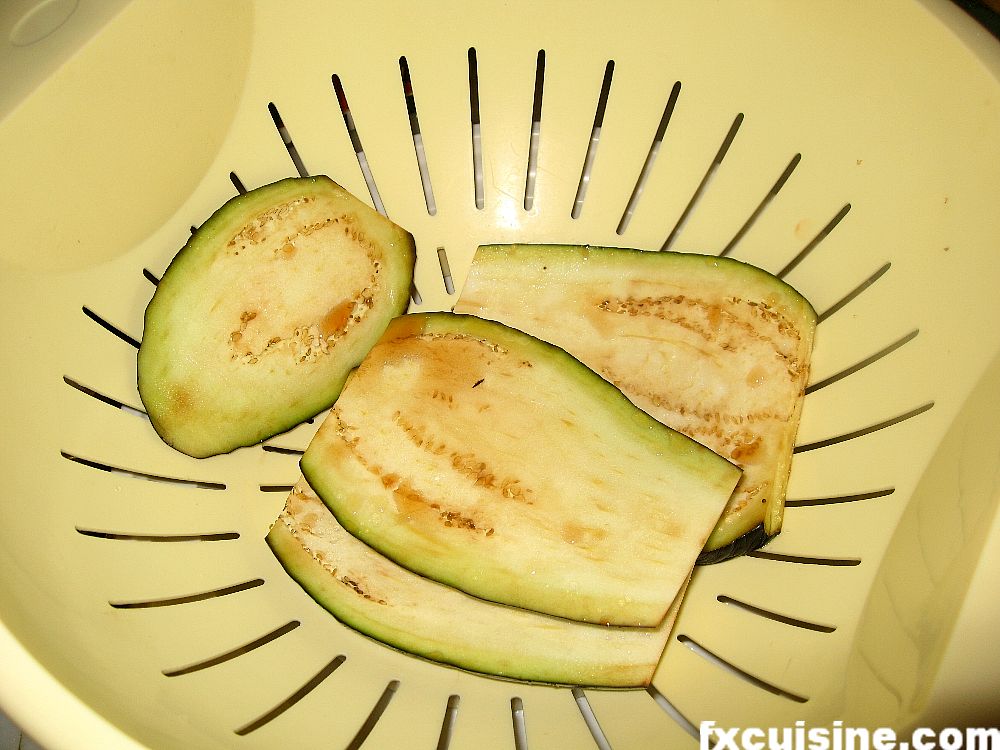 Deja las rebanadas en un colador de 30 a 60 minutos.  Verás grandes gotas de agua formarse en las aubergines - es jugo de berenjena que la sal ha sacado por ósmosis.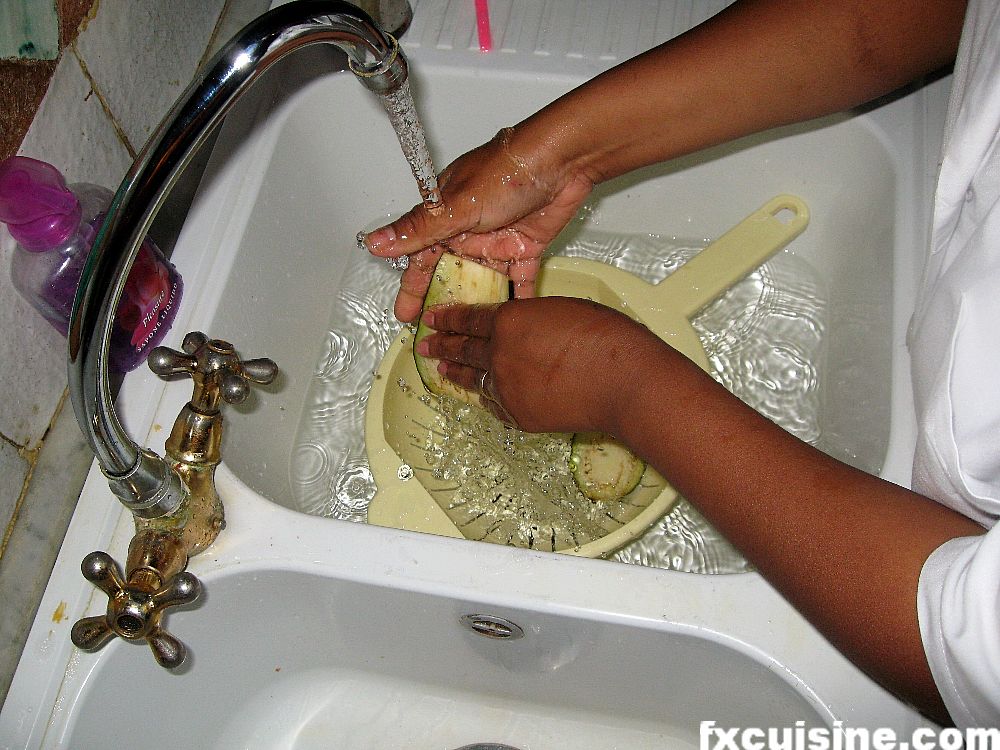 El problema es que este proceso sala mucho las berenjenas.  Ya que el agua sale del interior de la rebanada hacia fuera, pensarías que no entraría la sal, pero si entra.  Ahora tienes que lavar cada rebanada en el chorro del agua y restregarla, exprimirla, escurrirla y volverla a lavar.  Si no haces esto, no te podrás comer tus aubergines.
Friendo la Berenjena
Ahora a freir.  Pensarías que tratándose de cocina italiana hecha en una casa italiana utilizarían aceite de oliva ¿Verdad?  El aceite de oliva no soporta las altas temperaturas tan bien como otros aceites menos románticos.  Los chefs profesionales utilizan mantequilla clarificada o, como Signora Consoli, aceite de semillas de uva para freir a temperaturas altas.  Si piensas que eso no es saludable, no estoy seguro que haces leyendo un artículo acerca de comida frita, pero debes saber que los beneficios de aceite de oliva extra virgen desaparecen rápidamente en cuanto el aceite se calienta hasta su grado de ahumado.  Algunos aceites de semilla de uva pueden aguantar casi 400F°/200°C antes de comenzar a ahumar, y ciertamente son la opción correcta para esto.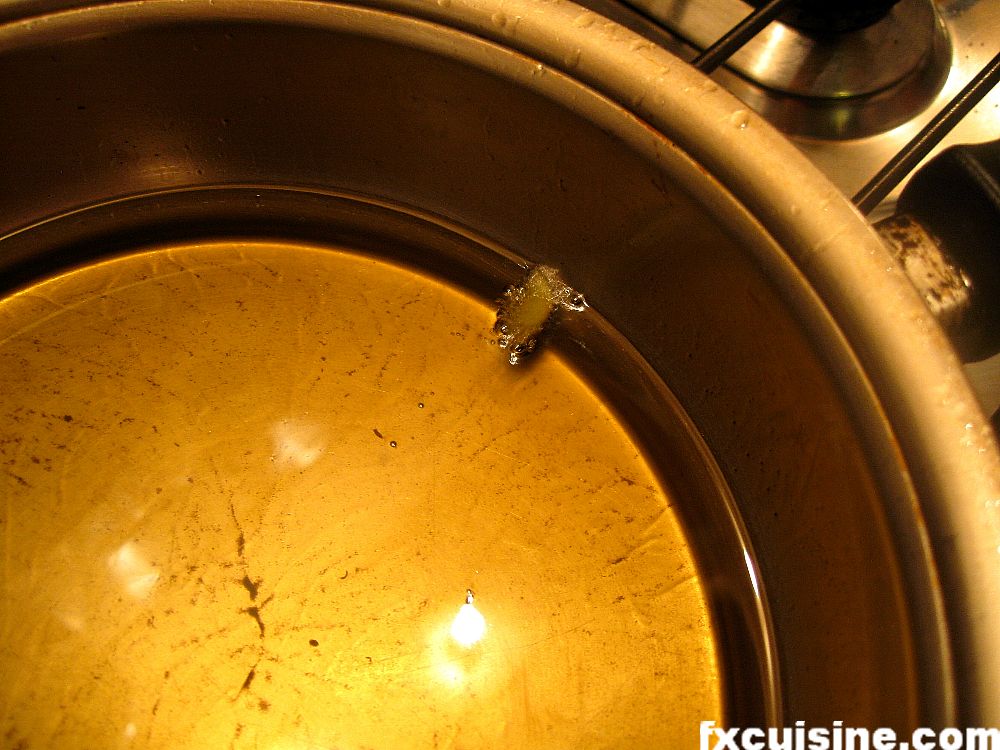 Calienta al menos 1litro/1quart de aceite de semillas de uva en una olla honda para freir.  Caliéntalo a una temperatura de unos 170°C/330°F.  Puedes dejar caer unos pedacitos de berenjena o de pan en el aceite - cuando comience a burbujear con fiereza, tu baño está llisto.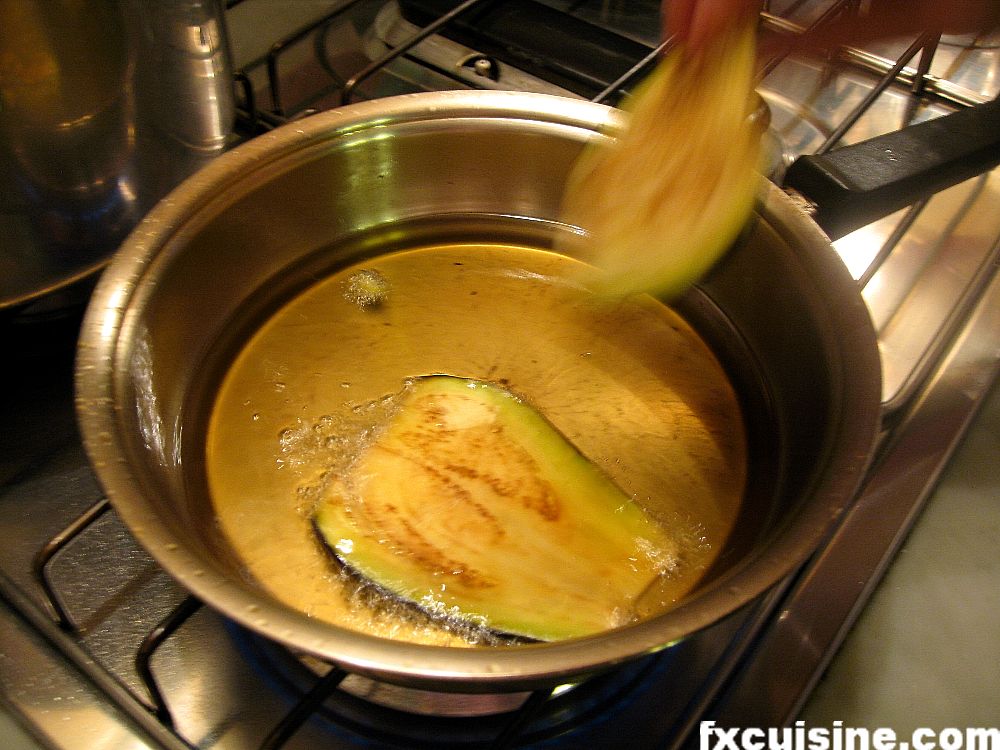 Con unas pinzas, sumerge las rebanadas de berenjena una por una en el aceite.  NO las dejes caer o terminarás la comida en urgencias.  Añade únicamente la cantidad de rebanadas que quepan en la superficie de la olla - freirás las demás después.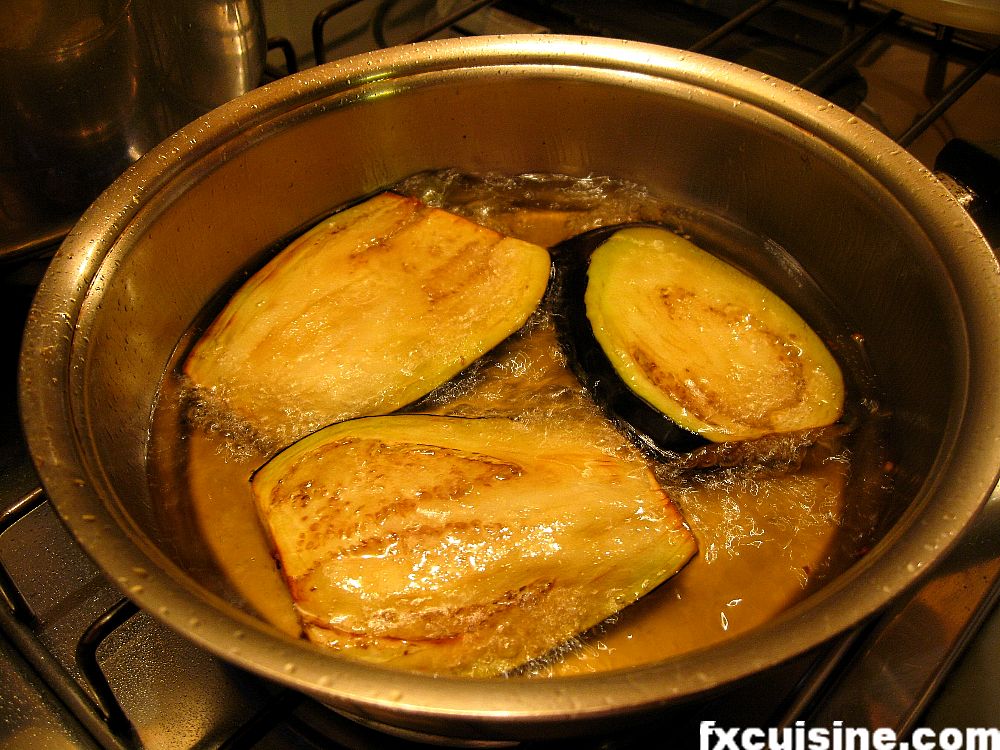 No dejes que el aceite se caliente tanto que comience a ahumar, pero tampoco dejes que se enfríe demasiado.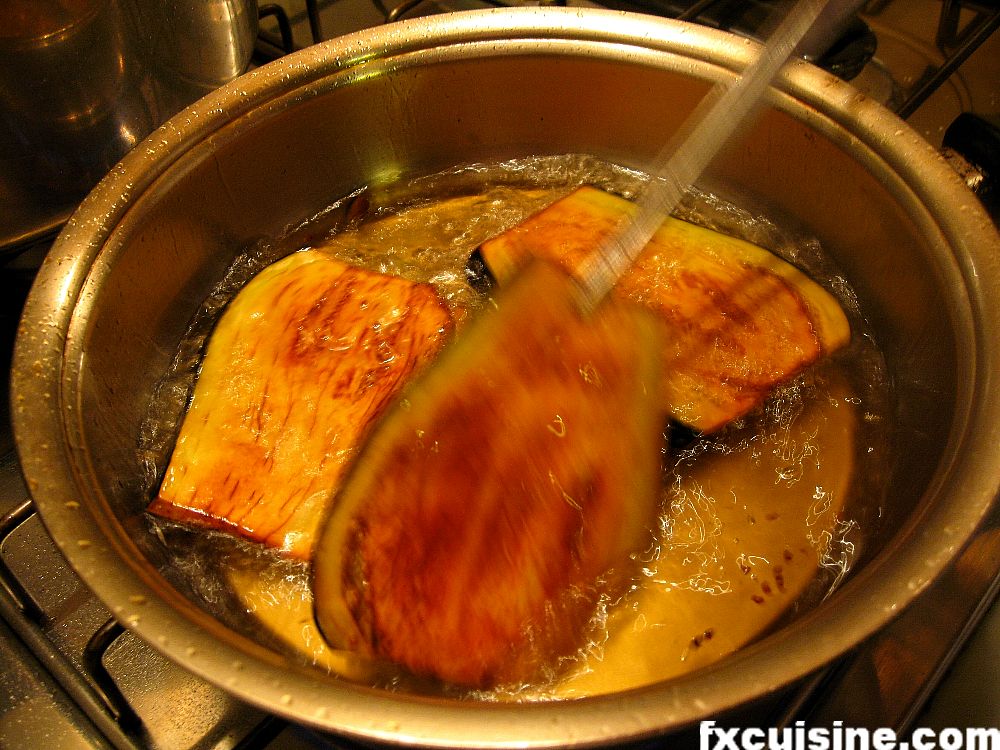 Con unas pinzas de cocina, checa constantemente la cara inferior de las berenjenas,  hasta que estén bien doradas.  Luego dáles vuelta para que se dore la otra cara.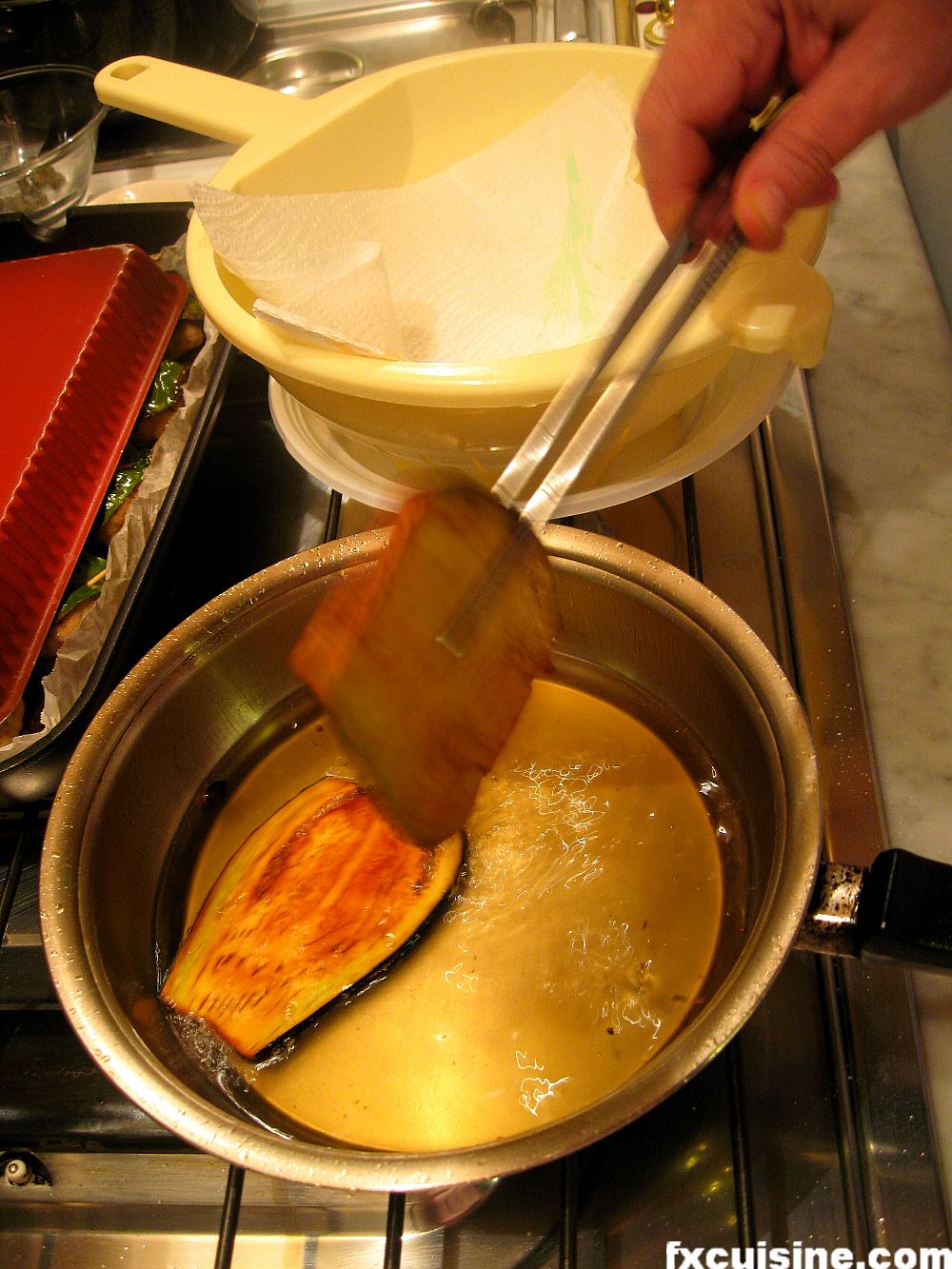 Retira las rebanadas de berenjena ya fritas y colócalas en abundantes toallas de papel para eliminar tanto aceite como sea posible.  No dudes en presionarlas con cuidado con cuatro capas de papel para extraer más aceite.  Cúbrelas para mantenerlas calientes en lo que fries las demás rebanadas.
En resumen, para freir berenjenas como una mama siciliana:
Utiliza berenjenas de piel negra- las de mejor sabor
No quites la piel
Córtalas a lo largo
Ponles bastante sal para extraer la humedad
Lava y escurre cada rebanada como si fuese una toalla
Para freir, utiliza aceite que soporte altas temperaturas,  NO aceite de oliva
Usa muchas toallas de papel para remover el exceso de aceite de las rebanadas de berenjena
Eleonora Consoli [haylayawNAWnawrah KONsawlee]
www.cucinadelsole.it
info@cucinadelsole.it
Via Contemare 9
95029 - Viagrande Catania
Italia
Tel/Fax +39-095-7890116 or +39-095-7899091
657041 visitas
Artículos Relacionados

A Sicilian Cookery Class on Mount Etna - Peperonata in Agrodolce **
Sicily's top food authority let me into her kitchen on Mount Etna while she was preparing sweet-and-sour peppers.

Sicilian Lemon Leaf Meatballs **
Another dish with Eleonora in her kitchen near the Etna in Sicily - gorgeous veal meatballs wrapped in lemon-tree leaves and grilled.

Sicilian Watermelon Folly **
Eleonora makes Gelo d'anguria, the cult Sicilian dessert, in her home on Mount Etna.

Frying Eggplants like a Persian Mama
Very easy way of frying sliced eggplants in an oven with very little oil, yielding beautiful, tasty and very light eggplants with no effort.
Artículos màs populares ¦ Ultimos artículos ¦ Por temas ¦ Ultimos comentarios
Copyright FXcuisine 2023 - all rights reserved.
If you do this recipe at home please let me know how it worked for you by submitting a comment or send me a picture if you can. Thanks!