Dinner at Le Train Bleu
Home
>>
Experiences
A memorable meal at one of the
most spectacular
restaurants in Paris, located in the Gare de Lyon train station.

Click on the picture for a 360° panoramic picture of the restaurant (2 Mb).
As I was about to leave for Paris a schoolfriend who lives in Paris called me. He wanted us to meet and, great stomachs think alike, we agreed on Le Train Bleu, the restaurant at the Gare de Lyon where my train was due to arrive at 10PM. Apart from its location, there is nothing mundane about the Train Bleu. Beyond being the obvious place to take your trainspotting brother for his birthday, it is one of the single most spectacular restaurants in Paris, built in 1900 in a flamboyant Second Empire style as a testimony to France's grandeur. This restaurant was used in several movies, including the cult scene in Luc Besson's 1991 La Femme Nikita where Tcheky Karyo and Anne Parillaud give an Asian tourist an unforgettable meal. I have seen two remakes of this movie, not including the rip-off 'La Femme Nikita' serie and they are all vastly inferior in quality to the original. In this scene, Nikita, a young street urchin, celebrates the completion of her training as a secret agent under Karyo's cruel tutelage:
Matthew is a very modest fellow. If you want to shoot a feature film in Paris, he is the man that will organize the whole production, crew, equipment and authorisations and be responsible for deadlines and budget. But Matthew doesn't boast and he's nothing like those Angelinos who work as janitors at some talent agency and can drown a whole three-floor restaurant with pretentious anecdodes of their meeting the stars of the day. After a while Matthew acknowledged that he had in fact produced a movie at Le Train Bleu. "It is not as fancy as Nikita but it was a big budget just the same". In Mr. Bean's Holiday, Rowan Atkinson struggles with the French cuisine dished out by French actor Jean Rochefort at Le Train Bleu:
Well done. I can't stand people who speak on cellphones in restaurants anyway. By the way, the food at Le Train Bleu is that of every good brasserie - fancy if that's your first time in Paris but not memorable by itself. My filet de boeuf was fine but the béarnaise clearly had seen better days, plural, with a crispy thick yellowish crust on top. I focused on the filet.
By the end of our meal, the maître d' apologized because he needed us to pay for the meal because his watch was drawing to an end. Last orders were at 11PM and the staff was eager to go home for Easter. I immediately saw this as my opportunity to let you see this legendary restaurant. Applying what social psychologists call the Law of Reciprocity or Rule of Reciprocation, I said sure, but could I take a picture? "But of course Monsieur". I have a tripod - would that be a problem? "You go right ahead" was the answer. I took my mine-is-bigger-than-yours tripod out and started assembling the futuristic panorama head and snapped the panorama above.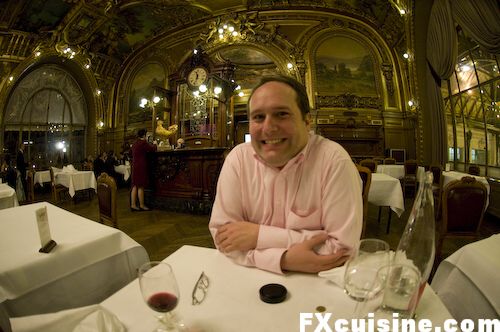 As I stitched the panorama yesterday, Matthew magically vanished from the picture. It wasn't by design, so I'll include a picture of myself, snug as a bug on a rug and out of focus as I forgot to put the autofocus back on as I gave my friend Matthew the camera after the deed was done.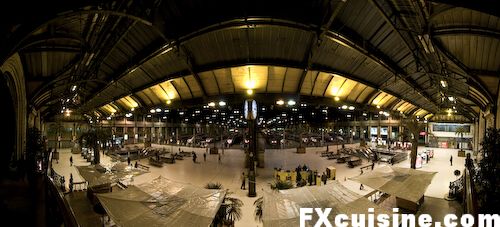 As we left the restaurant around midnight, the station was quiet. Whenever I enter this restaurant I think of these movies and that makes every meal at Le Train Bleu something I can't forget.
Le Train Bleu ('The Blue Train')
Gare de Lyon
First floor
www.le-train-bleu.com
Wikipedia article in French
+33 (0)1 44 75 76 76
Paris, France
122386 views
Related Articles

Snails Have Seven Lives at L'Escargot Montorgueil ***
Just how many lives does a snail have? Seven, at L'Escargot Montorgueil, Paris' premier snail restaurant, where your shell might have served many guests.

Duck Tour d'Argent ** Popular
Probably the most spectacular classical French recipe, le canard à la presse, here made at La Tour d'Argent, a Paris restaurant open since the 16h century.

Molecular Gastronomy Seminar **
I attended a unique seminar in Paris with Hervé This, French chemist, author, founder of Molecular Gastronomy and spiritual father of Molecular Cuisine.

Behind the Scene at Alain Ducasse's **
Extraordinary pre-starter offered in top French chef Alain Ducasse's restaurant in Provence - delicious crispy toasted bread with eggplant caviar and anchovy sauce. A resounding success! See how Ducasse makes it and you can do it at home too.

A night at the Liboson **
A memorable fondue in an over-the-top dungeon chalet straight out of a Hammer film. Our host, Paul du Marchie, has been building an architectural fantasy in the middle of the woods for the last 50 years. Dont' miss my eight 360° panoramas!
Copyright FXcuisine 2023 - all rights reserved.
If you do this recipe at home please let me know how it worked for you by submitting a comment or send me a picture if you can. Thanks!