Snails Have Seven Lives at L'Escargot Montorgueil
Home
>>
Experiences
Just how many lives does a snail have? Seven, at L'Escargot Montorgueil, Paris' premier snail restaurant, where your shell might have served many guests.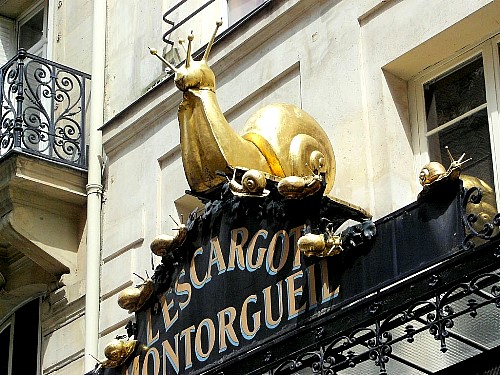 You may not like the idea of eating snails, but you have to visit l'Escargot Montorgueil in Paris. This beautiful late 19th century snail restaurant is all about snails, with its huge golden snail sign landmark. Until 2004, it was owned by a cousin of Claude Terrail, owner of La Tour D'argent.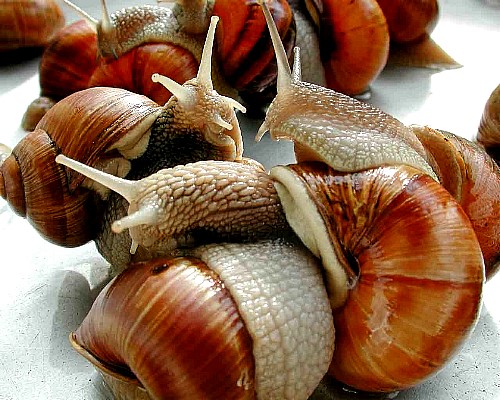 Snails have a long history in France, and I had read in Les Métiers Oubliés de Paris (Forgotten Professions of Paris), that in the 19th century there were snail shell collectors 'Marchands de coquilles d'escargots' who rummaged through fine restaurants' trash to collect used snail hells. They resold them to cheaper restaurants. The shells were not cleaned so that the remaining butter sauce would flavor the cheap grease used in the second restaurant and they could be sold to the hoi polloi as 'escargots au beurre'.
Naturally, when I next ate at L'Escargot, I told my friends this story and we inspected the shells to see if the 'Marchand de coquilles d'escargots' was indeed a lost trade. Clearly, L'Escargot doesn't buy discarded shells but at Rungis. But still, I noticed at least three different degrees of burnt sauce on the shell. Tiny little flecks, but undoubtedly these shells had been used before.
So I chatted a bit with the waiter. 'You must be happy to hear some French spoken once in a while, right?', I started. 'Yes Monsieur, indeed'. Apart from us, the restaurant was full of non-French speaking tourists and he was indeed quite happy to speak French. I ventured further and asked 'Between you and me, how many times do you recycle the shells?'. The waiter was too surprised to make anything up and candidly replied 'Oh Monsieur, four to five times. A good shell will last you seven times.'
Before you rush to the toilets, let me say that they wash the shells in the dishwasher, so it's no more disgusting than eating with the same fork that some other guy used the day before, or than reusing scallops shells. And yet, I don't think most patrons think the shells are reused.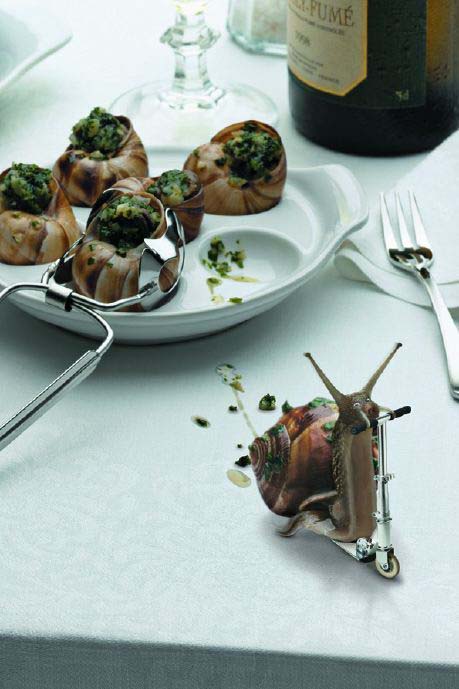 I had much worse at my school. The cook recycled his chipolata skewers. Not just the skewers, but the sausages too, which were served up to three times. Each time they were darker. So I convinced my friends to break any leftover sausage and wooden skewer to defeat this evil cook. It worked - or maybe they just ended up in the soup.
L'Escargot Montorgueil is a fine restaurant and I would not hesitate to go back. The best time to visit is on a Sunday morning when the entire Montorgueil street turns into a food market. They also propose Duck à l'Orange and a few other non-gastropodic dishes for the less adventurous.
L'Escargot Montorgueil
www.escargot-montorgueil.com
38 rue Montorgueil
75001 Paris
+33 (0) 1 42 36 83 51
239357 views
Related Articles

Dinner at Le Train Bleu ***
A memorable meal at one of the most spectacular restaurants in Paris, located in the Gare de Lyon train station.

Duck Tour d'Argent ** Popular
Probably the most spectacular classical French recipe, le canard à la presse, here made at La Tour d'Argent, a Paris restaurant open since the 16h century.

Behind the Scene at Alain Ducasse's **
Extraordinary pre-starter offered in top French chef Alain Ducasse's restaurant in Provence - delicious crispy toasted bread with eggplant caviar and anchovy sauce. A resounding success! See how Ducasse makes it and you can do it at home too.
Copyright FXcuisine 2023 - all rights reserved.
If you do this recipe at home please let me know how it worked for you by submitting a comment or send me a picture if you can. Thanks!