The Battle of the Knoedel
Home
>>
Recipes
The story of a German secret weapon transformed into a delicious dish by the Italians.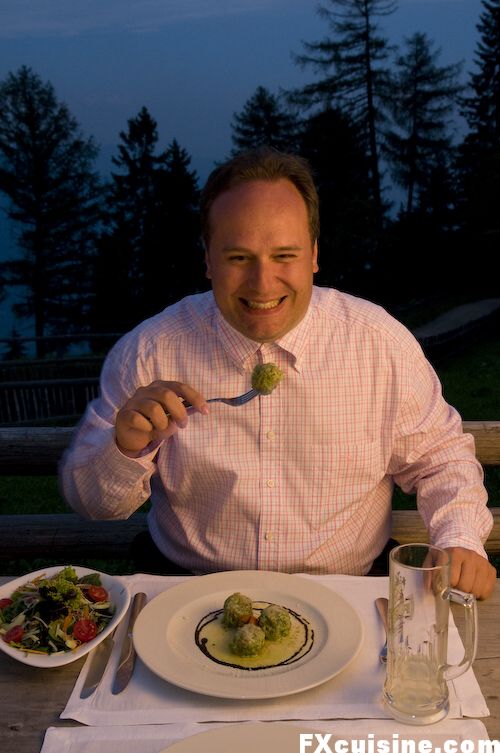 If you ever see the word knödel on a German menu, make sure your affairs are in order before you proceed. For more than one tourist choked to death on one of these tennis-ball-sized savory dumplings. People in Leipzig proudly tell how they got rid of an entire division of Napoleon's army with only one pot of knödel left in a house for the invading troops to find. This victory is celebrated by a famed monument, the Knoedelschlachtdenkmal, shaped as a giant knödel pot.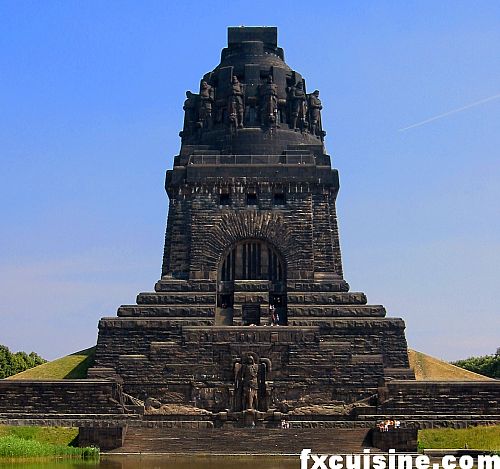 Such is the magic of Italian cuisine that when the lowly knödel crossed over the Alps into Südtyrol, an Italian chef picked him up and with but one kiss the ugly German toad and transformed it into a charming Prince. To dispel any health-threatening confusion, the knödel was renamed into canederli, its Italian name.
I had the best canederli in my life at Vigilius, a fancy designer hotel 1500m high in Südtyrol. Such was my prejudice against German Knödels that when the chef stepped out of the kitchen to come and meet me, I could not believe my eyes. Hans Peter Pinkowski, the chef, is a German trained in Austria. Pinkowki: We also make proper Knödels in Germany, only it's not so common. Many cooks just mix everything together. Some even add flour - that will choke the client for sure. But I learned to make Knödels in Austria, the country where most things Germanic originated. We make all sorts of Knödels, traditional ones like Leberknödels (with liver), Speckknödel (with dried pork) or Spinatknödels. As long as you keep the proportion of dry to wet ingredients, you can add anything to the knödel.
Spinach Knoedels [knuh-dayl]
Yields 25 pieces
500gr/1lb stale toast bread with the crust removed (weight without the crust)
100ml/3 oz milk
200gr/7oz shallots
A large handful spinach leaves, about 100gr/3oz
3 eggs
A bunch of chives
Salt, pepper, nutmeg
100gr/3oz butter
Cheese to grate, ie Graukäse or good, freshly grated Parmesan.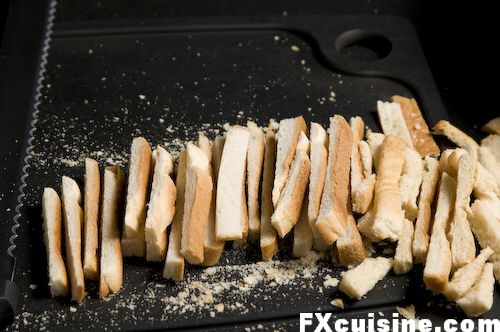 The basics of knodels is a classic problem of cucina povera: how to accomodate stale bread in an attractive manner. Sicilans dry and and crumble it to sprinkle over pasta or include in meatballs. Valaisians boil stale rye bread with blackcurrant syrup and wine to make a dessert. Here they dice the stale bread, soak it in milk, add some eggs and wilde leaves and make little balls which they boil in broth.
Remove the crust from the toast bread. The bread needs to be rock-hard stale - end of story. If it isn't, wait another day. Do not toast it, the staling process is not like drying nor burning, it needs to be stale.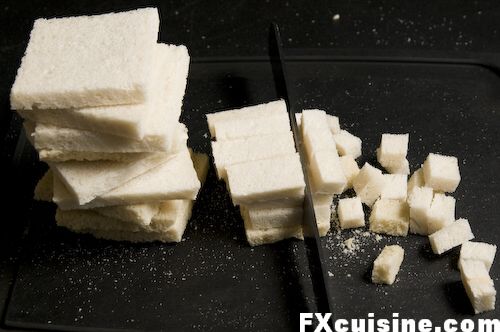 Cut the bread into small dices.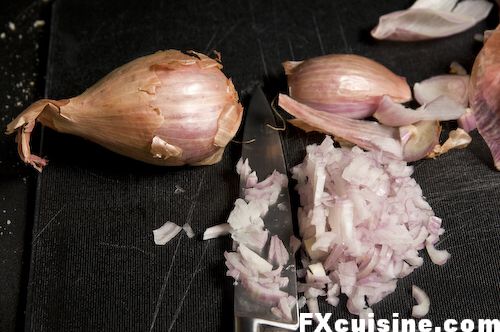 Peel and finely dice the shallot...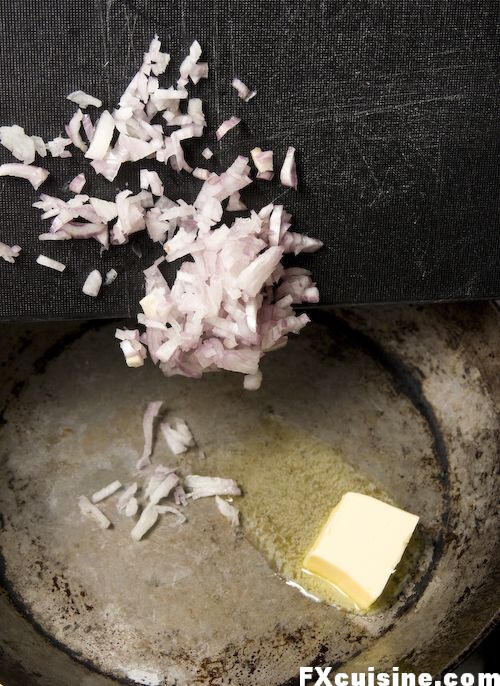 ... then let is sweat with a piece of butter in a hot pan on medium-high heat.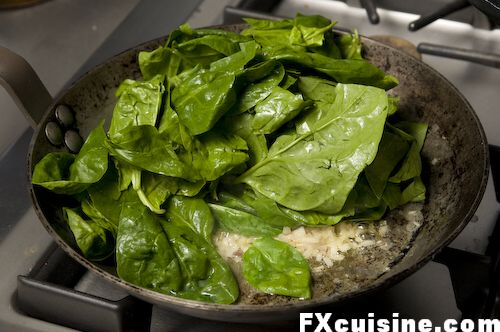 Clean and stem the spinach, then add to the shallots as soon as they are soft. Toss over high heat until the spinach is soft.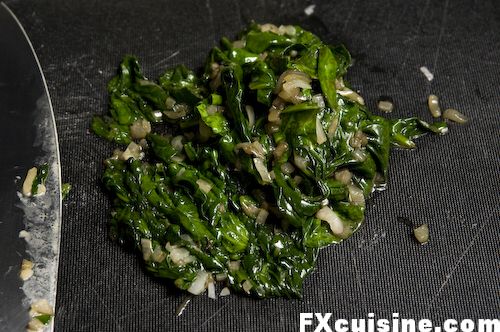 Remove to a cutting board and cut the spinach leaves lengthwise, then crosswise.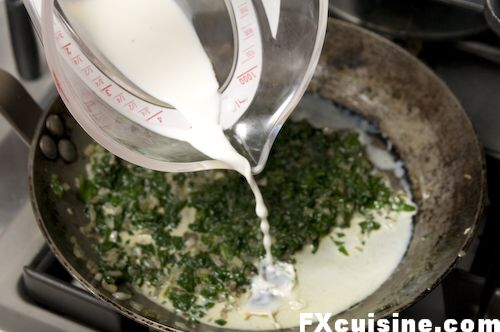 Bring back to the hot pan and add the milk. Now the quantity of liquid you use will make or break the knödel. If the spinach have rendered a bit of liquid, decrease the quantity of milk to get the same 100ml/3oz.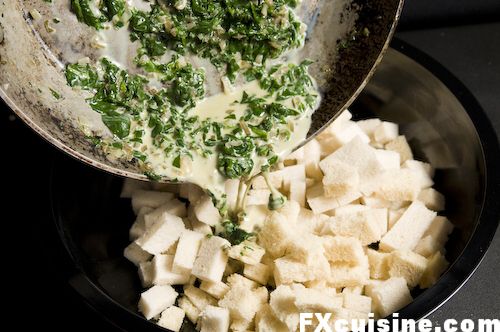 Pour the mixture over the stale bread. You don't put any flour in proper knödels, that would make them chewy. The way to make proper knödels is to first let them soak the liquid for half an hour, and only then add the eggs, Pinkowksi told me.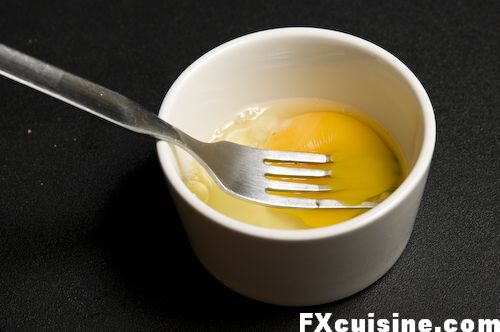 Beat the eggs (here I'm using just one as I prepared a third of the quantities indicated as I could not have paramedics present during tasting).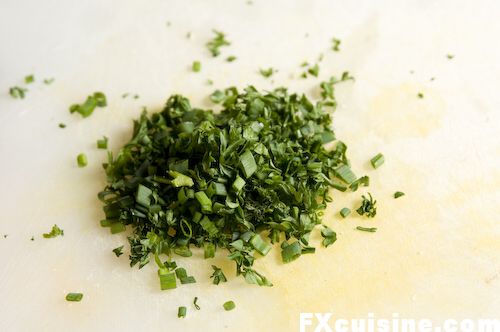 Snip the chives.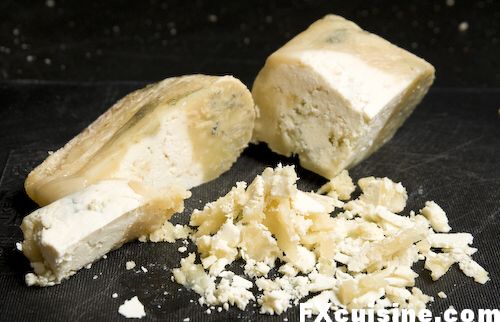 M. Pinkowski does not grate any cheese in his knödels but only on top right before serving. However, many recipes prefer to grate some inside the knödel too. Here I used a real fancy cheese, some Graukäse I bought in Campo Tures in the valle Aurina, in the confines of Italy and Austria. Some other day I'll tell you all about this cheese and show you how it's made. Let me just say that it is a very, very tart cheese whose appearance only will have you confess anything in a matter of seconds.
...