Swiss Pastry Factory
(page 2 of 2)
Home
>>
Experiences
One of the most modern industrial pastry plants in Switzerland allowed me to spend a morning with them - with my camera. Feel like making 7000 Napoleons? Follow me in.
Fruit Pie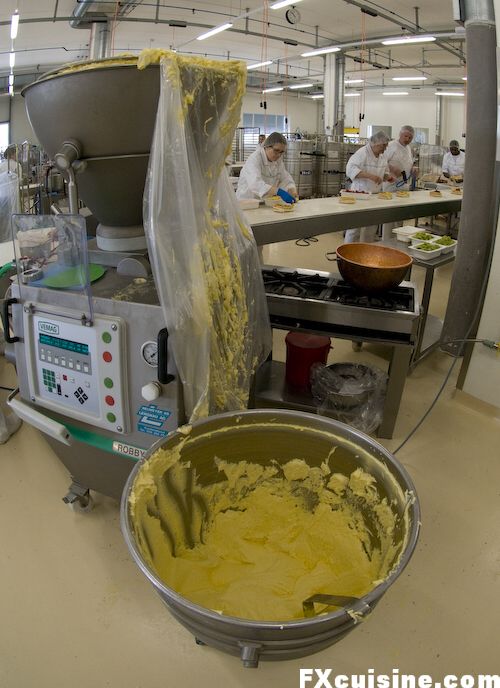 Who would eat fruit pies were it not for the custard?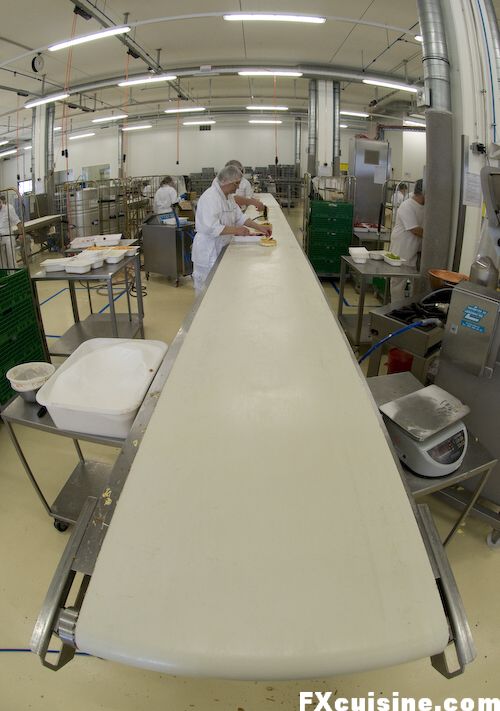 Our giant conveyor belt now carries fruit pies from the cradle to the gullet.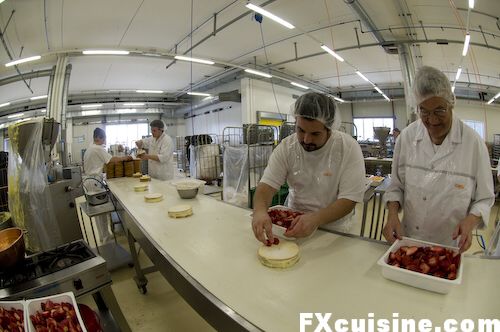 See the 360° Panorama (1.5 Mb fullscreen)! These guys were manning the fruit-covering detail.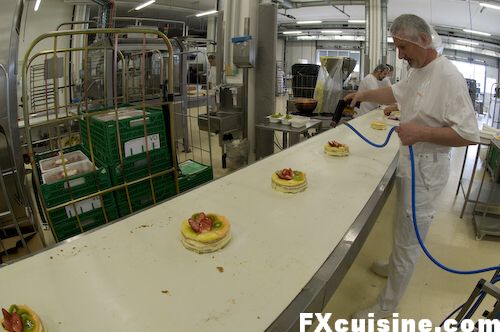 This guy seemed to have great fun spraying liquid jelly on top of the cakes with his pistol. 'You're the man with the jelly gun', I told him. 'That's me', he replied.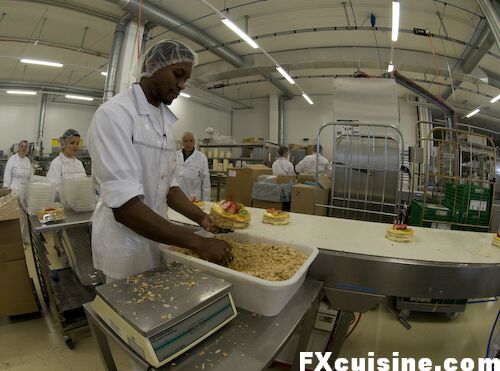 This gentleman was dredging the sides of the fruit pies with almonds. As I was taking his picture, he asked me 'For what newspaper is it?' I explained it was for a website in English and he laughed 'So I won't be famous just yet then!'
The Black Forrest Ladies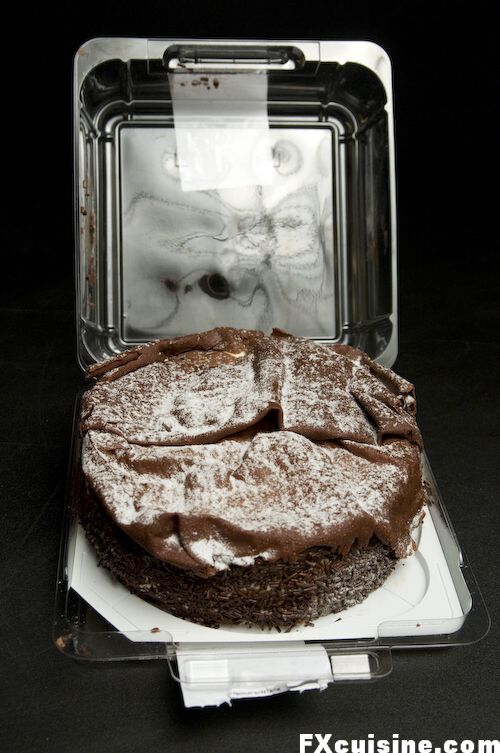 How many times have I turned up at a birthday party as a kid and seen the dreaded Forêt Noire ('Black Forrest') Pie on the table? I try to forget. But, hey, kids take a few years before they can tell the good pies from the others. And there are some die-hard Black Forrest Pie addicts out there. Let's see how it's made.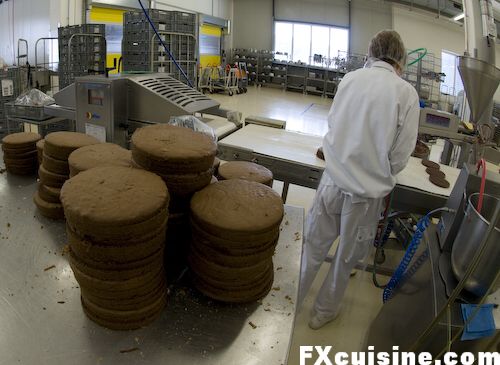 A printed production sheet specifies the quantities to be made and when it starts and finishes. Things work like clocks in Switzerland. A friends Italian grandma used to say that 'At least during Mussolini's time, trains got on time'. Well here they always got on time.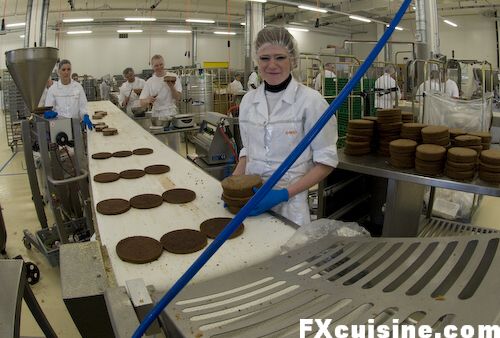 This here young lady takes a pile of chocolate sponge cake her colleagues baked during the night shift a couple hours before.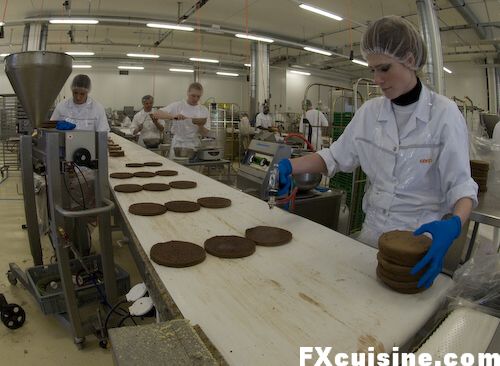 Ah, my heart will always stop for a lady with a gun. She fires away, spraying the inside with kirsch. The pies are then filled with a white cream and alcohol-soaked cherries, then the sides are covered in chocolate flakes.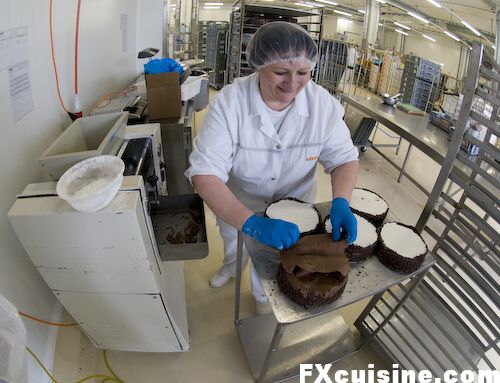 We called this lady the Black Forest Lady as she was so eager to make these pies. Always harboring a lovely smile, you could tell she just love the product. How many pies do you make a day, I asked. 'On Thursday, about 100 pies.' 'I suppose they are popular for birthdays', I replied. 'But you can eat them on regular days too' she protested with a self-conscious smile.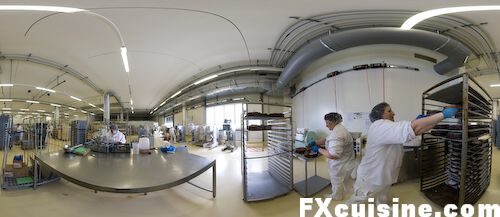 Click on the panorama and scroll laterally to see the action (150Kb Jpeg, 2000 pixels wide).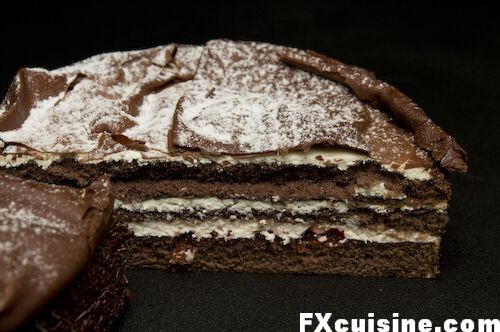 Here is the end product bought in a COOP store the next day. This is a very good example of the type of pastry most people eat in Switzerland. Sure, we also have fancy artisan pastry chefs, but their prices put their products out of reach for most people.
Eclairs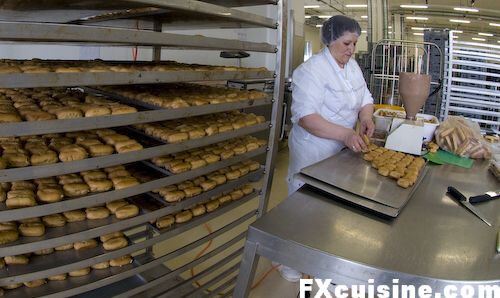 As soon as she was over with the pies, the Black Forest Lady started filling cofee éclairs.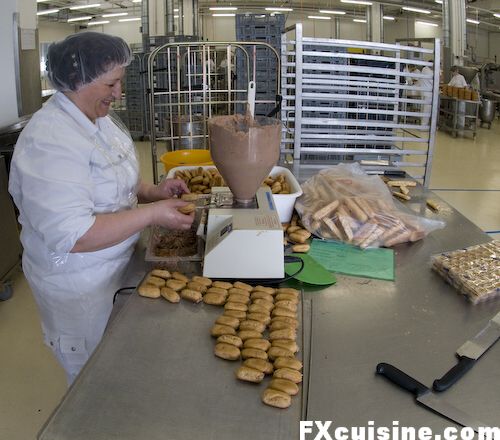 Undoubtedly, she is the lady people turn to for the more delicate operations in this factory. One by one, she filled the pâte à choux shells with coffee or chocolate cream, a very filling filling. She then moved the trays in the back of the giant hall, near this corner on a large table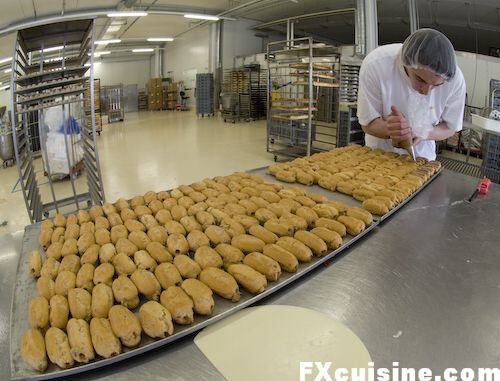 Minutes later, a man was busy icing each éclair one by one.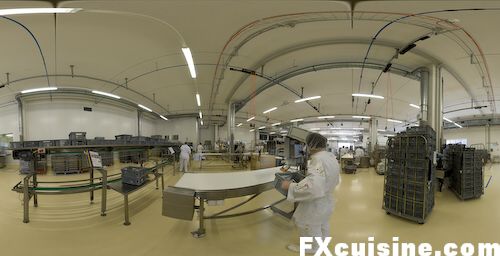 Completed products are boxed, labelled and laid one by one in gray plastic crates that are moved automatically on a labyrinthine automated tray system of Pentagonal proportions.
Click image to see a 2000-pixels-wide panorama (Jpeg, 150Kb).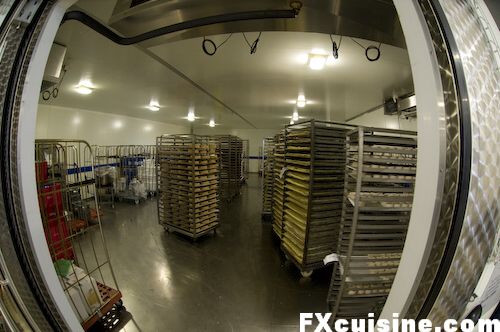 Other pies with a longer lifespan are stored overnight in a drive-in fridge.
I saw many others things that day, none of which turned me off apart from gargantuan scale of things. A gentleman was preparing the filling for one local Lake Geneva specialty COOP only makes for this region - tart à la crême, a flat pie filled with caramelized cream. In a giant mixer, he mixes sugar, cream and starch closes a security grate around the giant head, then plays with the dials to set up speed and mixing time. This will certainly not beat your grandma's homebaked cream pie, but here they use only quality products and do this with care and pride. Nothing to be ashamed of and I'm sure that the pies that will come out of this caldron will make many people happy all around Lake Geneva on the next day.
In other parts of the factory, we saw this other lady soaking sponge cakes in rhum. Giant trays held other cakes. Then a copper pot of boiling caramel and a block of icing for the (seven hundred) thousand layers cakes.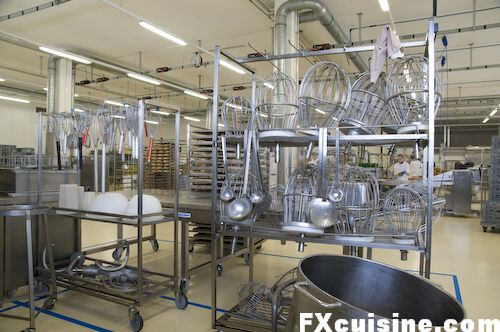 A battery of tools fit to feed a battalion and neatly placed on racks.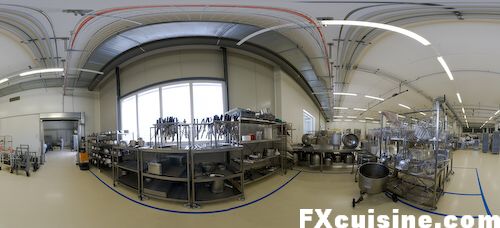 2000-pixels-panorama of the tools racks (Jpeg, 150Kb).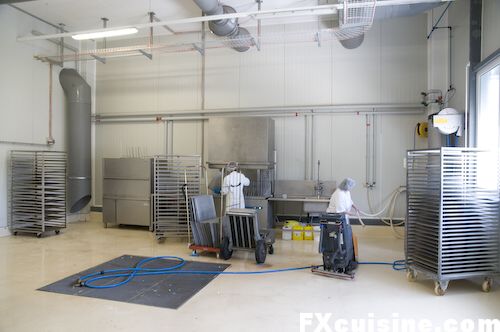 The washroom where the equipment is scrupulously washed from dusk till dawn and dawn till dusk.
This pastry plant is not opened to the public although you can book tours of the logistics facility in which it is located. I received the warmest welcome at this factory and everybody I met smiled and seemed to be pleased to work there. The batches are relatively small so there is no repetitive task. You do a Japanese Pie for an hour, then move to a thousand-layer-cake, then go ice some choux, all this in a group of people. Nice working conditions and the cleanest factory East of Silicon Valley. To enter the facility you need to wear a white overall with a special hat. If you need to eat, smoke, drink or pee, you have to leave the facilty and come back through the airlock, the only way in. The airlock will open only after you have placed both hands in the holes of machine that sprays them with disinfectant, waits and then releases the door. We don't joke about hygiene here!
210215 views
Related Articles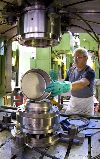 The Five Hundred Dollar Pot ***
I was given a private tour of the Kuhn Rikon factory near Zurich, who makes some of the best cookware in the world.

Swiss Knife Factory ***
My exclusive visit of Wenger, the cutler who manufactures well over 5000 knives a day in the Swiss Jura mountains.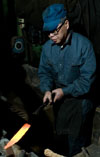 Japanese Bladesmiths ** Popular
A unique behind-the-scenes visit of the crafstmen who hammer out the best and most expensive kitchen knives in the world in the city of Sakai, Japan.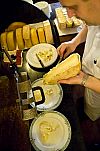 Swiss Raclette ** Popular
The national dish of Valais, my Swiss canton, raclette is the most gorgeous melted cheese you will ever have. Here at its best at the Manoir de Villa in Sierre.

Potato Chips Night Shift **
At midnight sharp, I entered Burt's factory in Devon to see how my favorite potato chips are made. Hand Fried in Devon.
Copyright FXcuisine 2023 - all rights reserved.
If you do this recipe at home please let me know how it worked for you by submitting a comment or send me a picture if you can. Thanks!