The Five Hundred Dollar Pot
(page 2 of 2)
Home
>>
Tools & Ingredients
I was given a private tour of the Kuhn Rikon factory near Zurich, who makes some of the best cookware in the world.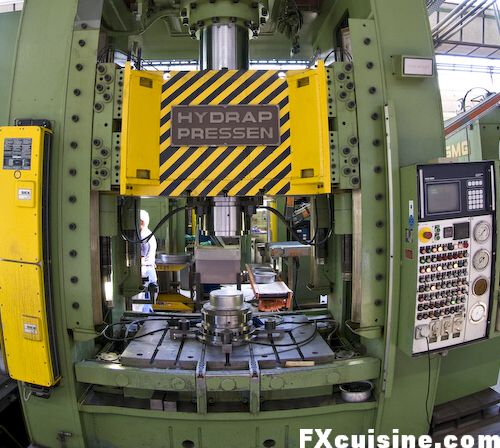 The press does not fit in a conventional kitchen! If you draw to close, a light beam detects your presence and turns it off automatically before you are turned into a human pressure cooker.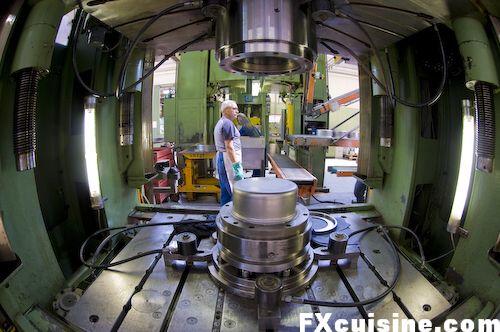 The man places one pressure cooker after the other, waits for the press to do what it does, then takes it out.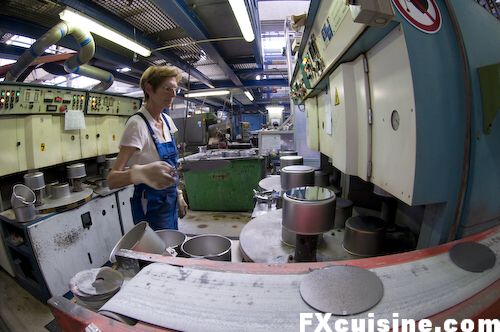 Mrs Rosmarie Werner oversees a crucial part of the production process. She takes a pressure cooker body, places it upside down on one of the three sticks in front of her, then covers the pot's bottom with an aluminium disc covered with another disc of stainless steel. The aluminium will ensure even spreading of the heat, an essential feature in any kitchen. The pot heats through induction, much like it would on a fancy induction stove, and the aluminium disk is sealed.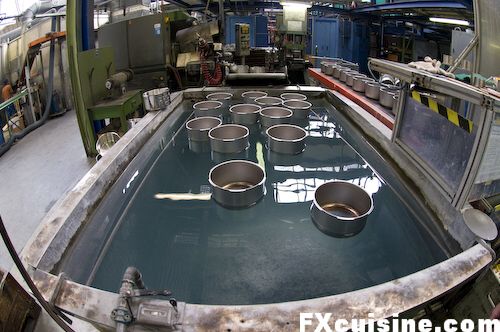 The lady removes the pots and places them into a cooling bath. 'That's the most high-tech part of the factory', my guide jokes, 'a plain water bath'.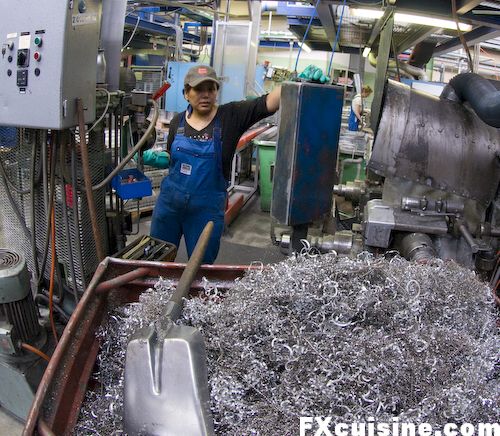 At the other end of the bath the pots are milled so that the welding around the aluminium core is evened out by Mrs Danzengyuzhen Lekden. On the picture you see the scrapings.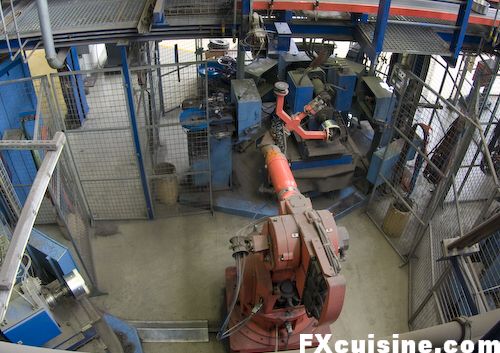 But it's not all manual work. From now on, a string of robots take over. They are lined up in the factory the length of a city block, most of them entirely hidden in blue boxes to keep the metal dust in. The robots do the hard work - polishing. Pots arrive on a conveyor belt above the machine. The robots detects the arrival of a new pot, grabs it with a suction valve pressed flat agains the inside of the pot ...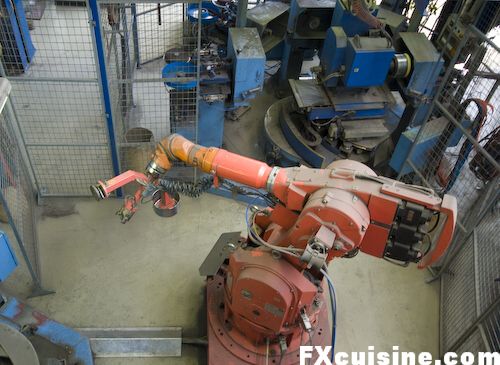 ... then swiftly moves it on a succession of wheels that gives it its beautiful shine.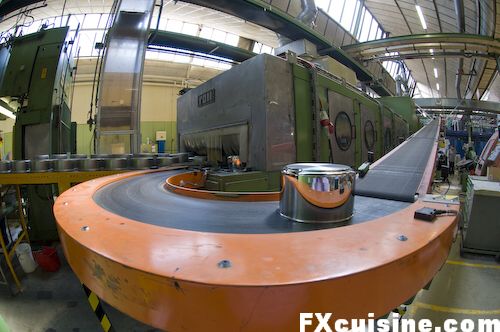 End of the line, with mirror-smooth pressure cookers coming one after the other...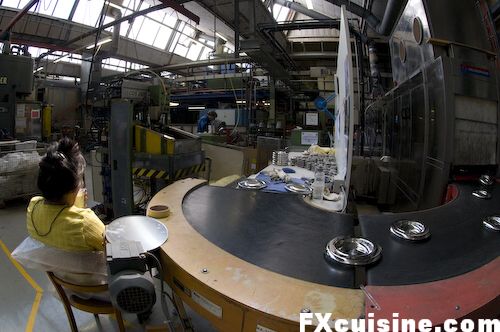 ... while on the other side of the factory the lids arrive under the eyes of a Tibetan lady sipping some tea.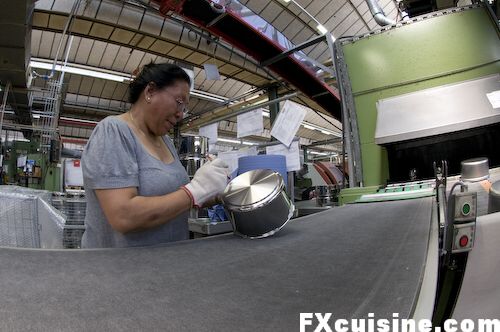 We witnessed a highly intriguing scene. This lady, Mrs Kalsang Samling, taps each pot a few times with a curious copper rod. Some propitiatory ritual to wish the users of the pot 1001 happy meals? Not quite.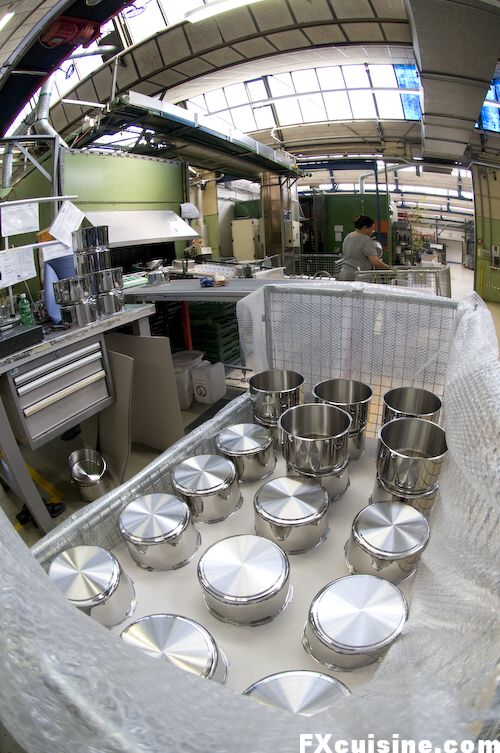 She inspects each pot to see the tiniest flaw, then grades the pot from AAA - worthy of selling in regular shops to AA for those pots with a minute flaw, some microscopic discoloration you'd need a loupe and 2 hours to find. AA pots are sold in the factory shop (see below). All those below AA are destroyed.
Packing.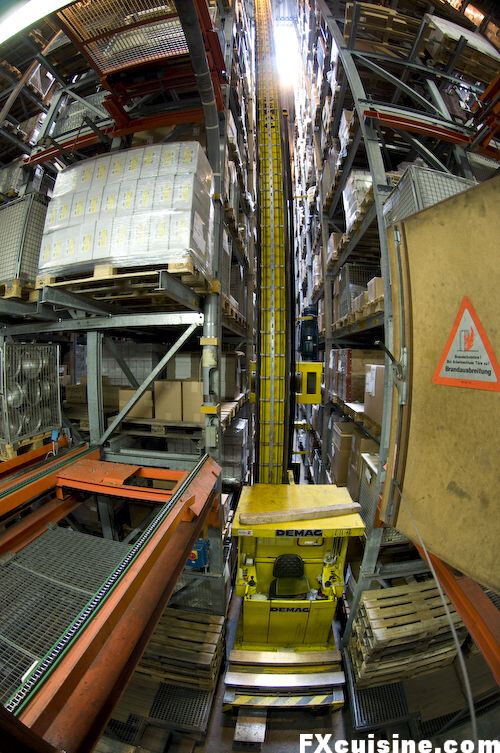 The pots are stored in cardboard boxes, then piled up 50 to a pallet. The pallets are moved in a huge automated warehouse with a 7000-pallet-capacity.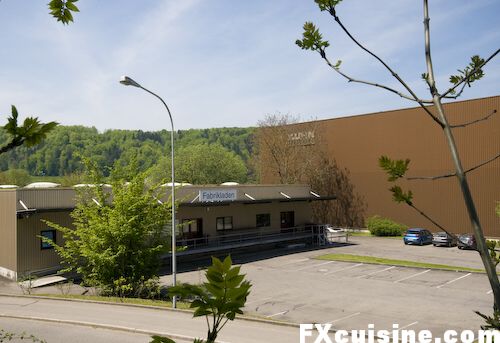 Here is now FXcuisine.com's hot tip. Next to the factory is a huge factory shop that sells the entire range, and then some, at a hefty discount. All pots are AA grade, which means there is somewhere a minute flaw. Most probably you'll never find it as the quality standards are very high.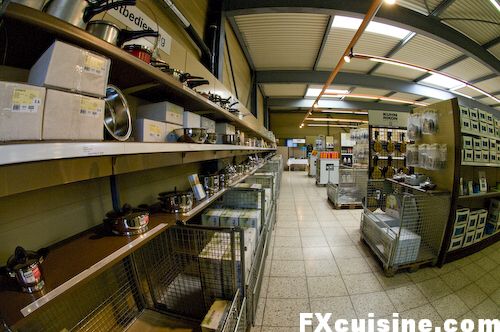 I literally filled my car with Kuhn Rikon cookware (I paid for it in case you wonder!). Amazing stuff. One cast iron frying pan alone is so big you could easily feed all contestants for Star Chef for a month out of one panful only. Or sit on it and slide down a ski slope. Or bathe in it.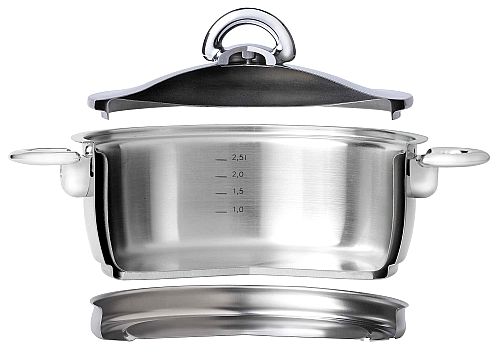 Kuhn Rikon makes all sorts of cookware beyond their flagship pressure cooker. Here is one of the Durotherm pots, they go for about $200 on Amazon.com. The pot is double-walled and has a thick but light lid and a double base to keep the contents hot. It's just about the smartest pot I've seen so far. You can heat up a liquid with less energy, and then keep it warm for 2 hours. I'll be back with another article soon to report on my testing this amazing technology.
Kuhn Rikon
http://www.kuhnrikon.ch
Neschwilerstrasse 4
CH-8486 Rikon
Switzerland (30 minutes north of Zurich)
Tel. +41 52 396 01 01, Fax +41 52 396 02 02
E-Mail kuhnrikon@kuhnrikon.ch
Kuhn Rikon on Amazon.com :
Mr Marc Huber of Kuhn Rikon kindly took me on a personal tour, but you can visit as a regular tourist. They have a museum, a cookery school and organize factory tours if you book. And please, do not miss the amazing factory shop!
204184 views
Related Articles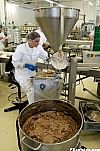 Swiss Pastry Factory ***
One of the most modern industrial pastry plants in Switzerland allowed me to spend a morning with them - with my camera. Feel like making 7000 Napoleons? Follow me in.

Swiss Knife Factory ***
My exclusive visit of Wenger, the cutler who manufactures well over 5000 knives a day in the Swiss Jura mountains.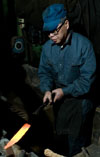 Japanese Bladesmiths ** Popular
A unique behind-the-scenes visit of the crafstmen who hammer out the best and most expensive kitchen knives in the world in the city of Sakai, Japan.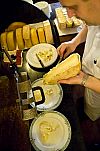 Swiss Raclette ** Popular
The national dish of Valais, my Swiss canton, raclette is the most gorgeous melted cheese you will ever have. Here at its best at the Manoir de Villa in Sierre.

Potato Chips Night Shift **
At midnight sharp, I entered Burt's factory in Devon to see how my favorite potato chips are made. Hand Fried in Devon.
Copyright FXcuisine 2023 - all rights reserved.
If you do this recipe at home please let me know how it worked for you by submitting a comment or send me a picture if you can. Thanks!