Sicilian Lemon Leaf Meatballs
Home
>>
Experiences
Another dish with Eleonora in her kitchen near the Etna in Sicily - gorgeous veal meatballs wrapped in lemon-tree leaves and grilled.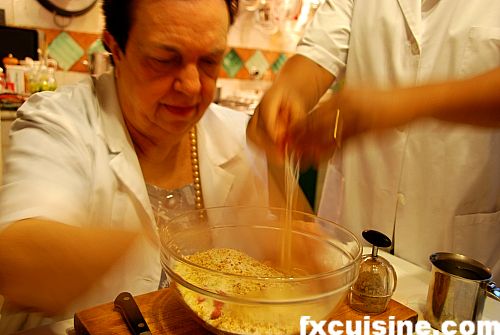 As my 10th and last article this month, here is a little recipe I shot last summer at Eleonora Consoli's house, the Sicilian cookery diva. Eleonora lives in a traditional Mediterrenean house and shuts every blind during the day so that the freshness stays inside and the sun stays outside. That makes for a cool but dim kitchen. Since I never use flash, the pictures have this subjective, blurred motion quality. I hope you like them anyway.
Polpette alla foglia di limone
400gr ground veal
100gr breadcrumbs
100gr grated Parmesan or caciocavallo
1 egg
Salt and pepper
Lemon or fresh bay leaves
Olive oil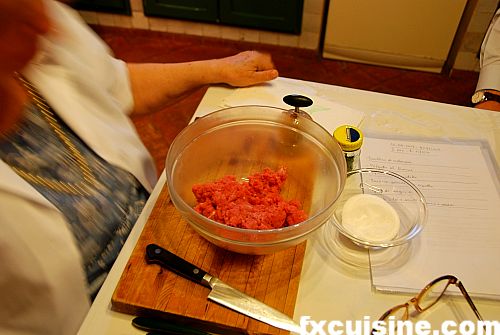 We start by making our meatballs. Place the ground veal in a large bowl and salt.
Add breadcrumbs and break an egg into the bowl (lead picture) I make my own breadcrumbs from our local durum wheat semolina bread which I dry and place in the mixer. You just can't buy proper breadcrumbs nowadays, explains Eleonora. Grate the cheese into the meat.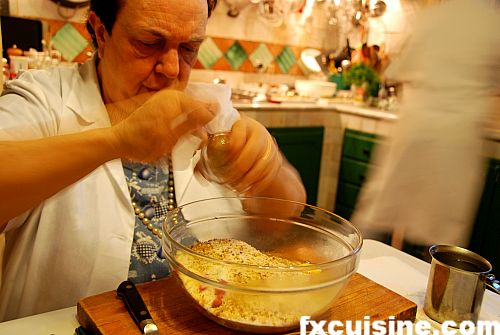 A little pepper ...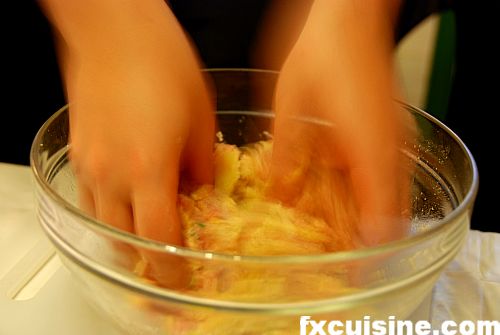 ... and mix with your hands.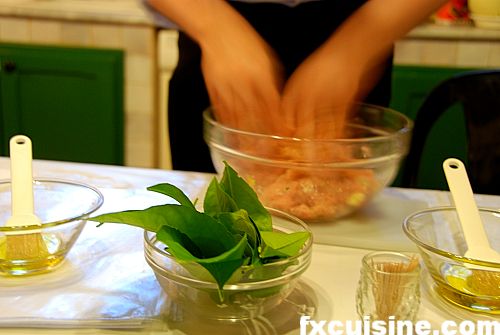 We'll be using lemon-tree leaves to wrap our meatballs. It is very important to be totally confident in the man who sells you the leaves, explains Eleonora, the best being of course to take them from your own tree. A couple years ago there were several death around here because a farmer had sold lemon leaves as fit for consumption but in fact he had sprayed them with pesticide. Hear, hear.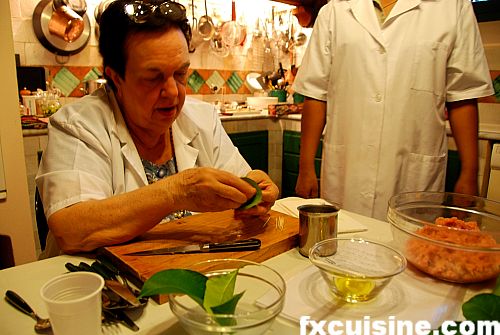 Take an apricot-sized piece of meat, roll it between your palms to make it a smooth ball, then wrap in a lemon leave.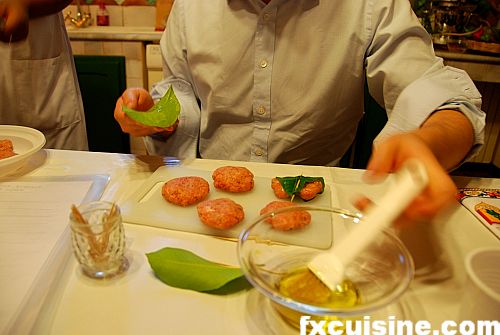 join the leave with itself on the other side and fix with a toothpick. Paint the leaves and meatballs with olive oil using a kitchen brush.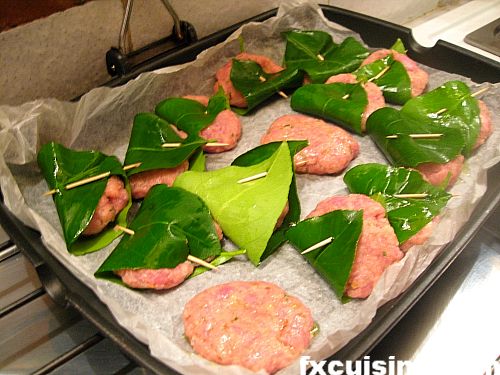 Place on a piece of baking paper on a tray. If you run out of lemon leaves just leave the meatball whole. Place in the oven until cooked through.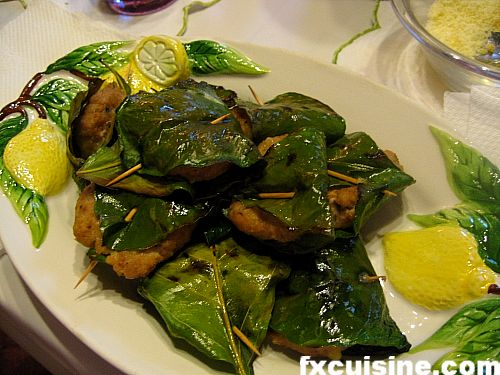 That's it. A most delicious and original summer treat, very light and delicately flavored by the lemon leaves.
You too can cook with Eleonora in her kitchen near Taormina, Sicily. I'm told she speaks very good English and French too.
Eleonora Consoli [haylayawNAWnawrah KONsawlee]
www.cucinadelsole.it
info@cucinadelsole.it
Via Contemare 9
95029 - Viagrande Catania
Italia
Tel/Fax +39-095-7890116 or +39-095-7899091
111043 views
Related Articles

A Sicilian Cookery Class on Mount Etna - Peperonata in Agrodolce ***
Sicily's top food authority let me into her kitchen on Mount Etna while she was preparing sweet-and-sour peppers.

Sicilian Watermelon Folly ***
Eleonora makes Gelo d'anguria, the cult Sicilian dessert, in her home on Mount Etna.

Fry Eggplants like a Sicilian Mama ** Popular
Frying sliced eggplants is one of the trickiest things to get right in Italian cuisine. See how Eleonora Consoli, an authority on Sicilian cuisine, does it in her own kitchen on Mount Etna in Sicily and you will never end up with oily sponges ever again!

Arancini, the cult Sicilian dish * Popular
These glorified deep-fried stuffed rice croquettes are a cult sicilian dish celebrated in a recent best-selling Italian novel.
Copyright FXcuisine 2023 - all rights reserved.
If you do this recipe at home please let me know how it worked for you by submitting a comment or send me a picture if you can. Thanks!