French castle Expedition
Home
>>
Experiences
A reader invited me to stay at his castle at Hattonchatel near Verdun in France. I went last week-end to cook extraordinary medieval dishes in the castle - see what's coming next in my 7-article-serie!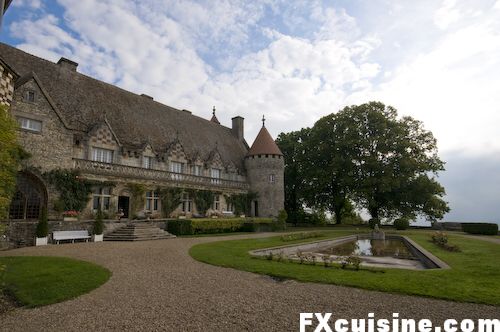 Having written so often about truffles and other expensive delicacies, this was bound to happen. I received this intriguing email in June:
Dear François-Xavier,
I'm a big fan of your site for some time now and each time I look at those great pictures, I get an enormous appetite. I wanted to try to make your recipe for Minestrone, but unfortunately, I couldn't get hold of a pig trotter where I live.

I am writing you this email because we have a Château in the Lorraine region of France and I would like to invite you for a weekend to have a look at it and have some fun with the regional cuisine of Lorraine at the castle. The Château is situated in spectacular surroundings between forests with truffles and wild boar! It would definitly make for a great article and would give us some nice publicity amongst those interested in good food.

The château is normally being rented out for weddings and celebrations and is not in use as a hotel so you'll have the place almost for yourself. We don't have on-site kitchen staff either. You can see pictures of the castle on www.ritz-resorts.com

You are more than welcome to bring your partner and/or children as well. If you have any particular dishes on your mind which you would like to make or ingredients or local wines to experiment with or have any other culinairy ideas, we'll make sure all that can be arranged.

Looking forward to hearing from you!

Best regards,
Midas
This sounded really good, but was it true? If I go, would I end up chased by Count Zaroff or like Jonathan Harker, end up my blood sucked dry by Count Dracula? I arranged for a visit in late August to find out.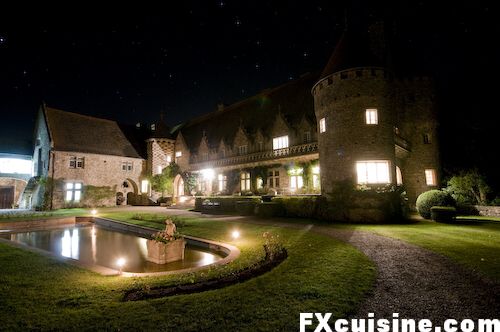 This long week-end at Hattonchâtel near Verdun was one of my best for a long time - a resounding success. I shot 1847 pictures in 3 days. I will write a few different articles to try and cover what we did and keep you entertained, educated and of course - drooling over your screen. Here is an outline of what's coming - the full articles will be published twice a week starting September the 5th, 2008.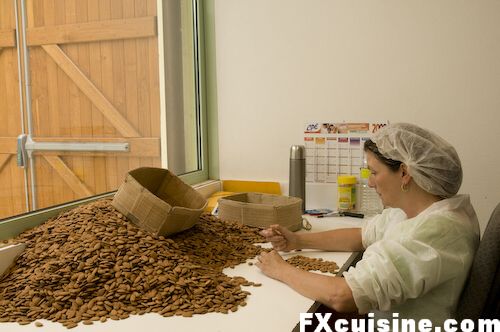 My visit of Dragées Braquier in Verdun, century old manufacturer of fine sugar-coated almond, a specialty of the place.
Read the full article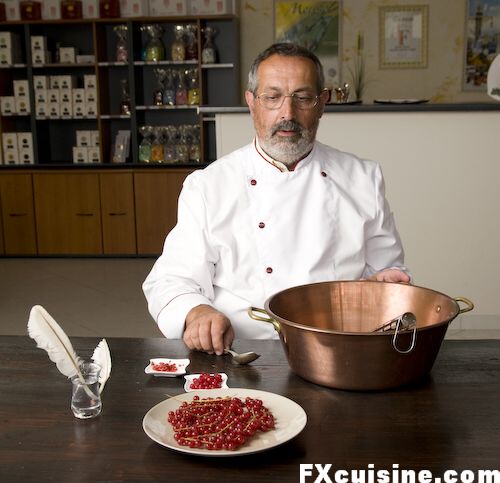 An interview of a man who makes red currant jam by deseeding each currant with a feather goose. This jam is no jelly and has been made like this for 600 years old. One of the most famous endorsers of this product was Alfred Hitchcock, the British film director.
Read Article...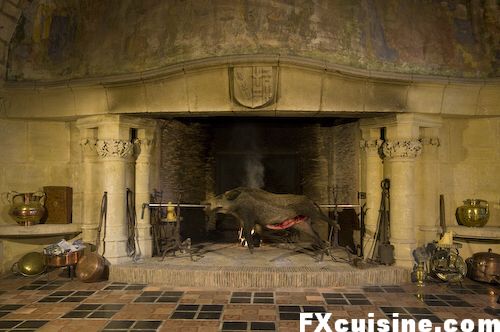 I told Midas we need a food angle for me to be able to write about Hattonchâtel. Just make a list of what you need, he said. I proposed a few medieval dishes I had always been meaning to cook but couldn't by lack of a castle. The fine people at the castle followed my directions with enthusiasm and dedication and created rather extraordinary dishes straight out of the Middle Ages while I took pictures of the whole thing. Finally we made so much food that they invited all sorts of local politicians to share in the medieval banquet to their great pleasure.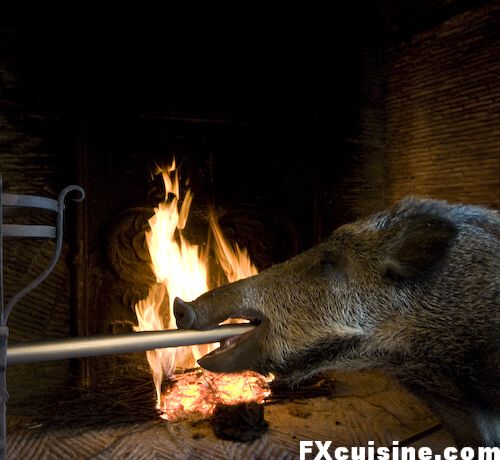 A whole wild boar roasted in the castle's walk-in fireplace, including the gory skinning of the boar and its four-hour roasting. Read article...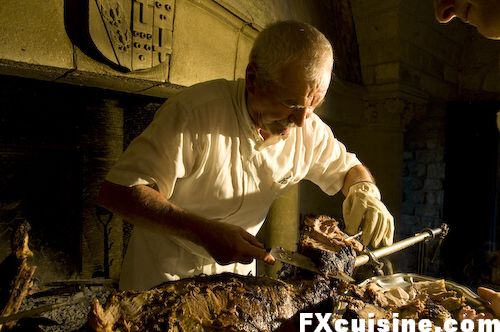 Expertly carved by colorful local hunter Hubert, the boar meat was rosy inside with a tasty brown crust. Beats pork any day!<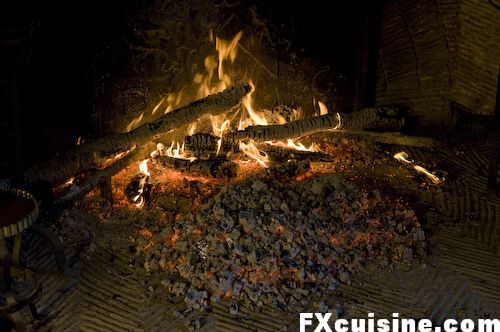 Root vegetables from the castle's gardens (in the former moats) cooked under the ashes in said giant fireplace.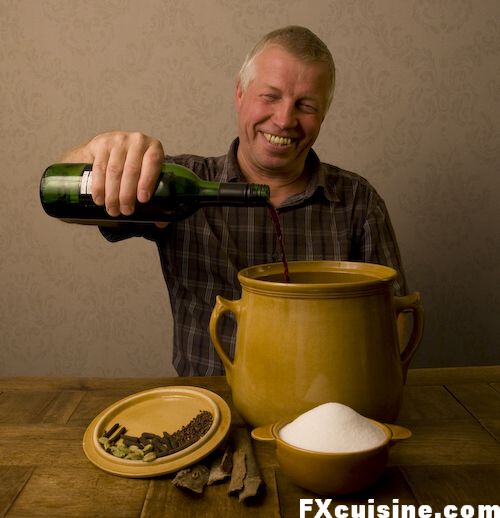 Hypocras - we go medieval on a red wine with sugar and uncommon spices, then serve it to a collection of local glitteratis. Read article...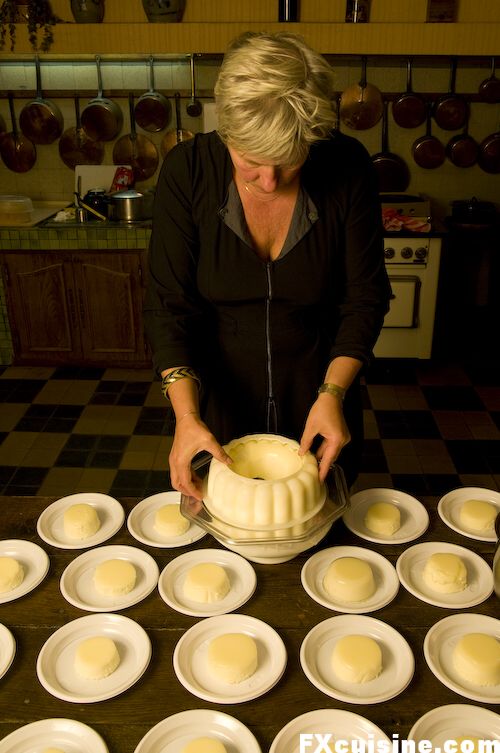 My favorite - an old-time classic, blanc-manger, the almond milk jelly. Insanely scrumptious. Read on...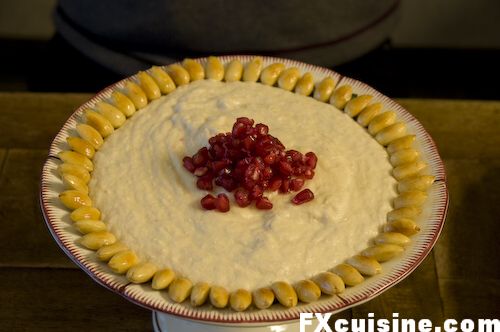 As an intriguing side-dish, a historical blanc manger, cooked from a 14th century recipe. A sweet and savory cream made with almond and chicken breasts pounded together. Read on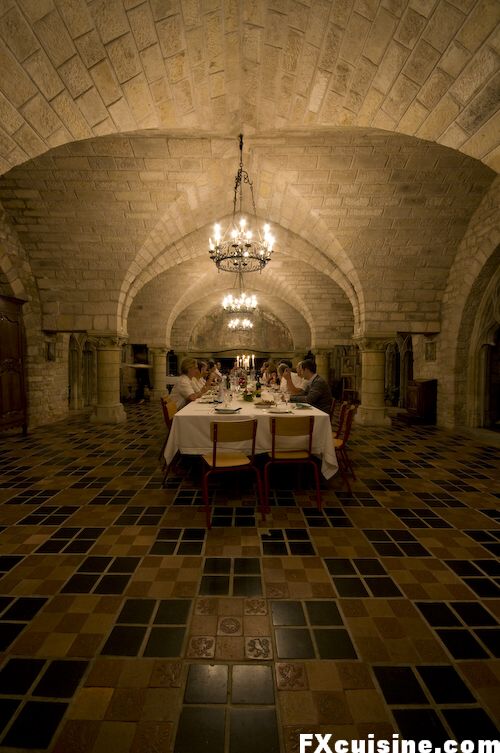 The FXcuisine.com medieval banquet at Hattonchâtel was a resounding success!
Check back on September 5th for the first article, I'll post one every Friday for 7 weeks.
221826 views
Related Articles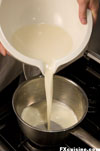 Chicken for Dessert **
One of the greatest desserts in Turkey is made with chicken breasts. It is based on an almond-and-chicken pudding once hugely popular in medieval Europe. See how it's made!
Copyright FXcuisine 2023 - all rights reserved.
If you do this recipe at home please let me know how it worked for you by submitting a comment or send me a picture if you can. Thanks!