Red-Hot Medieval Roots
Home
>>
Experiences
I always wanted to cook root vegetables in hot embers but didn't have the required giant medieval hearth - until a month ago. See how we cooked turnips and beetroots from Hattonchâtel's moat garden in the castle's walk-in fireplace.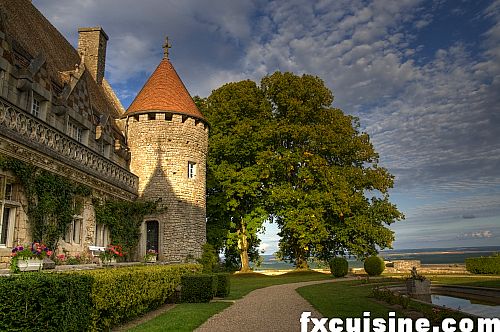 In this fifth installment of the Hattonchâtel castle medieval extravaganza, I enlist Hanne Agerskov's help to cook a dish I've been meaning to do for years. There is so much poetry in those humble root vegetables cooked directly in the embers - I hope you can see it the way I did!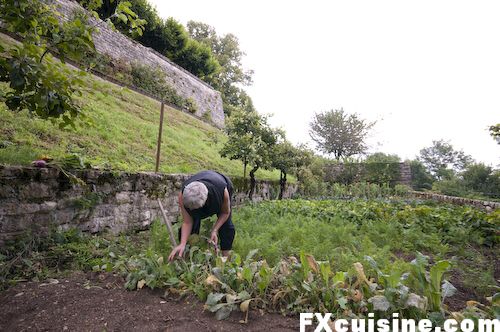 Hanne comes down the stairs on the castle's outer walls and down into the moat.
Under her dog's watchful eye, up there on the wall, she starts digging in the castle's vegetable gardens planted by the caretaker's wife.
I'm glad you want to do something with those bloody turnips, she says, as nobody like them here. She removes a dozen beautiful turnips from the ground.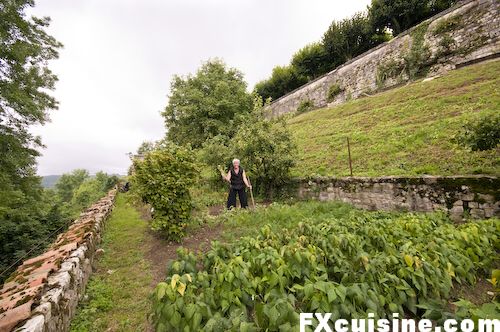 I have seen many vegetable patches, but I admit this one has one inspiring location!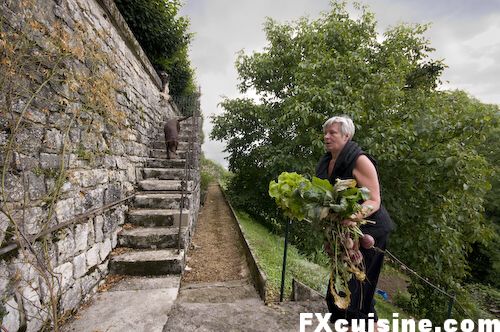 You will have to show me exactly what I need to do with them, said Hanne, a bit worried of appearing on the blog. Don't worry, this is the simplest recipe you can imagine, I replied, as we walked back to the kitchen.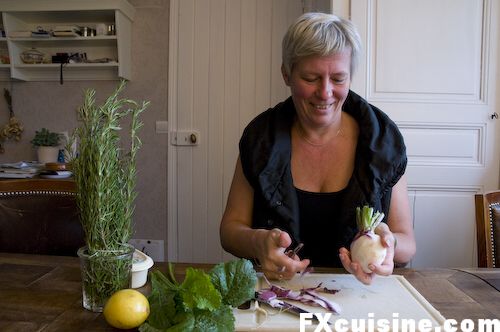 I sat opposite Hanne at the kitchen table bathed in light from the North-facing window, and started directing her. As soon as she commenced peeling, her stress disappeared.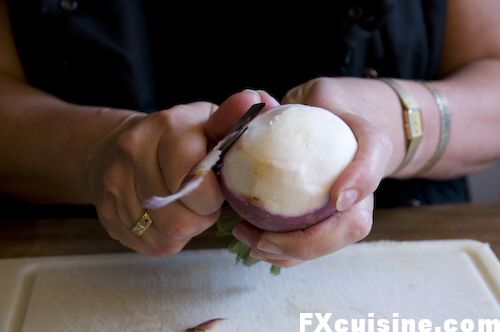 Peel the turnips, I said, but do not discard the leaves as we'll use them in a minute.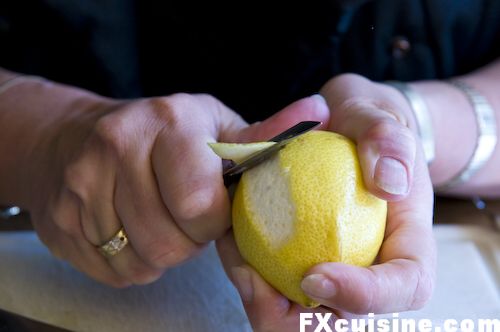 Then peel the lemon as thinly as you can, with as little of the white part as you can manage, I continued.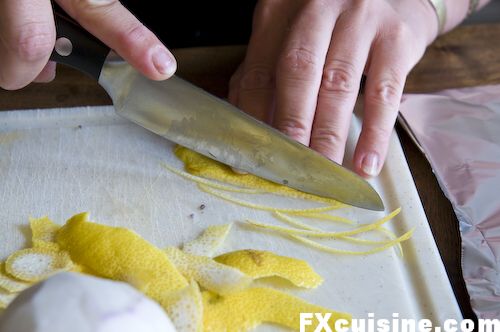 Now slice the peel lengthwise in the thinnest strips you can. The French call this julienne. Hanne repeated with a smile Ju-lee-enne.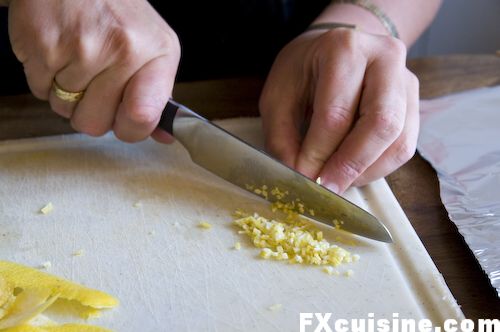 Finally, cut the julienne crosswise to make little cubes. Hanne complied, precise as a Swiss clock. I just took pictures - you can really get used to this way of cooking with a camera!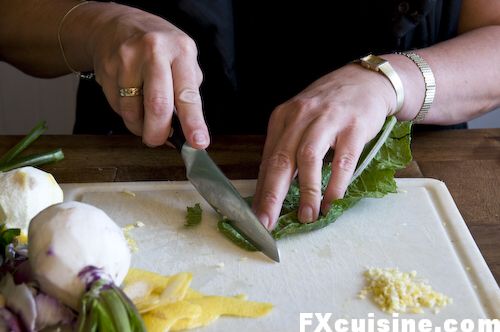 Quickly, I re-read my recipe photopied from a French book about cooking in open hearths. Now please wash the turnips leaves, discard the ugly ones, and cut them crosswise in thin strips, I instructed my Danish friend.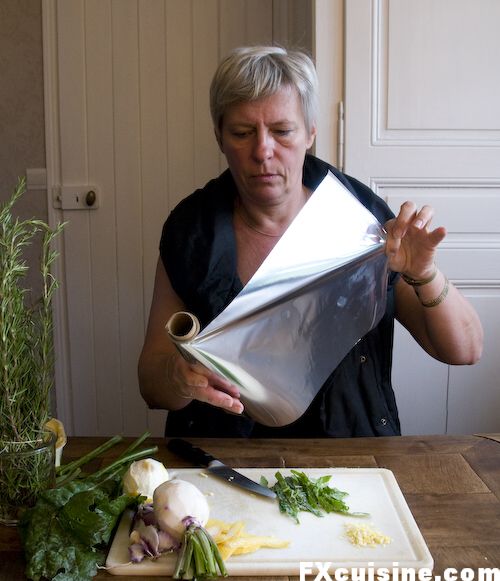 Take a piece of aluminum foil as long as your arm ...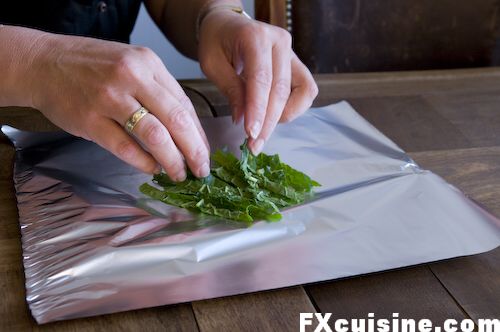 ... prepare a bed of turnips leaves strips ...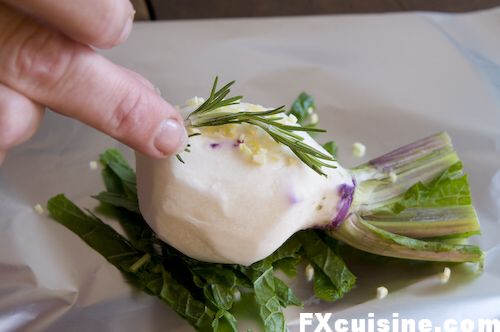 and gently rest one turnip. Sprinkle with a pinch of lemon zest cubes, then decorate with a twig of rosemary.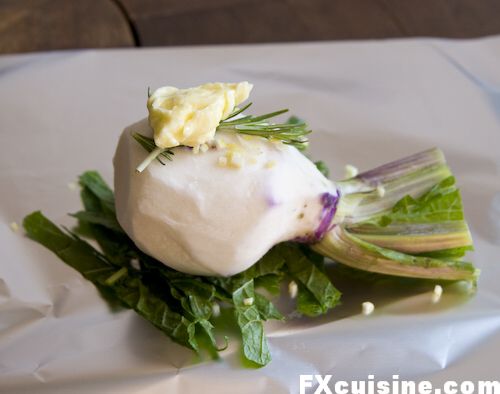 Finally, place a piece of the half-salted butter we bought yesterday on top. As Hanne continued, I could swear she started to be fascinated as how the French could turn such miserable vegetable, those which Shakespeare called Thou Zed, the Last and most Unecessary letter of the Alphabet, into a delicate and sophisticated feast. All this with ingredients from her garden and fridge.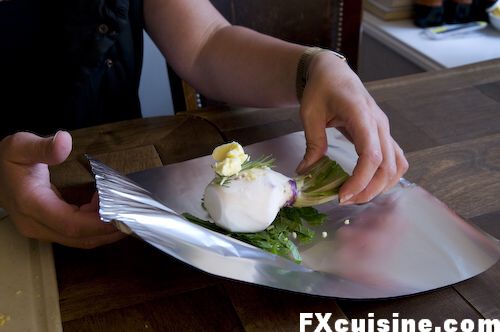 Now wrap the foil around it ...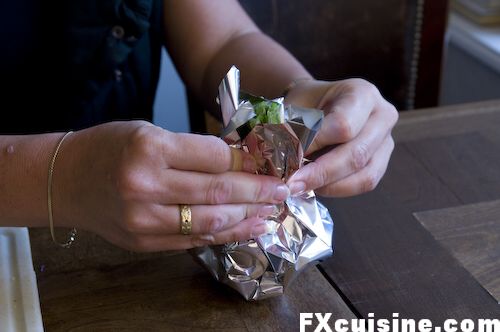 ...until you have a little ball. That's it - job well done! Hanne looked relieved and quite pleased with her work - and she could.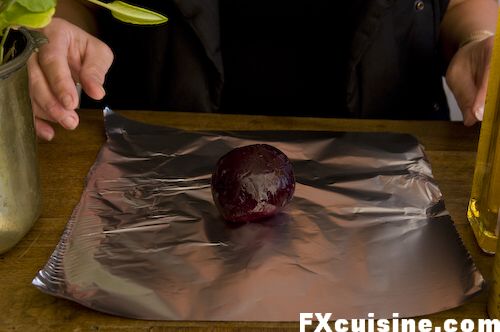 We continued with a few beetroots ...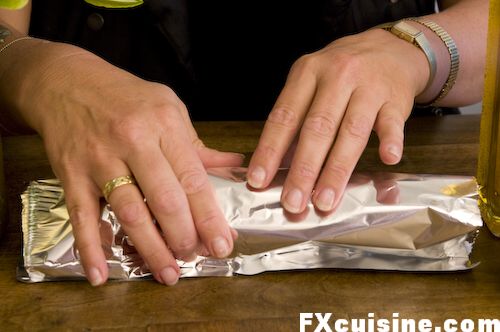 ... which were wrapped in the foil with a pinch of sea salt.
Next page see how we cook those vegetables in the castle's walk-in fireplace.
...