Pasta all'arrabbiata
Home
>>
Recipes
By request of a reader, one of the most popular Southern Italian pasta sauces ever. Simple, affordable, healthy, delicious.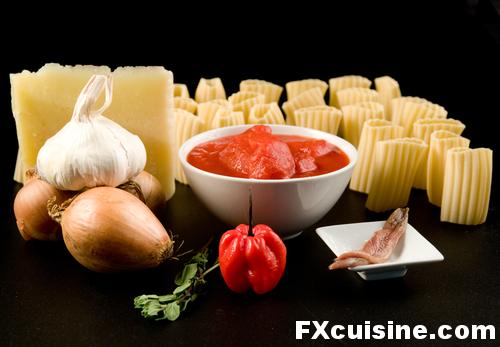 Dramatis Personae, clockwise from the top left: hard pecorino, durum wheat bronze-extruded grooved macaroni, anchovy fillets, scotch bonnet chile, marjoram, onions, garlic. Lead role: peeled tomatoes. Tonight, the play is Arrabbiata, a very popular, affordable and healthy Southern Italian pasta sauce. Done properly, this is heaven on a plate with very little calories attached. Make sure you use pecorino, a hard Italian sheep milk. There are dozens of pecorinos and you'll have to find one that agrees with you. I like them hard.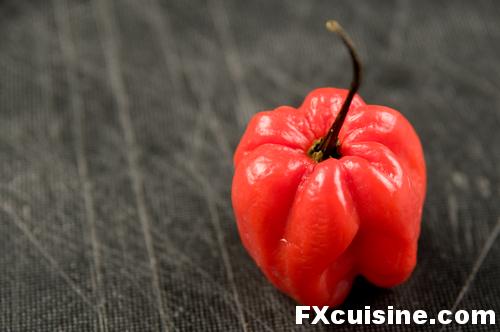 Pasta all'arrabbiata [ah-rah-BYAH-tah] means angry pasta, in the sense of a dish that would have turned crimson red and volatile, like a scorned Sicilian woman. It is a tomato sauce with chilies, served with pecorino. Italians often use dried chile flakes (peperoncino) but I prefer fresh chilies. The strongest we can buy here is the notoriously inflamatory Scotch bonnet, one of the hottest chilies in the world, scoring 1-300,000 Scoville units. Why do I say this? Well, How much chile do I need FX? really depends on the chile you are using as much as on how much you are used to eat.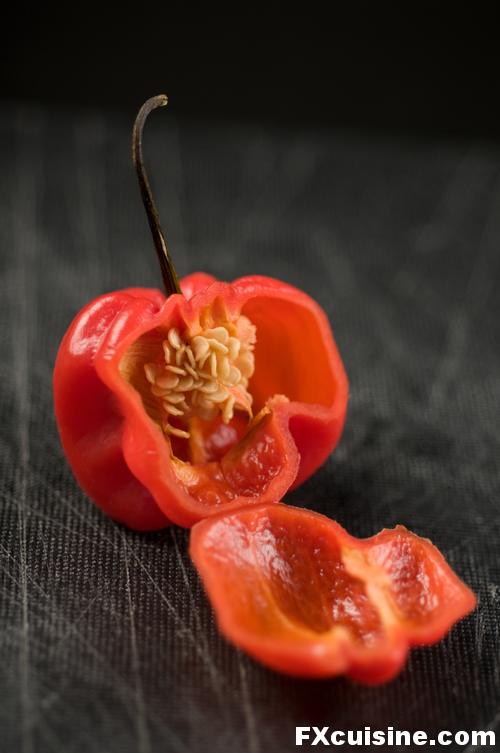 If using a strong chile, make sure NEVER TO TOUCH it with your fingers, or you'll spend the night thinking red fire ants have crawled up your pants. Just use gloves or a fork and knive which you'll immediately wash. For 3 portions I used only the tiny bit cut in the picture above, thinly cubed.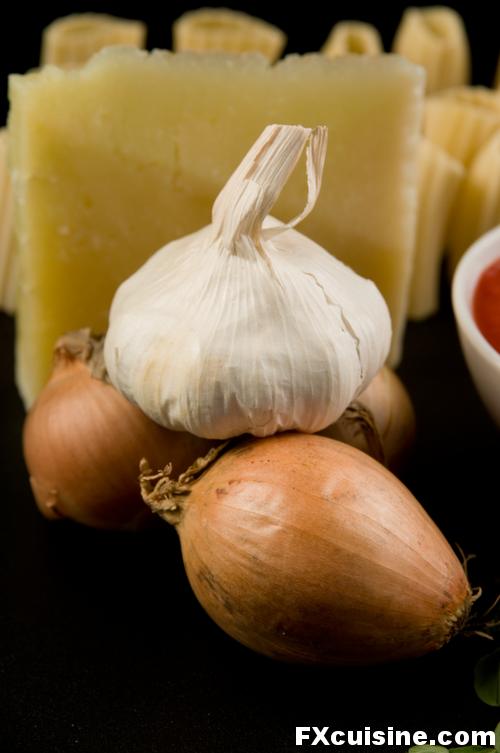 Peel and crush a couple garlic cloves and dice one onion.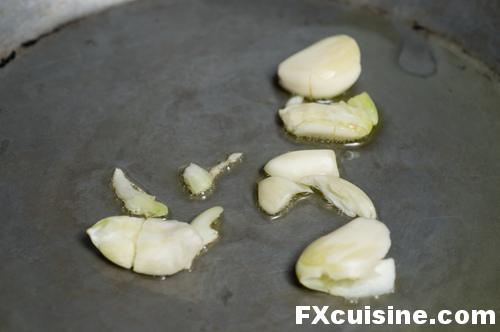 Fry the garlic in a little olive oil in a hot pan. Some people remove the garlic after it has flavored the oil. You'd definitely want to do that if you left it turn brown as it becomes bitter. But I don't brown it and leave it in the sauce.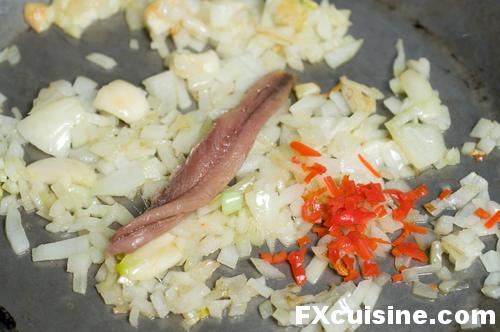 Add the onion, anchovy and chile. The anchovy fillet is not used in every recipe but gives an amazing hit-me-back taste. You won't need to add any salt if using those. Continue to fry over high heat until it starts to brown.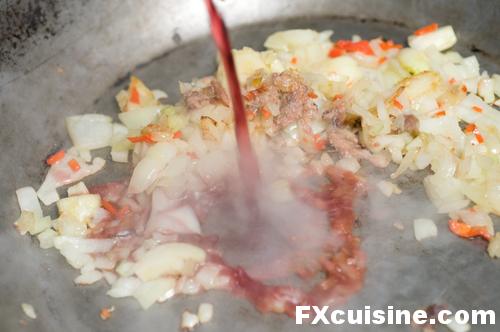 Deglaze with a glass (half a cup) of red wine and scrape the bottom to dissolve any browned onion that would have stuck to the pan.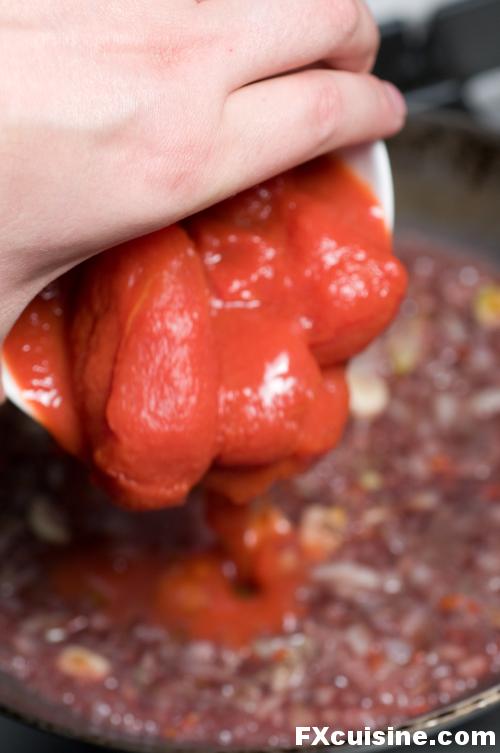 In go the tomatoes ...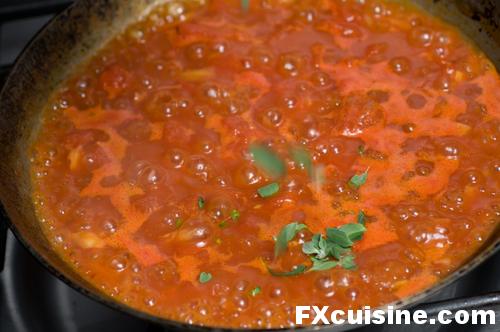 ... then some marjoram/oregano.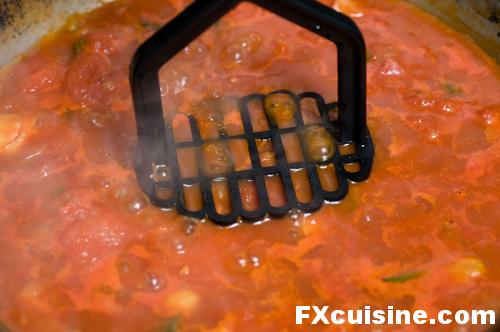 Simmer for at least 20 minutes. Some people like large bits of tomato in their sauce, probably to emphasize their use of actual tomatoes. I prefer to mash them to a pulp.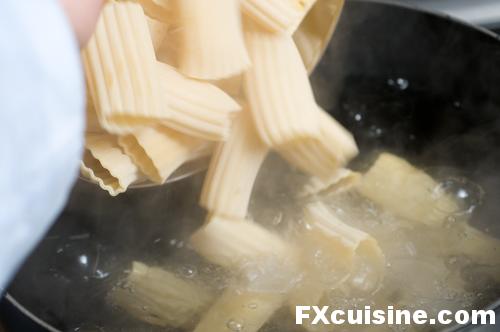 Fill your largest pot with water, add a bit of salt and NO oil. Bring to a boil, then cook the pasta until 1 minute undercooked ...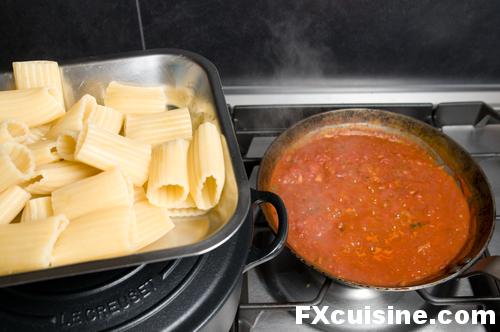 ... and remove to a dish until the sauce is ready.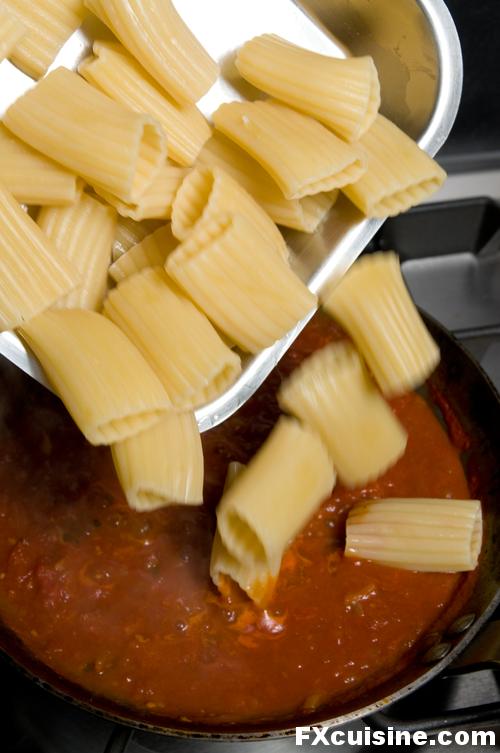 Combine sauce and pasta.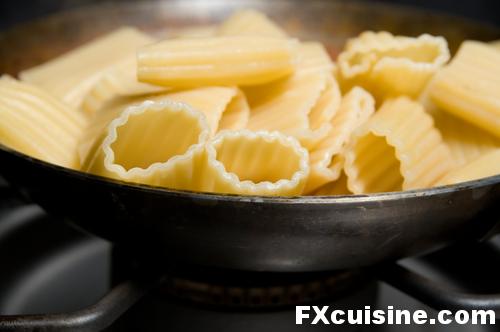 In restaurants they usually pour the sauce over the pasta since the sauce has been cooking since time immemorial, but here we do home cooking and pasta is mixed with the sauce before coming to the table.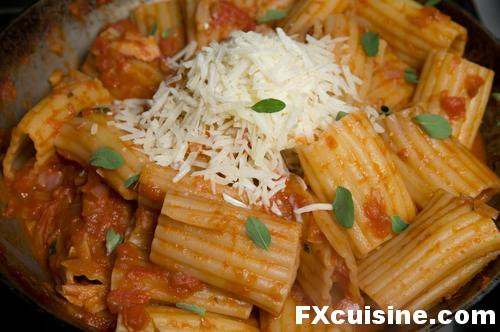 Here we are - happiness in a saucepan with a very controlled amount of calories. And another view.
469164 views
Related Articles

Pasta con i fagioli ***
Homemade wholewheat spaghetti with a delicious beans ragu for a typical Tuscan peasant dish.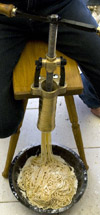 Bigoli, Bigolaro, Bigolarist **
My largest and most unusual pasta-making accessory, the bigolaro, made 28 fat spaghettis, called bigoli, each as long as the room. Served with the traditional duck ragù, this made my guests very happy despite the fact they had to make their own pasta.

Potato Raviolis **
Italian comfort food on steroids. Only Italians love pasta enough to stuff it with such plain ingredients as a potatoes. Right they are, these make for a highly refined dish - and very affordable.

Priest-stranglers in Neapolitan Meat Sauce *
These gnocchis served in the cult Napolitan ragù sauce would be a world-famous dish if they didn't take 7 hours to cook.

Pasta con l'anatra - pasta in duck sauce *
Using a whole duck to make pasta sauce is uncommon outside Italy.
Copyright FXcuisine 2023 - all rights reserved.
If you do this recipe at home please let me know how it worked for you by submitting a comment or send me a picture if you can. Thanks!