Swiss Saffron Harvest
Home
>>
Experiences
Yesterday I woke up at 6 AM to drive to Venthône in my beloved Swiss canton of Valais, and meet up with France & Bernard to take part in my first ever saffron harvest.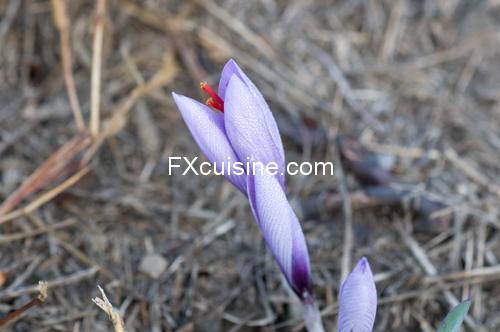 Saffron is one of my favorite spices and I use it often but in small quantities. Yesterday, I understood why saffron is more expensive than gold. Please forgive the new watermark, but I'm tired of finding my pictures in newspapers with a "No copyright" mention underneath.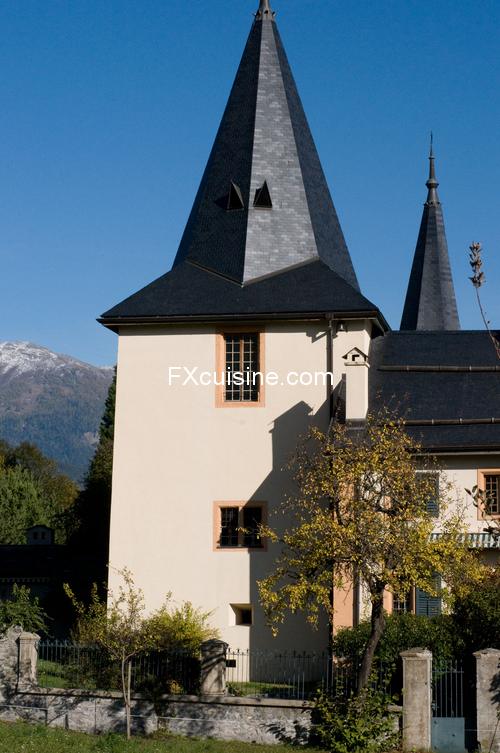 Saffron has been grown in Switzerland since the 16th century, first in Berne, then in Valais, the gorgeously sunny mountain canton where the Rhone is born. The few people have heard about Swiss saffron think 'Mund', a germanic village up the valley, but in fact my guest Bernard has located a deed for the sale of a saffranerie dating from the 17th century. Susanna Curto, an ancestor of Michelin-starred chef Didier de Courten, also from the village, sold her saffranerie to one of Bernard's ancestors, Laude voluntate et consensu of her husband Anthony Decabulo.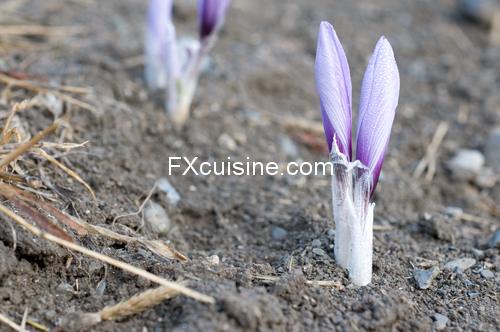 Saffron is, in essence, the cockpit of Crocus Sativus, a flower that can be grown in most places that are not water clogged. You dig a hole in the summer, plant little bulbs, then wait until late October. But one flower yield only three minuscule filament of saffron, and you need more than that even for only a child's dinner. So Bernard dug up tens of thousands of holes in three plots of lands near the castle where he lives, and, come October, he watches the barren ground every morning.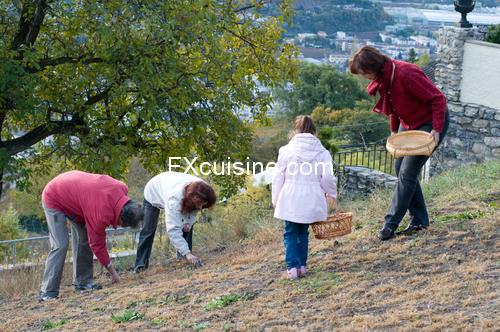 One morning there is nothing, then the next you have literally 2000 flowers. Better be ready to harvest, explains Bernard's girlfriend France. And this goes on for 3 weeks. With three little fields, the total yield is about 2 ounces (70 grams) of the finest saffron money can buy. And in fact, money cannot buy it, as they use it for family and friends. The only business that gets some is Restaurant de Courten where our common friend Didier buys half their production in exchange for a fine gourmet meal.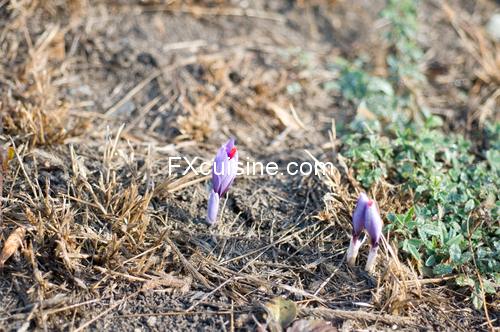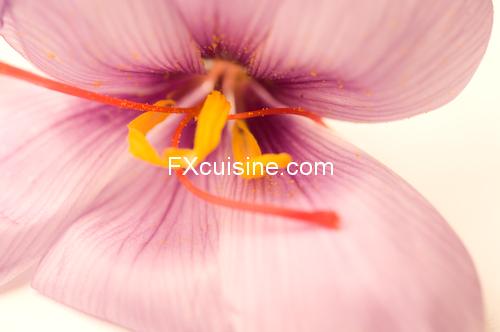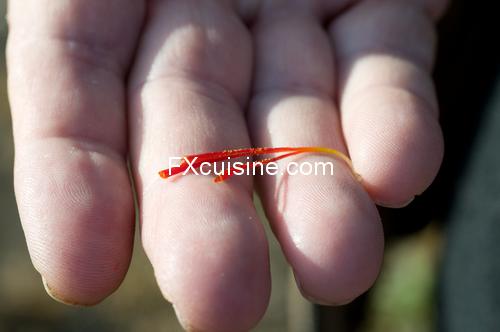 That's it - saffron, straight from the flower's mouth. I know it sounds rather hard to pull out the entire flower just to retrieve three tiny filaments, but we're in it for the food and the flower is in it for sex and reproduction. It is a square deal.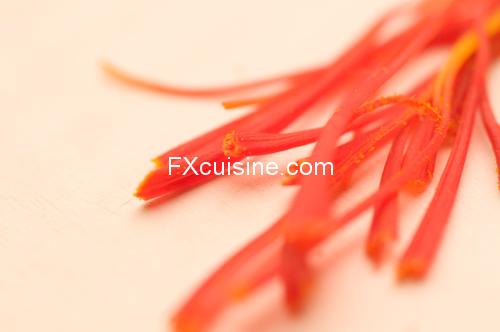 Only the dark orange triple filament is used, as well as any of the large grains of pollens you can find.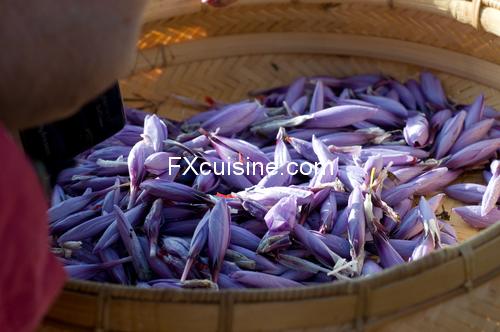 After an hour, we fill a basket with saffron flowers.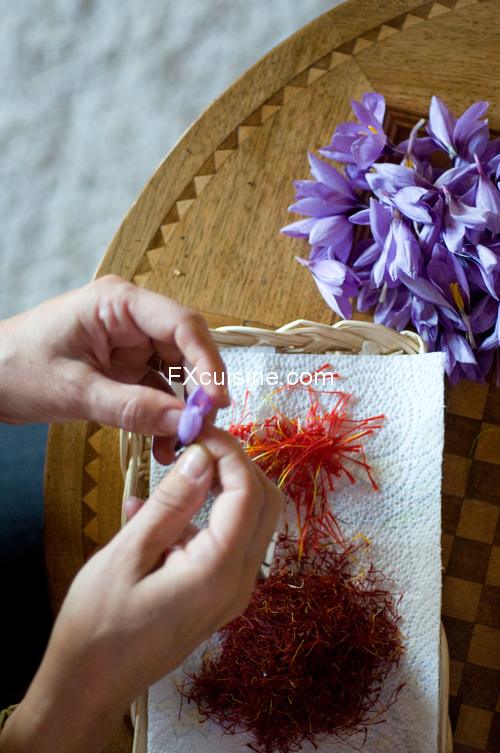 Inside the castle, France patiently pulls the bright red filament from each of the 2626 flowers we harvested that day.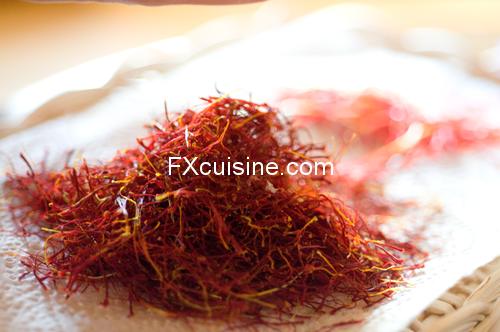 This is the saffran that has been collected this year so far.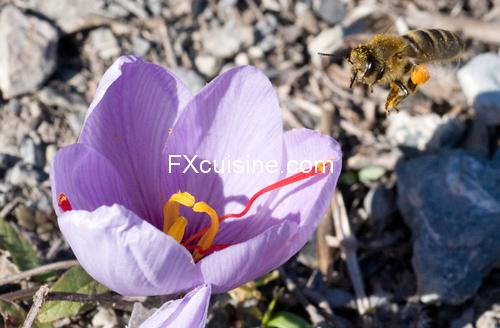 After lunch at Didier de Courten in Sierre, a restaurant that uses this very saffron, I go back up to see if the flowers have opened up. They did, and I start taking some pictures with my Nikkor 60mm, a lens I want to be buried with.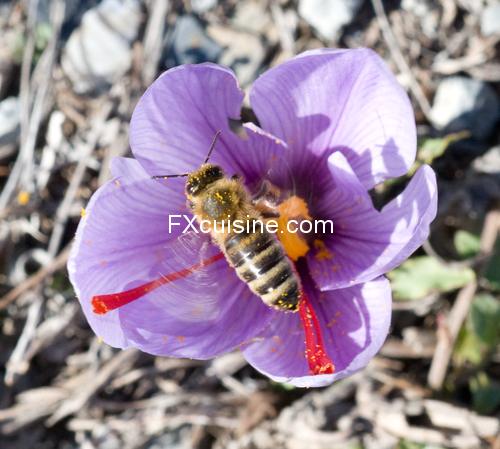 Suddenly, I catch orange-handed a saffron thief.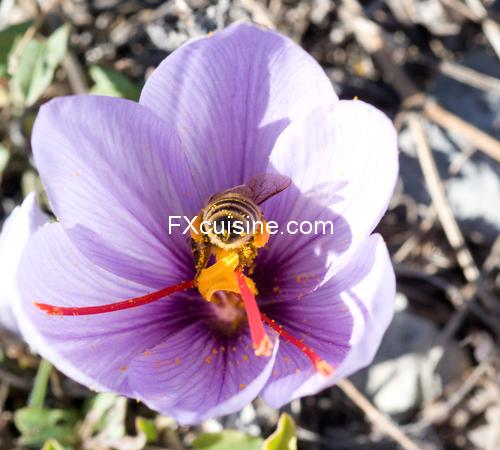 But who is a better saffron judge - Bernard who grows them, or bees who sample millions of flowers during their lives?
427395 views
Copyright FXcuisine 2023 - all rights reserved.
If you do this recipe at home please let me know how it worked for you by submitting a comment or send me a picture if you can. Thanks!