French Medieval Bread Fouées
(page 2 of 2)
Home
>>
Recipes
This is hands-down the easiest great bread you can bake in a wood-fired oven. Trust the French - it takes no time to prepare, no hand kneading, no proving and it bakes in 120 seconds flat. Way tastier than pita.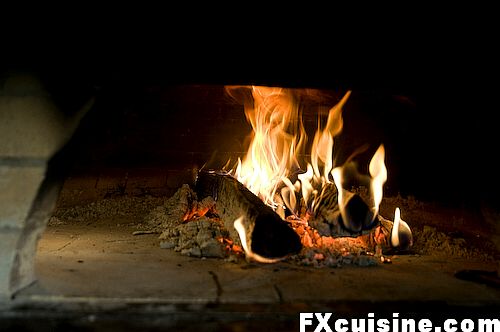 Check that the oven sole is around 350C to 400C. Yes that's really hot, about the temperature you would use to bake a real pizza in fact. Too cool an oven and the bread will not color as fast - not as tasty too. You can certainly bake these with a fire still on in a corner of the oven.
Dust the counter close to the oven with flour, making sure your hands are covered as well. All you do is take an orange-size piece of dough, roll it a bit in flour so that it doesn't stick too much, then...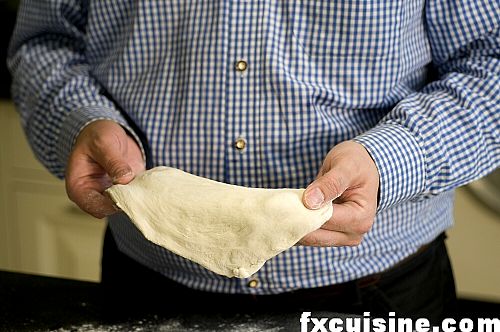 ...stretch it by pulling it between your hands.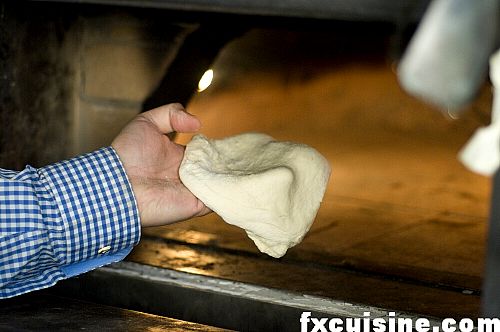 Come to the entrance of the oven and concentrate - you need to be one with the dough...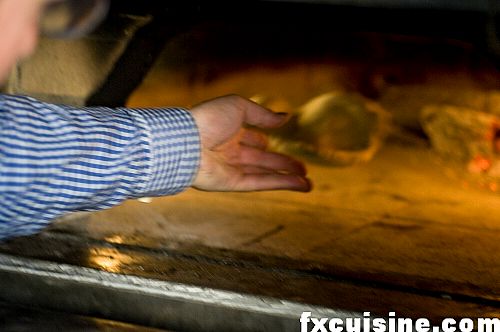 ...then throw it like a frisbee so that it remains flat during its flight and ends up in some place flat and free of embers on the oven sole. This may take a couple times until you get it right but is is seriously fun! If one folds up upon arrival, either leave it like this or use some tool to try and uncoil it as best you can. On the picture you can actually the bread during its maiden (and ultimate) flight, just on the right of my hand here.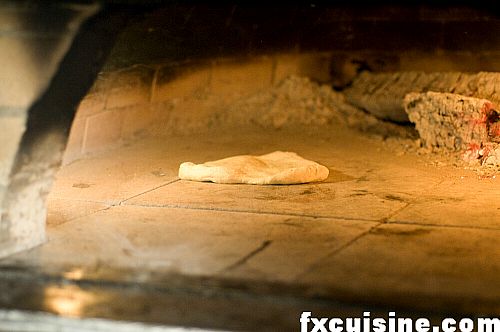 On a 400C sole it takes about 2 minutes for the bread to pop up like a baloon! No peel, no board, no nothing. Just throw it like a frisbee. A most enjoyable revenge of the trickiness of baking bread in a wood-fired oven - this one is just so simple.
Spin the bread 180 degrees after a couple minutes, when it has started ballooning, so that no side burns waiting for the other side to cook...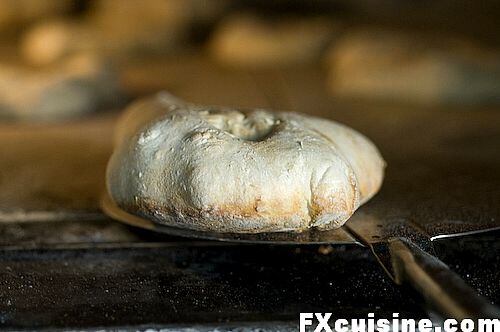 ... then remove it from the oven.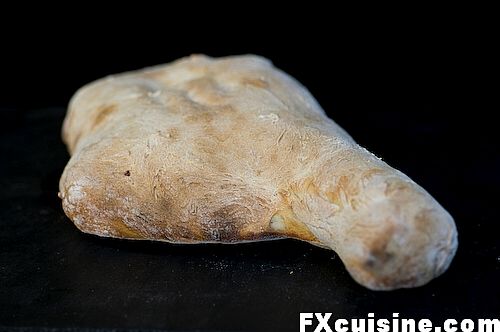 Voilà!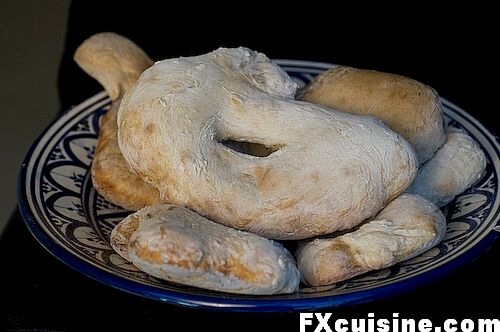 You can make them any shape you like, small or bigger, and even with a hole in the middle.
I often serve it with starters.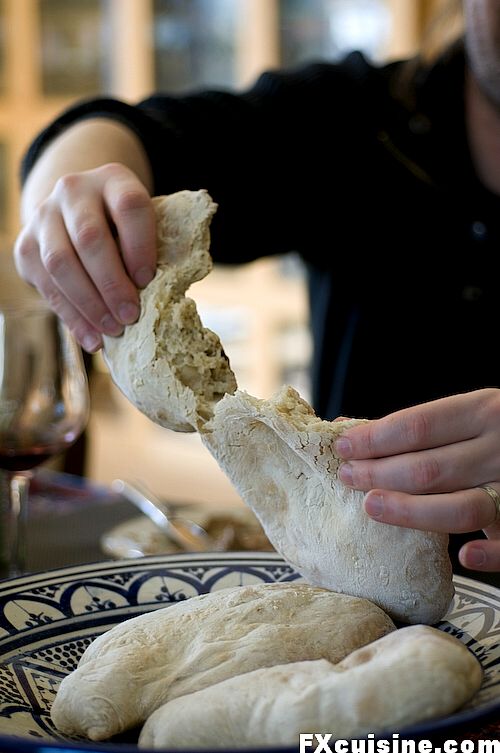 How about that? Cooked right before the guests and served piping hot, with the total absence of stress of one who follows a recipe seen on FXcuisine.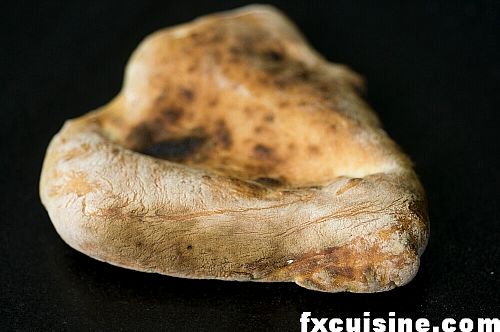 This is one here was baked at 350C, I prefer the darker crust. Stretching the dough flatter tends to create a large cavity in the bread as the steam fills up the microscopic holes made by the yeast - ideal to make a really sexy sandwich.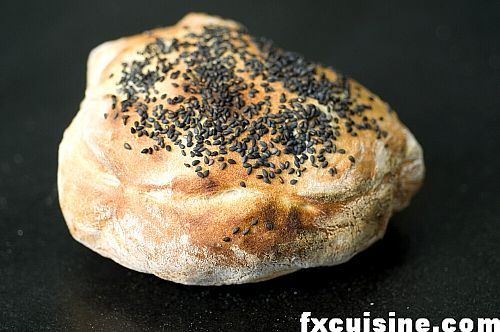 For an oriental meal I just wet the top of the stretched dough ball and sprinkle with nigella or sesame seeds before throwing it in the oven. Wish you could taste it!
Please consider that for 20 years I have yearned for a wood fired oven and that it took me several years to build one. If this article creates cookware envy, harness it to push you towards find a way to make, buy or borrow one yourself!
161081 views
Copyright FXcuisine 2023 - all rights reserved.
If you do this recipe at home please let me know how it worked for you by submitting a comment or send me a picture if you can. Thanks!