Tandoor-Roasted Pineapple Paneer Peppers Onion Salad
Home
>>
Recipes
A spectacular warm salad from London Michelin-starred
Tamarind restaurant
. With some inside help and after a few disasters, I managed to make it at home!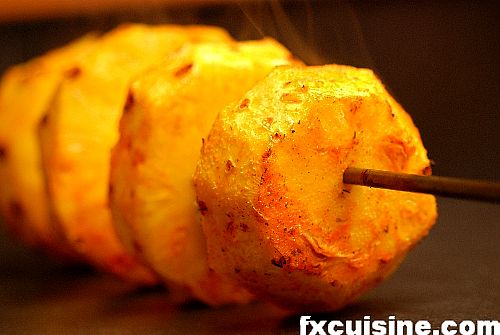 The Michelin guide doesn't bestow its stars easily to oriental restaurants, especially in perfidious Albion. So for Tamarind restaurant in Mayfair to receive and keep its Michelin star for decades, means the food is seriously good. Despite its hotel basement location, it is my favorite Indian restaurant. They send a team to Geneva's Hôtel d'Angleterre once a year but the food is just not the same. They miss the tandoor.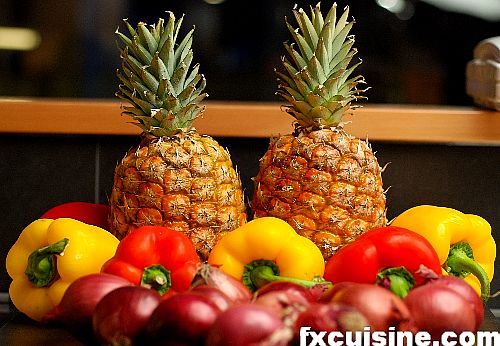 My favorite dish at Tamarind is an amazing salad of freshly tandoor-roasted, marinated fresh pineapple, peppers, onions and paneer. I tried to make this dish at home as soon as I got my tandoor, but the results were disappointing.
So the other day I called Tamarind, explained my predicament and asked to speak to the chef. A very knowledgeable and helpful man! Here is what he told me and how, after another tandoor disaster, I finally made it.
Tandoor Pineapple Vegetable Salad
for 8 as a starter
2 fresh pineapples
6 bell peppers
12-15 sweet red onions
5 dl (1 cup) yogurt
dry fenugreek leaves
kashimiri chili powder
chaat masala
2 lemons
coriander leaves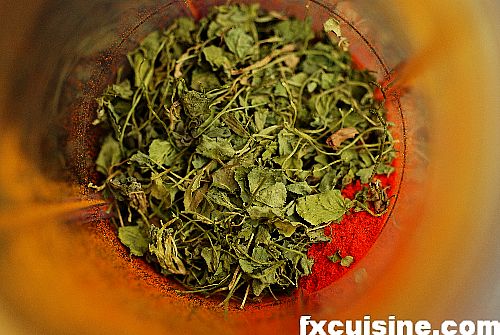 Buy dry fenugreek leaves, called mehti leaves in Indian stores. Mix then with Kashmiri chili, the intensely red mild chili used to color tandoori food naturally. It is not hot at all so you may want to add some hot chili powder.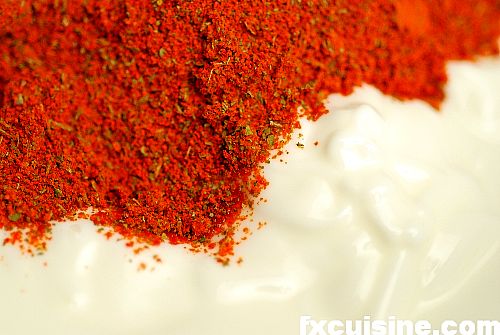 Reduce to a powder and mix with yogurt. Your marinade is ready.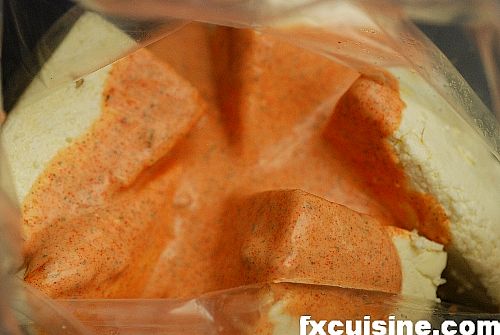 I made my own paneer that day and after some pan roasting, carefully placed it with some of the marinade in a freezer bag.
Peel and slice a pineapple, keeping the core. Peel red onions and cut them in half. Cut bell peppers in 4 lengthwise.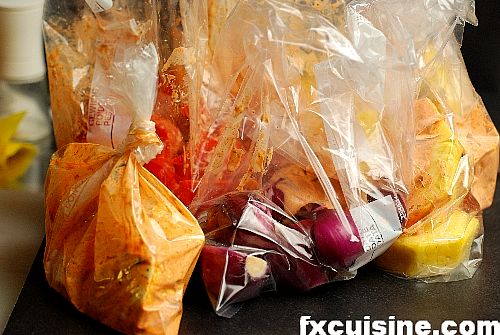 Marinate everything in the yogurt for one hour. I've been using freezer bags for marinations for years now. This is the best option - takes less space in your fridge and lets you massage the marinade into the food while keeping the kitchen clean.
Indian chefs call the meter long skewers used in tandoor ovens seekhs. Skewer the vegetable with one type by seekhs so you can pull them out when done. I use little aluminium foil balls between the pineapple and rotisserie pitchforks to prevent any sliding. I'm throughwith potatoes and raw onions stuck at the bottom of each seekh, this is too much waste and unreliable.
...