Evian Chocolate Sorbet
Home
>>
Recipes
One of the simplest sorbet you can make and yet a memorable, intense chocolate delicacy with no sticky aftertaste.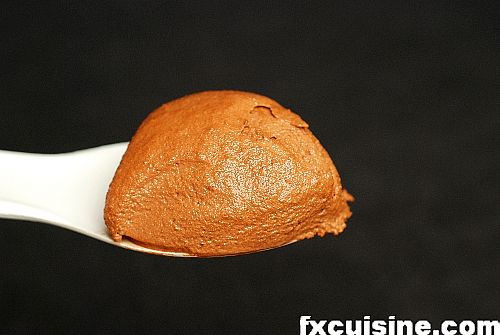 This extraordinary sorbet is one of the simplest you can make. Just melt water, sugar and chocolate and churn. But chocolate sorbet is nothing like chocolate ice cream. An intense chocolate flavor explodes in your mouth and then immediately disappears, leaving only its echo on the taste buds. No sticky aftertaste, but a clean, sharp, crisp chocolate flavor. Amazing.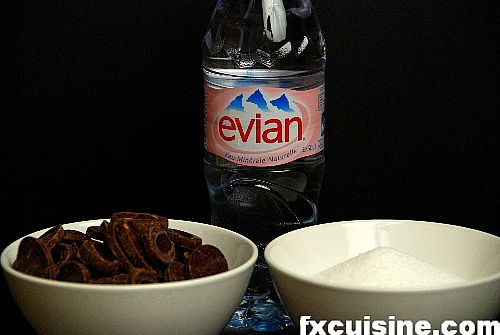 I have this recipe from Pierre Hermé but it's so simple it must have been done many times.
Chocolate Sorbet
500 ml (2 cups) mineral water
200 gr sugar
200 gr 70% dark chocolate
I use Valrhona 70% guanaja couverture, but you can do this with any good quality chocolate tablets with approximately 70% cocoa content. There is nowhere you can hide a bad ingredient in such a simple recipe. Put quality chocolate and you'll get quality sorbet. If you are a chocolate lover this sorbet will really glorify the taste of an exceptional chocolate.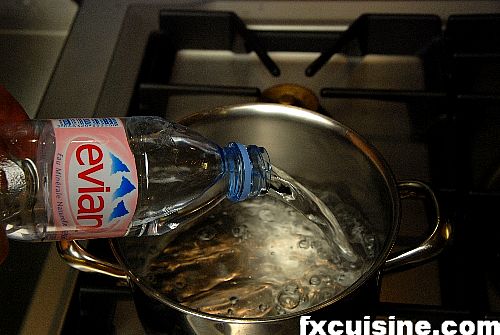 Pour the mineral water in a small saucepan and turn the heat on high.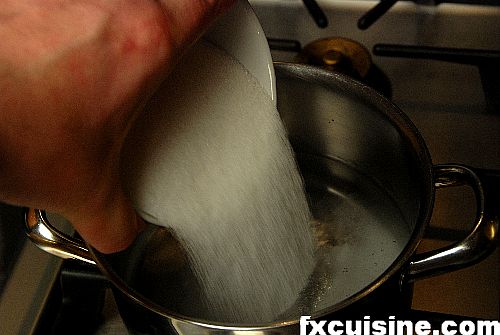 Immediately add the sugar and mix.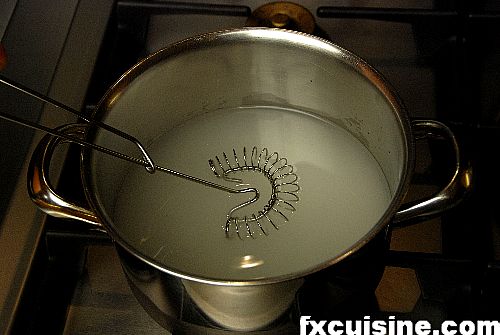 Bring to a boil and mix to ensure all the sugar is dissolved.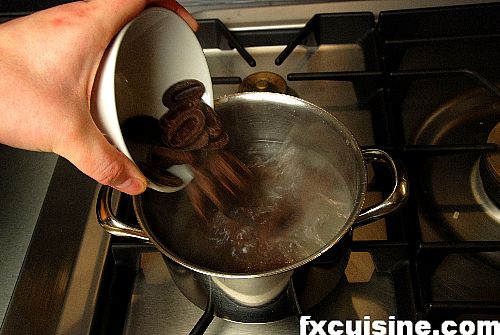 Add the chopped chocolate. The chocolate I use here comes in pistoles - no need for chopping.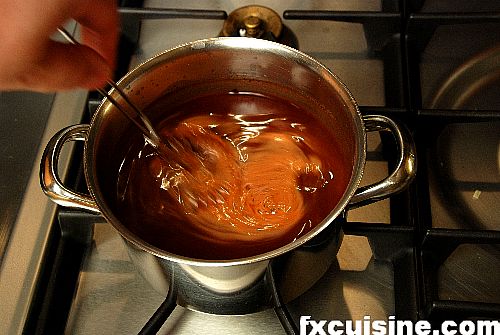 Turn the heat off and mix vigorously until all chocolate is dissolved.
Now you need to cool the sorbet mixture before you churn it. In a professional kitchen, best hygiene practice recommends immerging the saucepan in a bowl filled with ice-cold water to shorten as much as possible the time your sorbet spends in the bacteria-friendly temperature range 15°C-25°C. I just put it in the fridge and wait until very cool, about 2 hours.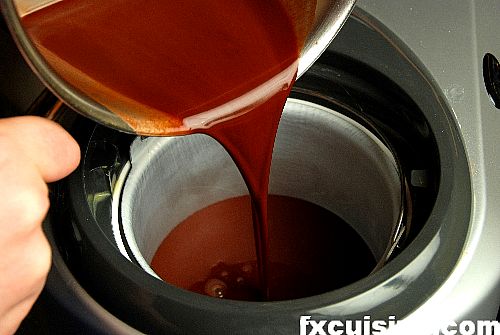 When your sorbet mixture is perfectly cool, pour it into the sorbet machine and churn until hard.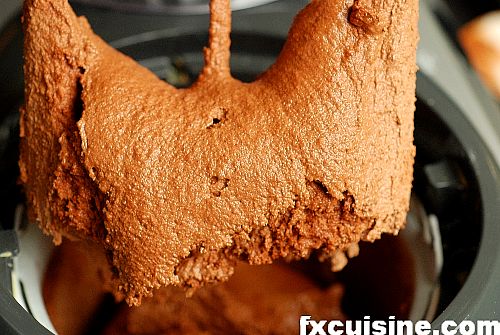 That's it. Don't store it for more than a week. The older the sorbet, the more water crystals inside.
71741 views
Copyright FXcuisine 2023 - all rights reserved.
If you do this recipe at home please let me know how it worked for you by submitting a comment or send me a picture if you can. Thanks!