Chestnut Flour Gnocchis
Home
>>
Recipes
Strong-flavored rustic gnocchis served with an alpine seasoned cheese. Eat five and choke.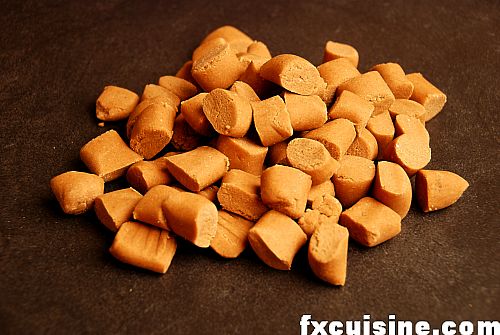 Chestnut flour was more common than wheat flour in the Italian Alps a century ago, or at least that's what my book said. But boy what a strong taste. Not at all like chestnut spread. These gnocchis take so long to cook they will always be al dente and then some. If you always wanted to make chestnut-flour gnocchis, see how it works. It's not too late to change your mind.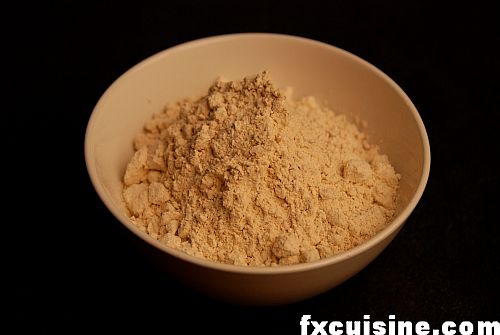 Chestnut Flour Gnocchis
450 gr chestnut flour
50 gr regular flour
2 eggs
salt
100 gr full fat seasoned Alpine cheese
1 huge pot of boiling broth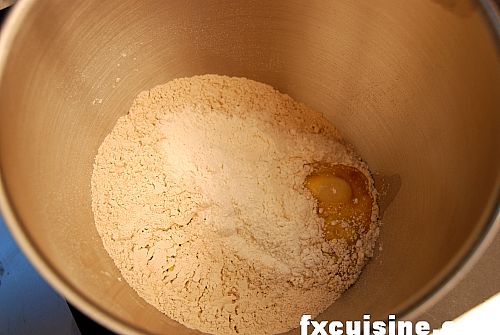 Sift and mix the flours. Beat the eggs with the salt and mix everything until you get a soft dough.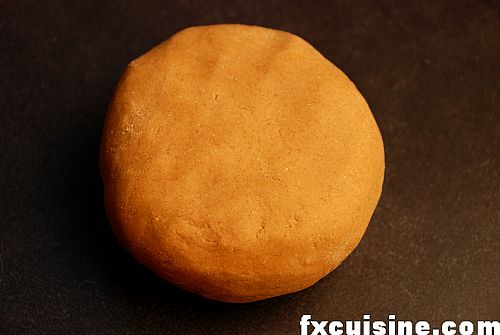 Wrap your dough in foil and leave in the fridge 1 hour.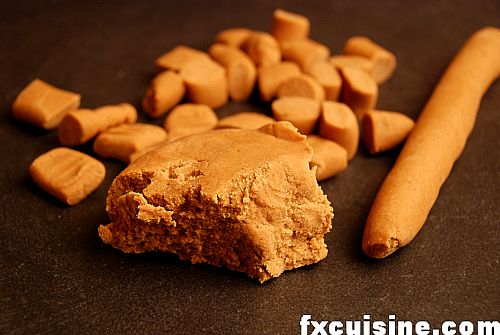 Roll finger-sized dough cylinders and cut little gnocchis.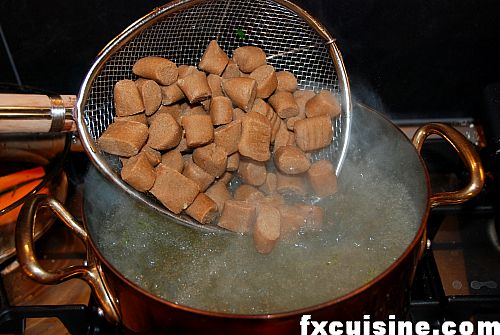 You need flavor to fight flavor. Cook the gnocchis in a strong broth.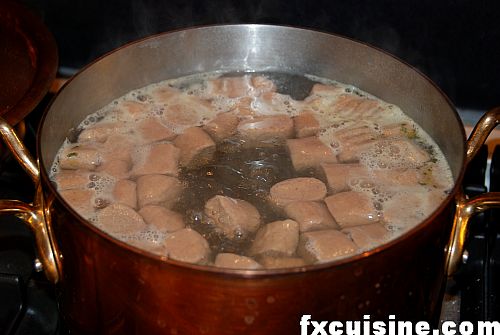 How long until they are cooked? There lies the rub. For after the 20-minutes-or-so recommended in Il cucchiao d'argento, the mother of all modern italian cookbooks, they certainly weren't cooked through. Nor after 40 minutes. At some point a man has go to eat, so when you can't wait anymore, take them out and serve on a hot plate with shreds of cheese and pepper.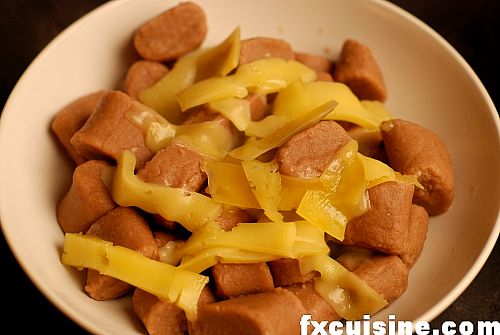 These certainly could be called priest-stranglers or strangleanyones. The next day I cut each remaining 'cooked' gnoccho in half lengthwise and fried them with lardo di colonata and cooked them for 15 more minutes in a rosemary-garlic-chili tomato sauce. They were still very much al dente.
If a reader had success with chestnut gnocchis I would be pleased to hear it. Some recipes add potatoes to the dough and that seems like good sense. Modern gnocchis always include potatoes for a lighter dough. It is now painfully clear to me why they do it.
99106 views
Related Articles

Priest-stranglers in Neapolitan Meat Sauce ***
These gnocchis served in the cult Napolitan ragł sauce would be a world-famous dish if they didn't take 7 hours to cook.

Pasta con i fagioli **
Homemade wholewheat spaghetti with a delicious beans ragu for a typical Tuscan peasant dish.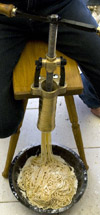 Bigoli, Bigolaro, Bigolarist **
My largest and most unusual pasta-making accessory, the bigolaro, made 28 fat spaghettis, called bigoli, each as long as the room. Served with the traditional duck ragł, this made my guests very happy despite the fact they had to make their own pasta.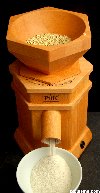 Italian Alpine Buckwheat Pasta Pizzocheri **
Traditional buckwheat noodles from the Italian Alps with cabbage and Fontina cheese. I made them from scratch with my own freshly milled buckwheat flour. Hard core pasta!

Potato Raviolis **
Italian comfort food on steroids. Only Italians love pasta enough to stuff it with such plain ingredients as a potatoes. Right they are, these make for a highly refined dish - and very affordable.
Copyright FXcuisine 2023 - all rights reserved.
If you do this recipe at home please let me know how it worked for you by submitting a comment or send me a picture if you can. Thanks!