Indian Watermelon Curry
(page 2 of 2)
Home
>>
Recipes
This unusual curry turns bland watermelons into a spectacular and quickly prepared original and authentic Indian curry.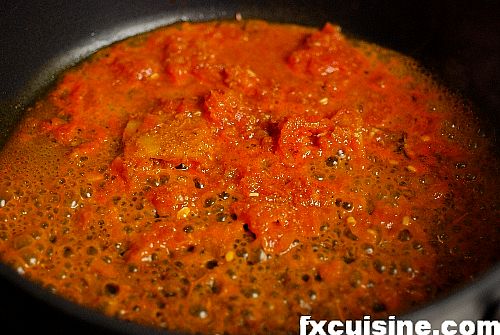 Pour the watermelon-spice mixture into the frying pan. Psssssh, it boils and bubbles like an Icelandic hot spring. Reduce heat and let it thicken a bit, 3-5 minutes. Taste and add a bit of sugar if needed. Watermelon look very sweet but they are not.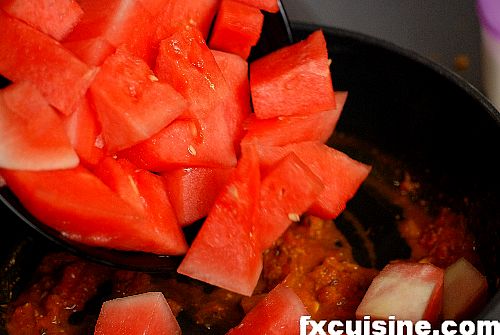 Add the watermelon cubes to the sauce.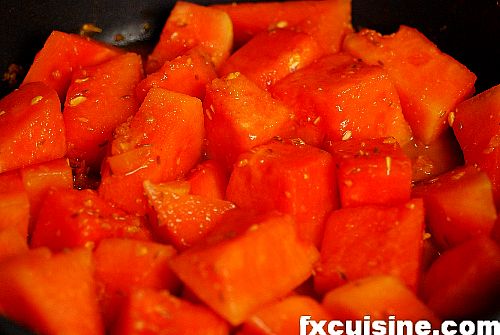 Cook for 3-4 minutes, gently tossing the watermelon cubes until each is fully coated with sauce. Season with a little
lemon juice
(
photo
).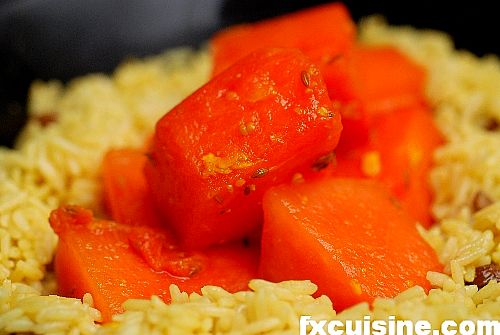 Serve as a side dish or as a light and refreshing evening meal with rice or naans.
This recipe is more than a curiosity - it's very pleasant and I shall be cooking this again. The curry is very hot with the chilies and yet bursts into a sweet shower in your mouth, a bit like a red cousin of raita.
301511 views
Related Articles

Engine Room Dosas **
Rick makes giant Indian savory pancakes on the towboat he steers through the Snake River system.
Copyright FXcuisine 2023 - all rights reserved.
If you do this recipe at home please let me know how it worked for you by submitting a comment or send me a picture if you can. Thanks!