Linguine con le vongole - Clams Pasta
(page 2 of 2)
Home
>>
Recipes
These gorgeous Neapolitan noodles in a clams-tomato sauce make a serious gourmet meal in less than 30 minutes.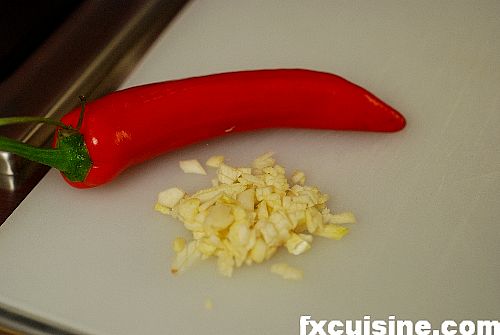 Finely chop a garlic clove and a red hot chili pepper.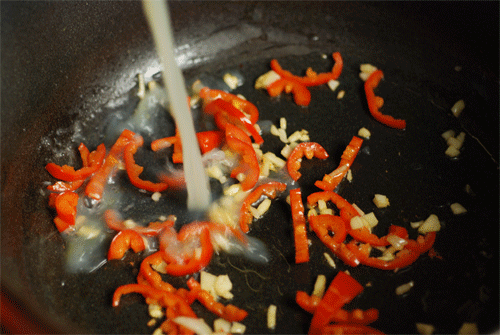 In a saucepan fry garlic and chili in a little olive oil until soft. Pour in the filtered clam cooking juice and reduce by half. This is a concentrate of maritime flavor, sea water stored inside clam shells. A very intense iodine sea smell, not for the faint of heart!
Add the tomatoes, mix and reduce heat to low. Simmer for 3-5 minutes.
I am not the keenest tomato lover so I mash mine to a pulp. If you do love tomatoes leave larger chunks so your guests will know you used real, fresh tomatoes. Your choice.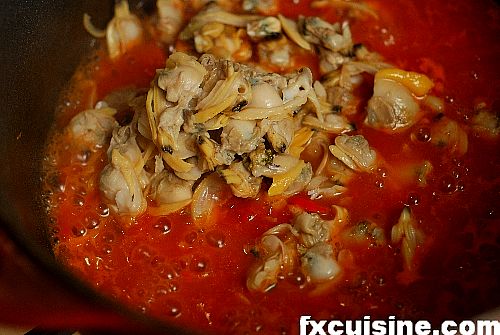 Add the shellless clams to the sauce and leave over the lowest heat while you cook the pasta.
Cook the pasta in boiling water for 1-2 minutes or more according to the kind of linguine you are using. It is best to under cook it slightly as it will continue cooking for at least a minute when mixed with the sauce.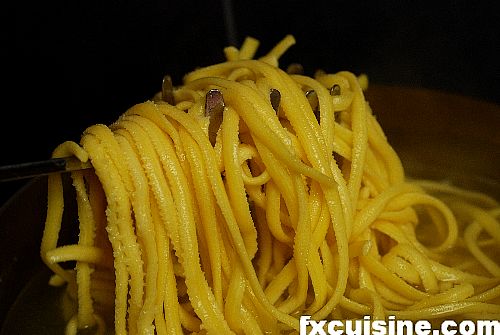 Summon the guests to the table. Taste the sauce and add a little black pepper or chili powder if needed. You probably won't need any additional salt. If the sauce is too dry, add a few tablespoons of the pasta cooking water - that will help thicken the sauce. Mix pasta and sauce carefully, trying to cover each linguine with a little sauce.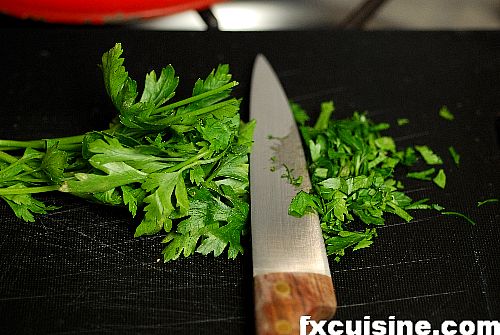 Finely chop half a bunch fresh parsley.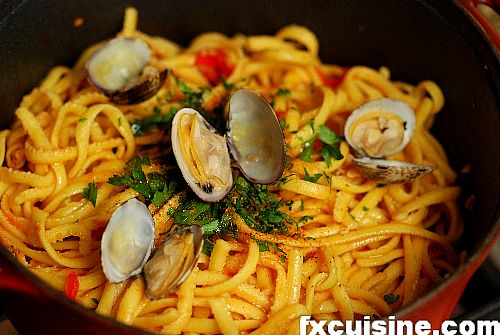 Present in a large serving dish or directly in the plates. Sprinkle a little chopped parsley on top and, very important, a drop of your very best olive oil. This makes a tremendous difference to the balance of flavor and won't add much fat to this rather lean dish. If you have serious olive oil, now is the time to use it. It won't be overpowered by the clams and will bring a most delicate additional layer of taste to the dish.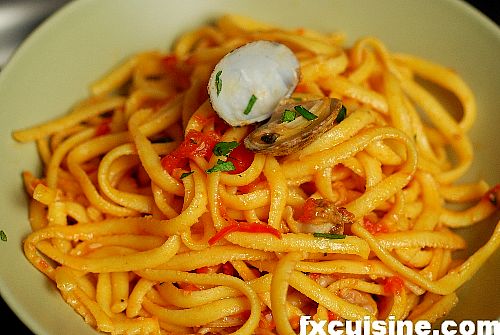 This may seem like a complicated dish to the beginner cook but it's all very simple. I've cooked it two Friday evenings in a row, starting at 8PM, and I'm a professional with a rather long work week. The ingredients are not expensive, and clams can be found almost everywhere nowadays. Anybody can do this dish!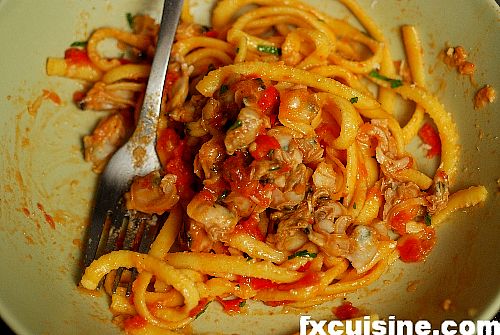 Italians will sooner eat the clam shells than adding grated Parmesan cheese to clams or fish pasta. This is one of their strongest culinary taboos so if you do want to verify how good this tastes with Parmesan, be discreet!
267862 views
Related Articles

Priest-stranglers in Neapolitan Meat Sauce **
These gnocchis served in the cult Napolitan rag¨ sauce would be a world-famous dish if they didn't take 7 hours to cook.

Pasta for the Sopranos **
How I convinced Switzerland's top custom installer to come and fix my home cinema the next day with a promise of homemade maccheroni with real Neapolitan rag¨.

Mangiamaccheroni - Neapolitan Macaroni Eaters **
Mangiamaccheroni - Neapolitan macaroni-eating lads were once the symbol of Napoli's joie de vivre. Here are 20 examples of these icons from my personal collection.

My New Italian Chitarra Pasta Cutter *
Homemade pasta with the legendary Italian chitarra, a harp-shaped pasta cutting tool.

Pasta con l'anatra - pasta in duck sauce *
Using a whole duck to make pasta sauce is uncommon outside Italy.
Copyright FXcuisine 2018 - all rights reserved.
If you do this recipe at home please let me know how it worked for you by submitting a comment or send me a picture if you can. Thanks!