Pollo a la Diabla
(página 2 de 2)
Home
>>
Recetas
Este pollo asado abierto tradicional de la Toscana lleva una pasta de hierbas frescas y un barniz de limón y aceite para lograr el pollo más delicioso.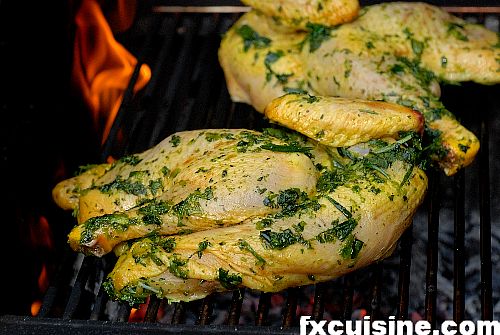 Prepara un fuego con leña o carbón de calidad.  Aquí utilicé madera de manzano con 5 años de secado.  Espera a que la leña se haya convertido en brasas y una pequeña capa de ceniza blanca las cubra.  Pero no esperes demasiado, necesitas calor de verdad o el pollo tomará demasiado tiempo en cocinarse y se secará.  Pon el pollo en la parrilla con la piel hacia arriba.
En un recipiente pequeño, mezcla el jugo de un limón con una cantidad igual de aceite de oliva. Sazona con sal y pimienta y prepara una brocha que resista el fuego.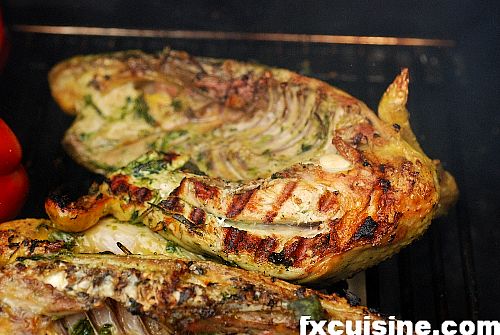 Después de unos 10 mimutos o cuando se haya marcado bien, baña el pollo con la mezcña de aceite y limón y dale vuelta.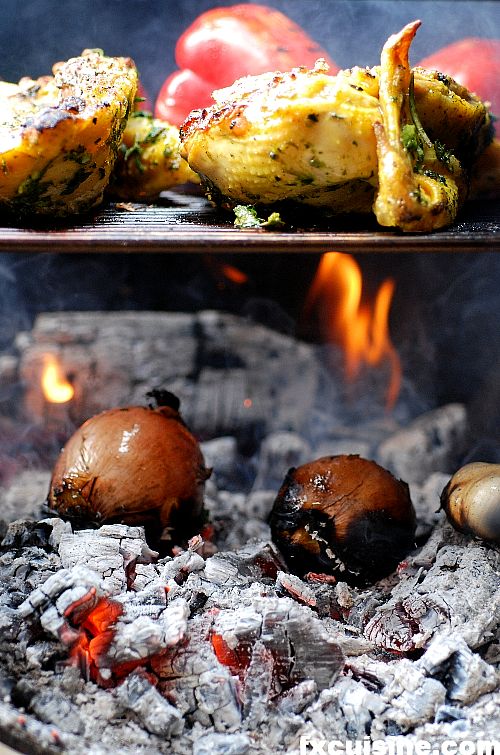 Déjalos asando hasta que estén listos - como  30 minutos en total.   Te recomiendo conseguir un termómetro para checar que estén listos.  Barnízalos frecuentemente.  Yo asé unas cebollas directamente sobre las brasas como ves arriba.  Más de eso en un artículo posterior.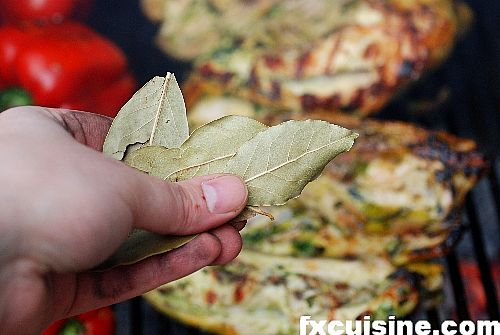 Cuando los pollos estén casi listos, echa unas hojas de laurel o de romero sobre las brasas y deja que se quemen.  Esto generará un humo con una gran fragancia que dará sabor a la carne; ¡Muy rico!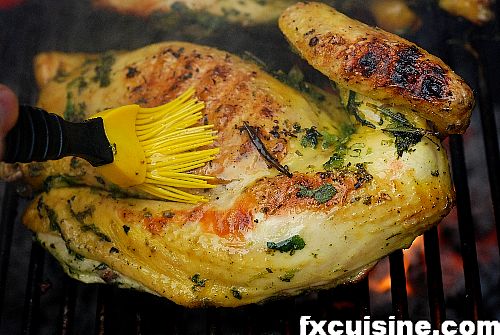 Báñalo más.  Algunas variaciones locales de esta receta piden rociarlo con vino blanco mientras sigue en la parrilla.  Lo intentaré la próxima vez ya que una baño ligeramente ácido hace maravillas con este platillo.
Deja que tu pollos descansen envueltos en aluminio, unos 10 minutos antes de servirlos.  Sirve medio pollo a cada invitado y estarán tan felices como el diablo en el infierno. 
Encontré esta receta en varios libros italianos, siendo el mejo Il Cucchiaio d'Argento: secondi piatti, una secuela no traducida de La Cuchara de Plata The Silver Spoon
. También hay una receta excelente en el libro A Cook's Tour of Italy
.
Esta receta fue incluida en Weekend Herb Blogging #11. 
395369 visitas
Copyright FXcuisine 2023 - all rights reserved.
If you do this recipe at home please let me know how it worked for you by submitting a comment or send me a picture if you can. Thanks!