Arancini, Todo un Culto en Sicilia
(página 2 de 2)
Home
>>
Recetas
Estas gloriosas croquetas fritas de arroz son todo un culto en Sicilia que se celebra en una novela italiana reciente.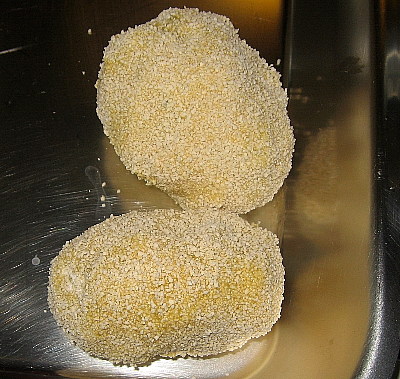 La receta toma 2 días en cocinarse.  El día anterior hice el risotto y el ragù de acuerdo con las estrictas normas del Diamante.  LUego lo dejas en refrigerador durante la noche y preparas tu superficie de trabajo al siguiente día.  Si no tienes espacio en tu cocina o vives en un solo plato, ésto no es para tí.  Requieres nada menos que 7 recipientes alrededor de tu tridora: risotto, ragù, cubos de queso, harina, huevos batidos, agua y el pan molido.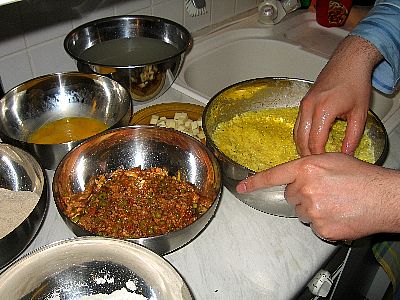 Aquí tienes la receta.  La cantidad de arroz en relación con el relleno depende de cuanto relleno logras meter en cada arancino.
ARANCINI AL RISO
Para el risotto:
1 cebolla, picada fino
20gr mantequilla
2 tazas arroz para risotto
4 tazas caldo de pollo
150gr queso Pecorino rallado
Para el Ragù:
50gr pancetta
1 cebolla
1 zanahoria
1 tallo de apio
1 diente de ajo, picado fino
200gr bola o centro de cara de res
1 taza puré de tomate
1 taza vino tinto
2 ramitas de tomillo
1 hoja de laurel
sal, pimienta
1 taza de chícharos cocidos
Para hacer los arancini:
1 taza harina
1 taza pan molido
3 huevos, batidos
200gr queso, pecorino suave u otro para derretir
El día anterior, haz el risotto friendo la cebolla picada en una sartén, luego añadiendo el arroz crudo y friéndolo dos minutos más, luego añadiendo el caldo y dejándolo descubierto hasta que esté cocido.  No añadas azafrán.  Una vez frío añade el pecorino rallado, tápalo y refrigéralo hasta el día siguiente.  Mientras se cocina el risotto, prepara el ragù.  Fríe pancetta, cebolla picada y ajo hasta que se suavicen.  Gradualmente agrega la carne de res finamente picada para que se vaya dorando sin soltar demasiado líquido de un jalón.  Cuando hayas dorado toda la carne de esta manera, añade la zanahoria picada y el tallo de apio y fríe 5 minutos más.  Agrega el vino tinto y cocínalo 2 minutos más hasta que el vapor se haya evaporado.  Agrega la pasta de tomate, la hoja de laurel, el tomillo, sal y pimienta.  Tápalo y déjalo cocer al fuego más bajo durante 1 hora o hasta que la carne esté suave.  Refrigéralo hasta el día siguiente.
El día siguiente, calienta 2 litros (2 quarts) de aceitet a 180°C en una olla o freidora y prepara 7 cuencos:
Cuenco 1: Risotto frío
Cuenco 2: Ragù
Cuenco 3: Queso en cubos
Cuenco 4: Harina
Cuenco 5: Huevos batidos
Cuenco 6: Pan molido
Cuenco 7: Agua
Para hacer un arancino, toma dos cucharas de risotto en una mano, hazle un hoyo con el dedo y rellénalo de ragù y 1 - 2 cubitos de queso.  Cierra el hoyo con el risotto para que hagas una bolita y ya no se vea el ragù.  Algunas personas hacen volcancitos como el que ves en la foto de arriba.  Rueda el arancino en el harina y sacúdelo para eliminar el exceso de harina, luego rápidamente sumérgelo en los huevos batidos y checa que esté totalmente cubierto en toda su superficie.  Si no, vuélvelo a meter en los huevos hasta que quede totalmente cubierto.  Luego sólo ruédalo en el pan molido  para hacerle una buena costra y fríelo hasta obtener un bonito dorado oscuro.
Hacer arancinis no es difícil y no requiere una habilidad especial.  Tu primer arancino tendrá mucho arroz.  EL chiste aquí es meter la mayor cantidad de relleno en la menor cantidad de risotto.  Si lo sigues intentando, cada arancino será mejor que el anterior. ¡Buena suerte!
540231 visitas
Artículos Relacionados

Authentic Sicilian Pasta With Broccoli *** Popular
This traditional Sicilian recipe brings together North African and Italian culinary traditions. A cult dish!

Serious Pasta alla Norma *** Popular
Pasta alla Norma, a divine combination of eggplants, tomatoes, basil and ricotta, is one of the most elegant traditional Sicilian recipes. A real cult classic!

Pasta ncasciata **
Uber-cult baked Sicilian pasta very rarely seen outside the island. Eating it off your computer screen is calorie-free.

Bring Out The Falsomagro **
There is more than meets the eye to this cult Sicilian Sunday roast - a stunning highlight of any family meal.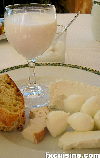 Sicilian Almond Sorbet **
The most delicate sorbet of them all, and you don't even need an ice-cream machine!
Artículos màs populares ¦ Ultimos artículos ¦ Por temas ¦ Ultimos comentarios
Copyright FXcuisine 2018 - all rights reserved.
If you do this recipe at home please let me know how it worked for you by submitting a comment or send me a picture if you can. Thanks!