Mother-in-Law Veal Blanquette
Home
>>
Recipes
Beautiful French all-white classic fit to impress the most demanding mother-in-law.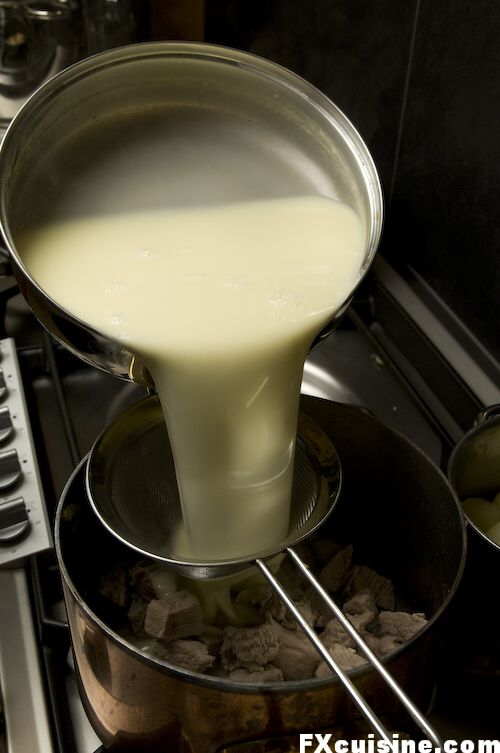 What will you cook on that ominous day when you first invite your parents-in-law for dinner? Microwave lasagna or canned spagbol will get you nowhere. Mothers in law are hard bunch to please. After all, in their eyes you take their son or daughter and your social standing is just as far as the family tree will grow. So, you need something to show that you are made of the marble out of which statues are sculpted, not toilet seat enamel. Well, here is my suggestion. An old-fashioned, elegant slow-cooked French classic that will convince even the most hardened battle axe that you are fit for their child.
Blanquette, from French blanc - white - is about turning meat into an all-white affair. Not so easy when you think about it - meat is filled with blood and various elements that will turn your sauce dark or rosy. See how it's done.
Veal Blanquette [blankette]
1 kg / 2lbs veal shoulder, cubed
2 carrots
2 onions
1 leek
1 celery stick
1 laurel leaf
1 bunch fresh parsley
1 bunch fresh thyme
200gr / 0.5lb very small onions
200gr / 0.5lb button mushrooms
For the sauce:
40gr / 1 oz flour
40gr / 1 oz butter
1dl / 0.5 cup cream
1 egg yolk
Salt and pepper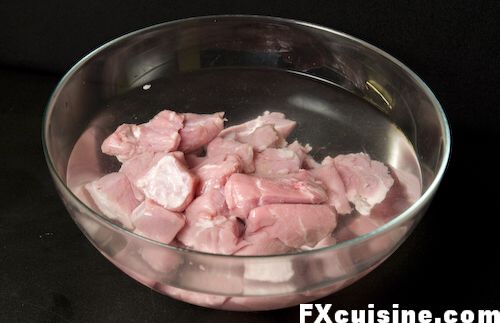 First you need to soak the veal cubes in cold water for one whole night. That's it. No marinade, no wine, no spice, no nothing. Just plain cold water, cover and place in the fridge.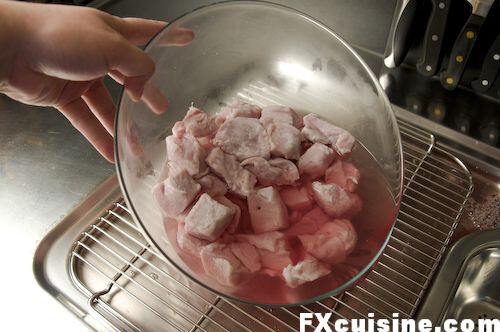 Why bother? Look at your water the next day - pink from all the blood that crept out of the meat during the night. Bloody hell, if you hadn't soaked it, this blood would have colored your sauce and bye bye blanquette, welcome United Colors of Benetton.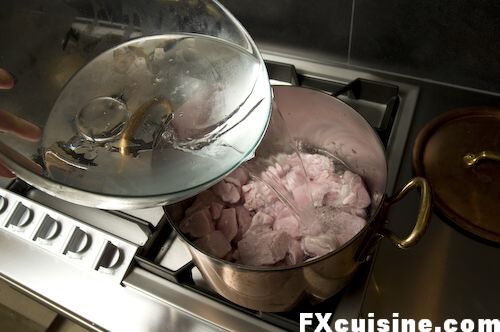 Discard the soaking water, place the meat in a stock pot, cover with fresh, cold water, and slowly bring to a boil. The process of gradual temperature increase helps rid the meat of some of its other non-white components.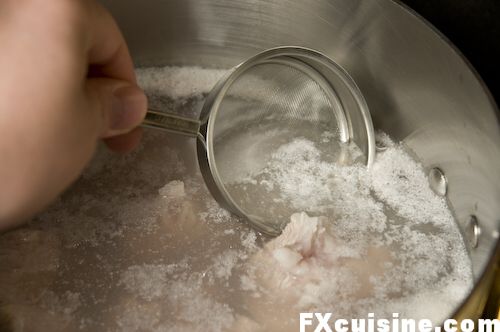 Skim the unappetising whitish foam off the top.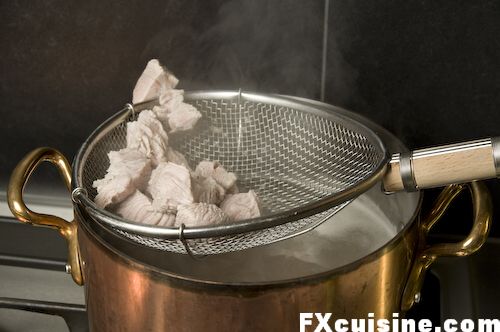 When the water boil, fish the meat out (so you won't cover it with the residue left in the water) and discard the water. Rince your pot.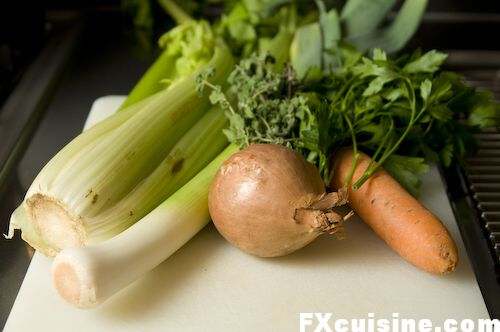 Let's prepare the aromatic garnish. These here vegetables will play an important role in the dish but your guests will never see them. But your mother-in-law might step in for an unexpected inspection of your kitchen under some pretext, so make sure they are presentable. We'll boil them with the meat, then discard them after they have given their best. Cookery is sometimes a matter of hard decision and can appear harsh on some ingredients.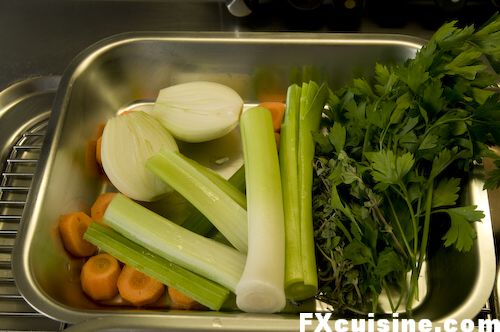 Peel, clean and cut in large chunks.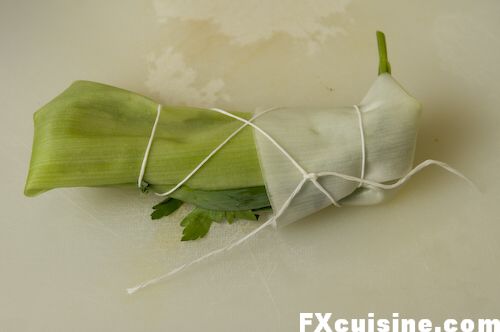 If your mother-in-law steps into the kitchen, make sure she sees how you wrapped the parsley inside the green outer leek skin. That ought to do the trick.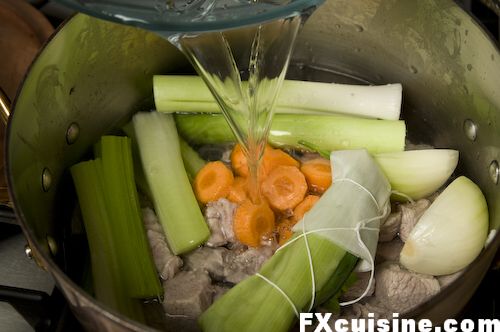 Place the meat and vegetables in a saucepan, and pour as little water as needed for everything to bathe in water. Bring to a boil, cover and decrease temperature to the lowest setting. Simmer for about 45 minutes.
That's all there is to it - you can go shoot some pool while the meal prepares itself. You wish! Stay in the kitchen to prepare the garnish and sauce - hard work ahead.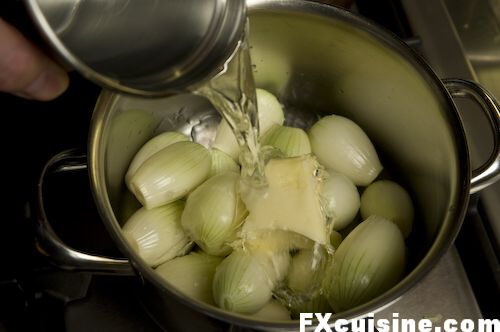 Peel the tiniest onions you can find (mine were too big). Place them in a saucepan with a piece of butter and pour enough water to cover the bottom half of the onions.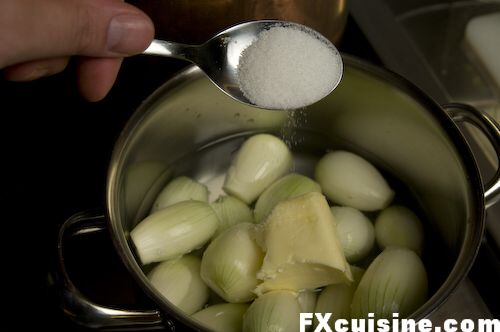 Add a teaspoon of sugar...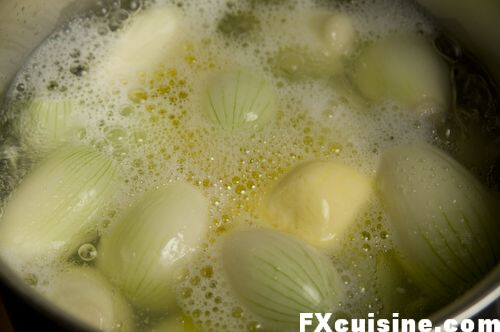 ... and simer for about 20 minute or until the onions are soft.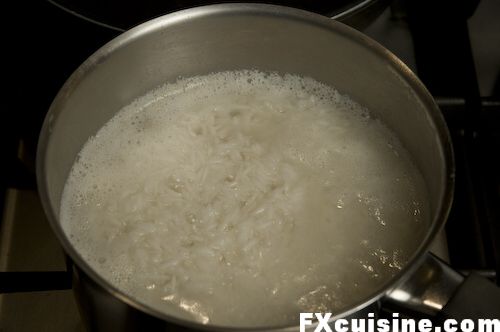 Start your rice - the side dish.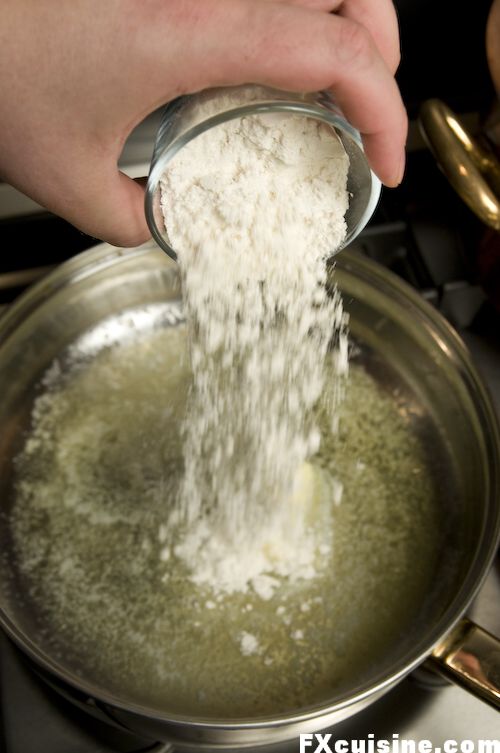 We'll now prepare the sauce, a distant member of the velouté family, those sauces made of stock thickened with a roux. Forget the French kitchen mumbo-jumbo and melt the butter in a large saucepan, then add an equal weight of flour.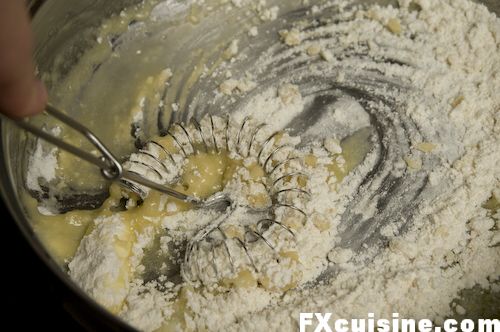 Whisk together ...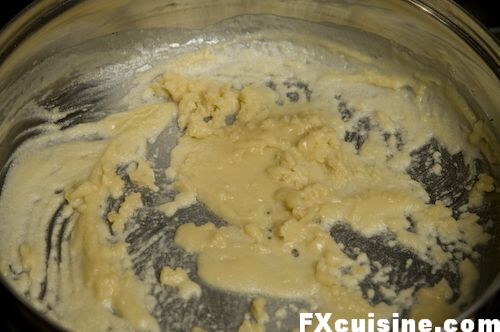 ... until all flour is absorbed.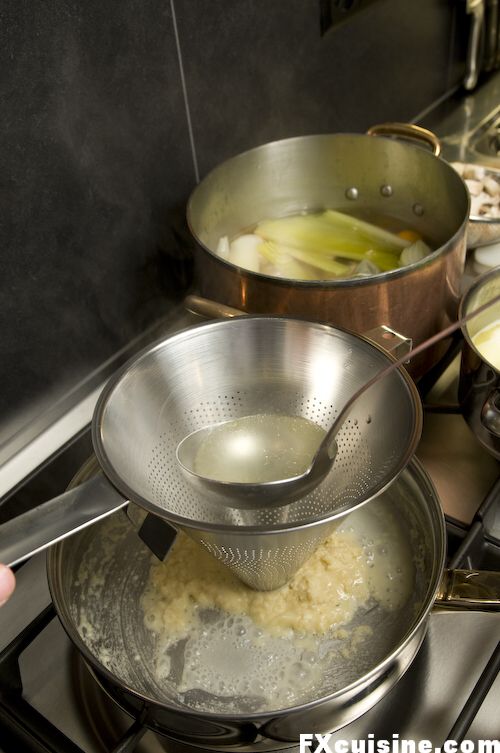 With a ladle, remove some of the cooking liquid from the meat pot. You can filter it if your mother-in-law is still in the kitchen, otherwise just make sure not to include any meat or vegetable chunks.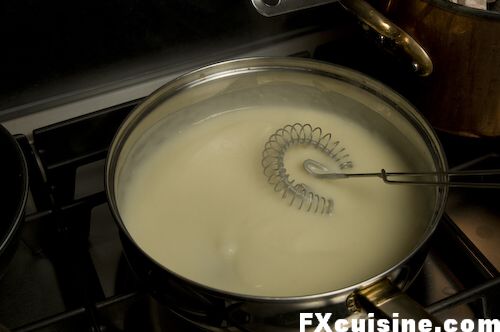 Whisk vigorously until stock and roux (the butter fried with the flour) are thoroughly combined and there are no lumps left. Simmer for at least 15 minutes lest you want a floury sauce. The longer it simmers, the smoother it gets.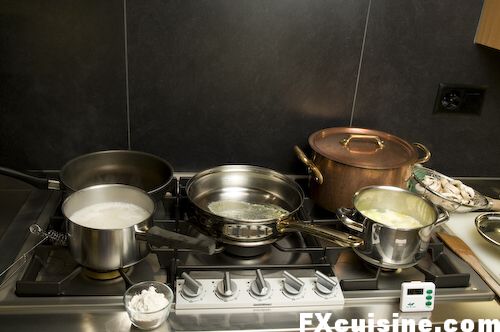 I count 5 pots on my stove - for a one-pot-meal, this is not 'truth in advertisement'.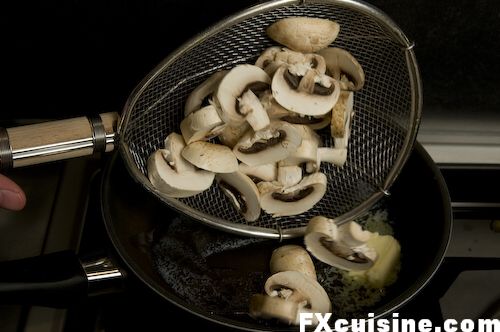 Clean (no water!) and slice the buttons mushrooms. Do not use canned mushrooms, even when your mother in law is not looking.
Discreetly take out a non-stick pan, a cookware rarely seen in FXcuisine, and bring to the highest heat. Quickly sear the mushrooms on both sides. You do not want to overcook mushrooms, they'd turn on you and show their true essence, a sponge filled with water. You want mushrooms with a shape. The whole process might take 2 or 3 minutes, tops, or it'll the pits.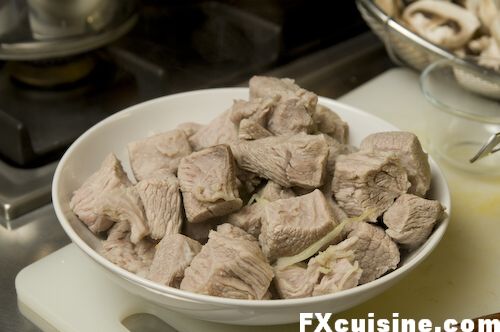 Fish out the meat with a sieve.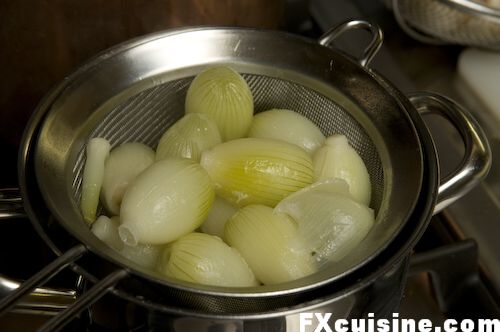 Drain the onions.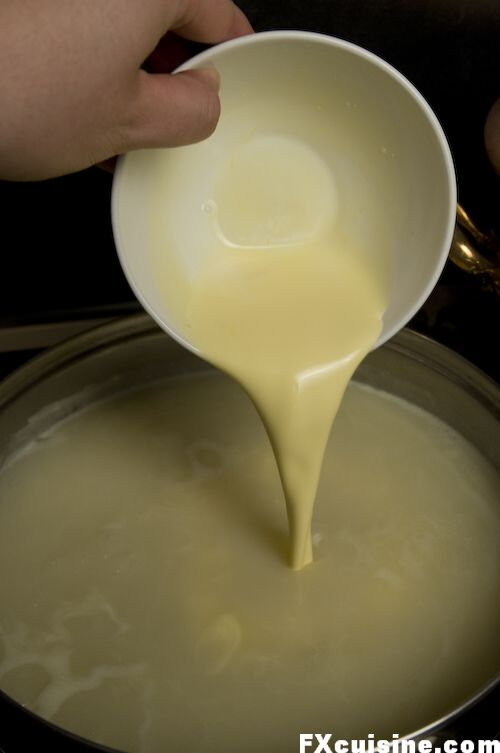 Now for a hard decision. The traditional way of thickening a blanquette sauce is to mix in an egg yolk diluted with some fresh cream. That's what I'm doing on the picture, and as soon as I did I regretted it. The egg yolk contaminates the whiteness of the sauce, and from now on the sauce will break if you heat it warmer than 70°C. The egg yolk will just coagulate. That's one heavy sword hanging over your head. You might want to give up the egg yolk idea and either use less stock or go for a more liquid sauce.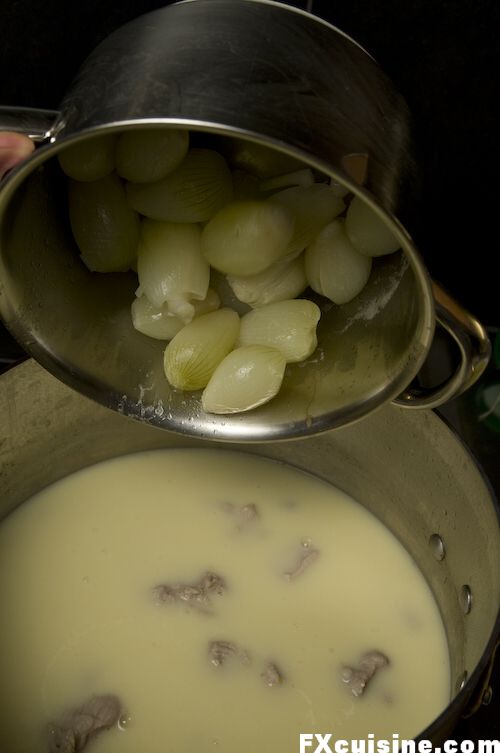 Call your guests to the table as you place the meat cubes in the sauce, and then cover them with the onions.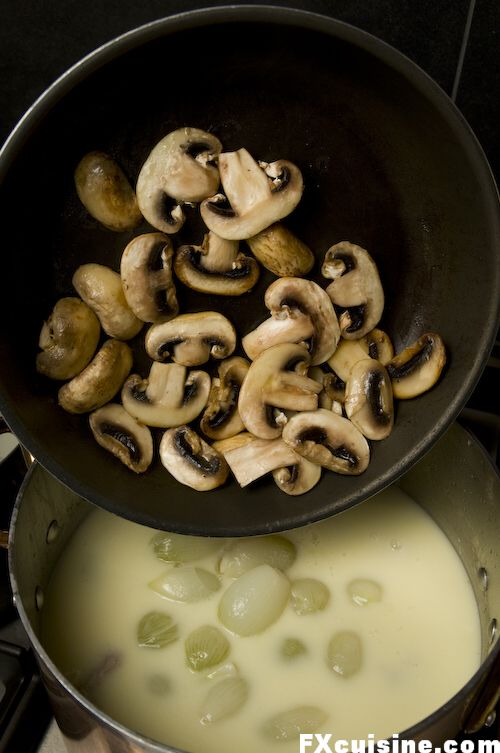 Finally, a hail of mushrooms ...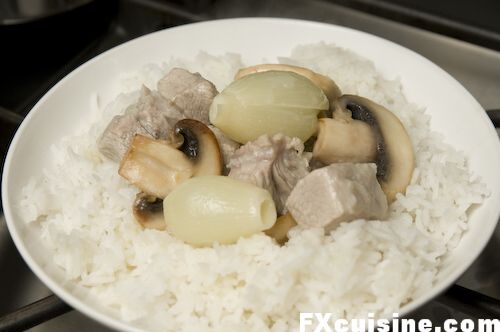 ... and you can serve. Lovely dish, and any excessive richness in the sauce will be generously balanced against the calorie overdraft all your kitchen activity will have dug in the Calorie Bank.
69169 views
Copyright FXcuisine 2023 - all rights reserved.
If you do this recipe at home please let me know how it worked for you by submitting a comment or send me a picture if you can. Thanks!