The Five Hundred Dollar Pot
Home
>>
Tools & Ingredients
I was given a private tour of the Kuhn Rikon factory near Zurich, who makes some of the best cookware in the world.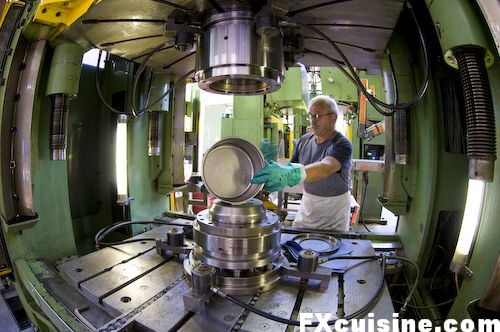 Kuhn Rikon [koon reekon] makes cookware that has become a byword for durability. Their Duromatic pressure cookers enjoy a cult status among home chefs. At the factory, people turn up with pressure cookers they've been using on a daily basis for 20 years or more and ask for a replacement rubber seal. Most Kuhn Rikon pots come with a 10 year warranty, but the factory keeps spare parts for 15 years. Most pots sell for about $150 - a hefty price, but over 20 years that's only $7.50 a year. How many Ikea pots will last you 20 years? Bye bye, WMF, Fagor, Presto. Here cometh the Swiss Pressure Cooker.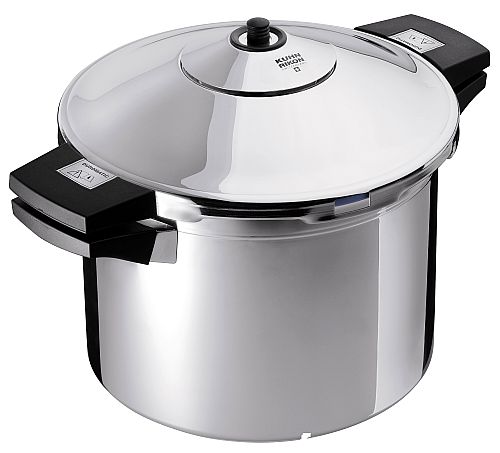 The New York Times called this "The Mercedes-Benz of pressure cookers" and it's the favorite pressure cooker of Madhur Jaffrey, the English goddess of Indian cooking I had to investigate. Follow me into the factory and see how these legendary pots are made. Don't miss my 360° Quicktime Panorama (4500Kb)!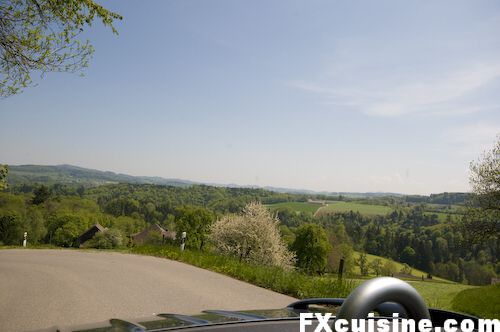 The Kuhn Rikon factory is located in a beautiful valley half an hour northeast of Zurich. As the GPS led me through tiny backroads, I could not believe the stupefying beauty of the landscape. Postcard-like farms, cows, meadows all over a rolling countryside bathed with sun. The locals certainly drew a lucky number at the cosmic lottery.
A casual glance at my pictures might lead you to believe that the factory has been secretly moved to China, for many of the employees at Kuhn Rikon are not Swiss but Tibetan. How come? Jacques and Henri Kuhn, the brothers who owned Kuhn Rikon in the late 1950s once attended a conference by Mrs Sprüngli, a chocolate industrialist much taken with Tibet. When they heard about the sorry business of the Chinese invading Tibet, ransacking the temples, imprisoning the monks and driving out the population, they decided to help the Tibetans however they could. Not by placing 'Free Tibet' stickers on the car or writing letters. Jacques Kuhn called the Red Cross, a Swiss organization that helps political refugees, and said they had plenty of free space in their employee lodgings. 'They also need a job', said the Red Cross. 'No problem, we'll hire them at the factory', answered the brothers. These Tibetan families have worked at the factory ever since. It has proved mutually beneficial, as industrial jobs in rural areas are not always easy to staff in Switzerland.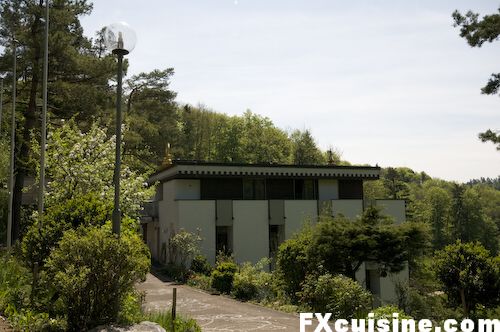 The Tibetans were a bit lost in Switzerland at first, arriving into a modern consumption society much different from the one they left at home. Seeing that his loyal Tibetan employees needed some spiritual support to face this whole new life, Jacques Kuhn called the Dalai Lama and asked if he could come and speak to his people. He did, and as a result a beautiful Tibetan temple was built in the woods above the factory. The Dalai Lama still visits regularly. All this happened decades before it was fashionable to feel for the Tibetan people. Nowadays, when you cross the village of Rikon, you see Swiss people of Tibetan descent all over the place. I even had lunch at a restaurant called 'Tibet Pizza'. If you cook with a Kuhn Rikon pot, it will have been made at some point or another by one of the descendants of these Tibetan refugees. They are all Swiss now, so if below you read 'Tibetan', it is really 'Swiss of Tibetan descent' of course. I think the factory can be proud of this and one can only wish that all refugees were like those Tibetans - hard working, modest and happy to live in this haven of peace and prosperity at the foot of the Swiss Alps.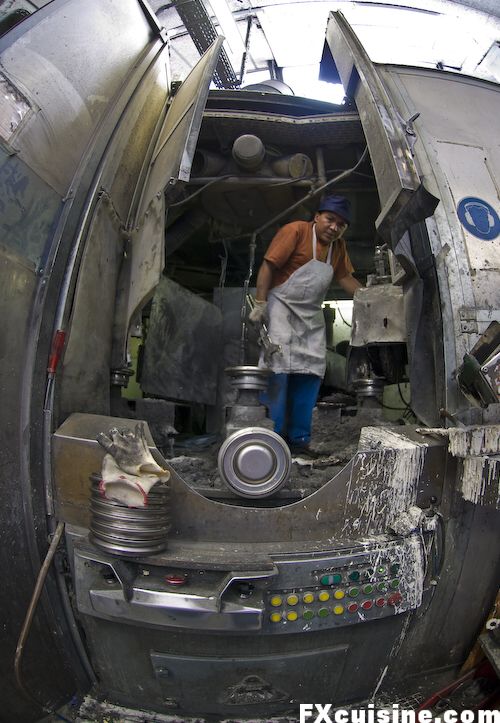 Meet Mr Thibten Dhakyel, who just finished his adjustment in the world of dust inside the so called 'round table' machine. In the past, most pots were polished using this circular arrangement to keep the dust inside.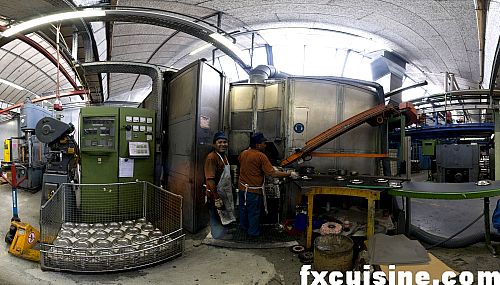 Mr Dhakyel feeds the machine with the lids arriving on the upper orange conveyor belt, and takes them out on the lower, green belt after processing. (2000-pixels-wide panorama, JPEG, 629Kb)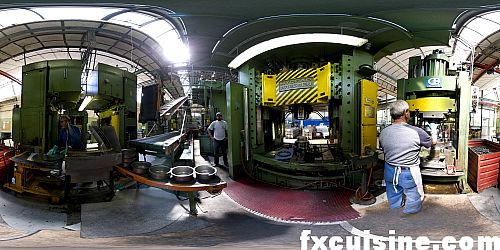 To produce mass market items in Switzerland, even of such high quality, mechanization is needed. Here is Kuhn Rikon's modern production line for the Duromatic pressure cookers. Above is a preview of a 360° Panorama (4500Kb, Quicktime) of Francesco Landi's workspace. He and his colleague Mr Dangman transform steel dics into pressure cookers using huge 10-ton press.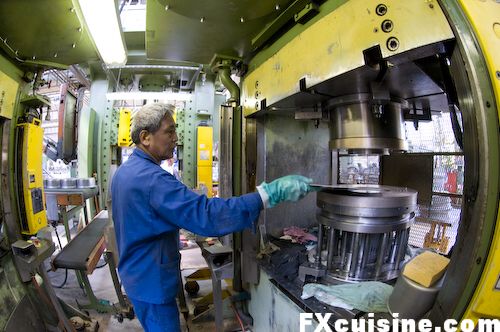 A chromium nickel steel disc is placed by Mr Thubten Dangma in the giant press ...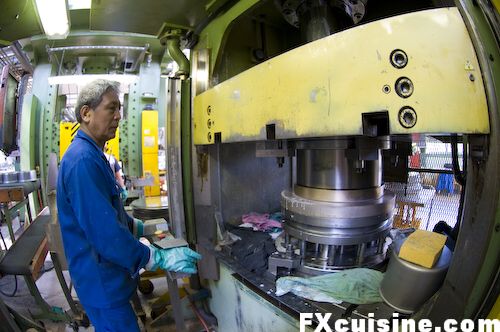 ... then the press pushes down a giant piston with every last gram of its 10-ton might.
Up it goes, revealing the body of a pressure cooker, dripping from the soap liquid inside the mold. How you can turn a disc into a pan by merely pushing it into shape, I can't get my mind around. There are no tears, no cracks, no thinning around the edges. It's nothing short of miraculous.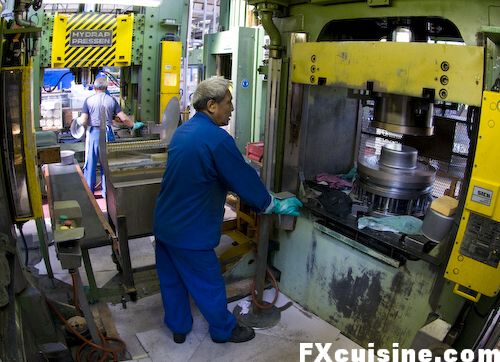 We now leave this Tibetan gentleman to visit the other side of the press ...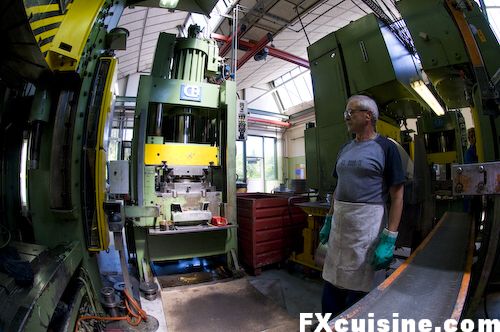 ... where Mr Francesco Landi, a modern-day Hephaestus, operates another press that will carve out the pressure cooker's edges so that you can lock the lid.
...