Mont d'Or Vacherin Fondue with Black Truffles
Home
>>
Recipes
How can you get wrong with such good ingredients? Such a simple recipe? Well, I still don't understand, but wrong it went.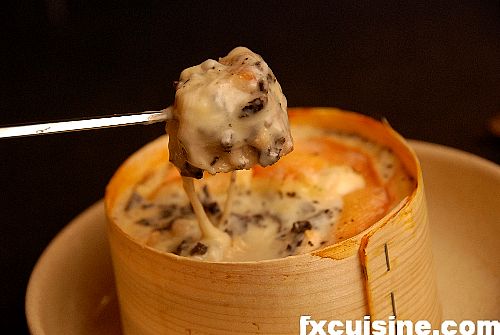 'You can't make a bad soup with good ingredients', I used to say. Not anymore. FXcuisine makes it a rule not to report on the many failed culinary experiments and disastrous recipes we try, but here I owe it to the readers to tell it straight. Not only did I ruin half a good truffle and a great cheese, I still don't understand what happened. But if you've never tried Vacherin Mont d'Or 'fondue' and you read what's below, you will still learn how to make one of the easiest dishes in Swiss cuisine. One that works.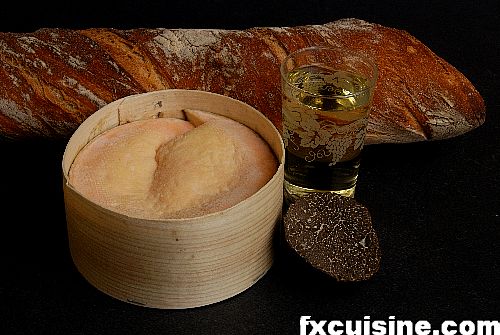 Vacherin Mont d'Or fondue
1 400gr unpasteurized Mont d'Or Vacherin
1 dl dry white wine
Crusty bread
25 gr black truffle (not recommended) or
1 garlic clove
The Hélène Darroze recipe I tried this time used black truffle, but it doesn't work, so I recommend you make it with a plain garlic clove instead. This is the traditional recipe.
Vacherin Mont d'Or is a seasonal cheese made in small fromageries across the Swiss-French border in the Jura. Its sides and bottom are wrapped in wet pine shavings. The bacterias in the cheese transform it in a smooth, almost liquid, sweet paste. It can't be pasteurized and regularly some old folks die after eating it because of an especially unfriendly bacteria, the listeria. I believe most are now thermisé, a compromise that rids the cheese of some harmful bacterias while keeping other that contribute to its extraordinary taste.
If you are in Switzerland on holiday, that's a great cheese to bring home and turn into an easy gourmet fondue. Just don't use the truffles.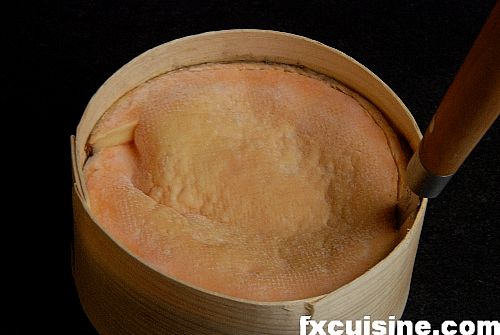 Carefully cut the cheese crust with a knife, like you would open a tin can.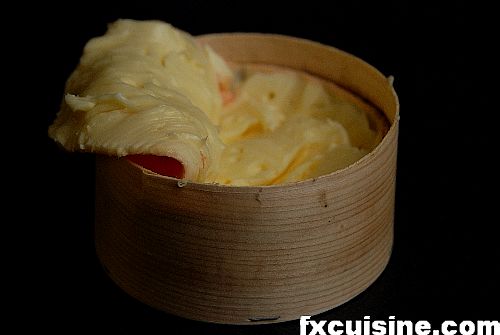 Slide the knife below the crust and open carefully.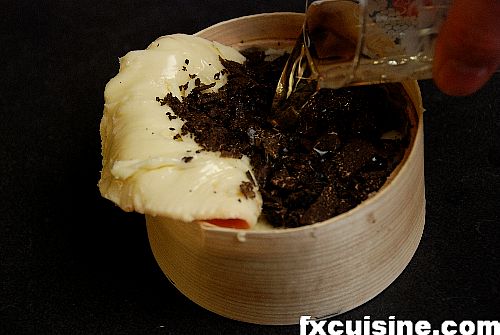 Here I diced about 30 gr of the finest black truffle inside and poured a glass of white wine. You don't want a black truffle to go that way. Just put a thinly sliced garlic clove instead.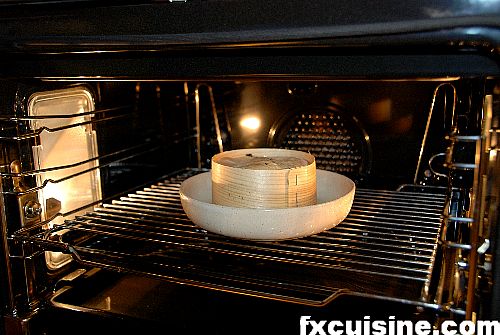 Put the cheese crust back on top, place the cheese still in its wooden box on a dish and bake for about 15 minutes in an oven preheated to 180°C.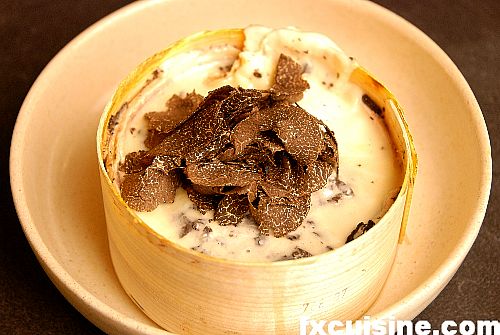 Remove the crust and serve as a fondue with little cubes of crusty bread, if possible from the day before for more increased crispiness. This is a great almost fail proof fondue that doesn't require any special pot or elongated forks.
I reckon it was not so bad with the truffle after all, but I still feel I ruined a good truffle. When you cook for people who won't be able to taste the food, it's pretty tempting to call a bad dish a success. Who will know the difference? I'm convinced this must happen a lot with TV chefs. But not me. I have loads of pictures of failed recipes which you'll never hear about, because I try to present on FXcuisine.com only things that work. So you'll excuse me for this exception, but without the truffle, the dish is bound to work fine.
108502 views
Copyright FXcuisine 2023 - all rights reserved.
If you do this recipe at home please let me know how it worked for you by submitting a comment or send me a picture if you can. Thanks!