Behind the Scene at Alain Ducasse's
Home
>>
Experiences
Extraordinary pre-starter offered in top French chef Alain Ducasse's restaurant in Provence - delicious crispy toasted bread with eggplant caviar and anchovy sauce. A resounding success! See how Ducasse makes it and you can do it at home too.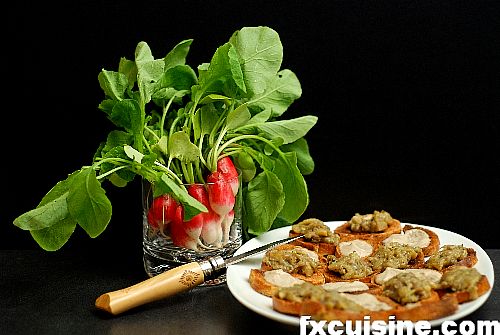 Ever since I've had this gorgeous mise en bouche at Alain Ducasse's Alpes de Haute Provence inn, I dreamt about doing it at home. Nothing space age - eggplant caviar and anchoïade over croûtons with radish and butter, but the combination is so successful it immediately plunged me into Provencal ecstasy. I've been waiting for a year to go back and reverse-engineer the extraordinary simplicity of this dish. Ducasse is the richest chef in the world in Michelin stars and he now offers updated traditional French fare in a few of his restaurants. This is Ducasse at his height.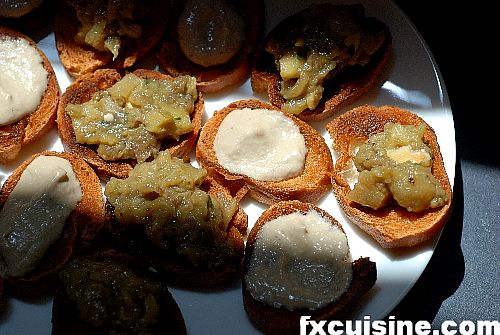 You will find countless recipes for eggplant caviar and anchoïade but this is how they make it at Ducasse - I've been in the kitchen and asked the cooks as you'll see at the end of the article. Ducasse calls this 'Croûtons Sud', a rather tacky name in my opinion.
Croûtons Provencale like Alain Ducasse
Pre-starter for 6
2 large eggplants
12 garlic cloves
A glass of the very best olive oil
10 anchovy fillets
A drop of vinegar
Half a lemon
Fresh thyme and rosemary
Sea salt and black pepper
Baguette bread, 3 days old
A bunch of radish
A nice block of butter
1. THE EGGPLANT CAVIAR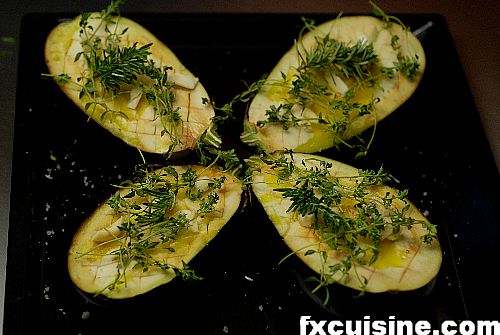 The morning before, start preparing the spreads - eggplant caviar and anchoïade. Try to have everything ready some time before the guests arrive. You can safely prepare this half a day before and just arrange the croûtons on a platter a few minutes before. It is very conforting to be greeted with such tempting and delicious food as soon as one arrives in a home - don't make them wait. Your guests will then leave you alone as you prepare the rest of the meal.
Slice the eggplants in two lengthwise and score their flesh crosswise with a sharp knife. Sprinkle some salt, crushed garlic, fresh thyme and rosemary on top and sprinkle about a tbsp olive oil on each aubergine half. Place them on a baking tray and tightly wrap with aluminium foil. Bake in the oven at 180°C until soft - about 50 minutes.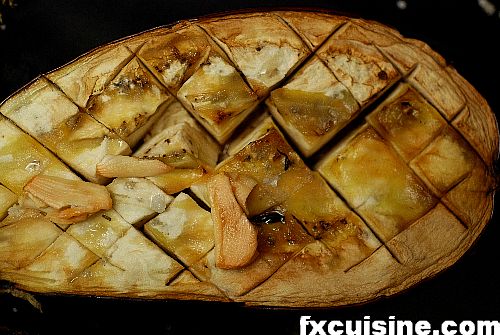 Spoon out the eggplant pulp into a mortar together with the browned crushed garlic we left on top.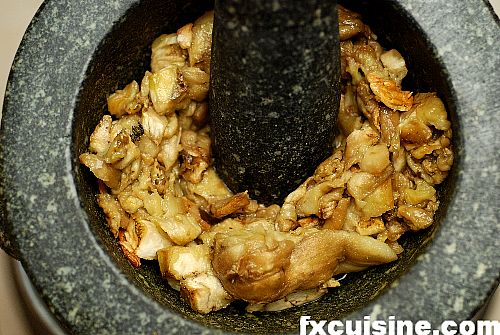 Pound to a coarse paste with the pestle and incorporate about 4 tbsp of the very best olive oil.
Taste and rectify with a little lemon and a few peppercorns crushed under a chef's knife if needed.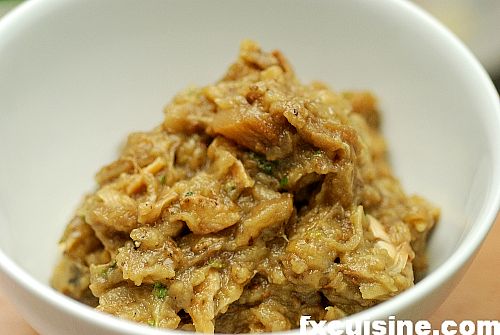 2. THE ANCHOÏADE
Anchoïade [hench-oy-ahd] is a traditional provencal anchovy-oil emulsion much like aïoli. It is most simple to prepare if you have an electric mixer. Just soak 10 anchovy fillets in water for 15 minutes to desalt (picture) and peel 3 large garlic cloves. Strain the anchovies and add to the garlic in the mixer with 2 tbsp olive oil and a tsp vinegar.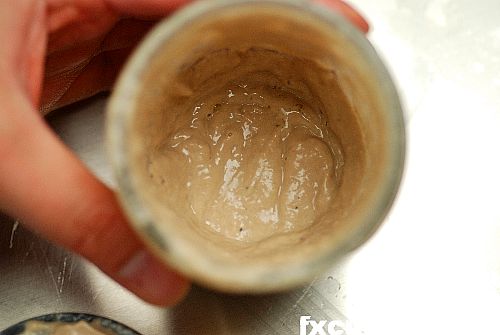 Start the mixer and gradually add about 5 more tablespoons olive oil. When the mixture is smooth and with the mixer running, carefully add a little water to lighten the mixture. The anchoïade should not be too runny.
...