Marrakech Cooking Class
(page 2 of 2)
Home
>>
Experiences
How I learned how to make
pigeon pastilla
, one of the most elegant dishes in moroccan cuisine.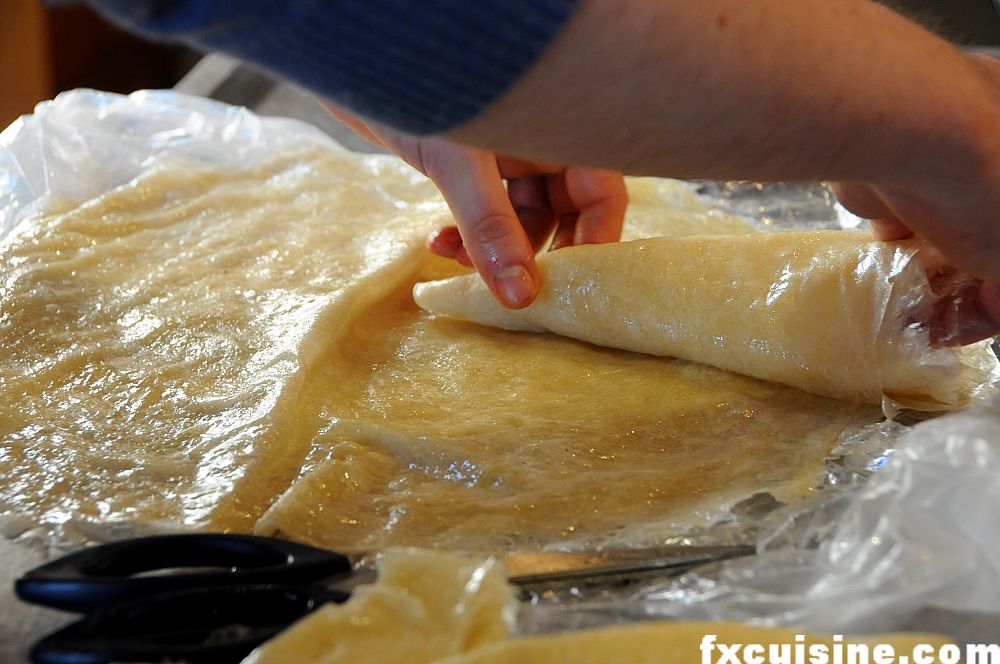 When we reached this stage I had a big disappointment. The dada pulled out a stack or bought warka sheets, sorts of ultra think oiled crepes. The reason I wanted this course was to learn how to do what I couldn't learn in a book. After all, there are tons of pastilla out there, but making your own warka is a very tricky business. So tricky in fact that they didn't know how to do it at home - they just buy it at the souk. Sure, warka-making would be worth its own course, but I was rather disappointed. Back home you could use industrial brik or filo dough bought at the ethnic store, but real warka is much thinner and more elegant. You can see a very similar process to Morrocan warka-making on this video shot in Asia.
Fold two sheets of warka in half, then in half again two times until you can grab them with one hand. Cut the excess length off if too large. The ideas is to minimize the warka-to-filling ratio.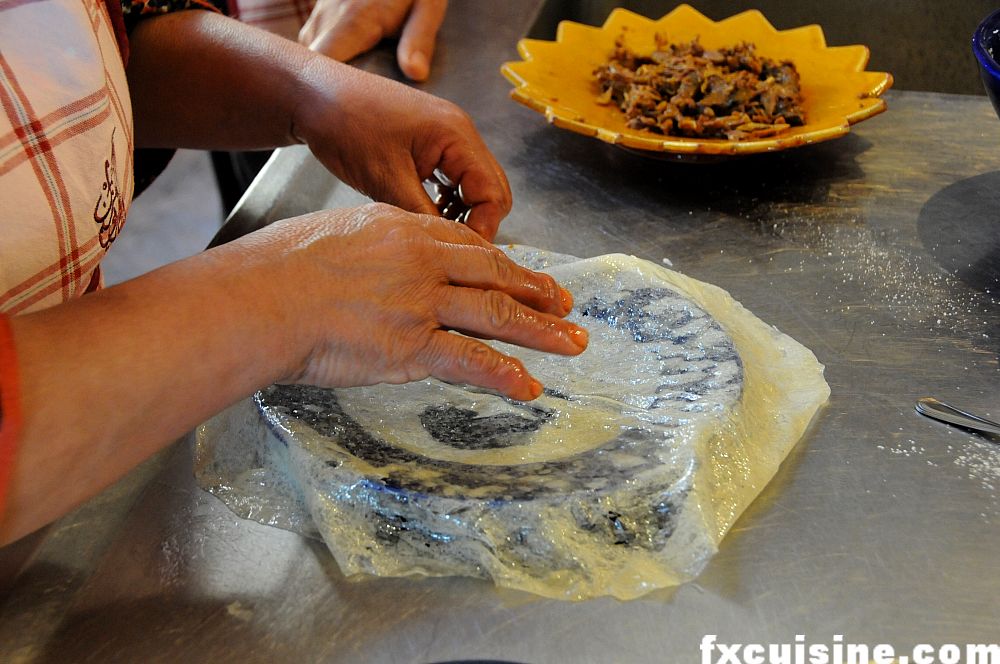 Oil a dessert plate and unfold both warka sheets on top.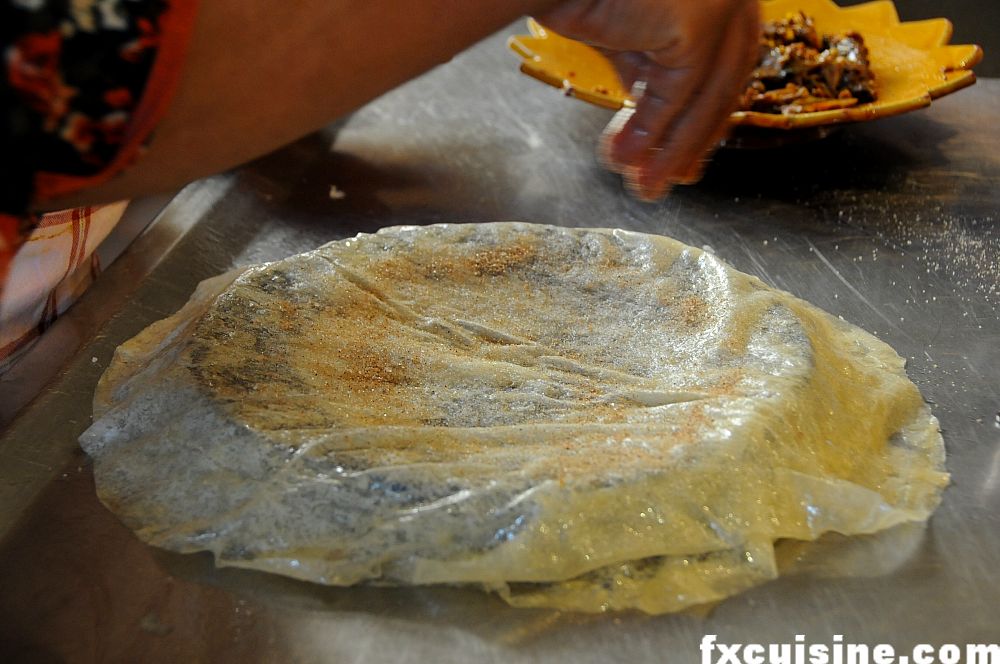 Sprinkle sugar and cinammon.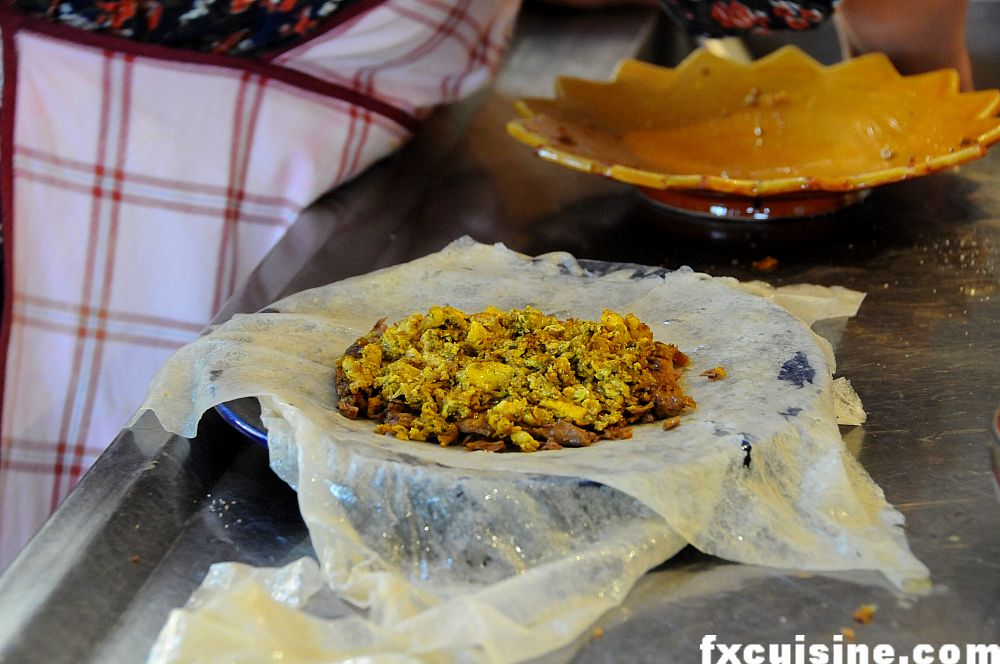 Add the pigeon flesh and cover with the scrambled eggs and sauce (other photo).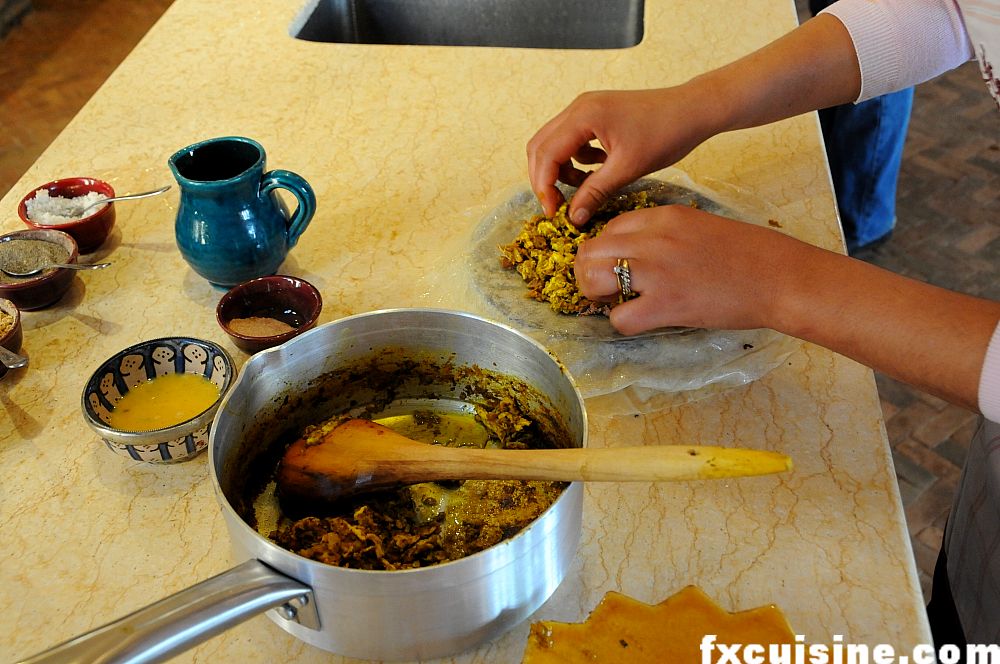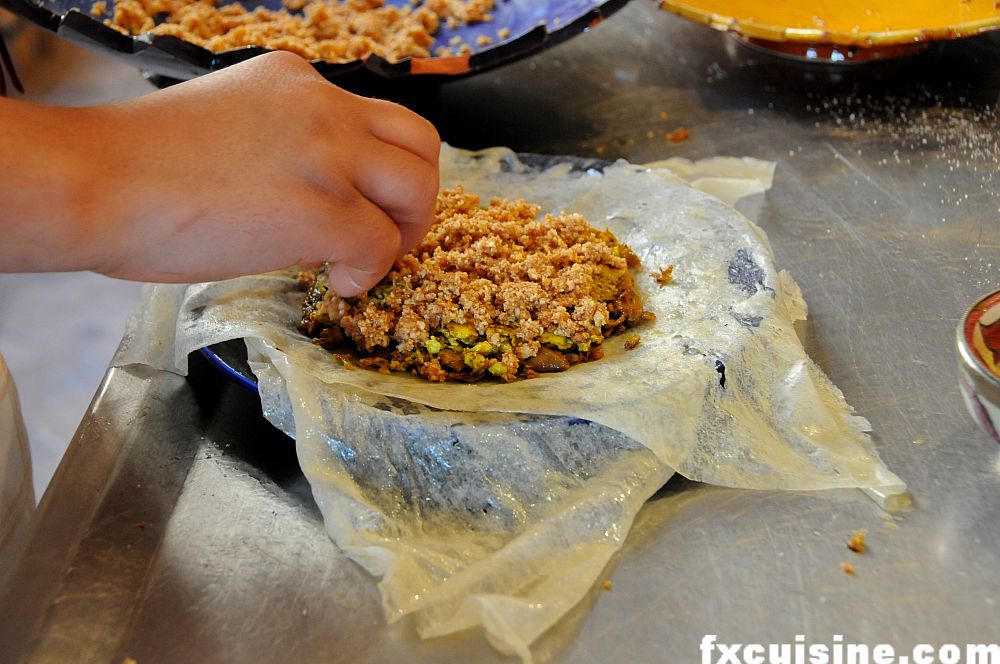 Sprinkle enough ground almond mixture on top to cover (other photo).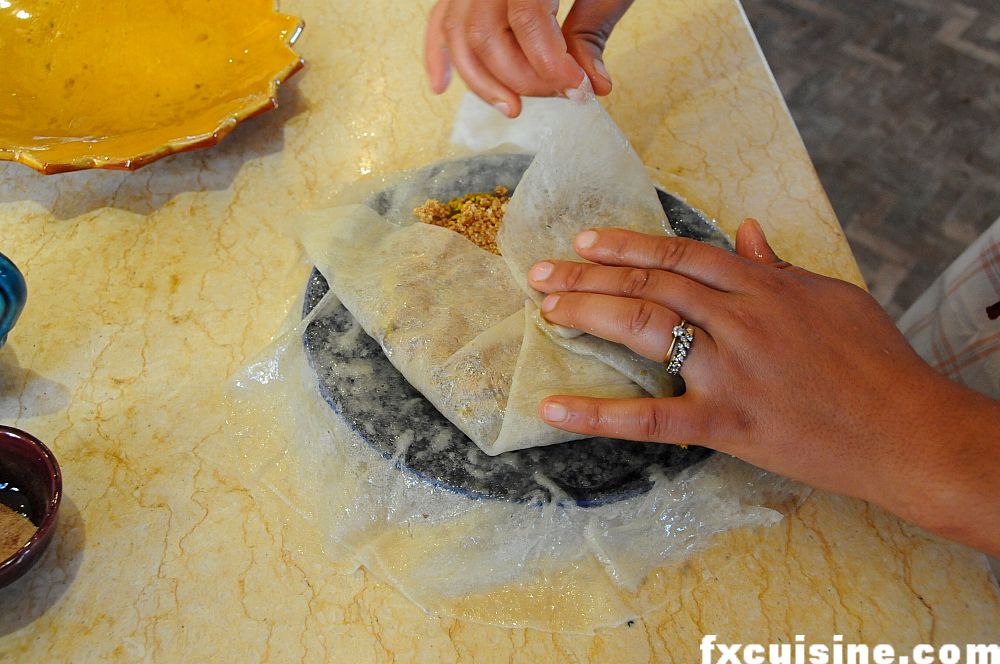 Fold the excess warka from the top warka sheet in a pentagon...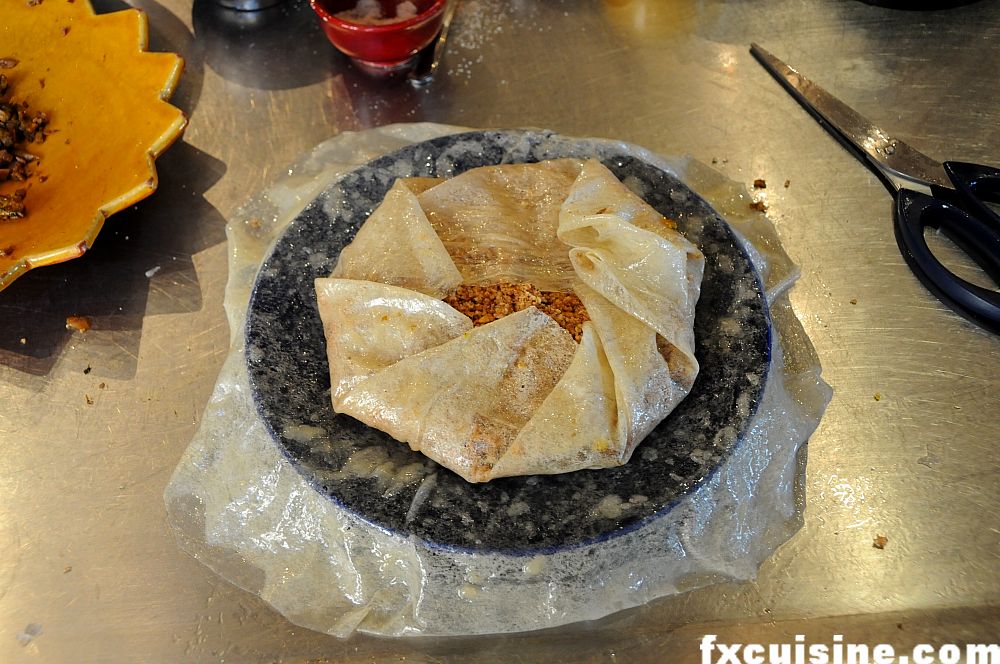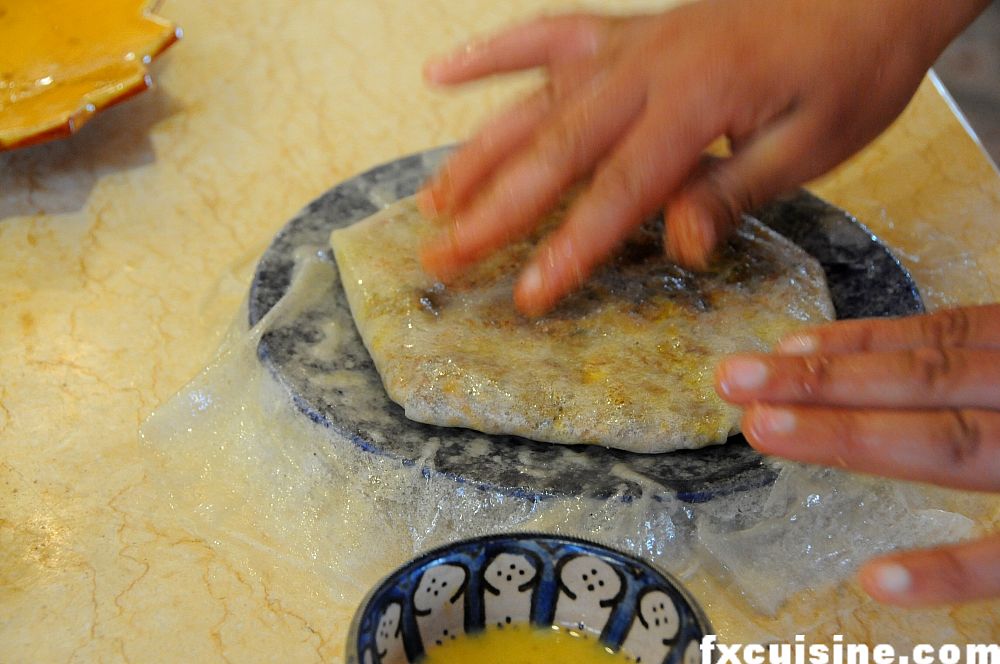 ... then turn over.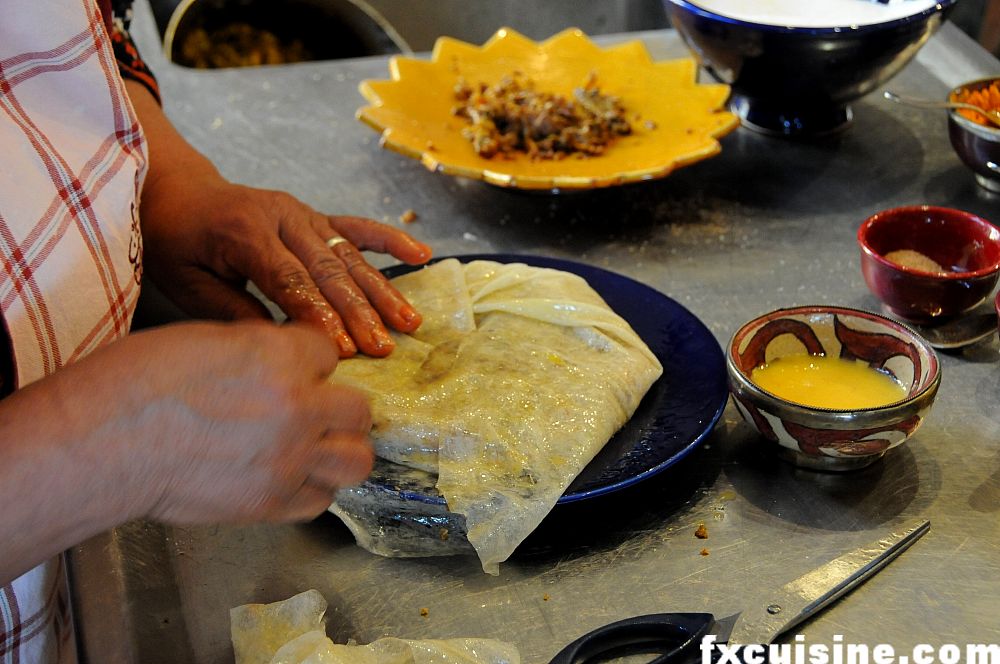 Now fold the bottom warka sheet over the pastilla in the same pentagon shape.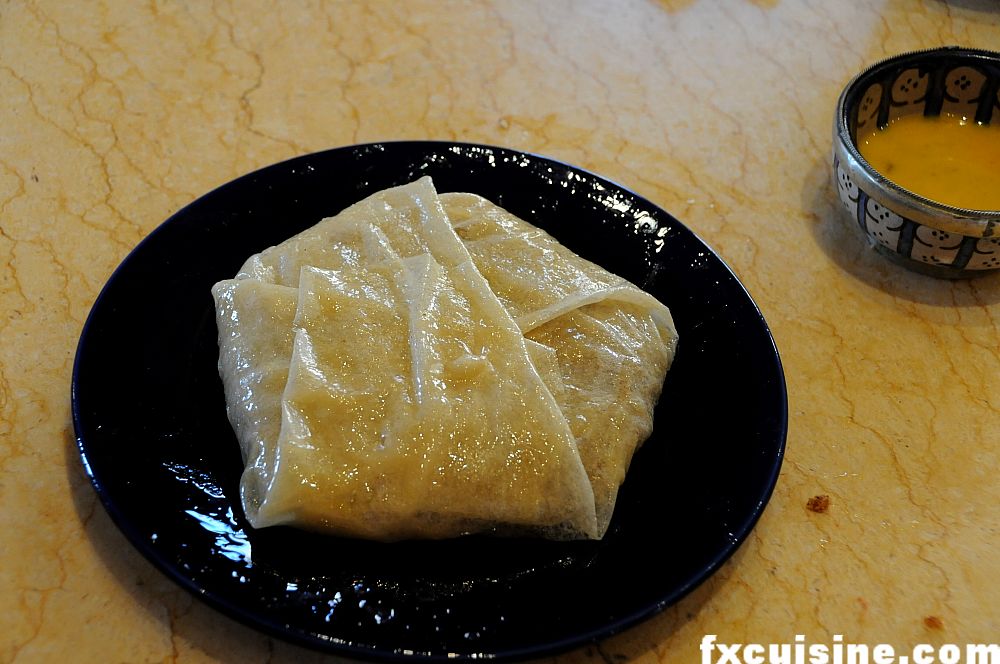 Gently press with a flat hand to close.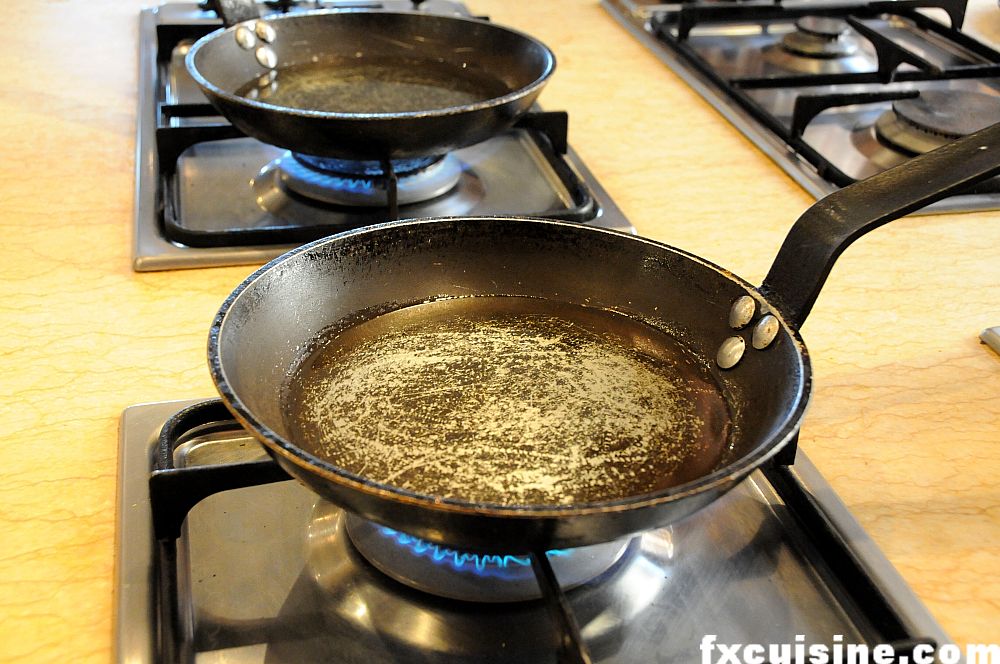 Fill a third of a frying pan with peanut oil and increase the heat to high. Test the temperature by dipping a piece of warka in the oil and see if it fries properly.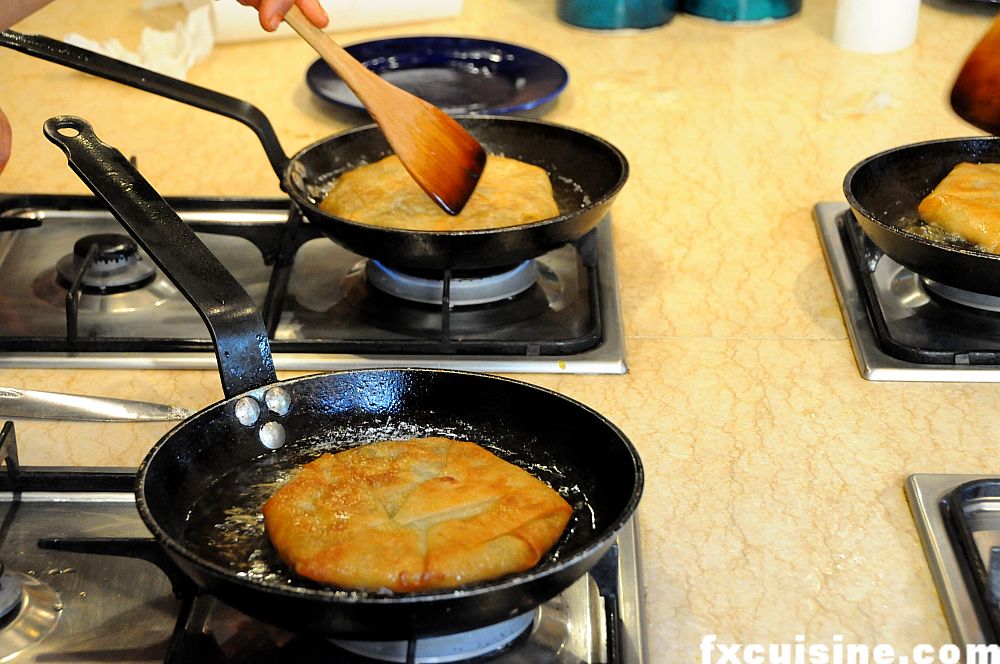 Gently let the pastilla slip into the oil and fry over high heat, stirring from time to time.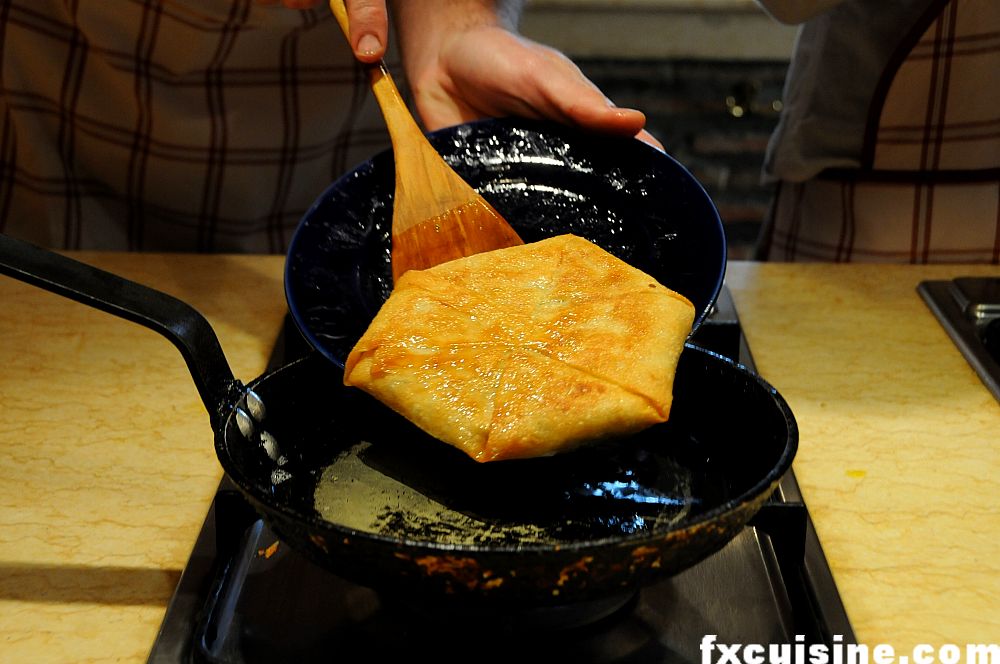 When the bottom has turned golden, use a wooden paddle and plate to delicately flip the pastilla.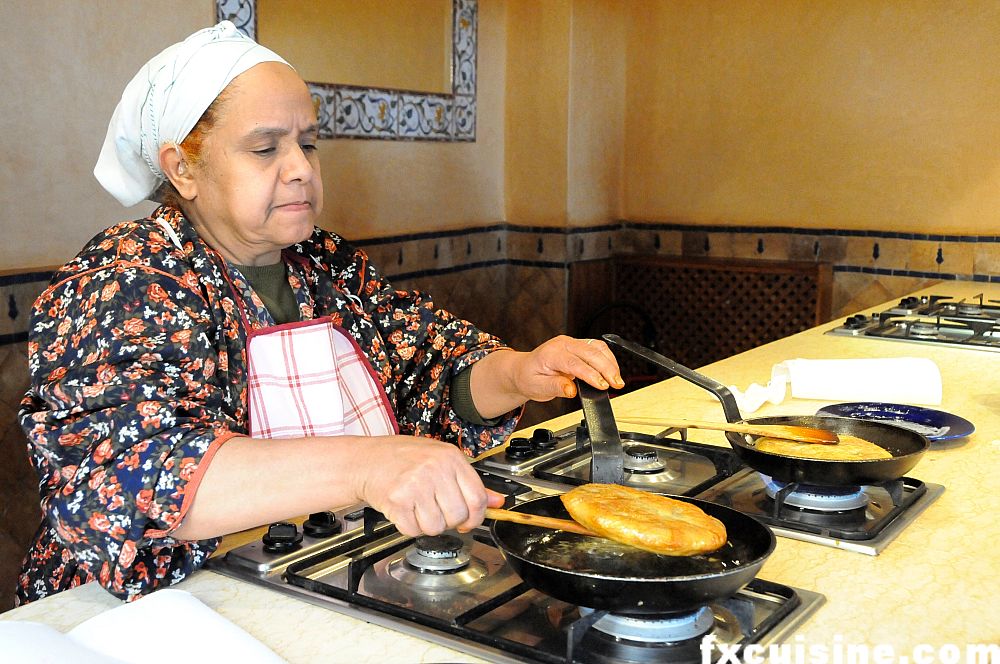 The dada took care of my own pastilla while I was busy taking pictures for you guys.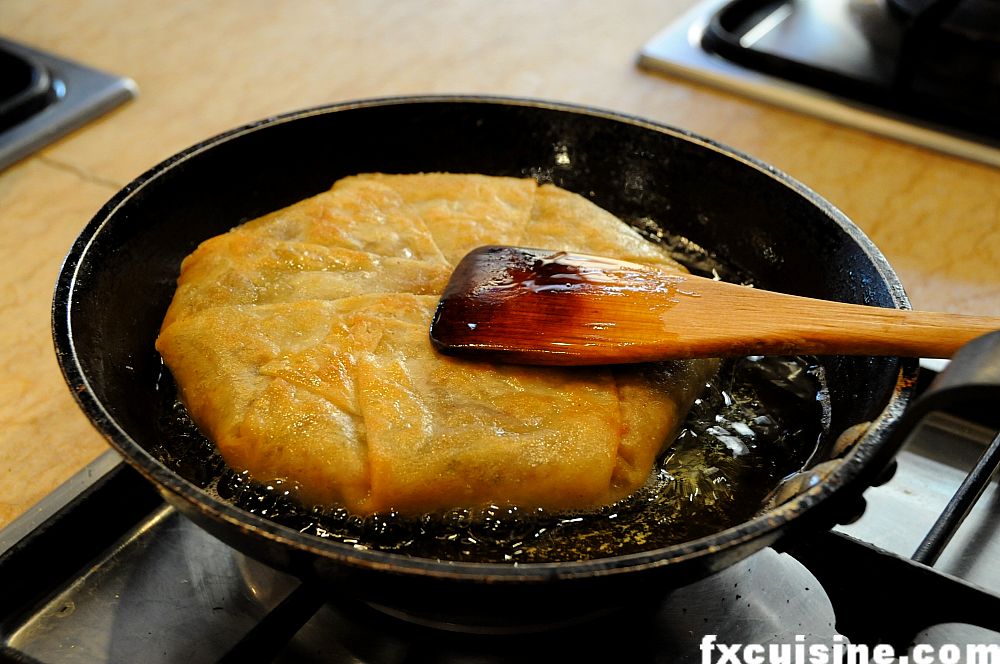 insert a knife into the pastilla and feel the tip for heat. The inside is already cooked but may be cool - the pastilla is ready only when the knife exits warm.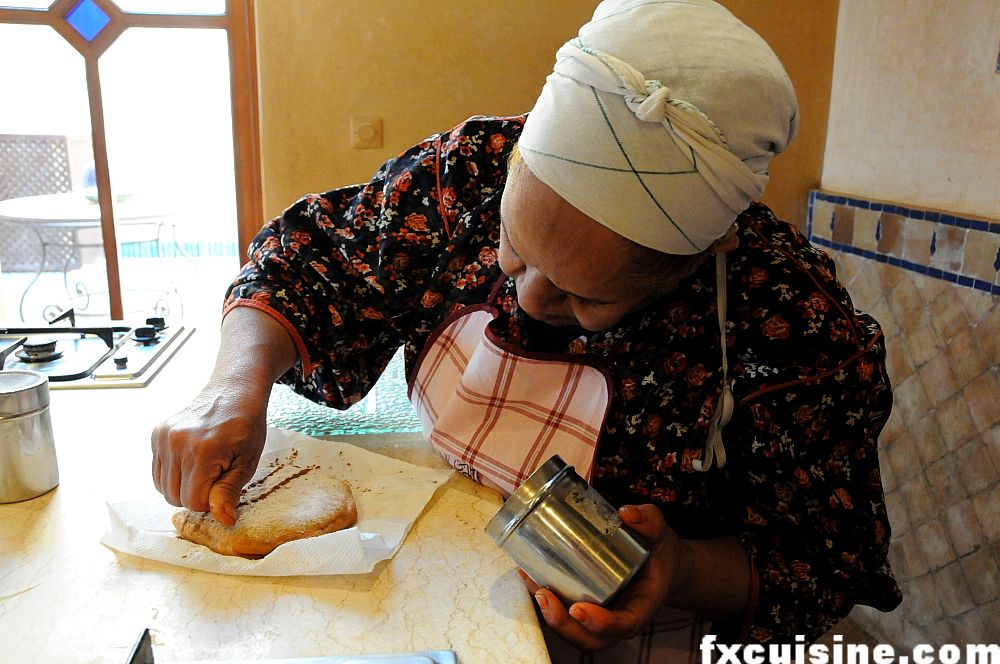 After all this frying it might sound ludicrous to try and pat the excess frying all away, but if you have a roll of kitchen paper around I recommend you do it. Sprinkle icing sugar on top the pastilla. Remember this is a Moorish dish of Persian descent and sweetness is welcome with meats.
Draw lines on the pastilla with powdered cinammon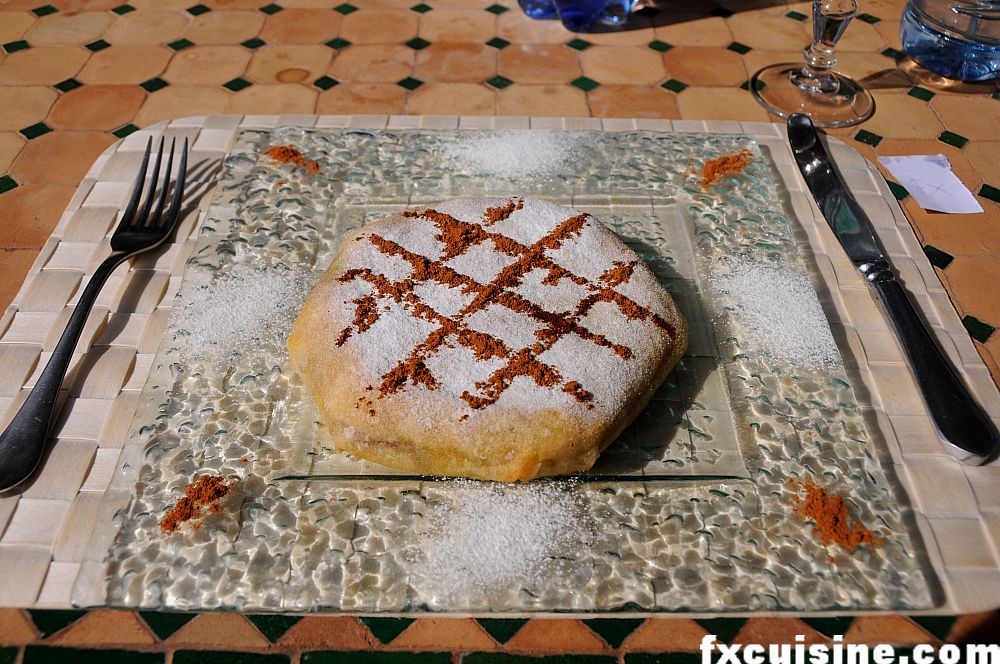 Serve as a memorable first course - one pastilla per guest. Another view. I tried pigeon pastillas at 3 of the most expensive restaurants in Marrakesh and none tasted better than the one I made under the dada's direction. They all looked just the same. I suppose the warka was better in some places, but this is compensated by the fact that most pastillas are reheated just prior to serving. We ate our pastillas under the trees and all spent a very pleasant day at la:
La Maison Arabe
http://www.lamaisonarabe.com
1, Derb Assehbe Bab Doukkala, Médina
Marrakech, Morrocco
+212 24 38 70 10
251843 views
Related Articles

A Soba Noodles Class in Tokyo * Popular
My private lesson at the Soba Academy in Tokyo to make these Japanese buckwheat noodles from scratch.
Copyright FXcuisine 2020 - all rights reserved.
If you do this recipe at home please let me know how it worked for you by submitting a comment or send me a picture if you can. Thanks!