A Night at Jeema-El-Fna
(page 2 of 2)
Home
>>
Experiences
The huge Jeema El Fna square in central
Marrakesh
turns into the
largest open air restaurant
in the world as soon as the sun sets.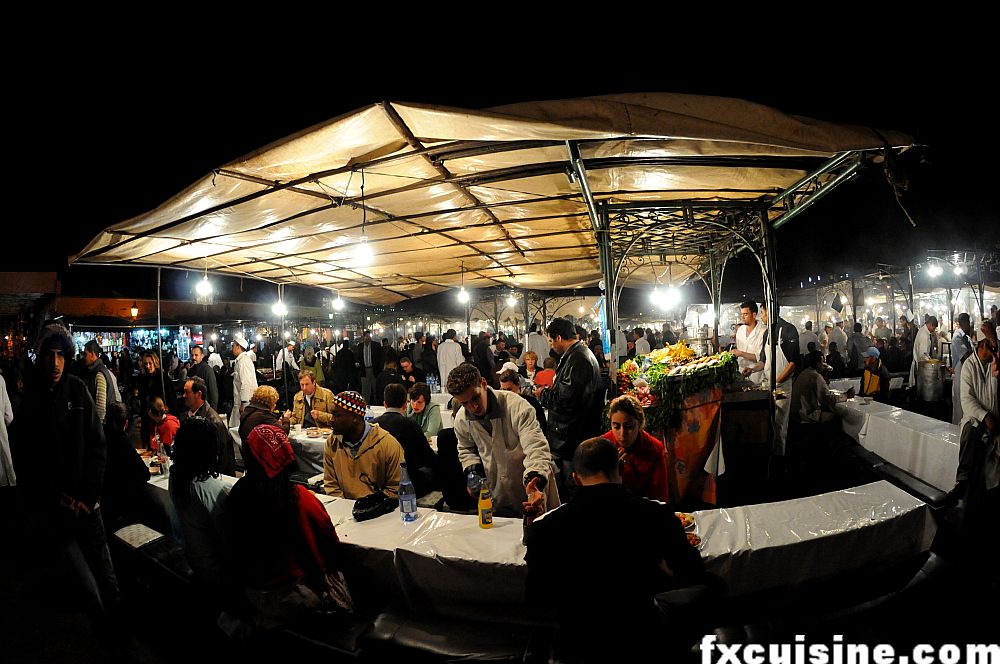 Patrons, half of them locals, eat at long communal tables and sit on benches in the front or in the back.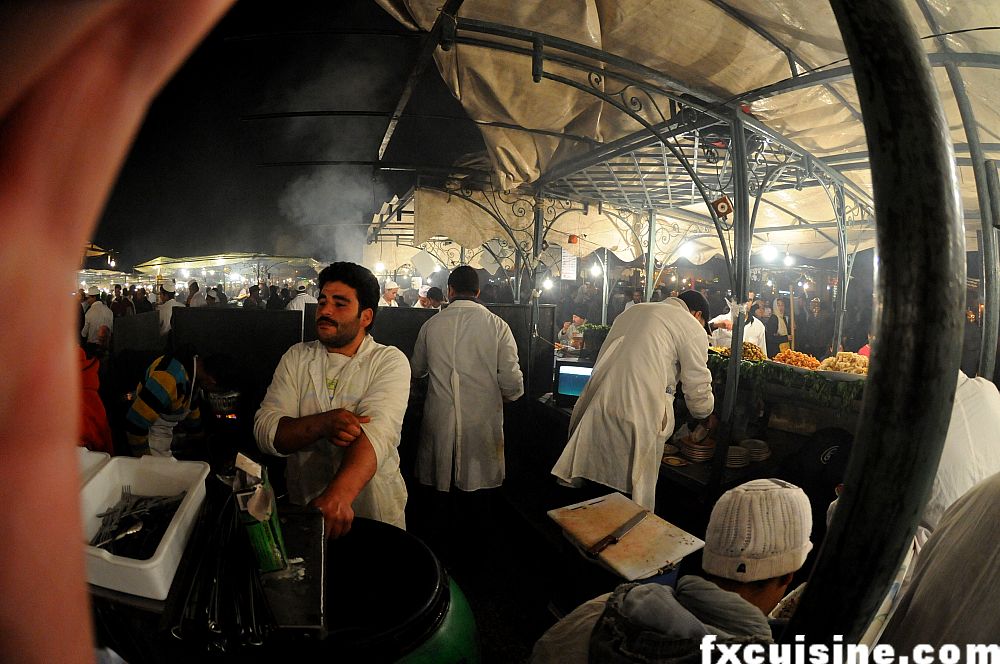 The kitchen is a well-organized, efficient place in the back. Nowhere to hide unhygienic practices or stale ingredients here. Each stand bears a number and owners proudly tell you to remember their number 'for tomorrow night'. Coupled with the fearsome Police Touristique I think this makes for a market where the wandering glutoon can indulge in street food with relatively little risk for his stomach.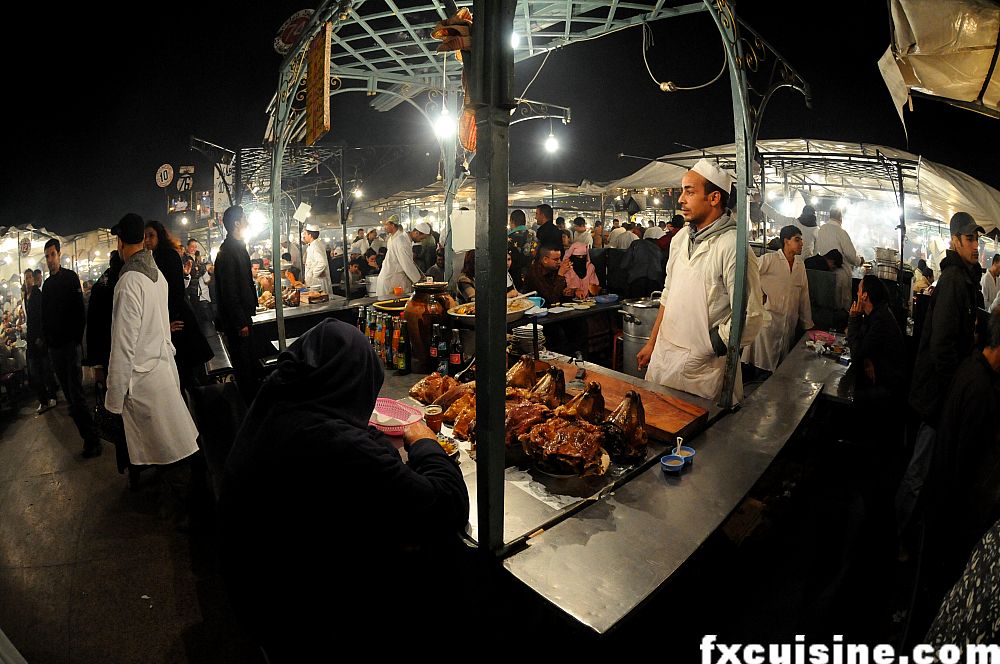 Sheeps heads is the food most tourists remember although very few try it.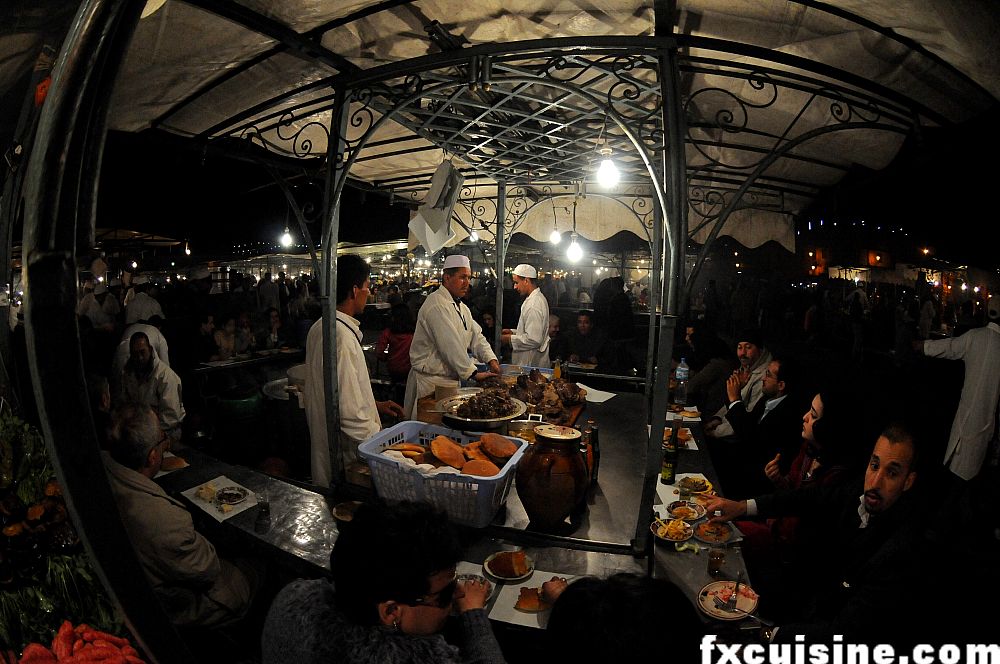 I did not spot any foreign client at the half-dozen or so stalls selling sheeps heads (two pictures above and lead picture).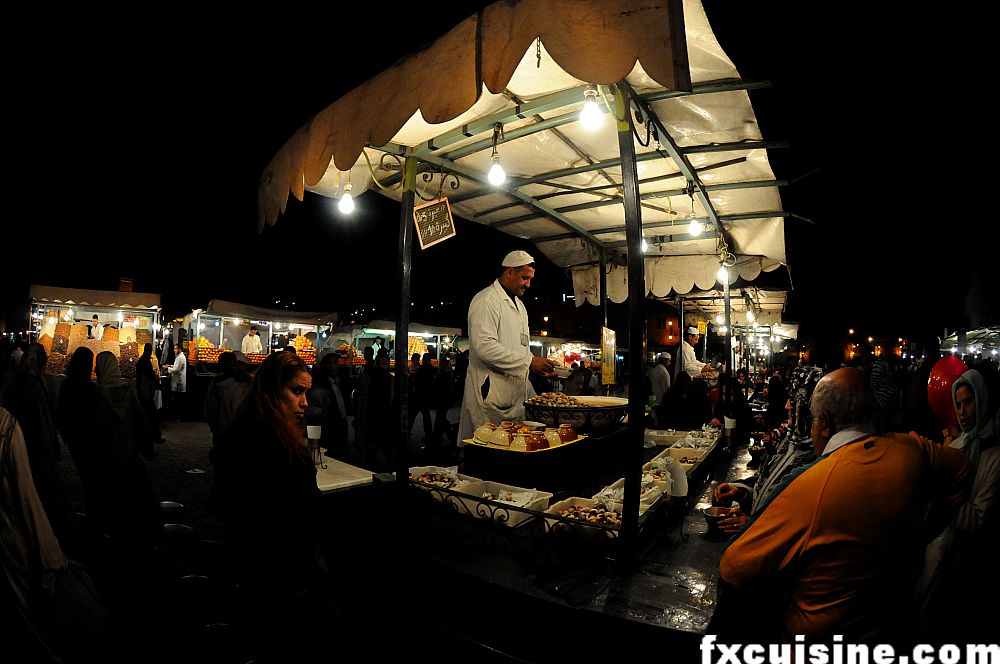 Food chauvinists do not realize how widespread snail-gastronomy is. You find traditional snail recipes all around the Mediterranean. And Morroco is no exception.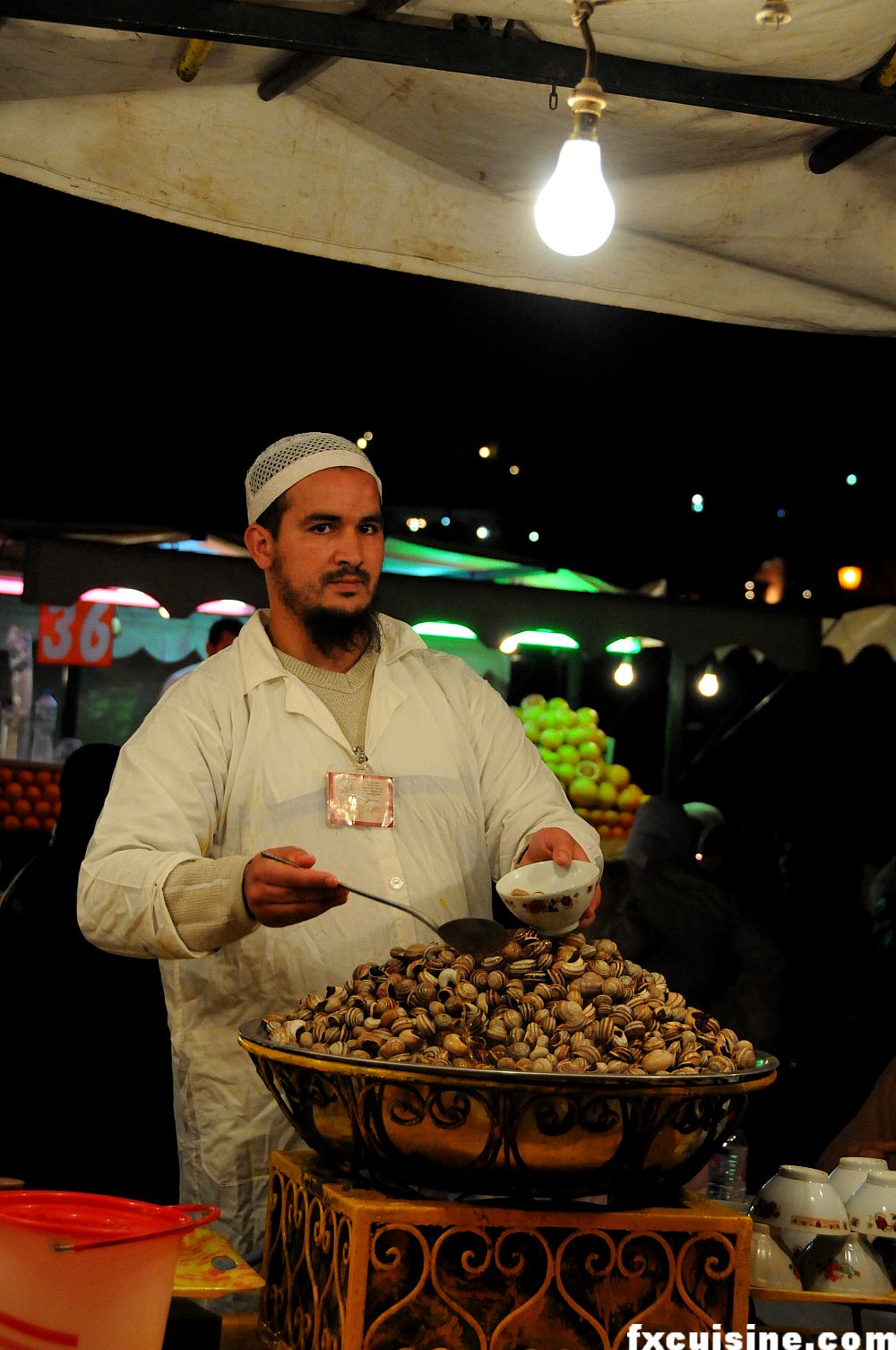 This snail-seller is not friendly with camera-wielding foreigners. Unfortunately I derived a rule of thum that if a man has a flat hat on his head, he will most probably protest if you take a picture. There are various reasons invoked for this 'it is stolen' but I suspect the reason is not fundamentally religious but rather has to do with a general dislike of foreigners. I can't speak for the man on the picture of course. I had to sneak twice past him to get this shot and he started gesturing with an evil look right after this.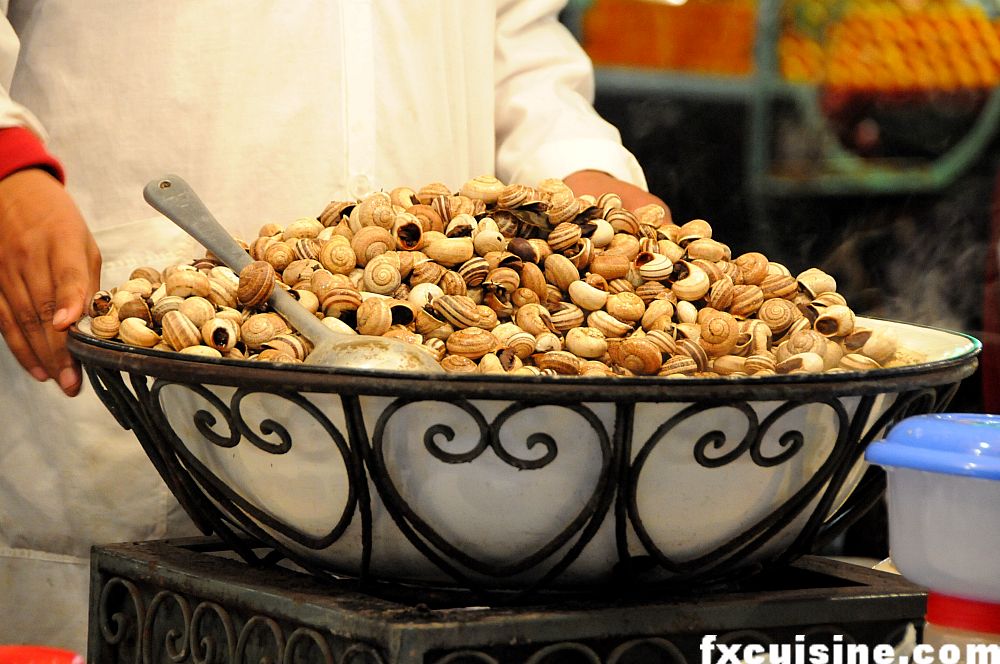 My fearless friend Zed of Moldavian Pig Slaughter fame had tried the snails and reported them as 'foul tasting'.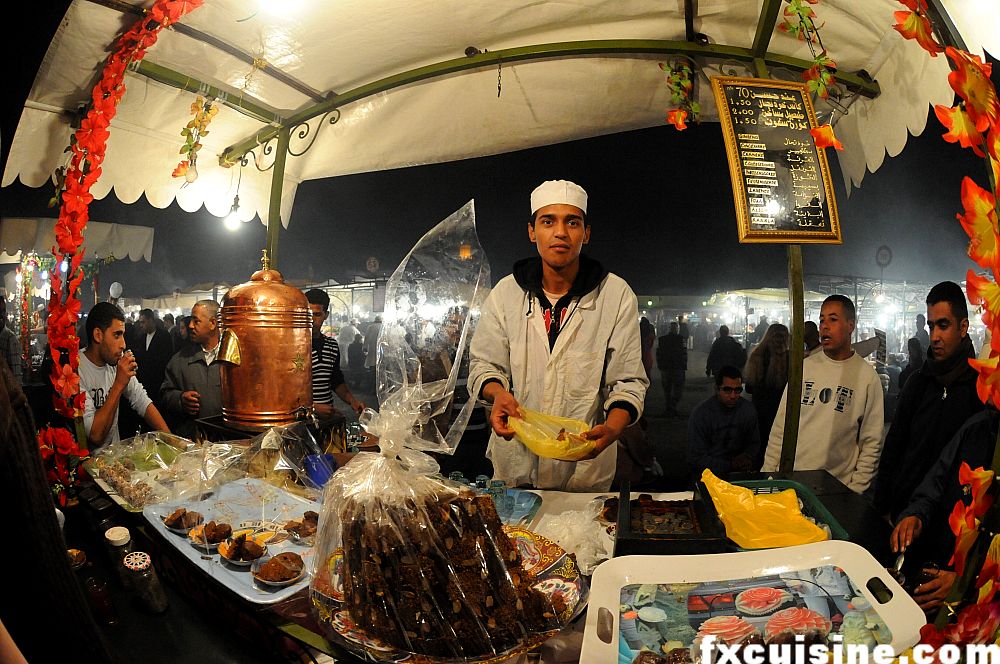 Finally, a coffee and sweets.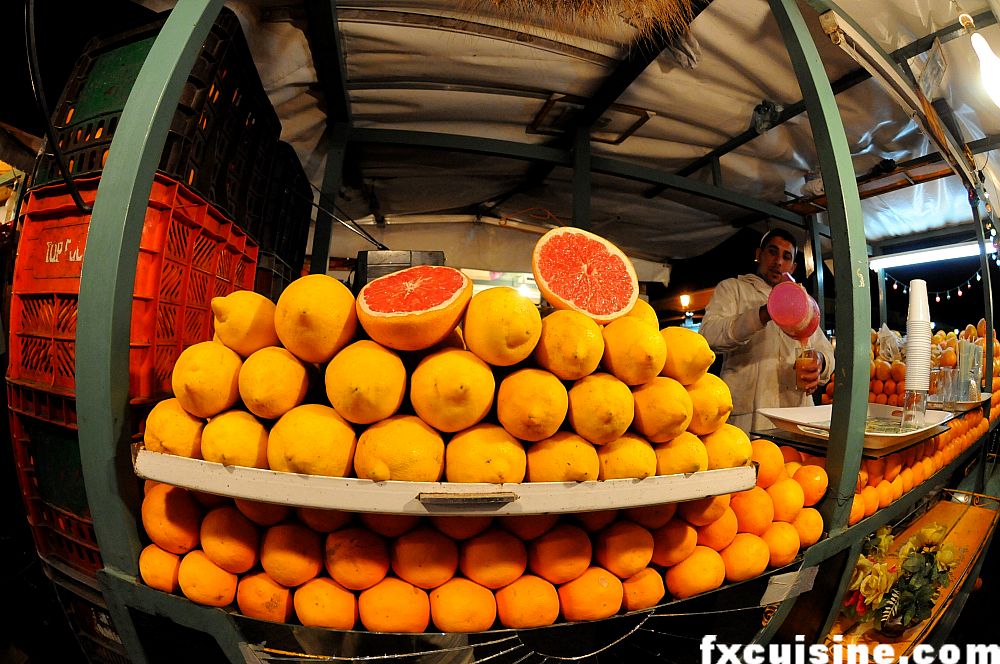 Half a dozen stalls offer freshly squeezed orange juice. The glasses are freshly washed in not very fresh water, so you might want to take a rain check on those.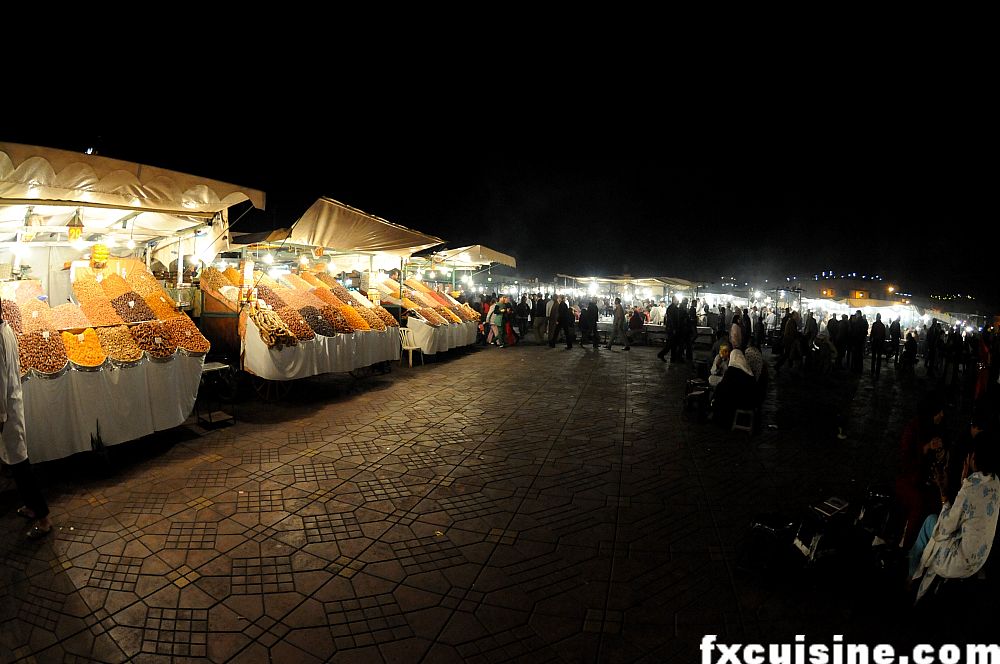 Friends don't let friends buy ground spices, but the stalls are very attractive ...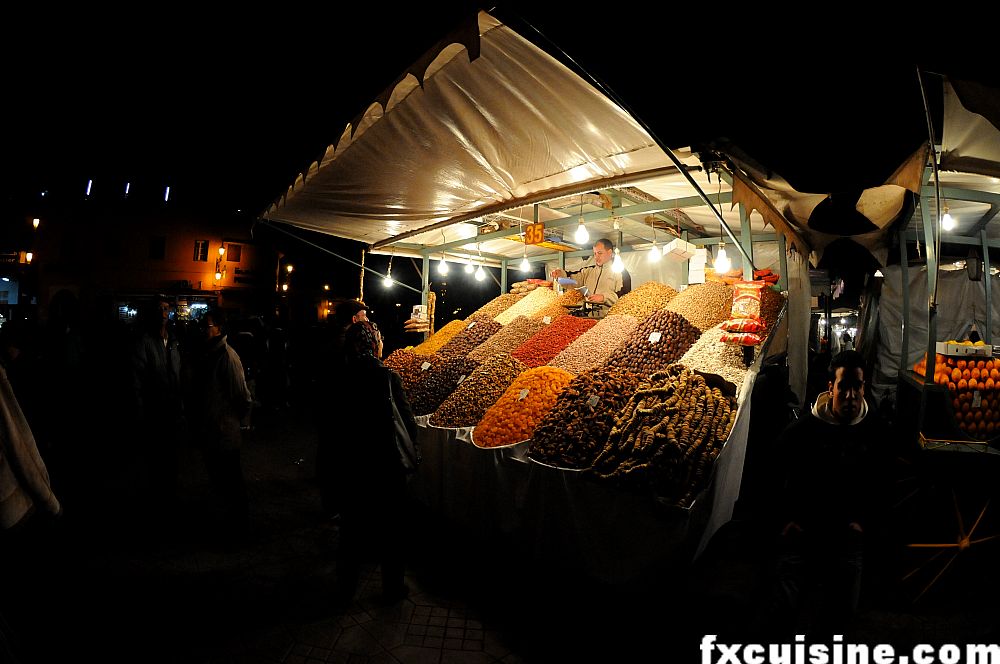 ... and some sell some of the best dates and almonds you'll ever see.
The food merchants at Jeema El-Fna are relatively tame and quite friendly. They won't insist very much. There is no need - the market is teeming with people from dusk till dawn every day of the year.
313254 views
Copyright FXcuisine 2023 - all rights reserved.
If you do this recipe at home please let me know how it worked for you by submitting a comment or send me a picture if you can. Thanks!