Molecular Gastronomy Seminar
(page 2 of 2)
Home
>>
Experiences
I attended a unique seminar in Paris with Hervé This, French chemist, author, founder of Molecular Gastronomy and spiritual father of Molecular Cuisine.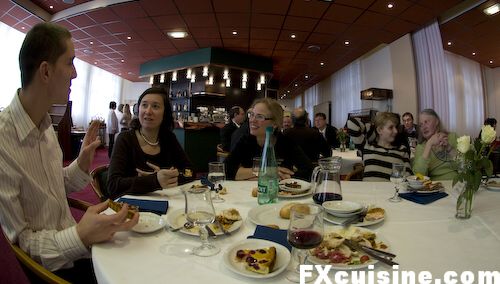 Lunch was served at 1 PM by the students of the Ferrandi school. Nothing memorable there, but I got myself a good table. Clockwise from the bottom left: a 23-year-old pastry chef at a 2 Michelin star traditional French restaurant, a diet consultant, Susi Gott Séguret, a charming lady (behind the bottle) who runs the Swannanoa School of Culinary Arts in Asheville (USA) and speaks fluent French and the French historian and her daughter. Not on the pictures but also at my tables were the two comedians from La Marmite à Malices. Lovely people all of them, and our shared serious passion for food cemented the lunch. I picked up lots of tips from the pastry chef and learned about truffle-for-tobacco crop substitution policies in North Carolina. The historian lady was still in conference mode so we could get some more details on these fascinating subjects. A lunch is about the company you keep, and that was a nice lunch!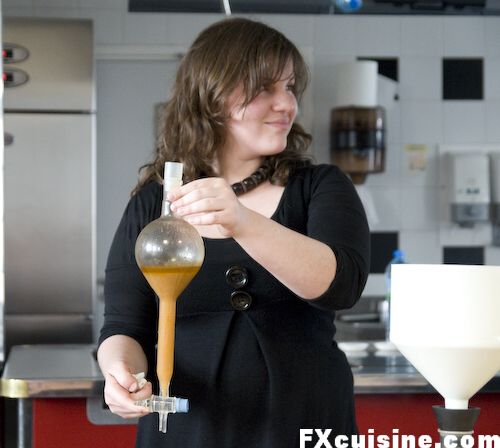 Tools & Toys for Space-Age Foodies
A lady from www.cuisine-innovation.fr, a French consultancy for chefs who want to start using molecular cuisine tools and ingredients, demonstrates a glass settling bulb (ampoule de décantation) they want to adapt for use in kitchens to help cooks remove the fat from their sauces using differences in density. This is a very common tool in chemical labs but can't be used in kitchen. "Chefs tell us that they could never use a glass instrument in the kitchen. Whenever somebody breaks it, which is bound to happen, they would have to throw out the whole batch by fear of contamination by glass fragments. We are trying to make a very large, automated, plastic settling tank that can automate the fat skimming process in a kitchen."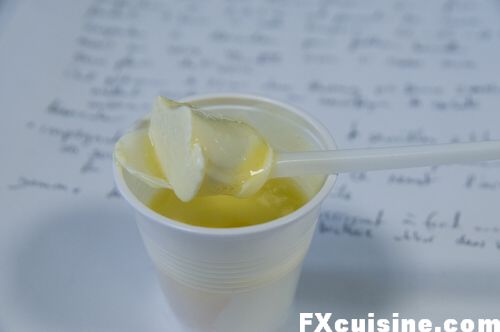 Each of us was kindly offered a panacotta beaker (picture above) in a pineapple juice sauce thickened with Locust bean gum, one of these fancy thickening agents used in molecular cuisine. Food for thought indeed!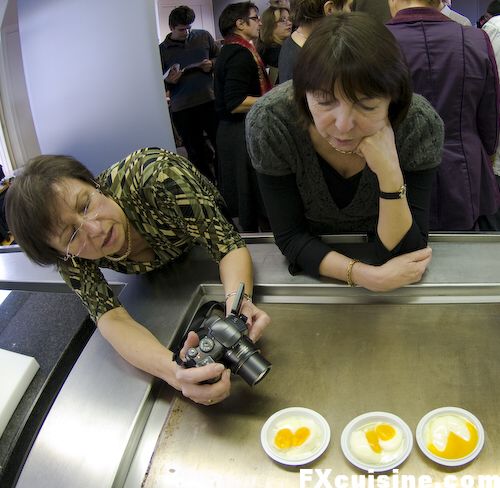 Anne Cazor then demonstrated a very precise cooker that can maintain the same temperature in the whole pot up to one tenth of a Celcius degree. This helps you get consistently eggs with a very novel consistency - that of a 3 minute egg or a 300 minute egg. The ladies above were inspecting three eggs cooked respectively at precisely 62°, 65° and 68° Celsius for one hour each.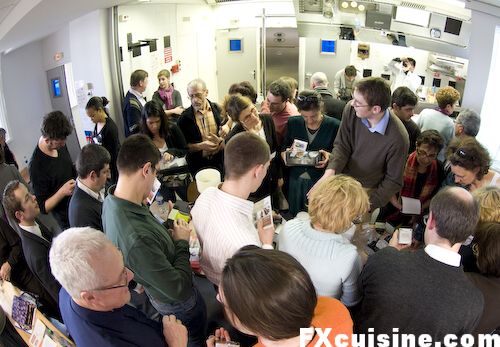 The gentleman at the center of the picture works for Kalys, a French chemical wholesaler who supplies top gastronomic restaurants with molecular cuisine chemicals. As these products come as white powders in plastic jars bearing fancy latin names, so you think of them as chemicals whereas in fact most are extracted from plants.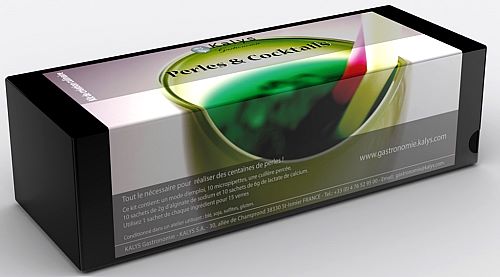 They also sell kits to make your own
alginate pearls
and spaghettis and much more. One box was labelled
'Spherification Salt'
- straight out of Lovecraft and Harry Potter. Everybody raced down the auditorium to samples the toys. Great fun! If you order from them, use the code 'ANNIVERSAIRE' and you'll get 10% off until April 20th 2008.

Looking up at the mirror above the auditorium kitchen during a break.
Professional Cooking Classes in France before and after Molecular Gastronomy
This cooking professor from the Lycée de la Rochelle hotelry school came with one of his pupils to show us how he used to teach cookery before molecular gastronomy and how he teaches now. They made a little theater sketch to show us how they teach the art of mayonnaise making before and after.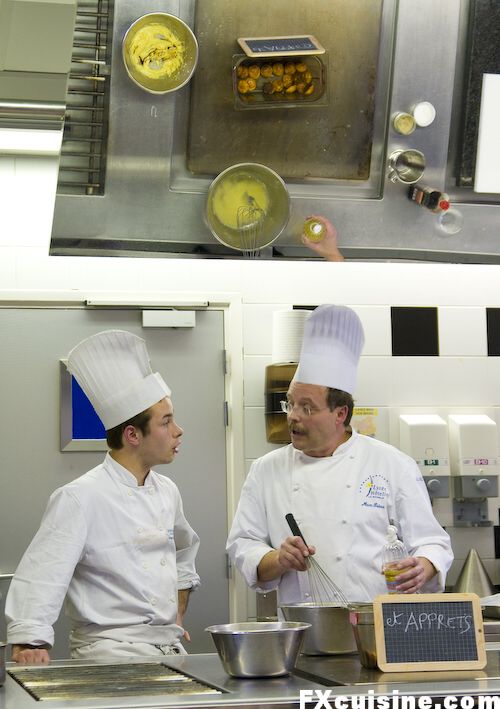 Before: 'The way you add the salt is more important than the quantity you use. And you never put the salt on the egg yolk or the salt would cook it'. Everybody laughs at this reenactment of a popular kitchen legend slayed by Mr This' many experiments with mayonnaise. He was sitting next to me, beaming with that feeling of fulfillment. After 20 years Mr This had really changed the way cookery is taught in France.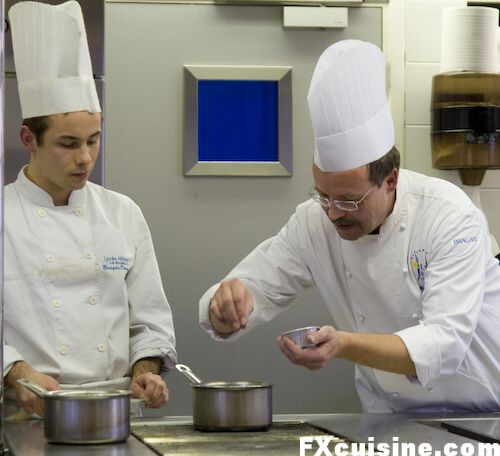 After: 'We could have used egg yolk to emulsify the oil but today we'll do it with another emulsifier to illustrate what molecular gastronomy has taught us about the role egg yolks play in mayonnaise.' They do it, then taste. 'But chef, I kind of preferred the regular version'. The moustached chef replies: 'Boy, even science has its limits.'.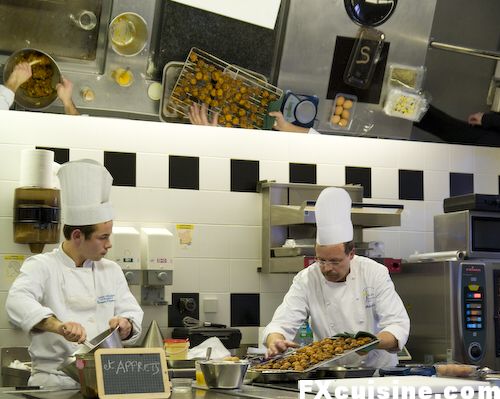 'Now we'll make gougères' - 'But chef, gougère is such a has-been dish, today what people want are pizzas!'. 'So we'll make a gougère pizza, or choux pizza. We'll call them chouzzas'.Gougère is one of the most fascinating chapters in Hervé This' seminal book 'Culinary Revelations'. As an homage to him, they prepared the gougères, carefully adding one egg after the other, while explaining all the scientific knowledge now included in cookery classes thanks to Mr This. 'I was so depressed to see my students make nicer gougères than me in my classes that I was forced to find a foolproof method. You have to heat the water-and-flour mixture back to 80°C before adding the eggs or it won't work. If you do they work every time. And please, do not grate the cheese but keep it in small cubes when you add it. If you want a crust bake at 180°C, if you want them moist inside bake at 160°C. I like them moist.' A batch of piping hot 'chouzzas' were circulated for our appreciation - very tasty in fact.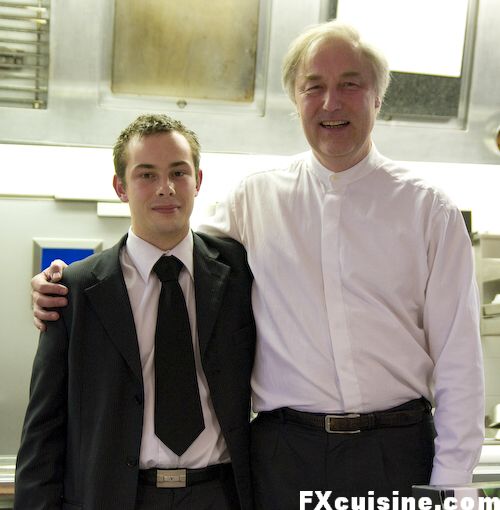 As soon as the demonstration was over, Kevin the trainee chef (above left) rushed out of the kitchen and returned dressed up in his Sunday's best. He walked up to me and, seeing my camera, asked if I could take two pictures of him with Mr Hervé This, one with his pocket camera for immediate broadcast to his friends and another with my own. I bet this will be an important picture to him given the considerable respect enjoyed by Mr. This in France.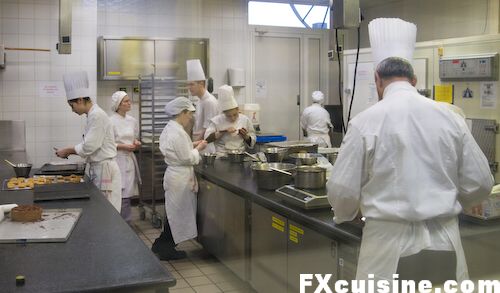 I managed to snatch this picture of a pastry class in progress at the Ferrandi school as I was leaving the building.
Epilogue
The next day I overheard a conversation between two shopping attendants in a cookware shop near Les Halles. I won't name the shop and have no idea as to its veracity, but these are the words I heard:

-Look at this order we just received. It's from the Ferrandi schoool.
The colleague looks at the long list of specialty cookware
-Geez, some client!
-Yeah, and they want 20 units of each item, no less! But it's only a tender and not an order yet. You know these guys, I bet they are already in tight with a supplier (maqués).
-Right, next thing you know they want you to take them to a fancy restaurant...
-... and then introduce them to your sister. Do you have a sister?
-No, I don't have no sister. How about you?
-Neither. But you could let them have your wife.
-No way until I'm paid on commission basis!
Hervé This's seminars are a contemporary equivalent of 18th century literary salons where beautiful ideas are shown, discussed and paraded like works of art. Attending a seminar with Dr Hervé This in the early 21st century was like spending a day in the kitchen with Antoin Carême in the 19th century or with Escoffier in the 1920s. Carême and Escoffier only invented so much and mostly built on what other chefs had made before them. Today's chefs certainly have access to more ingredients and better tools. But these were men who influenced the cuisine of their respective centuries in a decisive way. Hervé This has many precursors and Harold McGee's book On Food And Cooking covers a lot of ground later travelled on by This. But it was This who not only changed forever the way French chefs look at their recipes, and how cooking is taught in professional French cooking schools. As for molecular cuisine, the fashion of breaking up ingredients to reassemble them using high-tech tools and edible chemicals, This is the origin of this movement. Will we still eat alginate pearls and liquid nitrogen meringue in 100 years? Probably not. But you and I won't be around either. If we want to enjoy the culinary Zeitgeist of our times, this is a mighty fine opportunity.
There will be another similar seminar on June 24th 2008.
207174 views
Related Articles

Duck Tour d'Argent ** Popular
Probably the most spectacular classical French recipe, le canard à la presse, here made at La Tour d'Argent, a Paris restaurant open since the 16h century.

Dinner at Le Train Bleu **
A memorable meal at one of the most spectacular restaurants in Paris, located in the Gare de Lyon train station.
Copyright FXcuisine 2023 - all rights reserved.
If you do this recipe at home please let me know how it worked for you by submitting a comment or send me a picture if you can. Thanks!